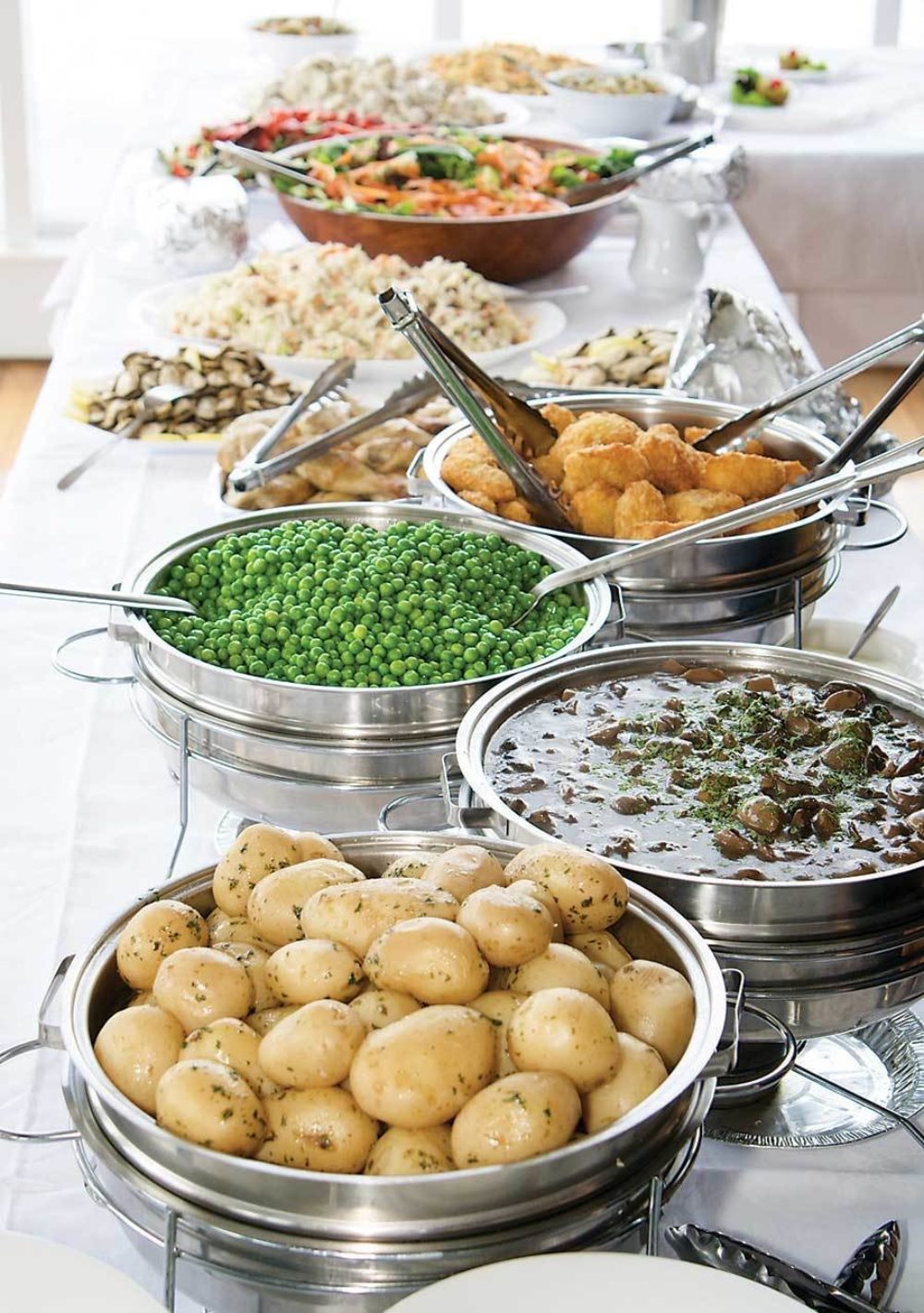 Comfort Food Casual
The sit-down reception is oh-so-yesterday: Now it's about a low-key, cocktail-party ambience that makes mingling easier.
Martha Thomas | Photography by Scott Leman - 2010
It might sound a little perverse, but these days, one of the biggest trends in wedding feasts is making sure there aren't enough seats for everyone. But there's a reason for it.
"Couples like to see their guests moving around," says Harriet Dopkin, president of The Classic Catering People.
"When you put people at individual tables with assigned seating, you lose the sense of community," says Sandy Lawler, a partner of the 4 East Madison Inn and chef for its in-house restaurant Feast @ 4 East. "When a bride comes in to plan an event, I steer her toward a buffet or food stations so people will have a chance to interact." After all, says Lawler, "Mingling is what a reception is all about."
And while food can be the biggest-ticket item of the day, more and more couples eschew elaborate menus. "These days, a lot of people are opting out of a big, fancy, seated dinner," says Wendy Fox, catering director for Rouge Catering. "Financial considerations may be a part of it, but it's really about putting an emphasis on real, solid food."
The combination of comfort food and a casual atmosphere, say many bridal couples, creates just the right chemistry for getting a family together—sometimes for the first time.
Brian Wiersema and Anne Lamoureux, who were married on a friend's estate on the Eastern Shore last September, wanted their wedding to be casual and fun. It was a second marriage for each, and the goal, says Wiersema, was bringing the two families and sets of friends together in a convivial way.
"We specifically didn't have tables for everyone," he says. "If you make people sit down, they don't interact. They wait for events to unfold around them instead of taking an active role."
Tall cocktail tables meant guests could leave a drink or a plate behind while taking a spontaneous break to dance. "It was all geared to people mixing and interacting."
Cristin Dadant, who owns Clementine restaurant with her chef-husband Winston Blick, says most of their wedding clients go for a cocktail party atmosphere with large appetizers instead of sit-down meals.
"People want a fun party but not a crazy menu," she says. "They don't want orchestrated seatings, but for their guests to socialize." The restaurant specializes in dressed-up comfort food, charcuterie, and what Dadant describes as "Maryland staples," such as crab cakes and oyster fritters. Food is prepared in smaller portions so people can return to the buffet, and it's easy to eat standing up, she says. Clementine is also mindful of the budget. "The bride and groom shouldn't have to spend tens of thousands on food," says Dadant. "They should put that toward a house."
But saving money with a do-it-yourself approach is also not an answer. "If you way over-reach you can't just sit back and enjoy your friends," she points out.
Denise Acott, an interior designer who loves to entertain, was excited about preparing all the food for her son Stephen's wedding reception, held at her Fulton home. That was, until a sensible friend asked, "Do you really want to be standing there in your wedding clothes cooking for everyone?" Acott recalls.
So Acott got in touch with Rouge Catering. "I just handed over the menu, with everything I'd planned on making," she says. The results were just as the mother-of-the-groom had envisioned: "They prepared the meal I would have prepared."
And while Alcott had initially planned to seat guests at long tables, after surveying the family's house, Wendy Fox had another idea. She set up food at several stations throughout the ranch-style home and on the gracious patio, so guests would have an opportunity to move about and chat while they nibbled on roasted vegetables, shrimp, and filet mignon.
Cristina Loizeaux, whose daughter Elizabeth was married at the 4 East Madison Inn, had an experience much like Acott's. "I wanted to have the event at my house," she says, "but everyone was telling me it was too much work." When she walked into the inn, a renovated Mt. Vernon mansion with grand proportions and cozy furniture, says Loizeaux, "I thought, 'This is the place.' It was fancy, but casual. It felt like someone's home." And the food—local fish, free-range chicken, and farmer's-market produce, including fresh peach shortcake—"was the kind of food I would have made," says Loizeaux. "But I didn't have to."
Often the caterer will literally prepare what a mother or relative would have made for the wedding feast. "We often get requests to incorporate a family recipe into the menu," says Classic's Harriet Dopkin. And even more often, family members will contribute sweets they have made themselves to the dessert table. "People like to incorporate familiar foods for nostalgic reasons," says Dopkin. "Taste memory is so strong."
Indeed, the comfort of food is an important consideration for many couples. Lamoureux and Wiersema are passionate foodies, but wanted to make sure that all their guests were comfortable with the spread. "My Midwestern relatives weren't interested in caper berries, olives, and exotic cheeses," Wiersema points out. So the couple's caterer, Gourmet by the Bay, made sure there was something for everyone, Wiersema says. Owner Sidney Davenport-Trond set up several stations where food was prepared on-site, including one with beef tenderloin. The couple was also anxious to share local specialties with their guests: Gourmet by the Bay set up a "crab and more" station with crab cakes, smoked rockfish, and crab and avocado martinis.
Local foods are becoming increasingly popular at weddings, says Dopkin. "Couples are more mature, they eat out a lot, and have more sophisticated palates," she says. Dopkin says queries about food sources have increased, and she loves to work with couples who are committed to local foods. "It takes a certain kind of bride willing to be flexible and go with what's available and what's in season," says Dopkin. And, just as often, those foods lend themselves to casual, family-style meals. Last summer, Classic catered a family-style rehearsal dinner with fried chicken, crab cakes, and corn pudding soufflé. Talk about local, not to mention comfort: The dessert was snowballs.
---
---