A Love Letter to Baltimore
Show-stopping wedding dresses and some of our very favorite things about Charm City.
Fashion styling by Janelle Erlichman Diamond | Photography by David Colwell - 2014
---
There are so many things we adore about our city. We picked some of our favorites – interpreted by seven different design teams – added in some wedding dresses, and a beautiful thing happened.
---
"Love, Actually" - Baltimore Love Project
Lazaro textured-silk-organza-tulle gown in sherbert with bubble peplum ($3,700) at Gamberdella Salon for Brides. H. Stern Love Knot earrings ($7,100) and H. Stern gold prism ring ($4,200) at Radcliffe Jewelers. Gold-and-crystal mesh cuff ($210) at Treasure House Accessories.
---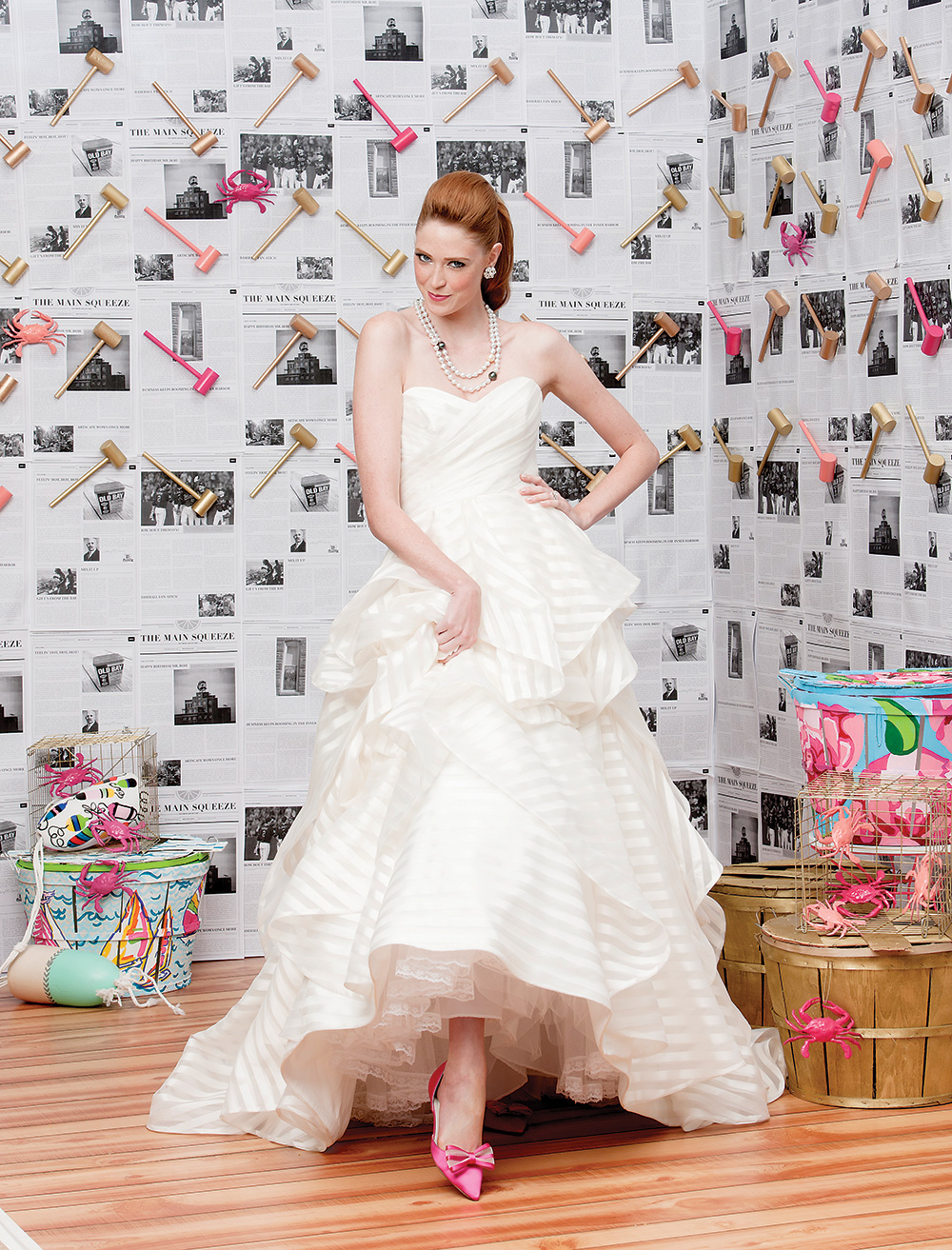 "A Crab Feast" – Lemon & Lime Event Design
Hayley Paige Guindon gown ($3,157) at Garnish Boutique. Oliver Weber pearl-and-Swarovski-crystal earrings ($148) at Bijoux. South Sea pearl opera-length necklace ($16,800) and Memoire Odessa eternity ring ($10,175) at Radcliffe Jewelers. Something Bleu Caleb heel ($275) at The Little Shoebox. Crab mallets from Bay Imprint. Newspaper backdrop design from Aucala. Walls from Chicka.
---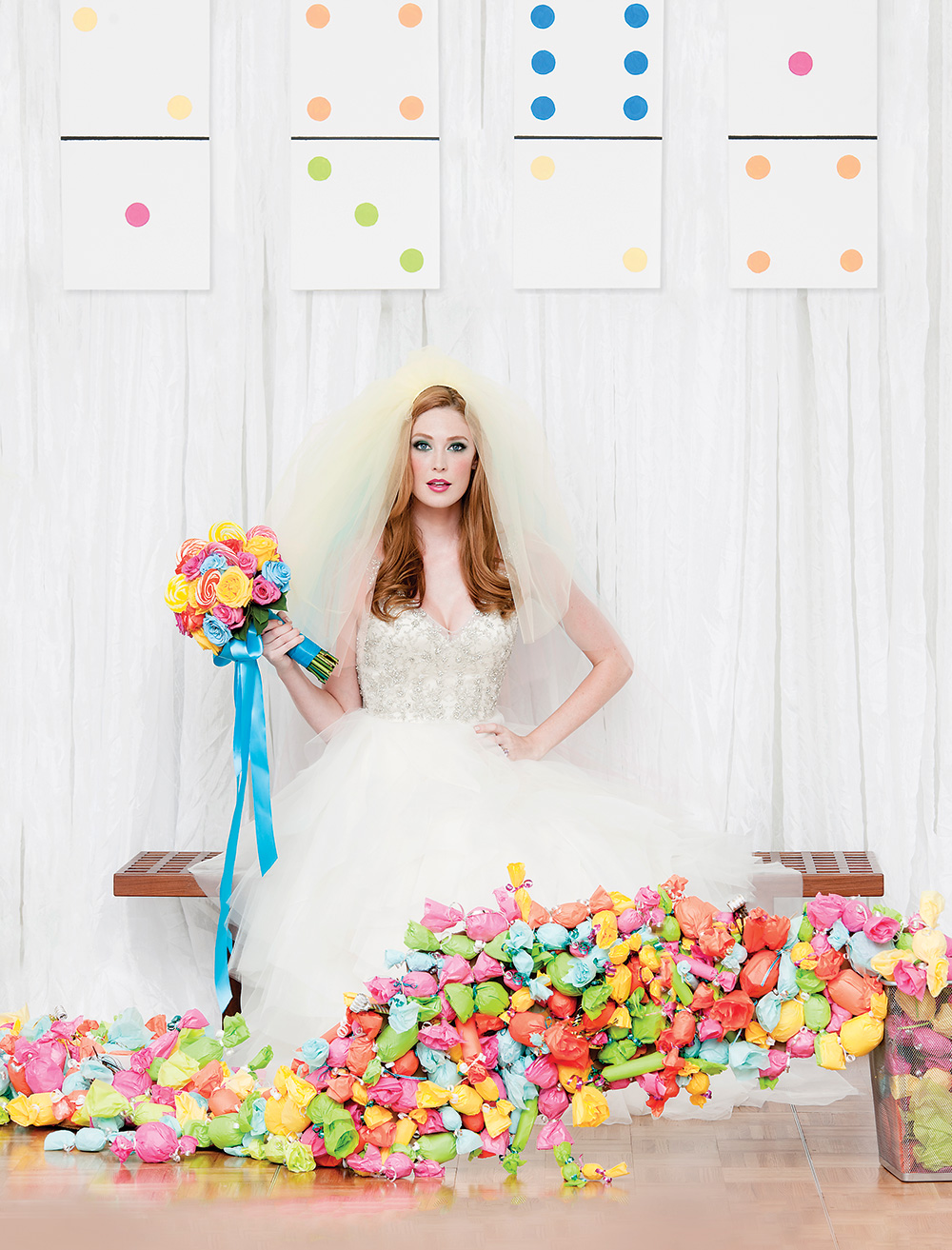 "Domino Sugar" – Stephanie Bradshaw
Jim Hjelm ivory organza gown with crystal-embroidered beaded bodice, ruffle skirt, and chapel train ($4,070) at Francesca's Bridal Salon. Yellow, blue, and pink tulle veils ($175-225 each) at Jill Andrews Gowns. Floral bouquet from Fleur de Lis Florist. Candy from The Best of Luck Candy & Gifts. Draping from Fabrication Events. Wooden bench from Orions Objects.
---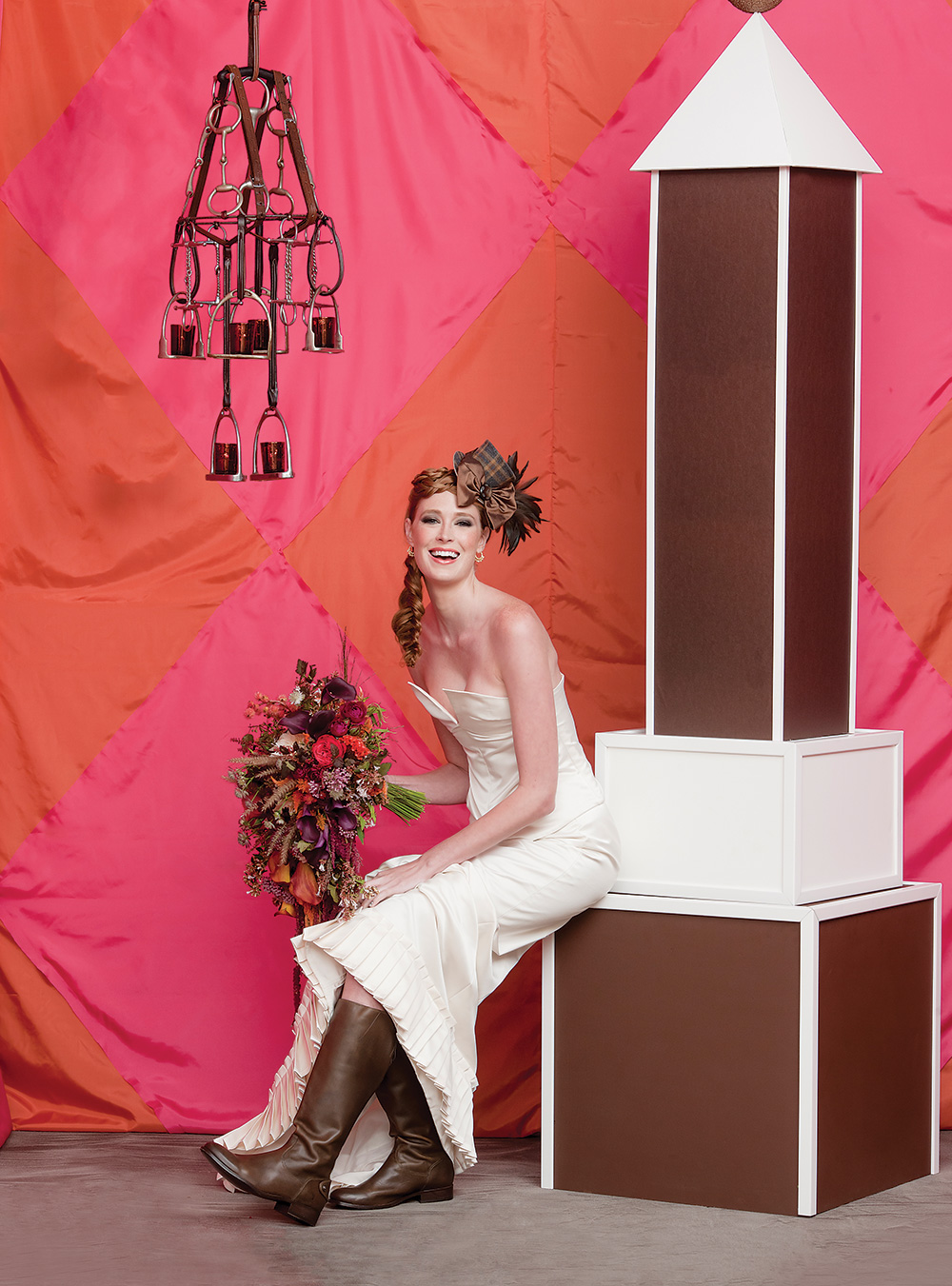 "Horse Country" – Victoria Clausen Floral Events
Tux StudioLine bodice ($725) and Stecchino StudioLine skirt ($1,200) by Jill Andrews Gowns. Plain mini top hat ($165) by Two Back Flats. Frye Melissa button-back zip riding boots ($367) at Poppy and Stella. Roberto Coin horse ring ($7,800), Penny Preville emerald ring ($3,060), and Paul Morelli Mediterranean bell-hoop earrings ($5,000) at Radcliffe Jewelers. Chandelier pieces provided by Maryland Saddlery (designed by Victoria Clausen Floral Events).
---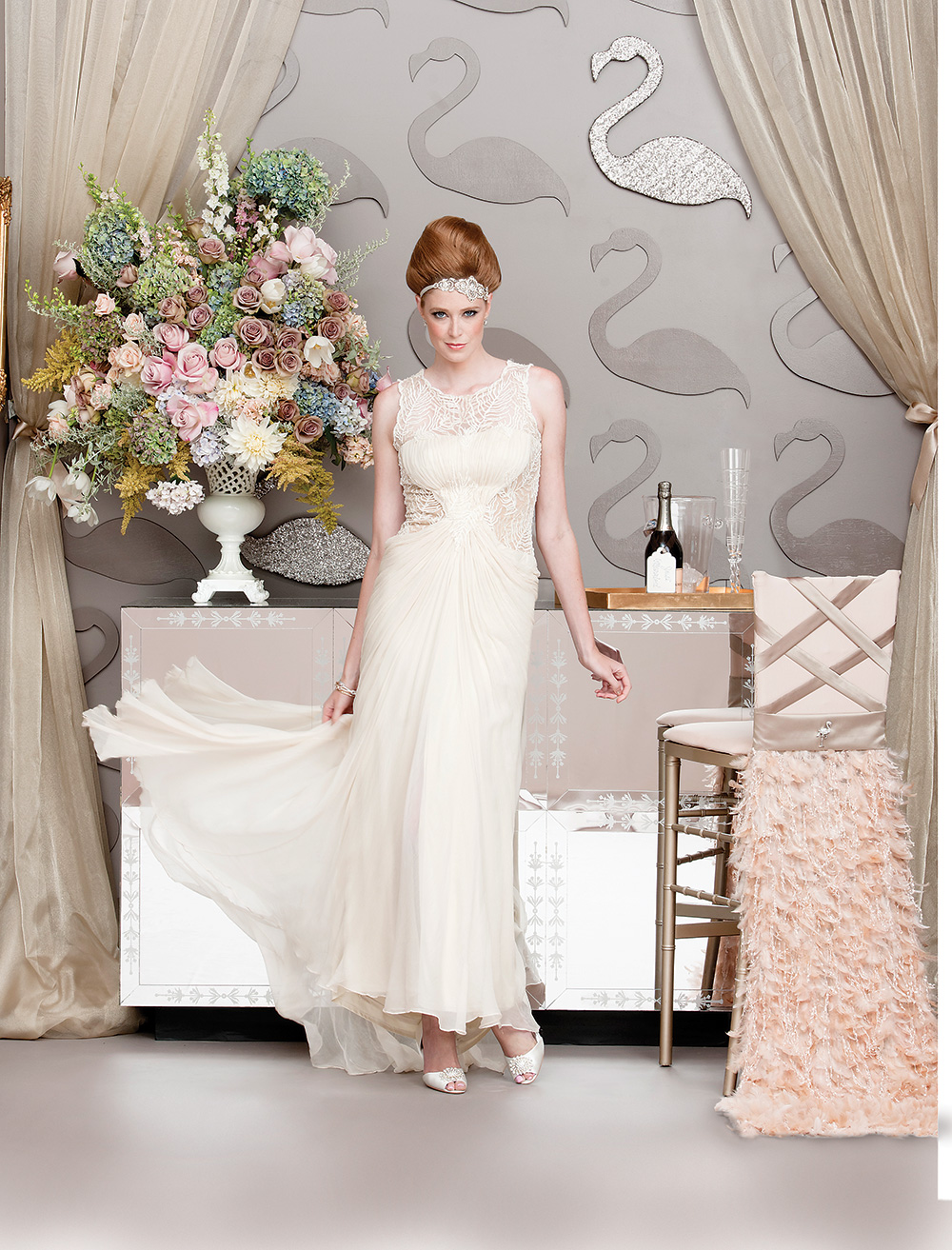 "Glampden, Hon" – Union3 Event Productions
Tadashi Shoji Cypress gown ($600) at BHLDN. Badgley Mischka white satin Lacie pumps ($215) at The Little Shoebox. Thomas Knoell Olivia belt worn as headpiece ($765) at Betsy Robinson's Bridal Collection. Gumuchian diamond white-gold gallop bangle ($20,000), diamond yellow-gold gallop bangle ($20,000), yellow-gold bangle ($3,600), and Penny Preville earrings ($4,500) at Radcliffe Jewelers. Flower arrangement by Victoria Clausen Floral Events. Mirrored bar from Chicka. Champagne flute from Sunnyfields. Chiavari chair from Select Event Rentals.
---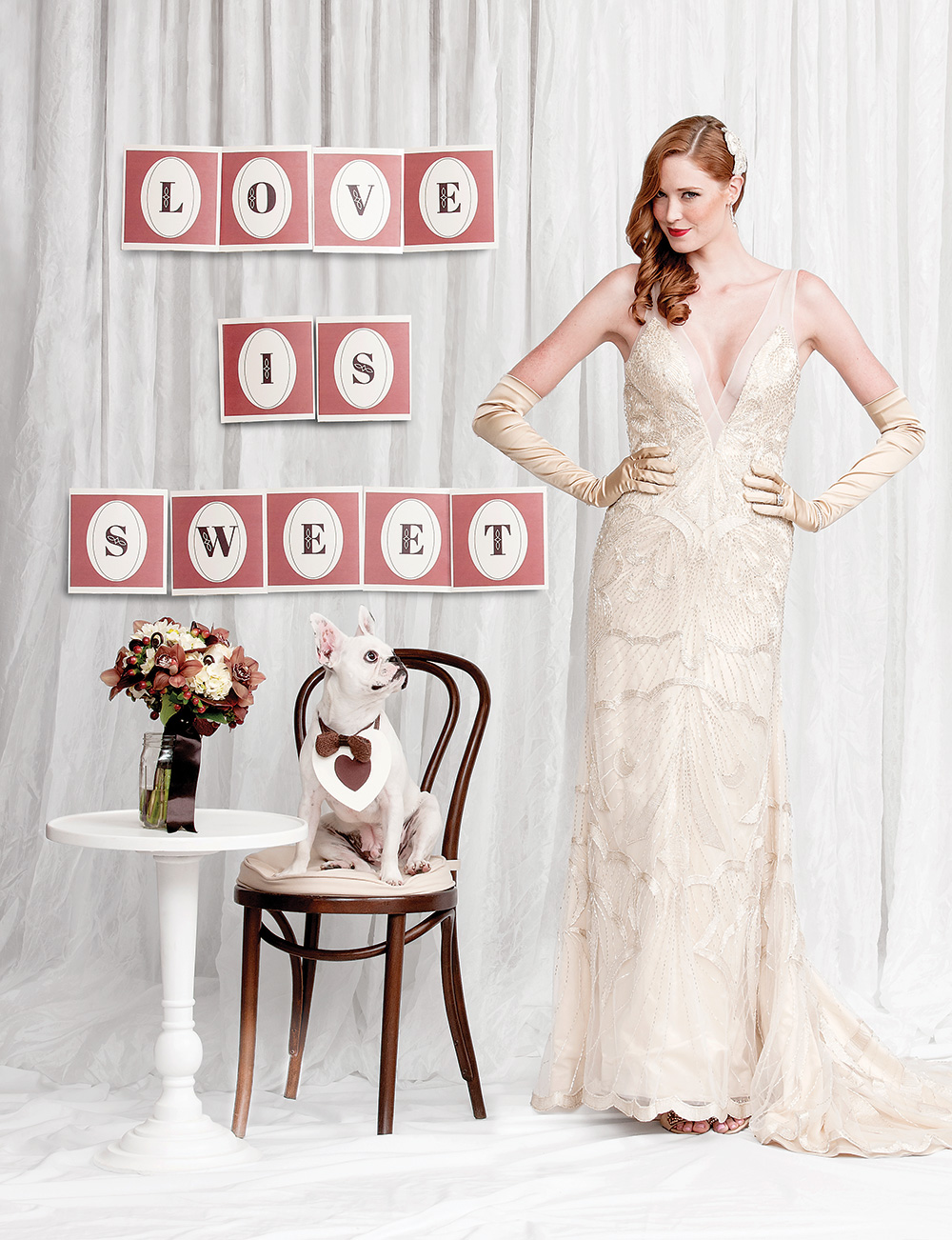 "Berger Cookie Goodness" – Boutique Events
Maggie Sottero Gianna gown ($1,700) and Carolina Amato gloves ($90) at Betsy Robinson's Bridal Collection. Diamond-and-pearl dangle earrings ($945) at Nelson Coleman Jewelers. Estate ring with diamonds and sapphires ($5,550) at Bijoux. Paula Varsalona floral hair comb ($400) at Francesca's Bridal Salon. Floral bouquet from Crimson & Clover Floral Design. Miniature French bulldog Max Monkey Villarreal. Drapes and flooring from Fabrication Events. Graphic design and bow tie for Max by Lynn Theresa Designs. Table from AFR Event Furnishings. Bentwood chair from Party Rental Ltd.
---
"Maryland State Fair" – Elle Ellinghaus Designs
Hayley Paige Coco gown ($3,630) from Garnish Boutique. Thomas Knoell Amber bracelet ($520) at Betsy Robinson Bridal's Collection. Diamond Art Deco ring ($4,500) and Palladium 1950s ring ($1,250) at Bijoux. Floral headpiece by My Flower Box Events.
---
---