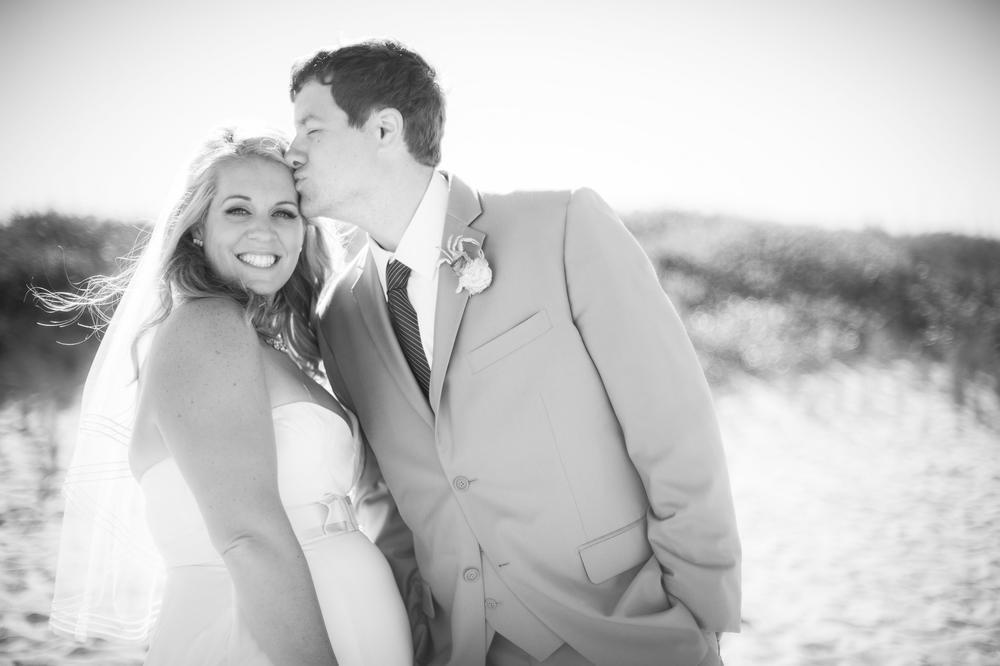 -Photography by Meaghan Elliott Photography
What I Learned
13 lessons from the co-founder of Lemon and Lime Event Design.
By Katey Clark Blauvelt | Photography by Meaghan Elliott Photography - 2015
Planner Katey Clark Blauvelt, co-founder of Lemon and Lime Event Design, dishes on what it's like for a seasoned wedding expert to be the bride. Katey married Matt Blauvelt June 7, 2014 at Sanderling Resort in the Outer Banks of North Carolina.
Here are her 13 lessons:
1. Sometimes you need to do what you want no matter how much push back you get from others. I had 12 bridesmaids, yes 12. I loved it and wouldn't have changed it for the world! So many people said I was nuts. I knew that these were the girls I wanted to share that special time with and it worked out just fine. Which leads me to my next piece of advice . . .
2. Don't cram yourself, bridesmaids, and moms in a tiny hotel room with one window the morning of the wedding. The hair and makeup process will kick off your wedding day, and you don't want to be sitting on top of each other creating a stressful and uncomfortable start to the day. You'll also want good lighting for the pictures. If you don't have a suite at the hotel, see if you can use another private/larger room. It was so relaxing and nice having enough space for everyone to get ready together (all 15 of us!).
3. Be careful with the DIY—I went into my wedding knowing I wasn't going to do a ton of DIY. I just didn't have the time. Etsy is your friend, I repeat etsy is your BEST friend. The few DIY projects I did took up a TON of time. If you're a busy person, don't make yourself insane by DIY-ing everything. I liked working on my ideas with etsy designers and our collaboration made a unique end result, which was great. Plus, you support small businesses when purchasing on etsy—win win!
4. Hire a videographer. Photography and videography are super important and it's worth every.single.penny to have live footage from your wedding day. I know we'll cherish our wedding video until we're old and gray and forcing our grandchildren to watch it.
5. All guys are different—but I found that if I wanted to ooh and aah over invites, favors, flowers, etc, it was best to bring my mom/a friend to those meetings. Matt just didn't get as excited as I did about cocktail napkins and peonies (darn him!). Find out what your fiancé is actually interested in (usually the music and food) and make those vendor meetings the ones he joins you at. Don't drag him to meetings he'll be miserable at, you don't need to hold hands throughout the e.n.t.i.r.e planning process by any means.
6. When shopping for dresses make two appointments. One where you bring the moms, grandmas, aunts and friends, then make another with just one or two people to make the final decision. That way everyone can be a part of the dress shopping process, but you can make the final decision based off of your thoughts, not everyone else's.
7. You have to like your rain plan! You don't need to love it, but you have to like it. I can't tell you how much stress that was eliminated from my planning knowing that if it was pouring on our wedding day the same decor and vision that would've been used outside would also be inside in a space with great lighting. Even if you have the best rain dance ever, don't put the weather stress on yourself in the months leading up to the wedding worrying about if rain forces you to get married in the back-up plan space that you really don't like.
8. Find a project for your mom and mother-in-law. They want to help and they should! If you're crazy involved in all of the details and don't want to hand them off to someone else (this was me), just make sure you find something they can help with. My mother-in-law did an amazing job with the rehearsal dinner and my mom with the welcome reception décor.
9. Don't kill yourself trying to lose weight. Cleary being happy and healthy is great, but if you're not eating enough and working out all of the time—wedding planning will truly become a nightmare and your fiancé may run away.
10. Don't just pick a vendor because they are the cheapest. We spent a lot on our vendors, and they all did an amazing job and helped put together our perfect day. This wasn't by luck, but by working with highly experienced professionals in the wedding industry that always had our best interest in hand.
11. You can plan a wedding from afar! If you live out-of-state and want to get married in your hometown of Baltimore or Annapolis, it can be done! Just hire a wedding planner :)
12. Pull creatively from everywhere! We framed some of our favorite greeting cards and used them as decor and spray painted plastic crab ornaments gold and used them for boutonnieres. If you want a truly unique wedding, Pinterest is a great starting point, but pull other ideas from your everyday life, it will truly make your wedding your own and not something everyone's already seen via social media.
13. If possible and budget allows, try to plan a welcome reception or a goodbye brunch. It doesn't have to be anything fancy—meeting at a bar after the rehearsal dinner or offering your guests coffee and bagels the morning after the wedding. It's nice to have a few days of celebrating so you're both able to see your guests outside of just the wedding day—which always flies by!
---
---