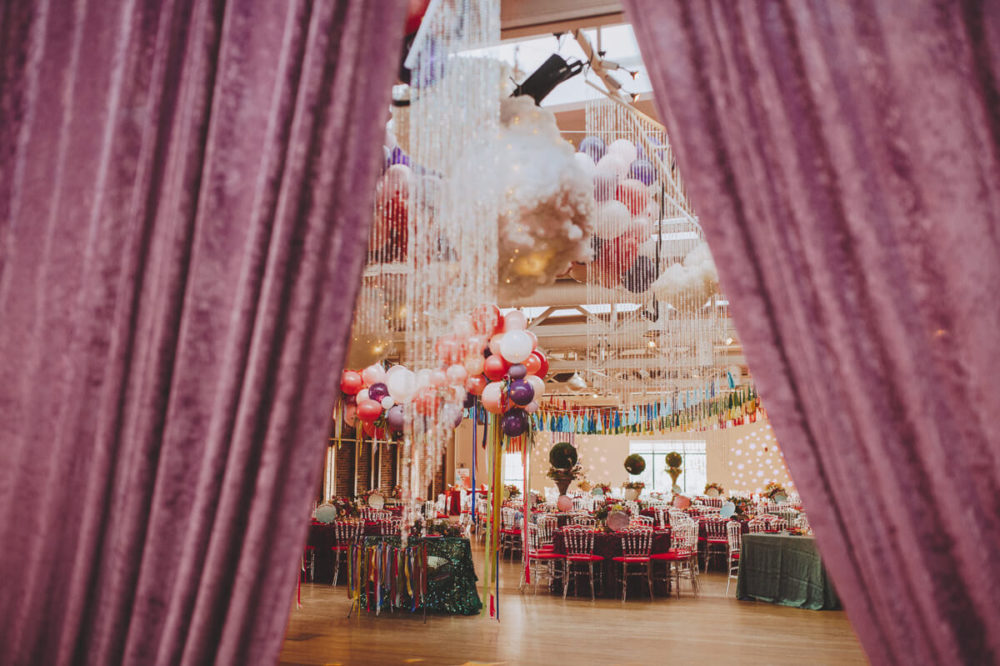 How Rainbow Days and Starry Nights Happened
Unicorns, rainbows, and topiaries, oh my.
by Janelle Diamond | Photographs by Nessa K Photography - 2017
Victoria Clausen talks to a lot of brides. They bring in Pinterest images of floral walls, oversized bouquets and stunning centerpieces. But when Pamela Patch walked into Victoria's floral events office, she was intrigued by what she was hearing. Pam's wedding was in seven months. She was looking for an "out of the box florist," she told Victoria. She wanted a magical, whimsical, fairy tale/Slumberland-esque affair with unicorns too. And she liked space, rainbows, and dinosaurs. "Ohh my gosh," Victoria remembers saying. "Do you want one direction or do you want everything?" Pam told her, "I'd like to have everything if we can make it work."
"She had a refreshing boldness and confidence," says Victoria over breakfast at Atwater's. "This is who I am and this is what I love." But Victoria still left the meeting wondering if she'd ever hear from the Patch family again. To her delight, she did. And while Pam didn't want anyone to forget it was a wedding they were planning—she texted pictures of her traditional wedding dress to Victoria—it was certainly different from any wedding Victoria had planned before.
Here are 10 things you should know about Pam & Michael's wedding.
"She wasn't afraid of color."
Victoria sourced linens from multiple companies including Select Event Group, Nuage Designs, and Cloth Connections, where she found tablecloths with tie-dyed paylettes that reminded Pam of The Rainbow Fish book from her childhood. "I couldn't find one place that had everything we needed."
Victoria's team also made chandeliers out of ribbons. First they were going to set up the tables in rainbow colors, but they felt like they were pushing the rainbow theme to hard. Instead they created six chandeliers—made out of hula-hoops and ribbons—in the rainbow colors and had them throughout the room.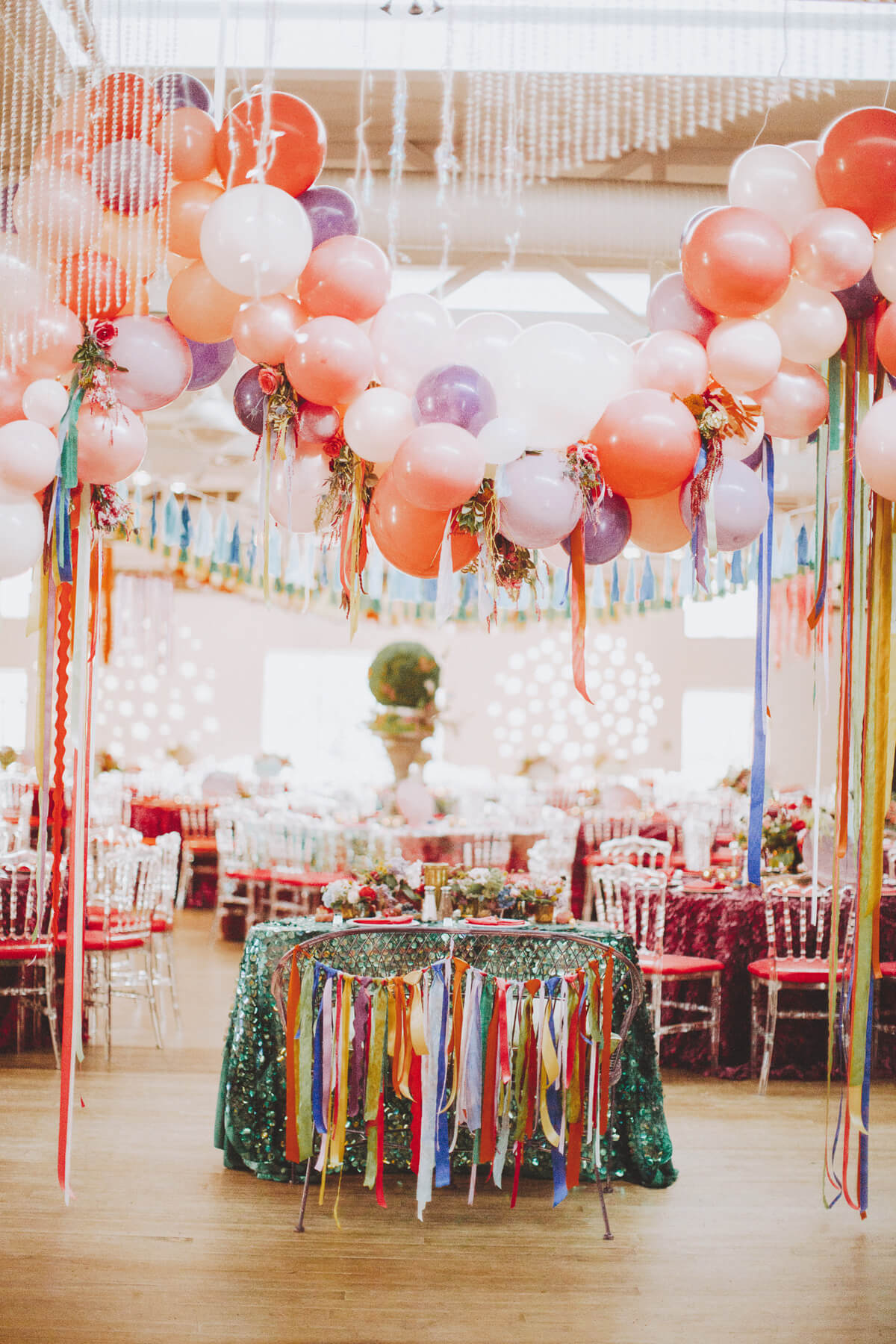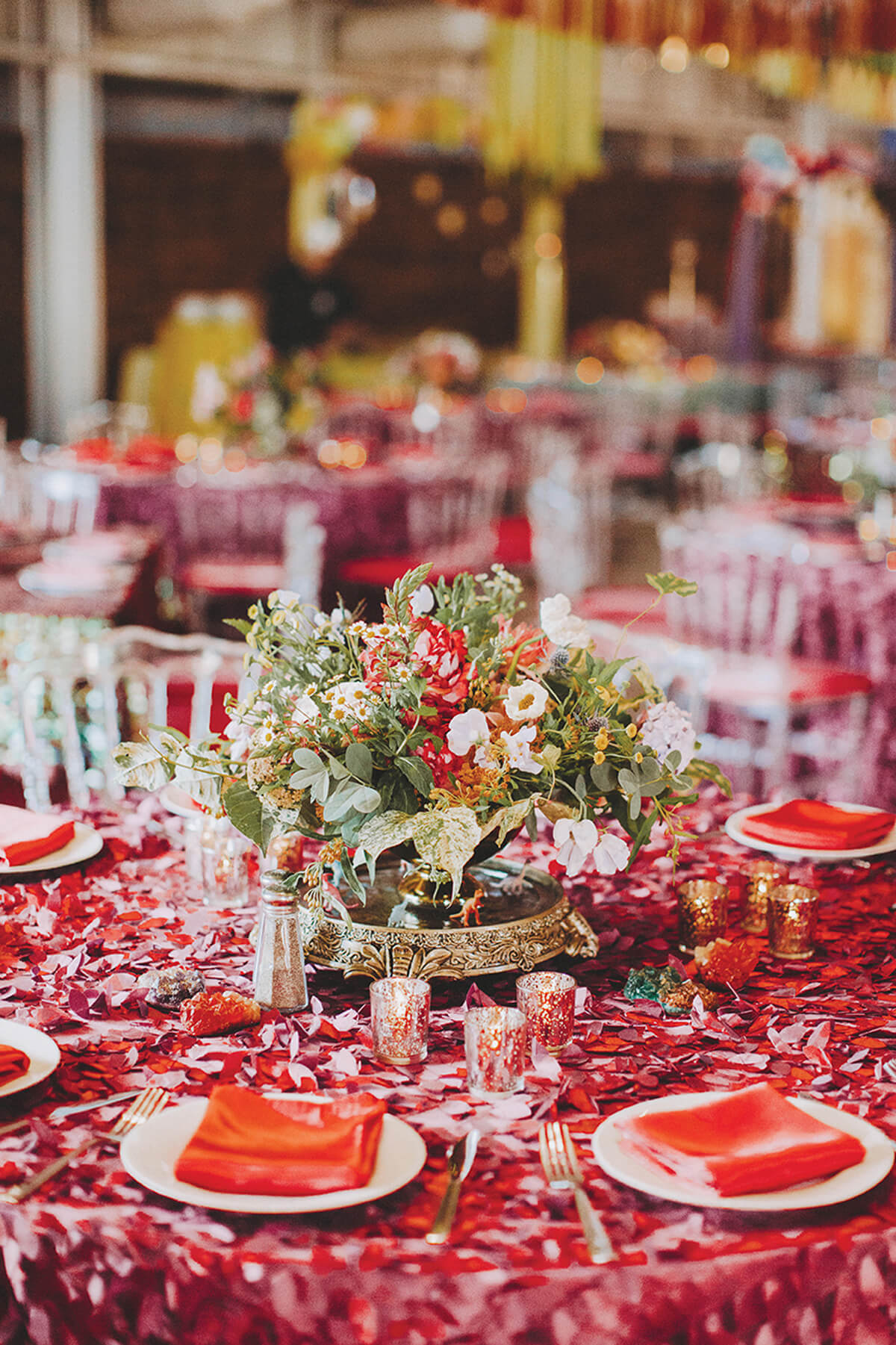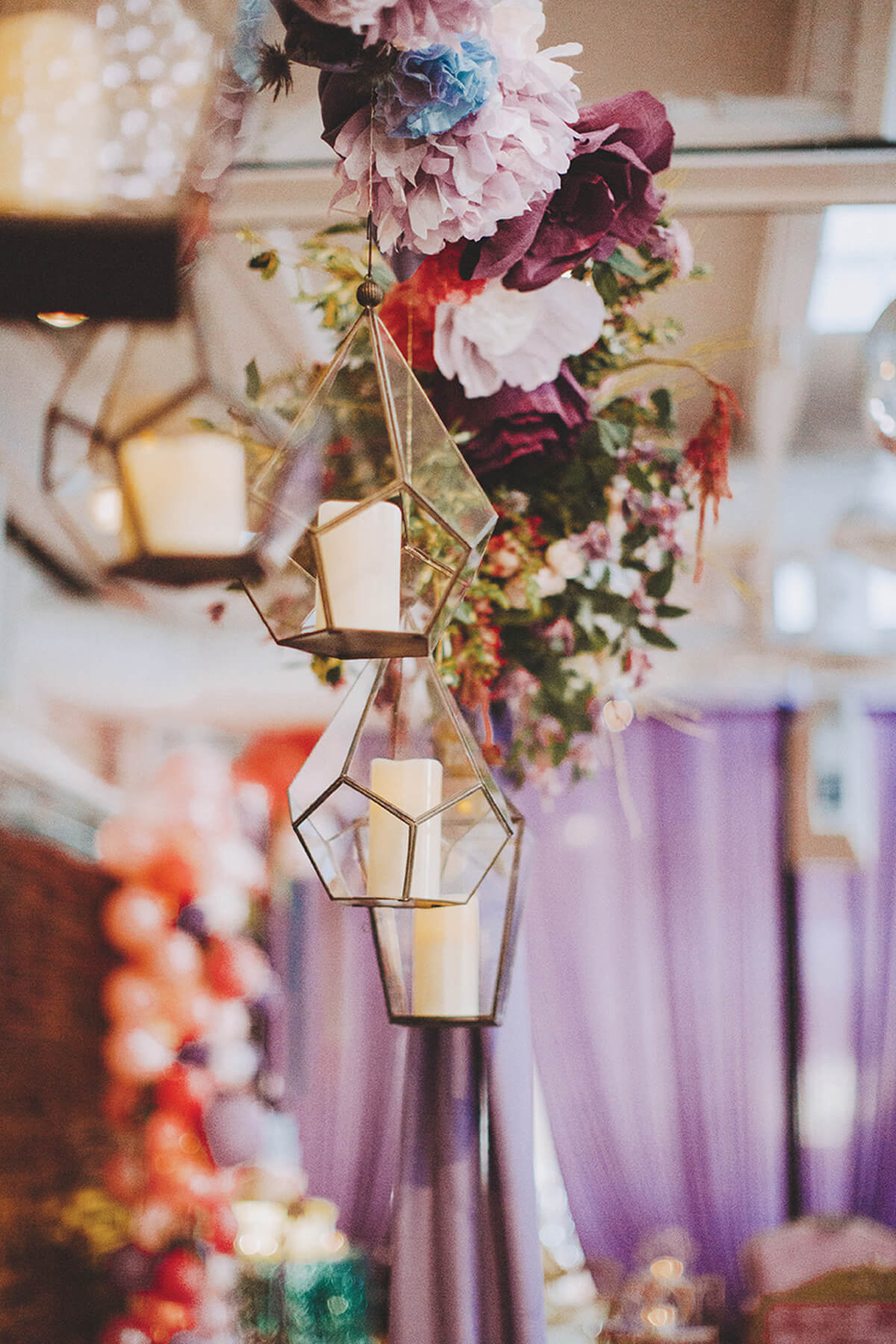 Balloons
Pam had some balloon ideas including a balloon drop and an arbor. They decided to put that over the sweetheart table and framing the wedding cake. They worked with Bill Reeder, from Affairs to Remember, to create all the balloon elements. Victoria had the idea to nestle flowers and ribbons amongst the balloons, combining different texture together. "We wanted to take all these elements that seem not to belong together and tie them together."
Custom isn't cheap.
Victoria wouldn't divulge the wedding cost, but she did say there was "a lot of custom involved" and pretty quickly they blew their budget.
The moon.
Pam had mentioned the idea of a moon to Victoria. Then out of the blue a friend in Pittsburgh contacted Victoria. "Any chance you could use a moon?" Victoria immediately told Pam. "Listen I found the moon." Fully opened the moon was 8-feet tall. It was painted bright yellow with big blue eyes and red lips. They toned it down with a wash and added layers of glitter. "There was a lot of moon work," says Victoria. They positioned it by the elevators on the reception level. They had the escort cards hanging over the moon, like stars. Once they were gone, the moon became the photo booth. Victoria and her team built a seat so guests could sit on the moon.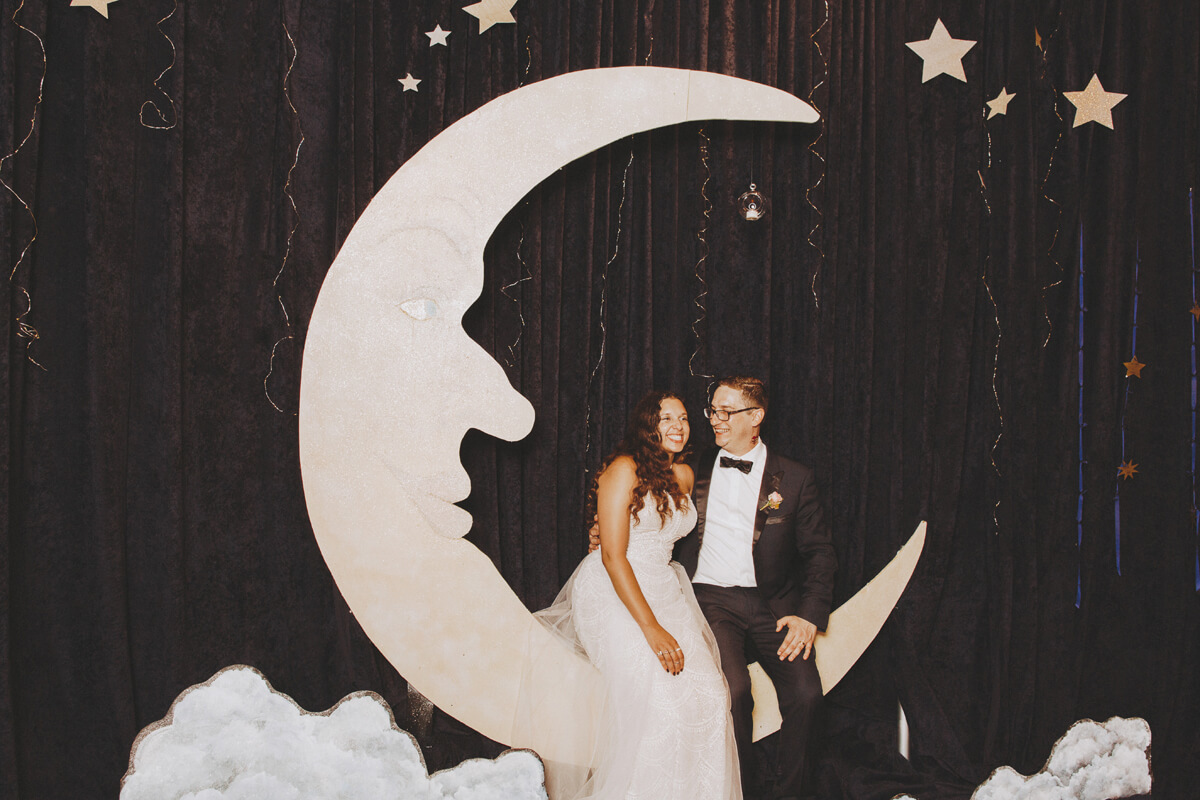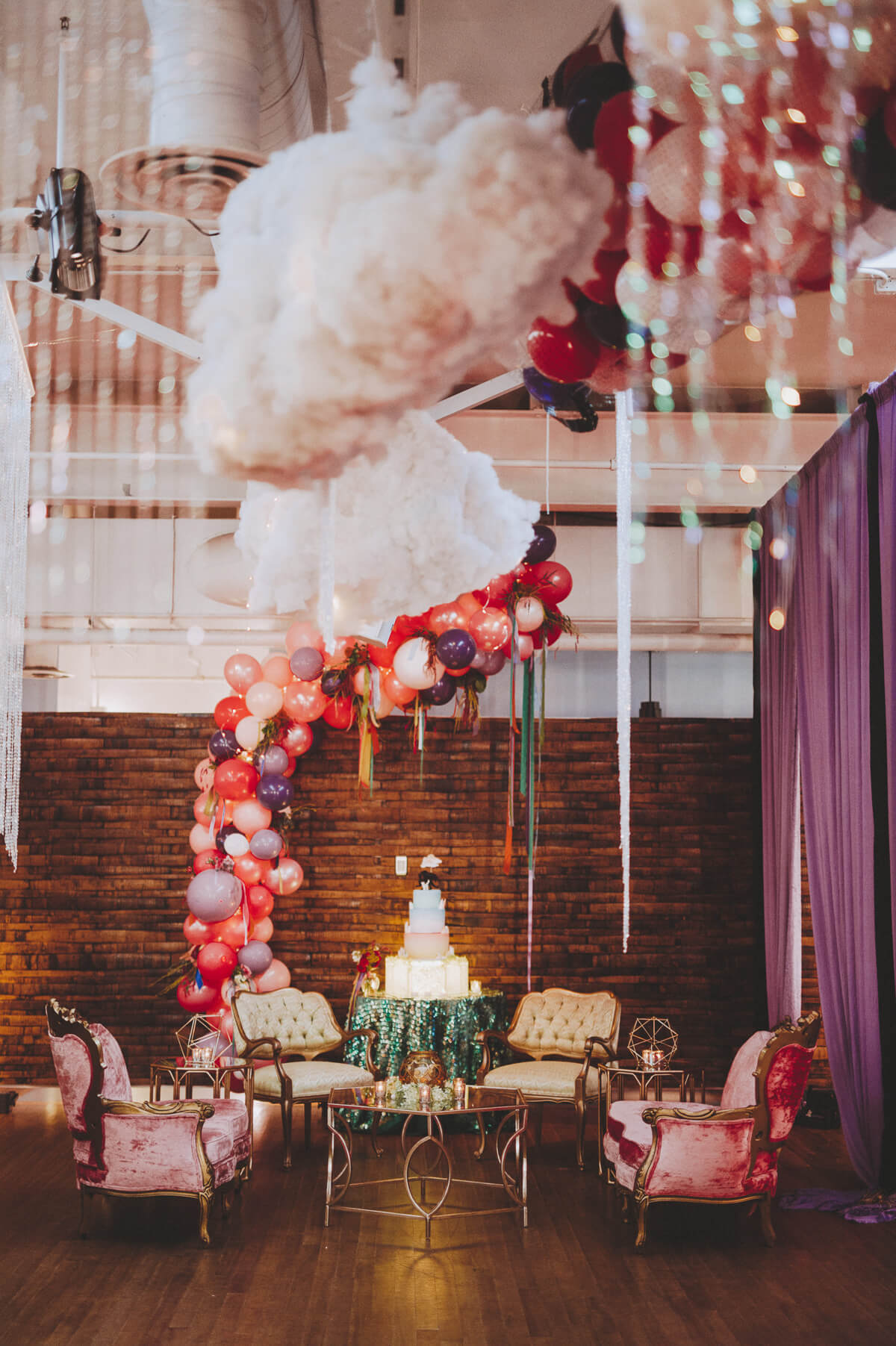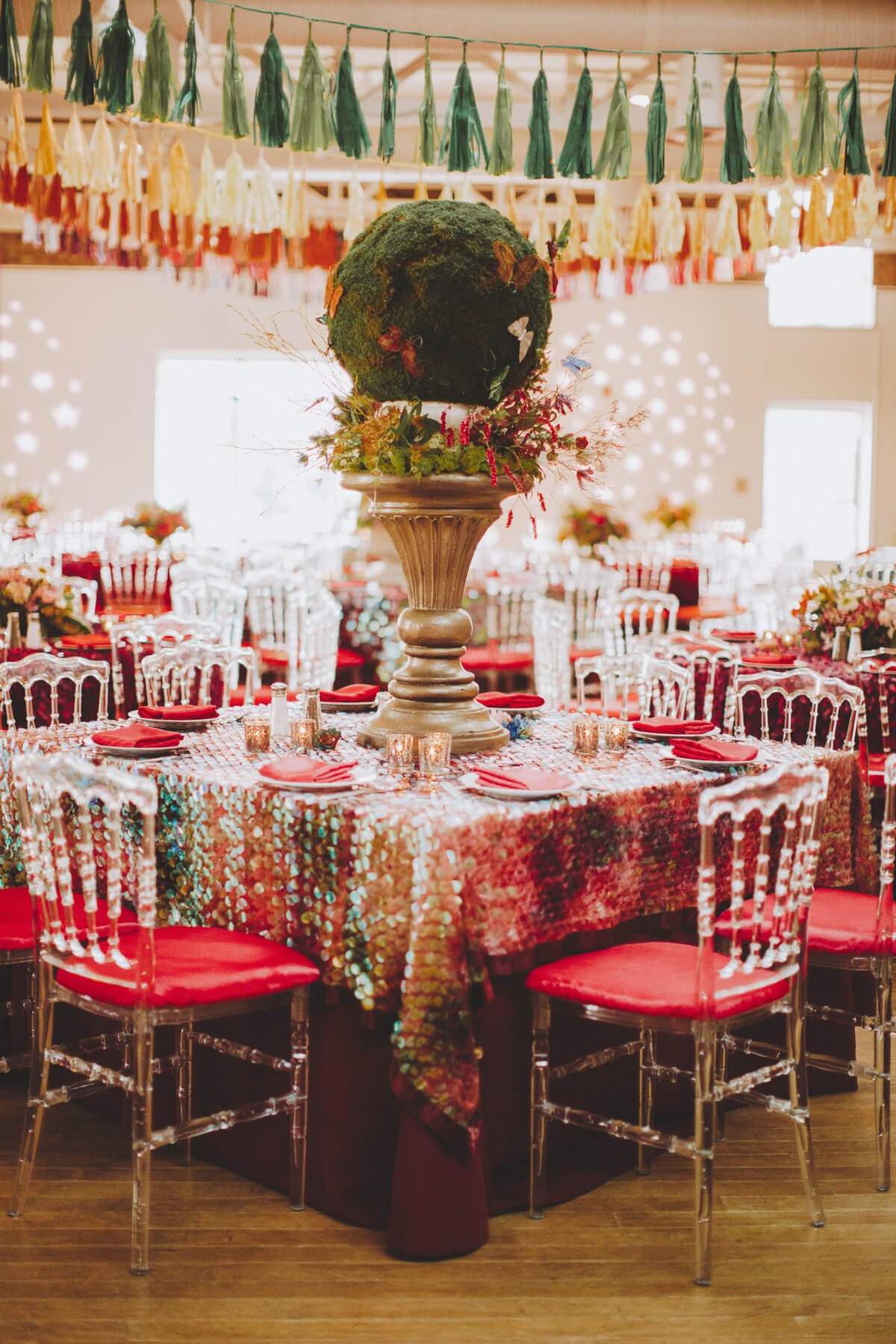 Little Nemo: Adventures in Slumberland
Pam was deeply influenced by Nemo, the protagonist of the comic strip Little Nemo in Slumberland. The weekly strip depicted Nemo having fantastic dreams that were interrupted by his awakening in the final panel. (Thank you Wikipedia.) Nemo was the inspiration behind all the topiaries Victoria created.
The ceremony
Instead of ribbons, they did crystals across the chairs and down the aisle. There were also terrariums that changed colors, with dinosaurs inside. And the backdrop for the ceremony were stained glass windows—which Pam's parents collect. It included a special one for Pam and Michael with their wedding date.
Hanging the stained glass was no easy feat. The museum closes at 5 PM to the general public and Pam's ceremony was set to start at 5:30. That meant Victoria had less than 30 minutes to set up the chairs, stained glass, paper flowers, hanging crystals, and everything else needed for the ceremony. With the help of Maryland Productions—who did the draping and lighting for the wedding—they had a truss ready to go. At 5 PM they ran in and secured the truss on two ladders. They hung each stained glass on pre-attached chains and slowly raised both sides at the same time to attach it to the beam. They had 20 people working on all aspects of the ceremony set-up because of the time crunch. They had run-though the entire process at Victoria's design studio and had a detailed diagram. Everything was rehearsed. Each team knew what they were in charge of: stained glass windows, flowers, dinosaurs, chairs, aisle runners, or crystals.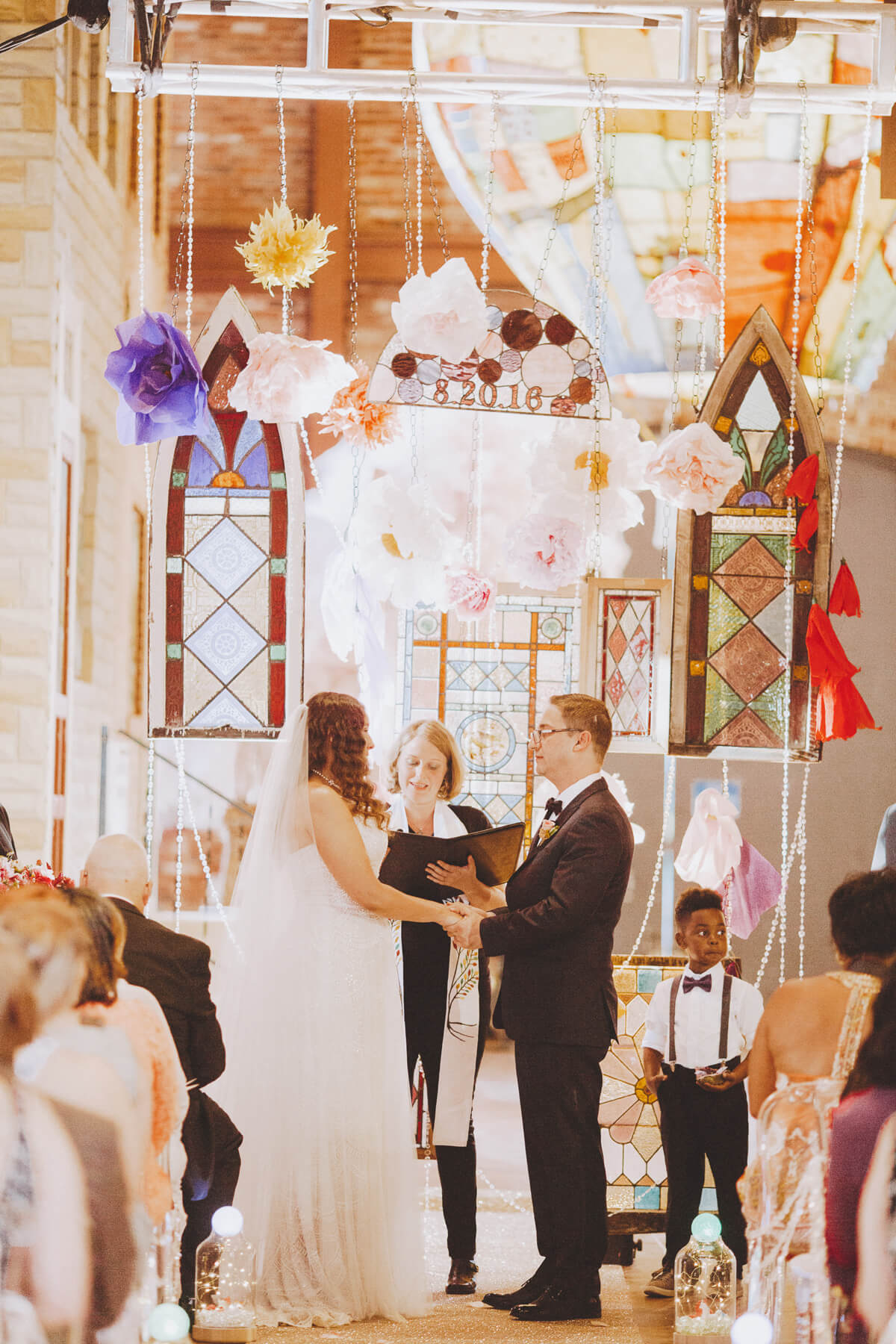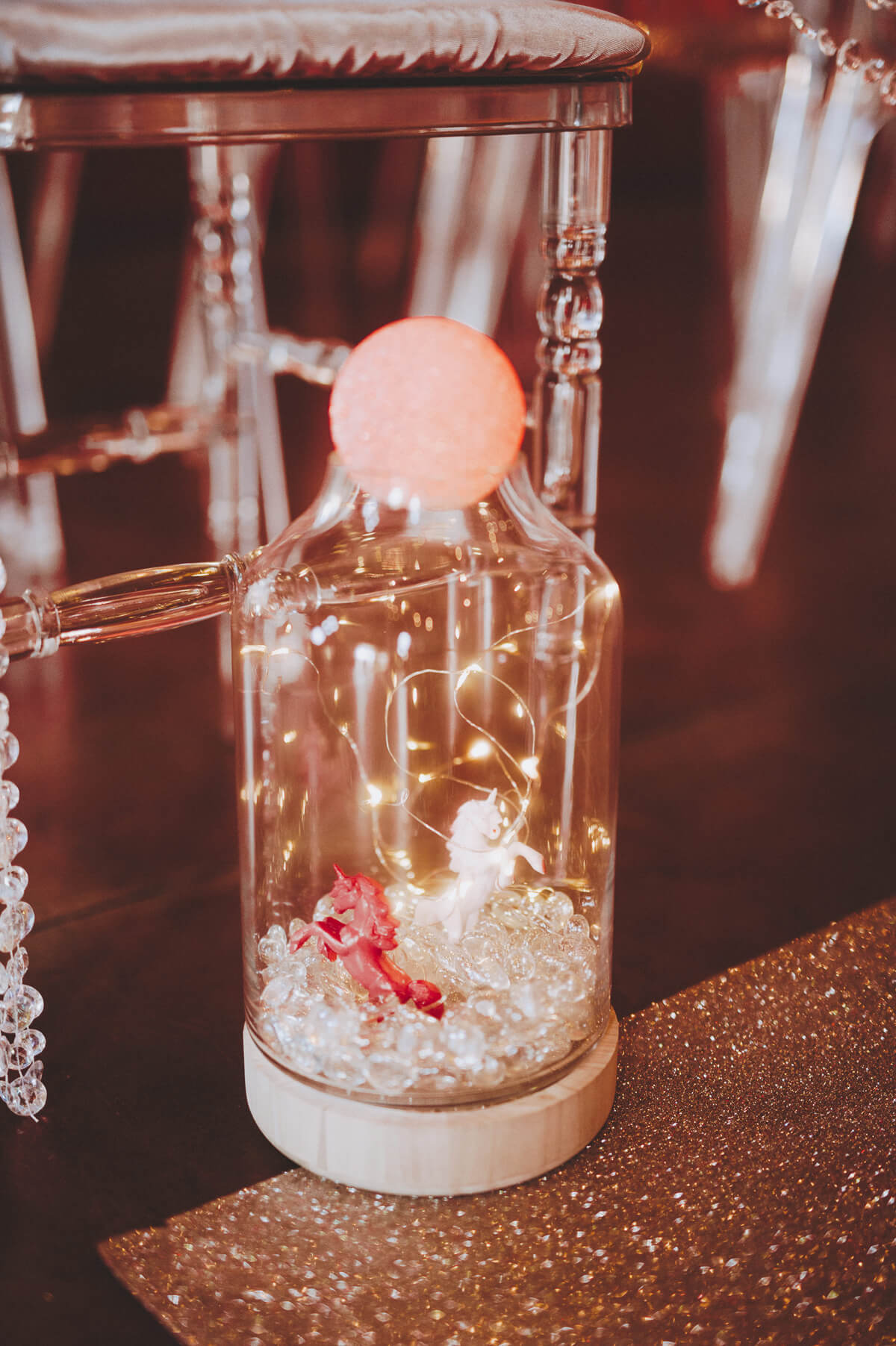 The day of
The reception room was set up that day. Victoria had two trucks including Pam's items, (clouds, paper flowers.) She had between 12-14 people that entire day setting up. "Different teams were doing different sections. Everyone came in and they had a job."
The immersive experience meant not just elements on the tables, but up above too. "We needed every single beam."
"There was a purpose for every single little thing. Everything that was dear to her we figured out a way to make it work, including his and hers constellations above the bar."
Victoria came up with the idea of the curtain blocking the cocktail hour (starry nights) with the reception (rainbow days.) When the curtains parted there was an explosion of color, texture, and a lot of elements of surprise. "We were intentional about every detail."
And don't forget the flowers. "Pam likes beautiful flowers." And while there were much less floral elements that most of her wedding, Victoria had fun creating the bride and bridesmaid bouquets and all the boutonnières. "It was so fun. It was so fun. It was so fun."
Organized up the wazoo
Pam's wedding was organized in a two-inch thick three-ring binder that contained a color-coded floor plan and a gazillion rental orders.
DIY do and don't
Pam and her family contributed a ton of DIY to the wedding, but "they knew when to stop. And when to let go," says Victoria. "It's a good, very important skill." To often, she says, "Some people hold on to tight and miss the whole thing." Pam dropped off all her DIY elements to Victoria the week of the wedding plus boxes of unicorns, soap rocks, and dinosaurs. "So, what do you not have here?" Victoria joked.
The End
Afterwards, it was much less glamorous. Victoria and her team were only allowed one hour to break everything down. "At that point you just want to start throwing stuff out the window." But with all hands on deck they had everything out in time.
"It was one of those weddings where you sit back and pinch yourself. Did we just do this? And it all came together? So cool," she says.
"I love challenge. Some are recognized by a certain style. That isn't what moves me. I like to be recognized by service, quality, and creativity."
And like any wedding vendor will tell you, there is a certain sadness when planning is over. "Every client brings a certain energy that fuels you," says Victoria. "This is one of those weddings I will always remember."
You can find Pam & Michael's wedding here.
---
---