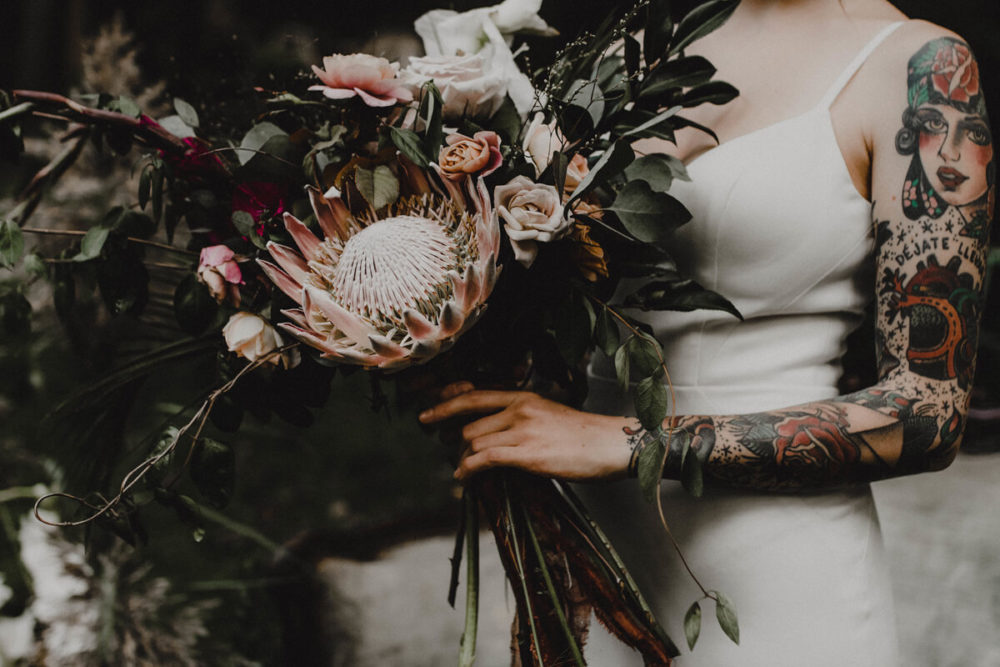 How Long Is Forever?
An Alice In Wonderland-inspired bridal shoot with enchanted flowers, splendid tea cakes and a strong female lead.
Styled by Thurman & Fig | Photographs by Freefolk Natives​ and Ian J. Bell​ - 2018
Mad Hatter: "Have I gone mad?" 
Alice: "I'm afraid so. You're entirely bonkers. But I'll tell you a secret. All the best people are."
The inspiration behind the shoot goes beyond who the vendors are, all being artists, but truly what these artists are about. The shoot took place in late September, right in time for that late fall moody goodness. All the vendors are intensely innovative and I think I can speak for all of us when I say that we hold a special place in our hearts for the juxtaposition of layers of dark on top of the romantic elegance of wedding styles. I honestly believe this is why the shoot went so effortlessly because our personal aesthetic makes one beating heart.
Alice in Wonderland is all about that. Make believe, imagination, magical potions, beautiful cakes at tea time, even the vintage blue velvet couch picked up that dusty blue Alice wore so well. 
"When I used to read about fairy tales, I never thought I would end up in the middle of one." -Alice
This is obvious more so, because of the fairy tale your wedding day ends up being. So much time and energy is spent in the process of wedding planning for the couple, that ultimately, you want that magical imagination that makes you realize all that planning became your personal fairy tale, even for just one perfect day. - Carly Thurman, Thurman & Fig 
Photography: Freefolk Natives and Ian J Bell
Videographer: Ian J Bell
Model: Annie Parker of Ann Margaret Ceramics
Hair and Makeup: Faye Whiteman
Cake: Cherise Rivera
Florals: Thurman & Fig
Gowns: Amanda Ritchey Bridal
Pottery: Ann Margaret Ceramics
Furniture: Thurman & Fig
---
---
---