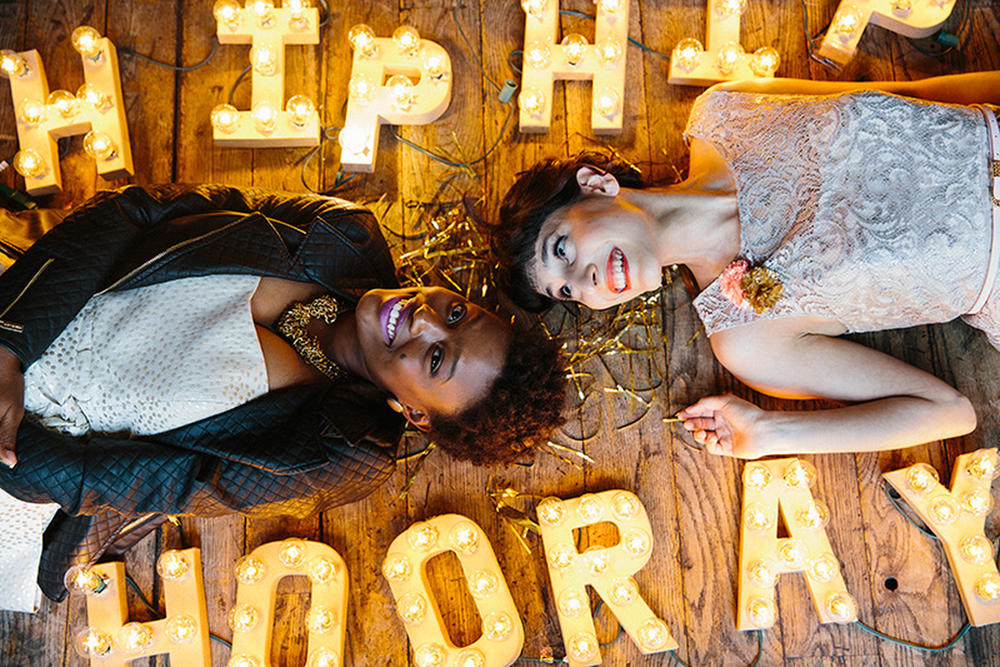 -Photo Credit: Lindsay Hite / READYLUCK
​DIY by MAKETRIBE
From our "Hip Hip Hooray" photo shoot, MAKETRIBE shows us an easy way to create marquee words & more.
Photography by Lindsay Hite / READYLUCK - 2015
How-to: Marquee letters
Supplies:
8" cardboard letters spelling the words of your choosing (found at Joann Fabrics)
Pencil
X-acto knife
2-4 sets patio string lights
How-to:
Remove the backing of the cardboard letters by tracing around the border on one side with the X-acto knife. Remove the cardboard stuffing and set aside.
Use the lightbulbs and casing to loosely plot out where your bulbs will sit on the surface of each letter. Remove the bulbs from the casing and use a pencil to trace the casing circumference (where the bulb screws into) on the surface of the letter in the positions you've chosen. (i.e. letter A might have 6 bulbs.)
Use the X-acto knife to score an asterisk in each traced circle to make an insertion point for each bulb casing.
Gently push each bulb casing through the circles from the back of the letter out, so just the lip of the rim peeks out on the front of the letter. Make sure to plan where your power source will be and string the bulbs/letters accordingly.
Tuck excess cord into the back of each letter, and connect more light strands as necessary. Screw in the lightbulbs and plug in.
---
Photo Credit: Lindsay Hite / READYLUCK
How-to: Gold fringe backdrop
Supplies:
10 packs of 12" metallic gold fringe, found at Party City
2 rolls of white kraft paper
Clear packing tape
Scissors
How-to:
Unroll your kraft paper and measure out the width of your backdrop. 6' in width can fit two people posing comfortably. Cut 3 lengths to 3' x 6' and use tape to attach them to make a larger 9'x6' backdrop.
Begin to tape a length of gold fringe onto the paper backdrop, working in straight lines from top to bottom. Trim to fit width and use remaining fringe on the next layer.
Hide the top of the next layer of fringe underneath the fringe tassels of the first layer, so the top layer will cover the tape.
Repeat, layering fringe trim for the entire length of your backdrop, hiding any white space.
---
---