Black Tie Budget Bride: Keep It Simple Stupid
July 31, 2018 by Colleen White | Photograph by Love to the Core Photography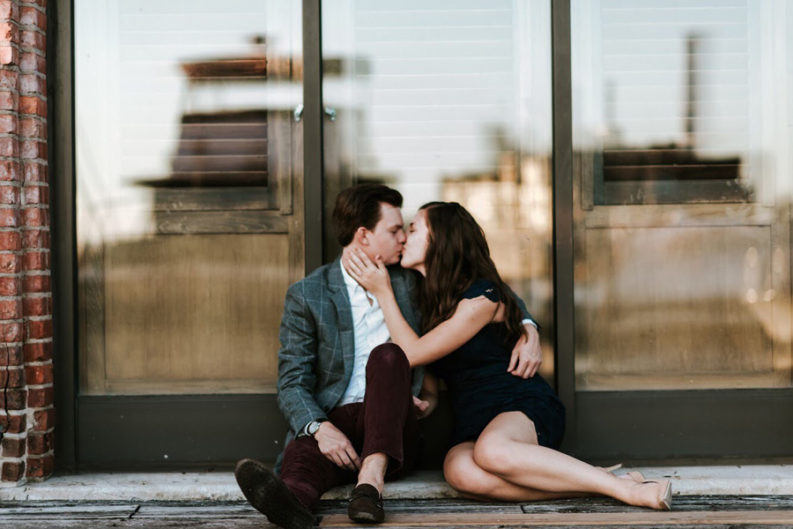 Photo by Love to the Core Photography
If there's one thing that you can get carried away with easily, it's a wedding. There is so much on the internet, TV and real life that you can easily get overwhelmed! One minute you might be thinking that you want a romantic, casual wedding beachside with gorgeous lanterns. The next minute, you'll want a black-tie formal ballroom affair. It can be so difficult to nail down exactly what you want and stick to it. My advice: Keep It Simple Stupid. K.I.S.S. Not only will this help make your wedding beautiful and timeless, it'll help keep your budget low too!
Find Key Elements You Love
Start with a few key elements that you've noticed you're drawn to when you look at other weddings. Whether that's a specific color, flower or type of theme. Make those key elements the core of your wedding planning process. For me that element was rose gold. I've always loved rose gold and every wedding I became obsessed with had some element of rose gold tied in. So I ran with it! Don't be afraid to make one element your focus.
Simple is Better
While Pinterest can be an incredible resource for wedding planning, it can also lead to a lot of confusion. I've found some gorgeous inspiration images on there but they were totally unattainable and left me feeling like my wedding would be subpar. Giant flower walls and huge chandeliers, while beautiful, aren't necessary to have a beautiful wedding! Stick to floral arrangements containing your favorite flowers with simple decorations and your guests will still be impressed.
Stick to your Personality
It can be easy to lose your own personal style in your wedding. As mentioned, you can see all of these incredible weddings on Instagram and Pinterest and think that it's what you want but it might not be your style at all! Are you not into country music or sunflowers and rustic wood? Don't have a barn wedding! It sounds simple but it's something that can easily be forgotten.
Save that $$$
Keeping it simple helps not only keep your wedding timeless but it'll help your bank account too! I'll say it again and again, you don't need extravagant decorations and details to have a beautiful wedding! Save yourself some stress, time and money and go minimal.
Save your stress and your money for other issues. Keep your wedding simple and things will go a lot smoother! That way, on your wedding day, all you'll have to worry about is marrying your best friend.
---
---