Ask the Expert: The Makeup Artist
July 26, 2018 by Cara Hullings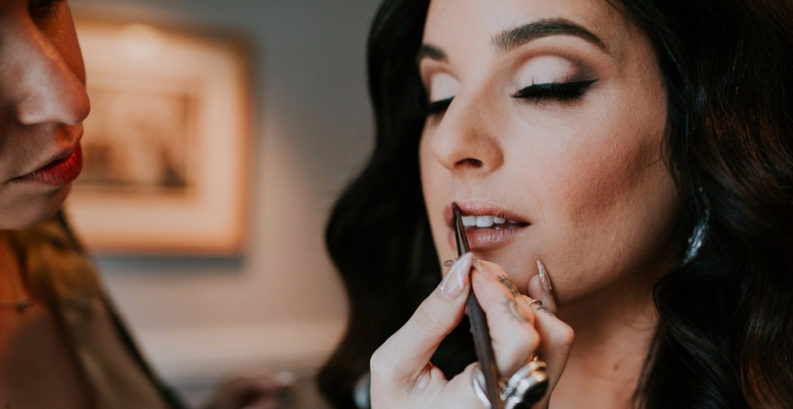 Photo by Lauren Louise Photography
Caitlyn Meyer wasn't allowed to wear makeup while growing up in Idaho. Regardless, she decided to make her own makeup during high school, smudging gel pen ink over her lids to create eye shadow. This DIY attitude carried over to hair as well, and Caitlyn became the go-to girl in school to recreate the cool hairstyles of shows like Buffy the Vampire Slayer. "I've just always loved art and makeup" she shrugs, thankful that she now does what she loved even back when all she had were gel pens.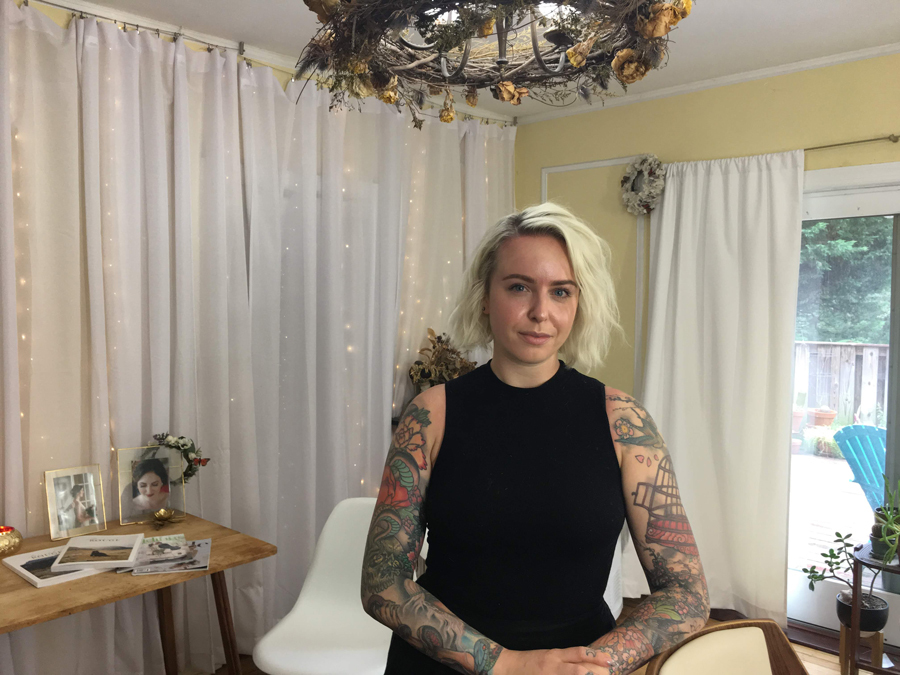 After high school, Caitlyn moved to California and soon met some girls who worked for MAC. "It seemed like the loved their job," Caitlyn recalls, which is why she began to go to the MAC store week after week, having these girls teach her everything about makeup. Eventually she began working there, offering makeup advice to the brides who came in. These brides asked Caitlyn to come to them to do the makeup the day-of (something very uncommon at the time) and she happily obliged. "I soon realized I loved doing makeup and doing weddings," she explains.

In 2006, when her grandfather was diagnosed with cancer, Caitlyn decided to move in with her dad in Salisbury, Maryland to be closer to her grandparents, who lived in Baltimore. On the weekends she would visit her grandparents in the city, while continuing to do makeup at MAC. After her grandfather's passing, she chose to stay in Maryland, moving to Baltimore to continue to be close to her family and to start her own business. She started doing full-time freelance work in 2012, always making sure to allow time to get her nails done with grandma. In time, this freelance work turned into her successful business, Caitlyn Meyer Hair and Makeup. Since then she has won multiple wedding awards and grown a comprehensive portfolio including Eva Longoria and Pamela Love.
What services do you provide?
Hair and makeup. I usually stay for touchups during photos. I can stay and fluff the hair and make sure everything looks perfect for as long as a bride wants me to.
Do you do entire bridal parties?
It depends on the size. I like to focus on the bride, and maybe her sister or her mom, or whomever is closest to the bride on that day. Wedding days can get really hectic and some brides will have up to thirteen bridesmaids in addition to their mom. With the hair and makeup team, that means there are over twenty people in the room. In those last two hours before the ceremony it can get really emotional for a bride and not everyone can see that, so I like to just close the door and have us be alone in a quiet room. Therefore, if I am doing to a large party, I will usually hire one of my friends to cater to the other people in another room, just to keep it quiet.
Photo by Meghan Harris Photography
Who should be included in the party hair and makeup for a bride?
I think it's blatantly obvious when someone does their own makeup for a wedding if she is not a professional, especially if there are seven bridesmaids who have professional makeup and one who doesn't. So the general rule is just all or nothing. I think consistency is what's important.
What are the benefits to vegan and cruelty-free makeup?
In terms of cruelty-free makeup, for me, this is non-negotiable. I just don't see why the quality of life for animals should be sacrificed for human vanity. I just find it ethically disgusting, but that's my own personal choice. I think it really comes down to knowing where the things you use come from and trying to do less harm to creatures and the world while we are here. It's more of an ethical thing than anything else. As for vegan makeup, there are definitely organic lines, which have more nourishing benefits and less added preservatives. While obviously there are benefits to these things, I think really the main reason to choose vegan products is just that it can't hurt to be on the safer side. It's just another way to feel like you're taking care of yourself. Personally as an artist I don't worry about it too much because most people only wear the makeup I buy once, or however many times they hire me. If it's personal makeup, then it can make a difference since someone would be using the makeup consistently.
When should a bride book her makeup and hair stylists?
About a year to eighteen months in advanced.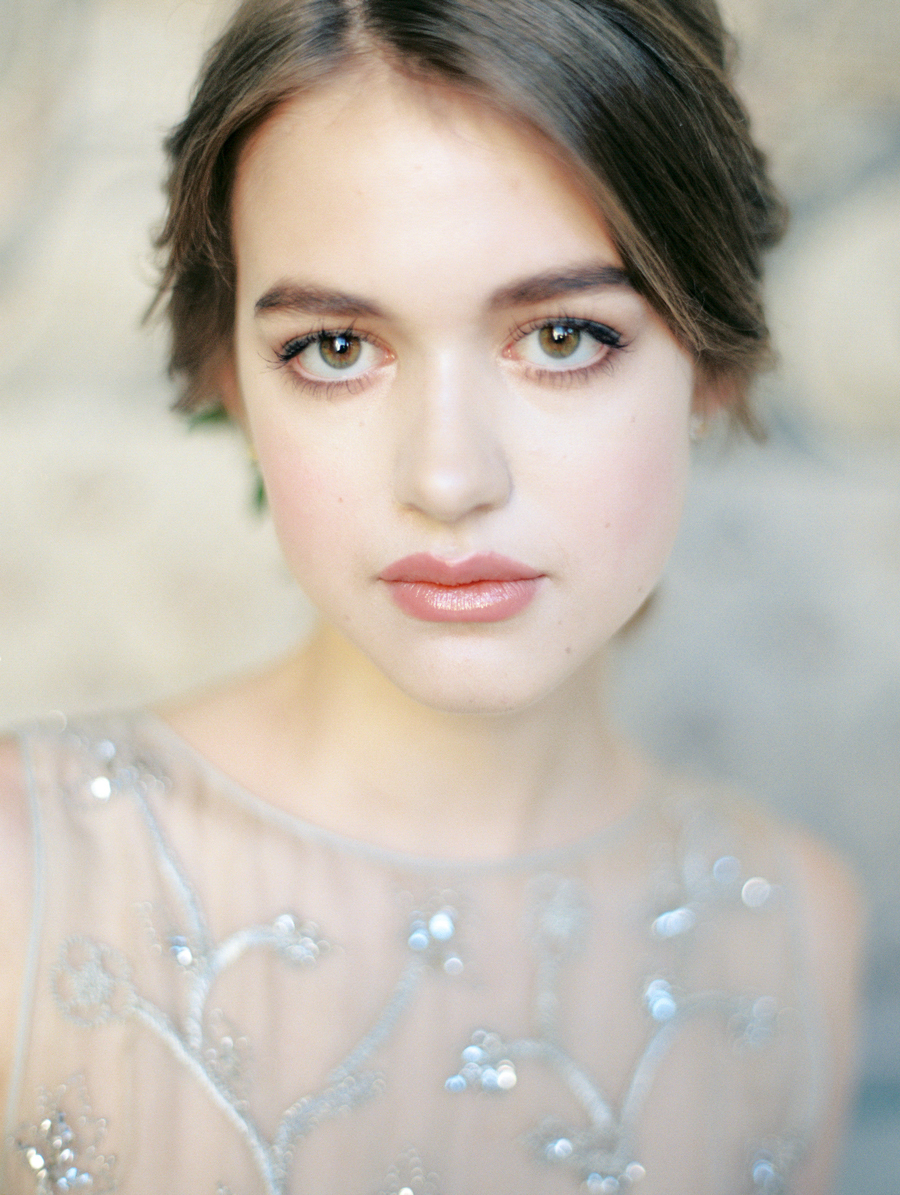 Photo by Michael and Carina Photography
How many consultations would you have with a bride?
One is the most common, but it's not uncommon to do two. I have also had a lot of brides that don't live here, so I end up just doing the makeup for the day of. The trials are really for the bride: it helps them clear some mental space and any sort of emotional stress. It often comforts brides to address their sensitivities in the trial, like if they have stubborn hair or if they've had makeup done in the past and hated it. It's about what makes the bride feel good; it's common for brides to be stressed out, whether it's actually about hair and makeup or if it's being projected, but either way I'm there to relieve some of that stress.
In general, most of my brides will contract before meeting me just to reserve the date and then do a trial about three months before the wedding, but people who have special circumstances tend to do two trials. There would be one about 10-16 months in advance before we contract, and then once they have figured out the other parts of the wedding, we will meet again for the second trial. That being said, the day of the wedding it's not uncommon for a bride to make a change to her look.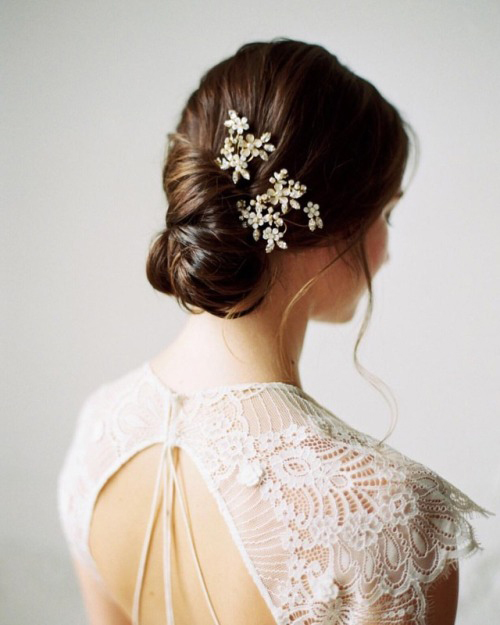 Photo by Kate Ignatowski
What should brides do for research before the trial?
I always offer clients links to Pinterest boards I've created before the trial, which helps. It can be really overwhelming, but I love Pinterest and Instagram for research. As long as I'm communicating with my clients and making sure they're in touch with reality, then I think photos are the best. Even if I can't get your hair to do exactly what's in the photo, at least then I know your aesthetic and we can customize it to you.
What do you recommend to a bride who doesn't know what they want to do or doesn't know a lot about makeup?
I still think clients should bring photos of themselves when they felt the most beautiful. People will use the same words to describe very different things when they don't know much about makeup. For example, someone will say, "I like eyeliner," so then I'm left to wonder Okay, what kind of eyeliner? Sharp? Smudgy? Black? Brown? Basically, the pictures are a way for the client to show me what pretty means to them. Again, the trail isn't for me it's for them, so I'll work the bride as long as I can until we find what makes them feel pretty. I'd also say that maybe if a bride doesn't know what she wants, she might know what she doesn't want. So bring in pictures of things you've hated and we can start that way.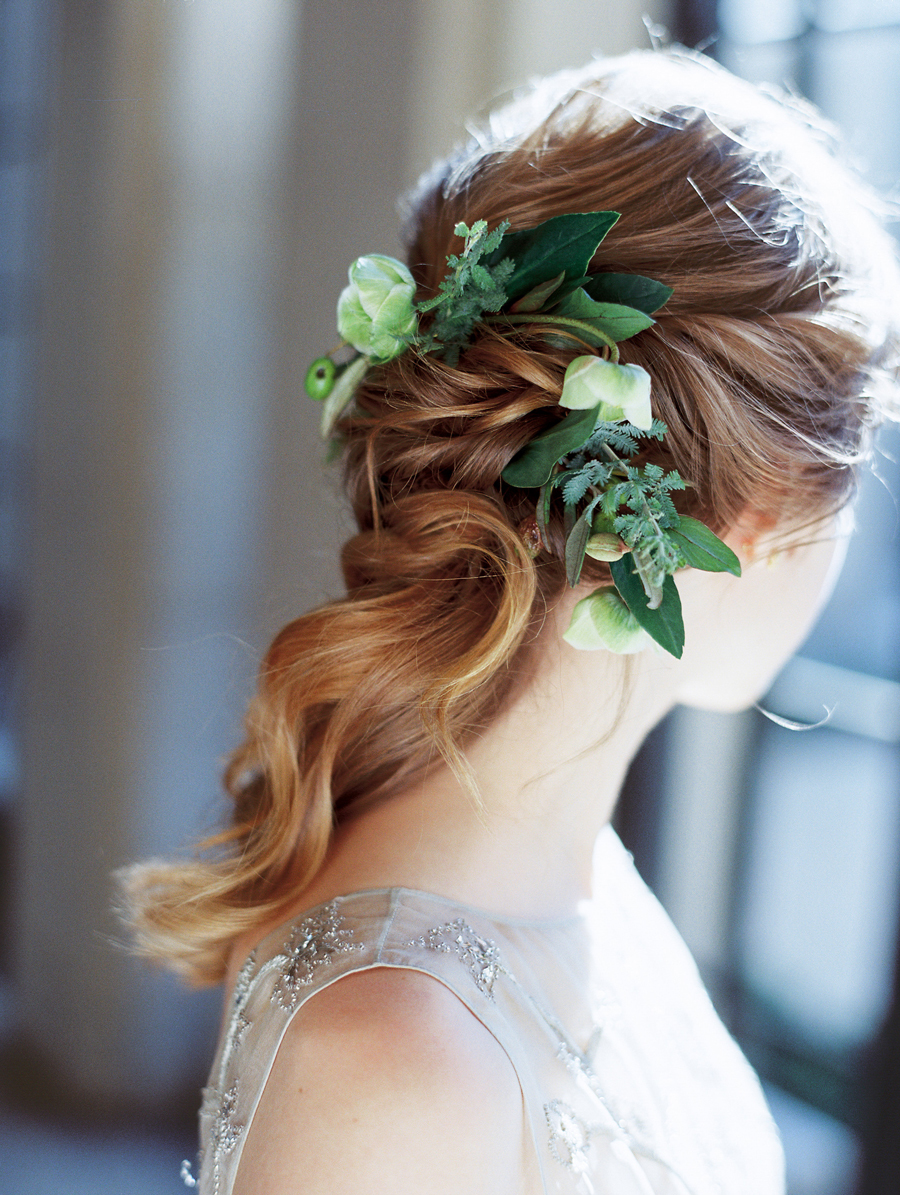 Photo by Michael and Carina Photography
Is it common for brides to bring in their own makeup?
It's not common at all. Normally, I won't even allow it because it ends up compromising my work. Now, there are definitely special cases, like if a bride has a condition. For example, I once had a bride who had a problem around her eyes and she asked me what makeup I would be using around her problem areas so that she could buy those products new for herself. I'd rather do something like this than use someone's personal makeup because if it's not a product I work with, then I won't know how it photographs or how well it will last through the day. In some other cases, I have had like a mother-of-the-bride say she has sensitive skin and she wants to use her own foundation, so in those instances I just make a game-day decision. But with a bride, I'd rather they buy things under my suggestion or use products from my collection instead of bringing in their own.
During trials, should brides bring hair accessories?
I love to see as much as they can bring. I have a little veil just for fun so that if a bride doesn't have hers, we still have something to use. Brides should definitely try to bring veils, or earrings, or other such items if they have them, so we can bring the whole look together. Most people aren't used to seeing themselves in a formal gown, so I think seeing your head all done up is hard to envision with the dress during the trial. Therefore, it helps if the bride even comes in a white shirt or in a shirt that has the same neckline as her dress. Anything like that will help bring the look together and get the bride over the disconnect between her street clothes and her bridal head. These sorts of things help add a sense of the bride to her look and help me find the way to make the look unique to each bride.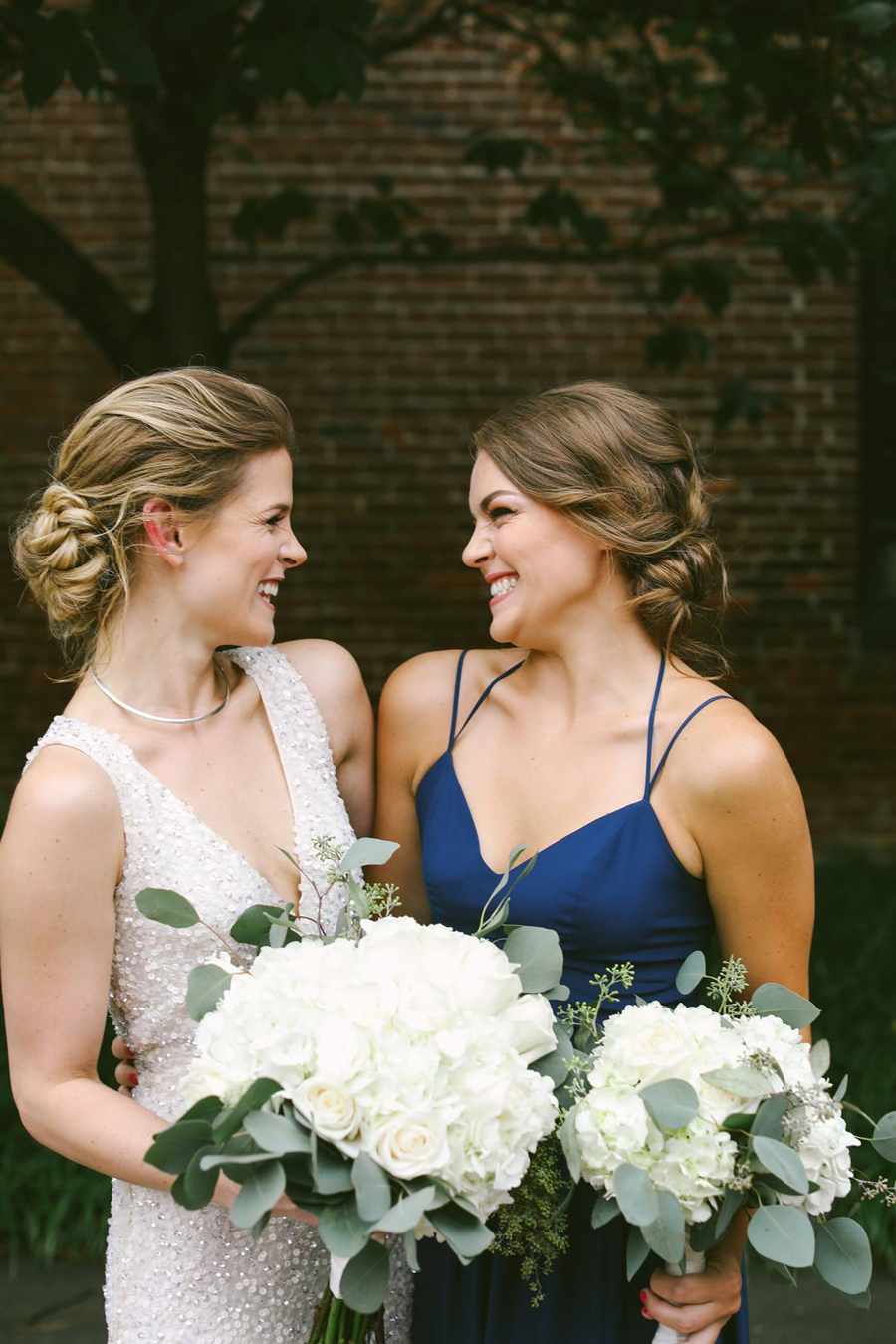 Photo by Drawn To The Image
Do you recommend certain hairstyles for certain hair types?
At the end of the day, if someone has shoulder length hair and they're showing me a picture of a style that requires long hair, then it just can't happen. However, I can do something in the style the client wants that still has the same feel, but is made for short hair. Again, it's important to understand what you're going for, but be realistic. Picking the right style for you is all in the consultation: it's about communicating and finding what's fitting for your hair, your skin, and your vision. It's more about me suggesting ways to modify a style a bride likes so that it can work with their hair type.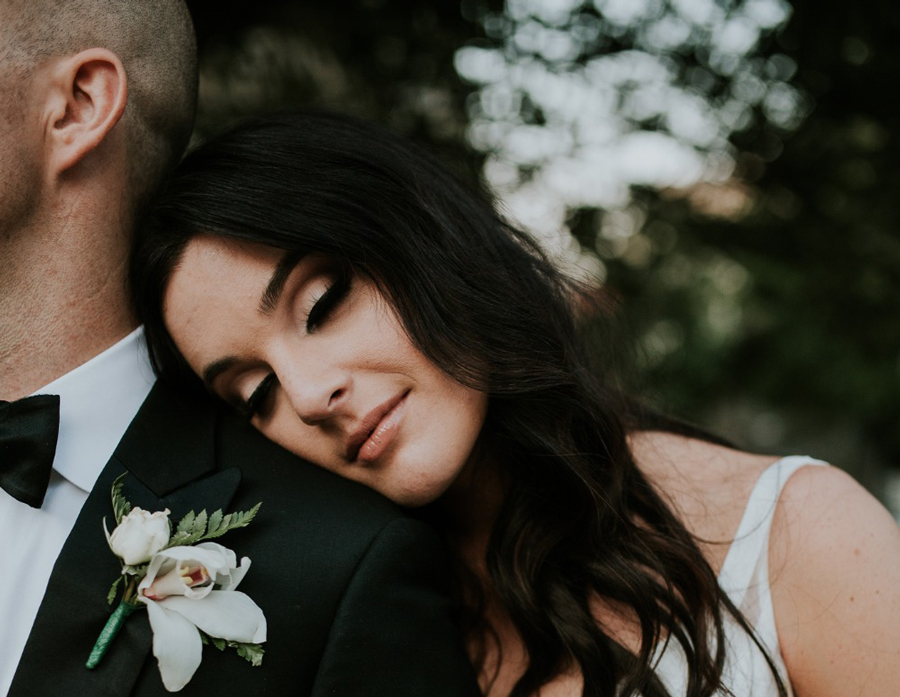 Photo by Lauren Louise Photography
How do you cater the hair and makeup to a bride's theme?
Brides may not come in with themes, but they will come in with aesthetics. For example, if a bride comes in and has a really structured dress, they aren't going to want a Bohemian hairstyle. That's why again the consultation is so important; I want to see pictures of the dress, of the venue, of what the bridesmaids are wearing, because all those things go into what we decide to do. However, usually if of a bride does have a theme, they will come in with ideas for what hair and makeup will go with that, so then my job is just to adapt that to their hair type or skin type.
What should brides do before the trial and before their wedding day?
I have a huge preparation email for both hair and makeup. It's more about what a client doesn't do, than what they do. Everyone has different skin types and hairs needs, so there's no set thing everyone should do. Regardless, whatever you do before your trial is what you should do before your wedding so that way your skin and hair are in the same condition.
Here are some of my tips: Don't get your first facial. Don't get your brows waxed three days before because you could be looking at burns or weird reactions. The general thing is don't do any altering or invasive skin care routines within ten days of the wedding. Do drink lots of water. Do avoid dairy for about a week. Don't drink the night before so you're not all puffy. Don't start a new skincare regimen within 2 weeks.
For hair, I say if you don't want to touch it, I don't want to touch it. The whole 'wear your hair dirty to an appointment' thing is kind of a myth: having unwashed hair with product is very different from having greasy hair from going to the gym and not showering. Use your best judgment, because if you think it's dirty, then it's going to look dirty. You know yourself, your skin, and your hair better than anyone, so you will know when it will act/look best.
How do you make sure makeup and hair will last the whole wedding day?
I've done a lot of research on the products I use. I think, especially in Maryland weather, lasting makeup is a problem because the products that are often long-wearing and can hold up to the humidity, are also often the driest. I like the science behind it, because that's how I can create a lasting look. So basically the science to combat something like this would be to first put on moisturizer and let that set, then put on some humidity resistant primer to lock in that moisture. This ensures that your skin won't create too much oil, like it would if it felt dry. The preparation is key and as long as a product is long-wearing and professional grade, there shouldn't be too much of a problem. So focusing on products that don't run and are humidity-proof is the best. Honestly, I use a lot of stage makeup, because it has the long-lasting properties to it, but you can make it look soft when you pair it with the right stuff. I also like using setting powders that are waterproof and will hold up. This is all in the research though.
That being said, I often stay at a wedding until around a half an hour after the ceremony, so that I can do touchups throughout the day. Now, brides normally do pictures and a first look photo shoot before the ceremony, so I do their makeup before that and then after the shoot I make touchups for the two or three hours that are in between this and the ceremony. Then, after the ceremony I'll do about one more touchup before the bride goes in for their cocktail hour.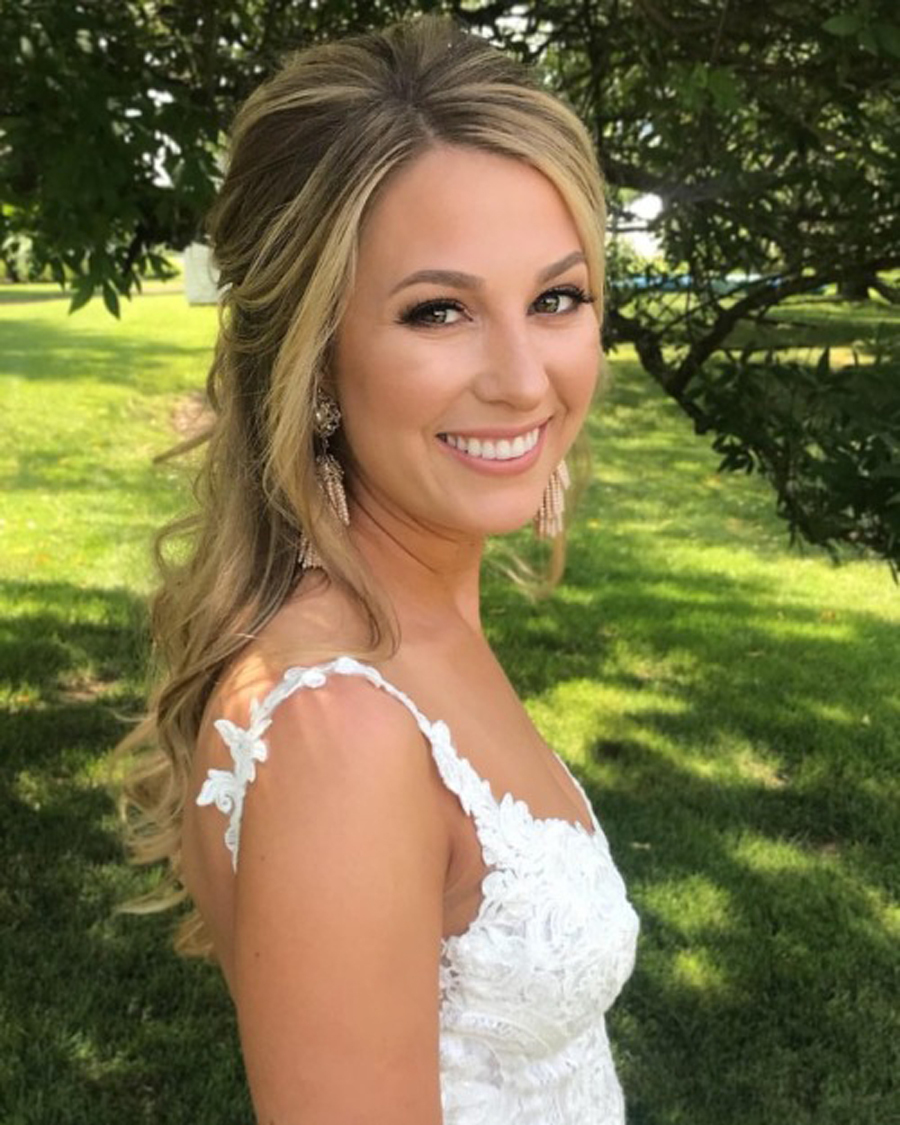 Photo by Caitlyn Meyer
Are there ways brides can touch up their own makeup once you are gone?
Honestly, most of the time they don't need touchups. I will tell a bride what lipstick to buy because with the kissing, eating, drinking, talking and such, brides have to reapply, but that's about it. Some brides do get very oily and are afraid of getting shiny, but eye makeup and everything else will stay. I suggest a setting powder that's talc-free to combat the oil and prevent shine in photos. Talc-free setting powder is important because talc causes flashback, meaning people turn white in photos, often unevenly. I'd also say even a blotting film would help, but you have to be careful. If not used properly blotting films can drag your setting spray creating unwanted texture on the skin.
Are there any trends you're seeing in hair and makeup?
Yes and no. Most of the time, brides tell me they wan to look timeless. So more and more I see brides who want something pulled, loose, and romantic. Whether it's half up or all up or to the side, people want something that looks effortless. Basically they're looking for something that looks organic, not something that looks like it came out of a box. This is my aesthetic though, so it's why people choose to come to me.
As for makeup though, even when I do something heavy, there is still a level of softness. Because of this, even though the trends are all over the place, there's still always that softness. Smokey eyes are always in though, especially in the summer when you can use a nice champagne-like color and add the smokiness around it. On the flip side, I also get a lot of brides with a more natural lash and a stained lip so that it's a very fresh look. It's either a very blushy, bronzy, and dewy look, or a sexy and smoky look. In other words, the main trend is choosing a focus area so that the main focus is you, not the makeup itself.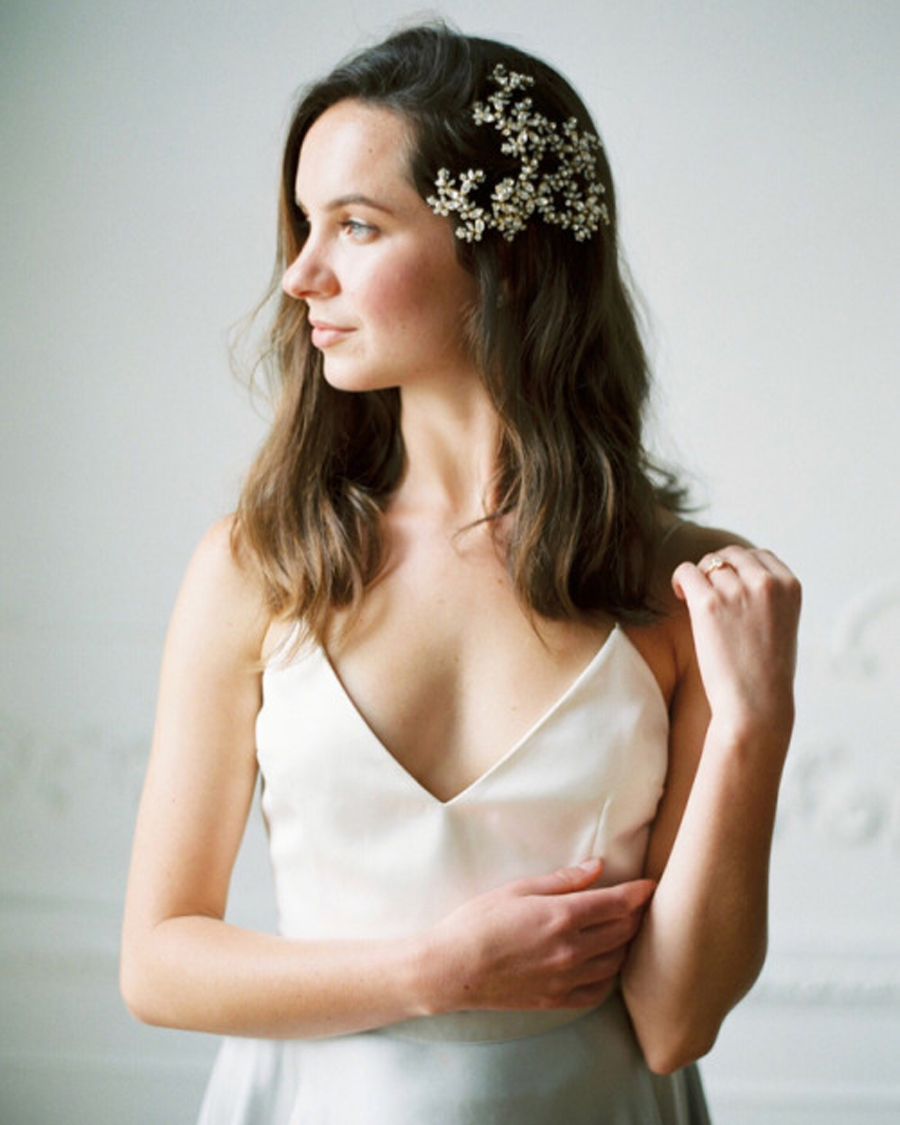 Photo by Kate Ignatowski

What's you favorite part about doing weddings?
I think it's important to have job satisfaction. It feels good to know what you're doing matters, and you're not just in a thankless position that anybody can fill. As glamorous as it sounds to work runway shows or special events or in film, it does feel like that sometimes. With weddings, especially now that I've created my own brand where you aren't just working with hair and makeup, but you're working with me, I end up becoming friends with my brides and I have tiny gifts from them all over the room. It's that level of satisfaction. And it feels pretty great to be such an integral part of such a huge day in my clients' lives. And like I said, they stay my friends. I see them for their sister's weddings, for their brother's weddings, for their best friend's weddings and it's that sense of community makes it feel like what you're doing makes a difference.
---
---