The Reluctant Elopers
June 25, 2018 by Rachel Abadilla | Photography by Our Endless Adventure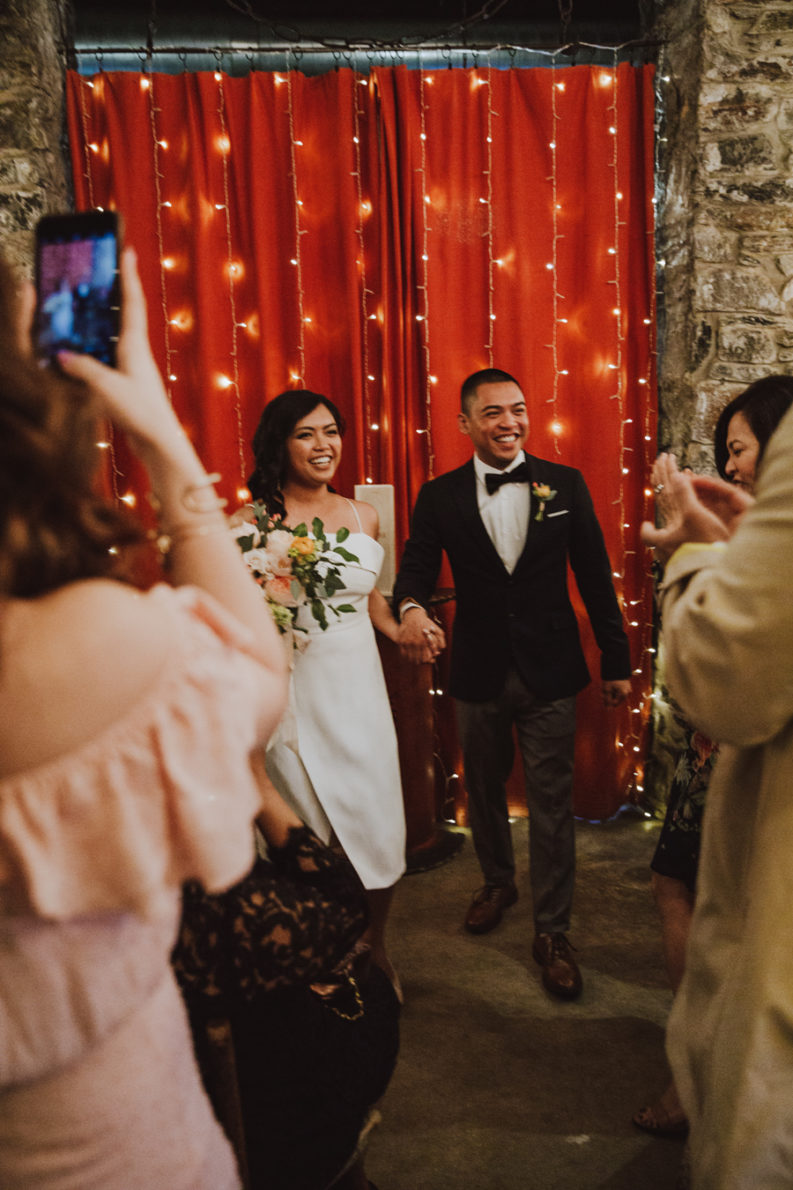 Daryll and I grew up in the same small town in New Jersey and met in middle school. We were close friends for most of our schooling and shared the same group of friends. We can both recall the countless hours and late nights chatting on AOL Instant Messenger where we spent time talking about anything and everything (there wasn't unlimited texting back then!) We knew we cared for each other, but when it came time to go to college, we were separated by distance. I came down to Maryland to study business at Loyola University Maryland and he attended the Art Institute of Minneapolis, studying Culinary Management. Even with the miles apart, we decided to commit to a real relationship. After graduation, we moved back to New Jersey and worked in New York City. We were finally in the same state together. After some time, we decided to look for other opportunities outside of the city and the Tri-State area. Sooner or later we found ourselves an apartment in Hampden. We didn't quite know it back then, but the move was one of the best decisions we have ever made. We call Baltimore our city and our home and we love the life we have built here together.
However, with larger families on both sides, choosing to elope was not as easy of a decision. We knew that there was an expectation to throw an event that would welcome everyone we knew. For the next few months after our engagement, planning was at a standstill. A big wedding was realistically impractical (it would have likely delayed us by a few years) but our families would likely protest an intimate wedding. If you asked anyone who came across me in those months, they would tell you that I talked about a smaller wedding and I didn't really have the determination to throw anything lavish. The only sort of planning I was doing was randomly bookmarking Instagram posts on everything wedding related and getting a sense of what Baltimore weddings are like in the city.
Fast forward to February 2018 when I showed my fiancée a Baltimore Elopement Giveaway I found on Instagram. We definitely had a strong interest and even shared the post with a few close friends, who also understood that winning would mean challenging the traditional expectations. For the next few days, I kept thinking about the giveaway and how amazing it would be to really just celebrate our union and not obsess with all the little details of this big day. It was not until the very last day of the contest that Daryll convinced me to enter. I thought, okay why not! I was actually scared of winning because I didn't know how to break the news to our families if we did win. Elopements were something people rarely did in our family.
Later that night on Valentine's Day, Becky from Our Endless Adventure reached out to us and shared the news that we won. We agreed to wed on April 1st. Although we were excited, we now had to decide whom to invite, which was really tough. It obviously had to be small, so after some thought we decided on our immediate families and two friends each. Everyone was surprisingly very supportive and thought this was a great idea. Needless to say we were a bit shocked for a good few days, but we were also very excited and ready to plan for the big day in the short month and a half. We hastily coordinated for our families and friends to come into town, some coming from as far as Minnesota and San Diego. Overall, we really tried to keep it as stress-free and low-maintenance as we could since the whole affair would happen so soon. We did our best to not fuss too much about the other details. Thankfully, most of it was graciously part of the giveaway, like my hair and makeup. Our main focus was to celebrate our union, bask in the blessings, and have a wonderful time with our family and friends.
The ceremony was everything we could have hoped for. It was relaxed and very intimate. Our officiant, Rachael Zajac, had a wonderful easy-going spirit that made the ceremony light-hearted and truly our own. In planning, she suggested a ring warming ceremony that works in a smaller setting. It really caught our attention. During the ceremony, our rings were passed to each person so that he or she would have to opportunity to warm and bless the rings before we exchanged them. We also had a custom wine box from the Etsy shop Artificer Wood Works made for our wine box and letter ceremony. We put in written letters for each other and a bottle of wine to be opened on our first anniversary and to be replaced every year after. Lastly, Daryll's sisters sang an acoustic song on ukulele, which was such a special moment to share.
Having gone through this elopement or intimate wedding, I am happy that we had such amazing vendors like photographer, Our Endless Adventure, who supports intimate events like ours. I would love for these types of weddings to become a new normal and have people see it even more in the media. I personally do not know anyone who has gone through this process, but we feel so blessed to have been given the opportunity and share our experience with others.
As for the other vendors that took part on our day, they were all wonderful. Artifact Coffee, venue for the ceremony, is actually a special place for us. Going out for a good cup of coffee at a cafe is one our favorite things to do together and Artifact was the first coffee shop I ever took Daryll to in Baltimore when he visited me as an undergrad at Loyola.

The quick and easy ordering model of Lucky Penny Floral is something I didn't even know existed. I loved how easy it was to place and customize my order without having to wonder how much it was all going to cost. On top of the bouquet they graciously provided, we also ordered a jar of loose blooms, which we then used for the cake and to put in my hair. Caitlin Helle, who did my hair and makeup, was amazing and made the magic happen, while La Cuchara made our dinner really special with a prix fixe menu.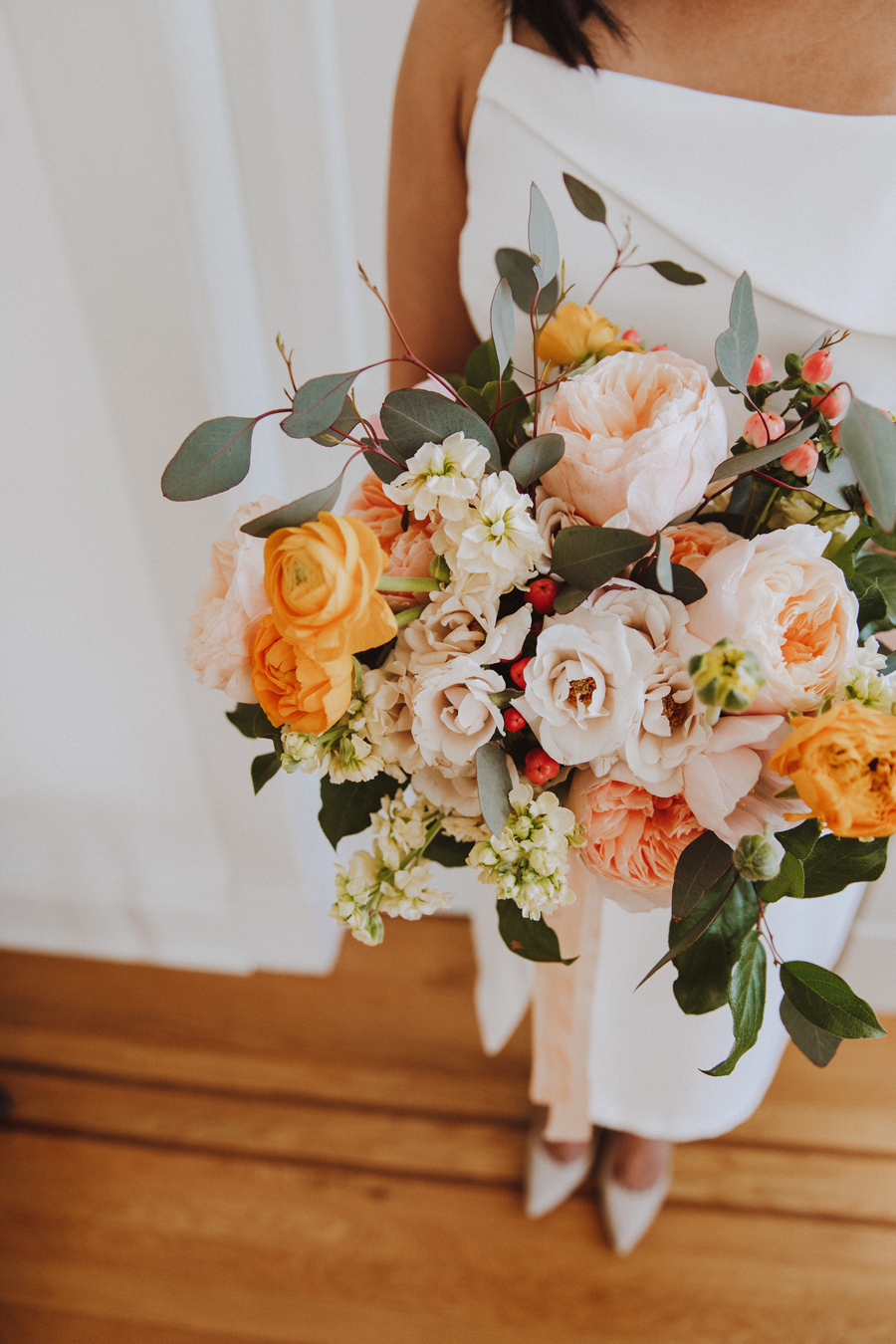 As a wedding gift for Daryll, I reached out to local Ann Margaret Ceramics to get custom mugs created with our initials on it. I have seen her work at other shops/events and thought it'd be a great gift, especially since the wedding was in a coffee shop! After dinner, we continued the celebration at Sugarvale, which was the perfect spot to have our families and friends join us in celebration and top off the memorable night. My brother Gideon spontaneously became the DJ and we had a blast dancing.
Vendors
Beauty Caitlin Helle of Smoke + Mirrors
Custom Wine Box Artificer Wood Works
Earrings Rent the Runway
Florals Lucky Penny Floral
Groom Gift Ann Margaret Ceramics

Locations Artifact Coffee (ceremony), La Cuchara (dinner), and Sugarvale (celebration)
Officiant Ceremony by Rachel
Photographer Our Endless Adventure
Shoes Sam Edelman
Wedding Dress Laundry by Shelli Segal
---
---