Ask the Expert: Bridal Shop Proprietor
June 21, 2018 by Cara Hullings | Photographs by Mega Pixels Media & Cara Hullings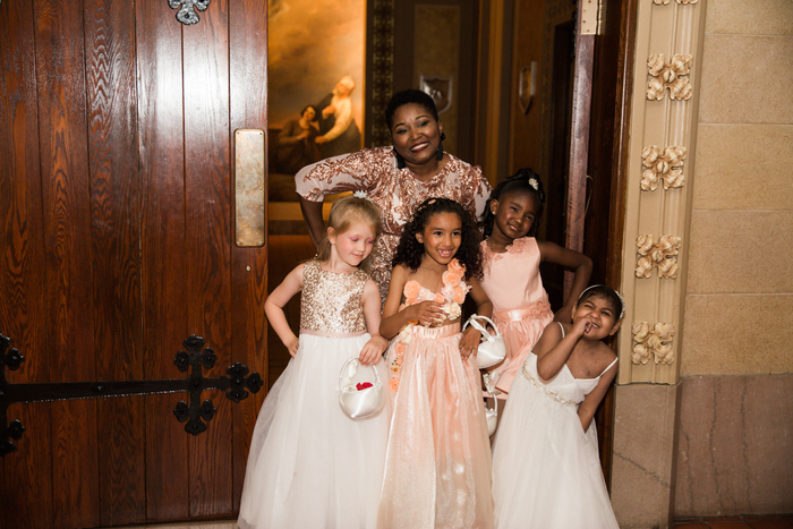 Photo by Mega Pixels Media

LaTonya Turnage slowly fell in love with the wedding industry after starting out in makeup. As a makeup artist, brides were only a small part of LaTonya's clientele, but they soon became her favorite part. She would often find herself on location, doing more than just makeup; she would help the bride put on her dress and accessories or talk to family members. Instead of just doing her job and leaving, LaTonya was drawn to the whole wedding because she loved the personal aspect of it. She loved being able to be a part of the emotions the bride felt, aiding in creating a special day.
After doing her research on the wedding dress shop world, LaTonya opened Elite Secrets Bridal on North Charles Street, where the same sentiments that attracted her to weddings can be felt in every corner. For the past three years, the beautiful shop has offered private appointments to brides, so that each one can feel connected to LaTonya and trust that they're in good hands.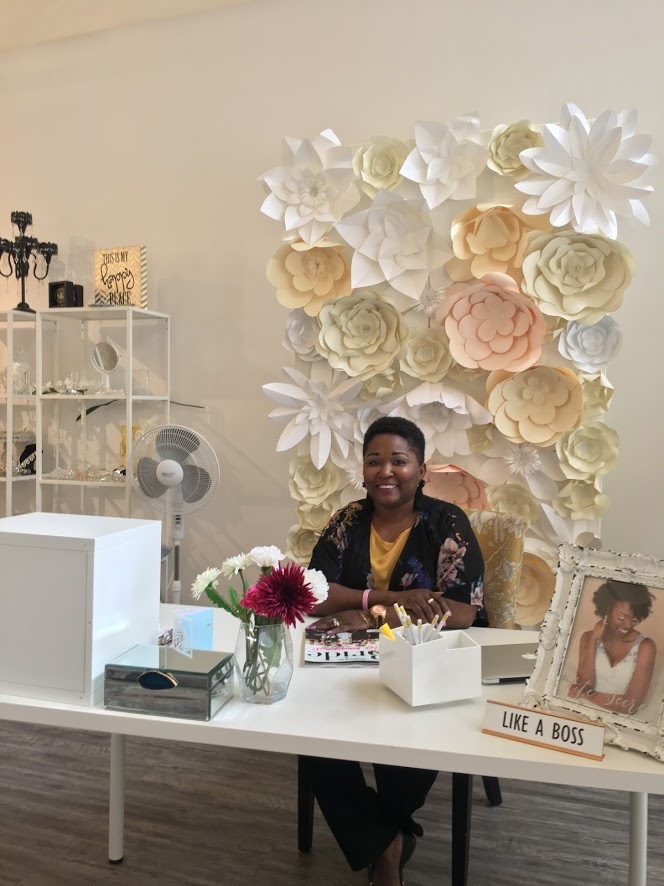 Photo by Cara Hullings
LaTonya's shop is wonderfully bright, creating the perfect environment for a bridal party. The dresses are all out on display in a neat manner, while the makeup studio lights, yes she still does that aspect too, illuminate all the gorgeous sparkles and lace. All over, you can find little, inspirational decorations, providing brides with an extra boost of confidence at every turn. This shop is truly a reflection of LaTonya's goal: make every bride feel her most beautiful.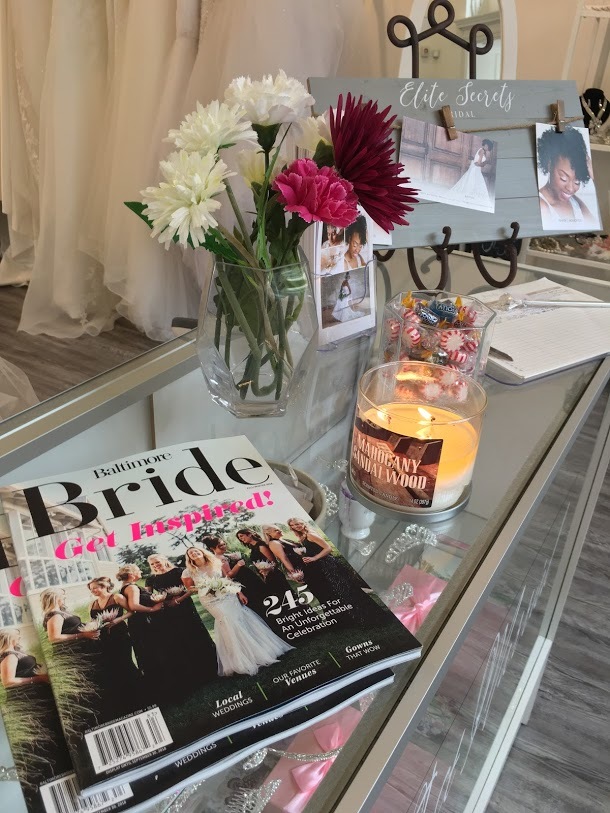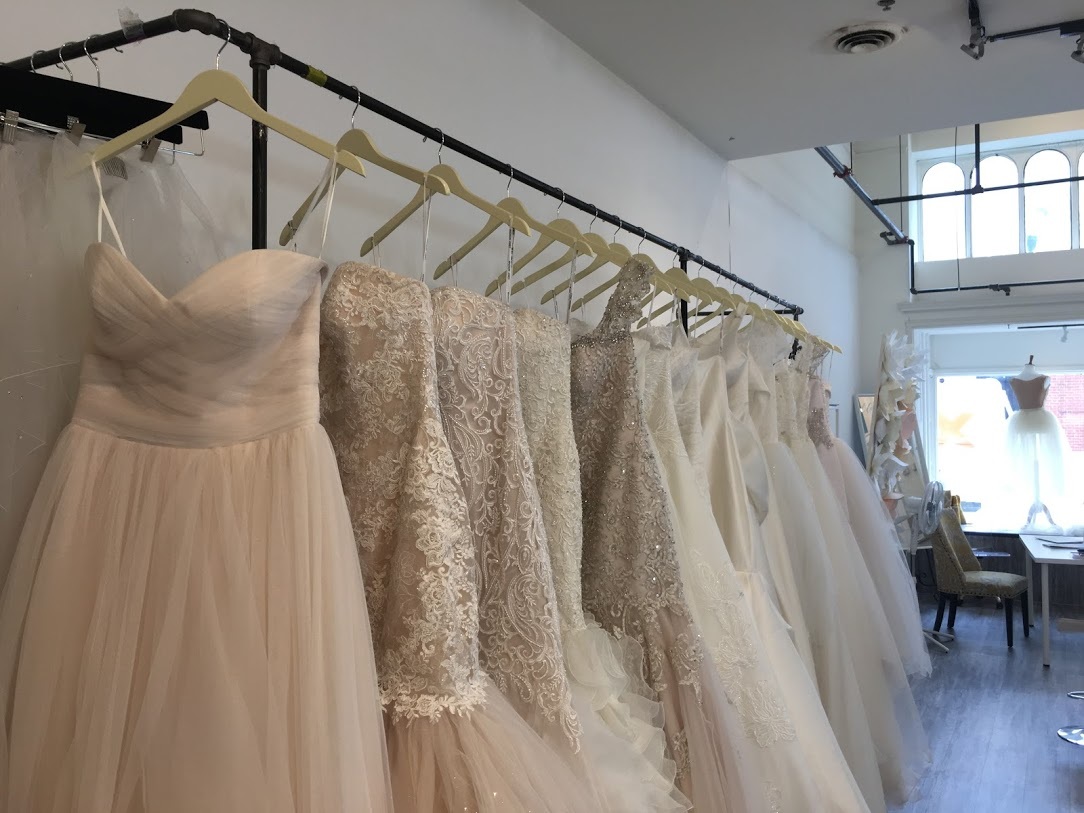 Photos by Cara Hullings
What services do you provide for a bride?

We do complete styling. Of course, the first thing is the dress, but we then do hair, makeup, accessories, the veil, alterations, and even recommendations for photographer or florist. Basically, if it's something we don't have in house, we will recommend other people.
Do most brides use all the services?
We have found that when the bride comes here for her dress first, she'll then book us for everything. There's been more and more of those brides. We've been doing hair and makeup for so long that we have that reputation, and brides who already have their dress will come book us for hair and makeup. But we are definitely seeing a lot of brides where they don't have anything and will book us for the complete package.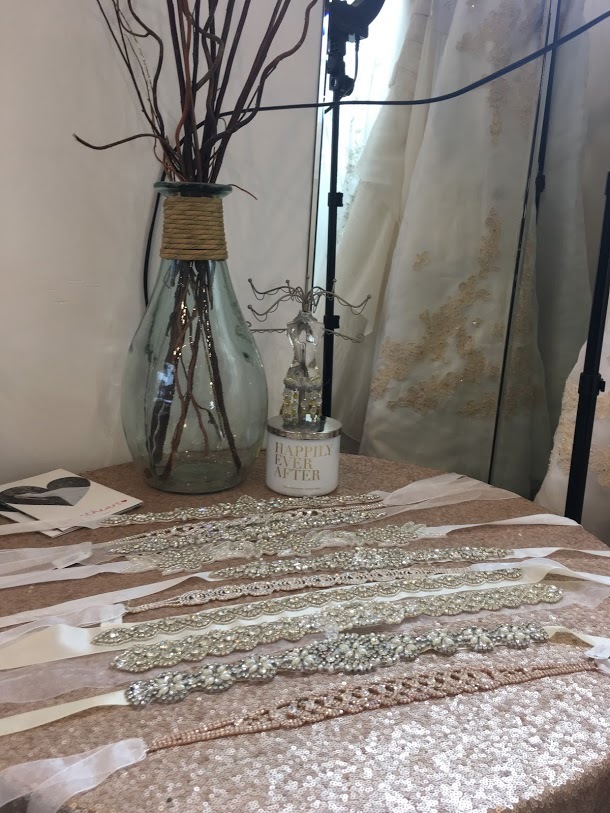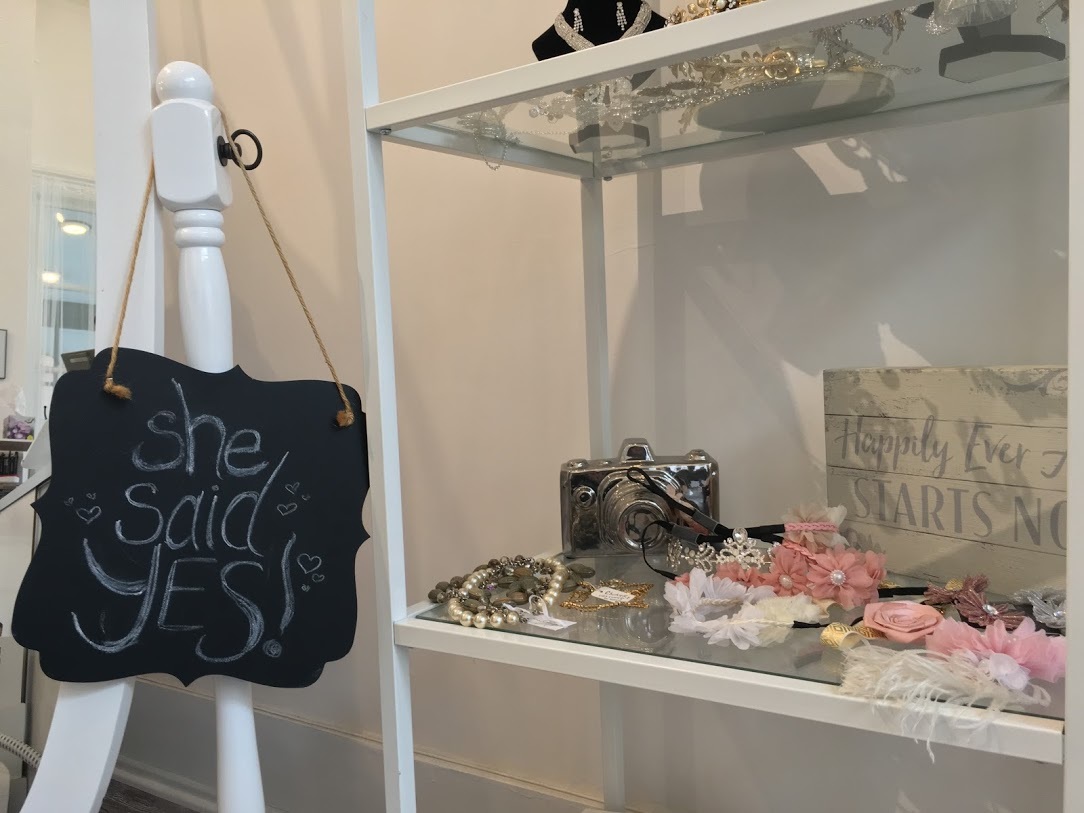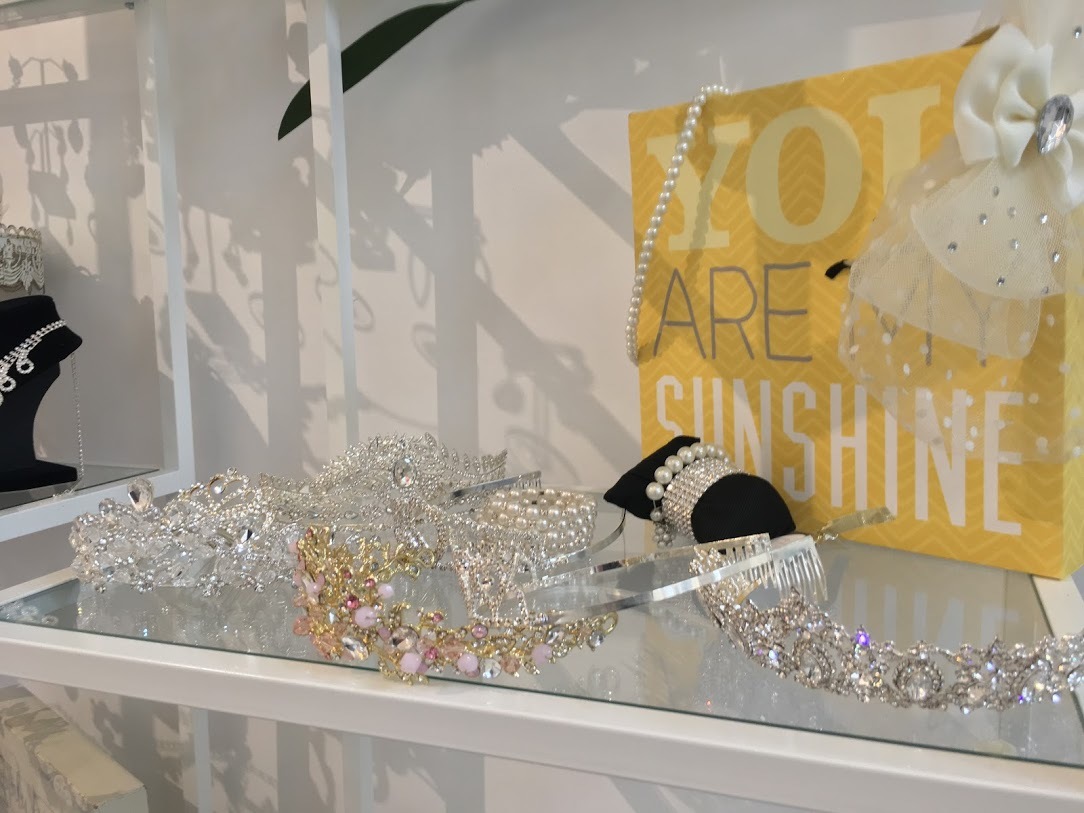 Photos by Cara Hullings
When should a bride begin searching for a gown?
Most of the time it's a year and that's what we recommend. Sometimes we get brides where it is nine months out from the wedding. Basically, once you book your venue, you should start shopping for your dress. Dresses take a long time to come in, some even take around six months. We can do rush orders, but then that's another fee and it can get complicated. So we say, no shorter than nine months.
What advice do you have for brides as they begin to shop for dresses?
First thing is don't be afraid to say yes on the first shot. I understand that you want to get the full experience and go from this shop to that shop and ensure you made the right choice, but I would say just don't be afraid. Also, don't give yourself too many options because a lot of times if you do, you will get overwhelmed. This is such an important purchase; it's probably the most expensive pieces of clothing you'll ever buy, so don't get overwhelmed. Lastly, your opinion it the only opinion that matters. I understand a lot of brides come in with four or five people (which is fine, we love for them to bring their bridal party, mother-in-law, and mom), but your opinion is the most important one in the room. So stick to what you like and what you feel good in instead of what everybody else has to say.
What do you think is the key to finding the perfect dress?

Definitely know your budget. Be open to trying on different styles. Let the bridal consultant (the expert) help you. We work with a lot of different body shapes, a lot of different styles, a lot of different heights so we know what's flattering. Trust the expert in that sense and be open minded. Also, make sure your dress complements your venue. So it's important to know where you're going to do it, whether it's indoor, outdoor, a ballroom, more of a beach thing.
You carry a large variety of sizes and styles here. What do you recommend for brides who are more insecure? How should a bride get an idea of what's good for their body type?
I would say first of all to own your curves and your body shape, whatever it may be. Be comfortable with that. Don't compare yourself with other brides and those in the magazines, who are most likely models. Own how you feel about yourself. And again, trust the expert. We are going to make sure we put you in what will flatter your shape and show you as your best self. Be comfortable in knowing that we will make sure you look and feel your most beautiful. It also helps to be open to different styles. A lot of times brides will see something on the hanger and say 'Oh no I definitely don't like that' and then they put it on and love it. That happened to me so I know it's true.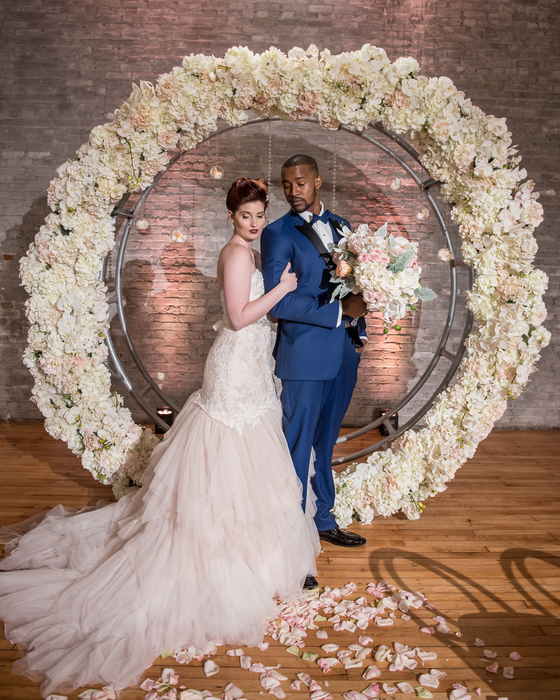 Photo by Clapp Studios
What's your advice to brides who are indecisive or haven't been dreaming of their weddings since they were young?

I would say schedule an appointment by yourself first. Come solo one time because you get a chance to figure out what you like. There's no pressure of having everyone with you. Most indecisive brides only take a small amount of pressure to become overwhelmed and say 'I can't do this' and it has happened. So coming by yourself and seeing what's out there, what's on trend, what colors you like to test it out and see how it goes.
How many people should brides bring?
We are one of the few bridal salons in the area that doesn't have a limit on how many people you can bring, so we won't tell anyone limit her amount. If I had to though, I would say no more than three: your mom, your mother-in-law to be, and your maid of honor, or your sister if that happens to be your maid of honor. So I'd say try to limit it, but you should feel comfortable with your party. Our appointments are private here, so everything is more personal and there's room for however many people you want to bring.
What do you think brides should expect from their appointments here?
It's a very one-on-one experience. The whole bridal salon is yours. You're never going to walk in and see us helping more than one bridal party at a time, which is very important to me. I want brides to feel this experience. Sometimes things go so fast when you're planning your wedding that you just forget and this part of the process should be memorable. We also provide a full-service, so you can check off a lot of things with us when you come. These are the two key things for us.
When do you schedule appointments for hair and makeup?

The hair and makeup is a separate appointment where you do the trials. We suggest a bride does this maybe six months ahead, while she shops for her dress a year in advanced.
How should a bride begin the search for accessories?
Most of the time, when a bride comes in for her hair and makeup style we will start accessorizing. We usually say during your appointment, if you have accessories picked out, like a lot of brides will wear their grandmother's accessories or their mom's accessories, to bring these items with you. So around the six month mark is when we will accessorize.
What's the average budget for brides in the Baltimore area?

Typically it can go anywhere from $1,500 to $3,000 as the average. Every now and then there will be more of a higher-end budget which is around $5,000, but that's a bit out of the average. However, one unique thing about our store is that we have our own in-house designer, so we have the ability to do custom designs as well. So if a bride wants to add sleeves, or make a more dramatic train or a detachable train, we can do those things. If she even wants a complete custom dress, we could do that as well. Customs can go up to anywhere around $7,000 or $8,000. As far as the designers we carry on a routine basis though, the prices can be between $1,500 and $5,000.
How much should bride's budget for alterations?
This is a question we get a lot. It's hard to determine how much they will cost because it all depends on fabric, how many layers, and what exactly you need to get done. It can go anywhere from $200 to $1,000 depending on what the alterations are. The average is usually around $400 or $500.
How often do you get brides who want some sort of customization?

It happens a lot. Maybe two out of every five want something small. I've seen it more this year than in previous. I don't know, I think with the Royal Wedding and Meghan Markle, everyone wants to look like a princess, or add sleeves, or get a detachable train. These brides are getting more and more creative; they're coming up with all these ideas of changes. Every now and then we get one who is very simple and is like 'I like this design. I like everything about it. I don't want any changes.' and that's fine too. But there have definitely been more and more customizations.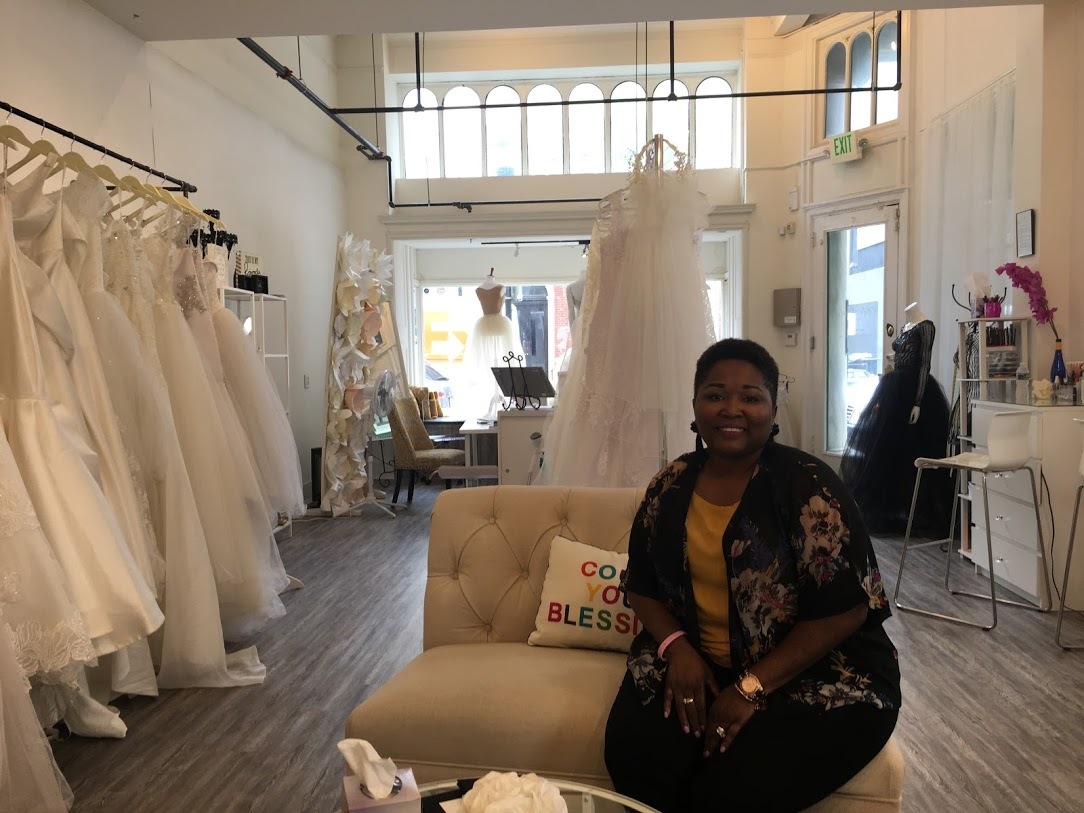 Photo by Cara Hullings

Do you get requests for certain colors?
Every now and then we get requests for blush, which is more of a champagne-like color. A lot of brides say they don't want a white-white and they prefer ivory or another off-white color.
What do you think is a big trend right now? Do you feel it's a good idea for brides to follow trends?

First of all, my advice is don't follow the trend or don't necessarily follow a designer. Find what you love and what looks good on you, what makes you feel beautiful. As far as trends at our salon, we get a lot of requests for mermaid and fit and flare, so we are seeing a lot of that. Lace is always in style and we get requests for that often. Everyone wants a sweetheart neckline. Lately, we've also been getting a lot of requests for sleeves.
What are the small ways a bride can make a dress her own?
She could add a belt or a nice sash. She could customize a veil maybe, which we also do here. The way she wears her hair or makeup could be different and help customize the dress. It's funny because you'll see one dress on one bride and then again on another bride and it looks totally different. Everyone's skin complexion is different, their hair color is different, their body shape is different. So just focusing on the small things like accessories, hair and makeup will personalize the dress. Your venue can also play a big role in how the dress comes across.
How often do you do trunk shows?
It varies. We could do two to three or maybe even five in a year. It really depends. This year we've been very busy, which is good, but we will probably be doing more trunk shows this fall.
How important are the trunk shows for brides?
They're pretty important. It's an opportunity for you to see a specific designer and see a lot of variety within that designer's collection. It's also a good experience for brides to test out different styles that aren't in store all the time because when we do the shows we will bring styles in we don't usually carry. Most brides love doing that. Also, during trunk shows there are usually discounts or promotions.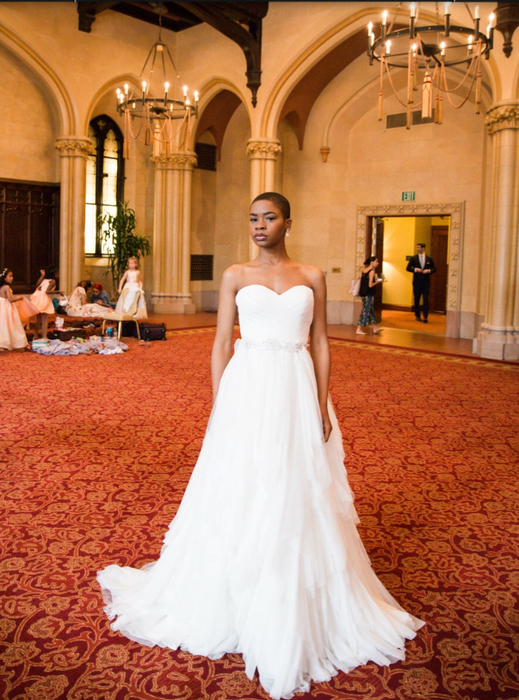 Photo by Mega Pixels Media
What's your favorite part of helping a bride?

When the brides come in with their tribe and they're so excited. Once they find their perfect dress and they're caught in the moment and everyone is crying, we do something special here. While the bride is in her perfect dress, we put on a nice song for her and she'll do a walk. We ask the bride what song, whether it's her first dance song or one she's considering. Everyone in the room is crying and emotional. It never gets old; every time I feel like family, not staff. There's so much emotion because you've been dreaming of this day since you were a little girl.
*Ask the Expert is our occasional online series that highlights local wedding vendors. Have a suggestion? Email us at bride@baltimoremagazine.net *

---
---