Just Desserts: A Fells Point Pastry Shop Perfects the Macaron
June 15, 2018 by Cara Hullings, Baltimore Bride intern
In the fall of 2017, I studied abroad in Italy and took a short trip to France with a couple of my friends. Before our plane even landed, my friends demanded that our first stop would be a macaron shop. I didn't understand their attraction to what I saw as a basic dessert; I thought that macarons were overrated and, quite frankly, that they weren't worth the calories. I begrudgingly joined them on their search for a macaron shop and hopped in line to purchase one while they excitedly talked about what flavors to get. I bought one chocolate and one pistachio macaron. Trying the chocolate first, I prepared myself for another disappointing dessert filled with painfully sweet buttercream, but was pleasantly surprised to find a moist cookie filled with a dark chocolate ganache. It tasted fresh: the cookie was chewy enough on the inside to allow for texture, while the outside crumbled as I bit into it. The ganache reflected more of a chocolate bar than the icing-like filling I had in America. After just one bite I knew I had been wrong. Macarons were worth the buzz surrounding them, but only the ones like this. For the rest of my time abroad, my friends and I found ourselves stopping at macaron shops as we passed by them, grabbing one or two to snack on and savor before our departure. Once back home though, I grew more and more disappointed when I tried macarons. They were once again dry cookies with buttercream in between them.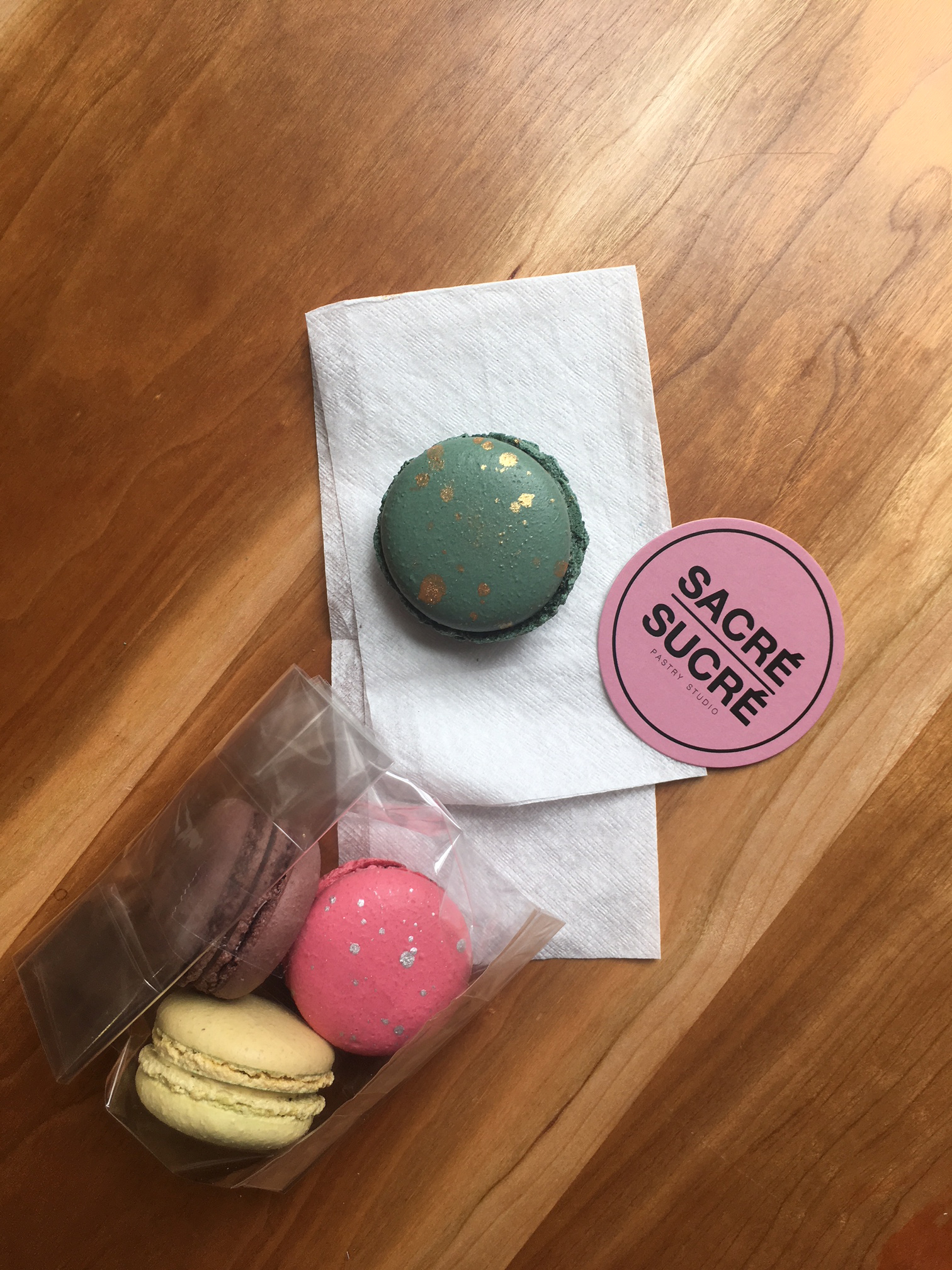 Again, I hoped for the best as I ordered some macarons from Sacré Sucré, on Fleet Street in Fells Point. I first tried their Earl Grey flavored macaron, a new flavor for me, and immediately knew I had found the real deal once again. Not only did this treat taste exactly like Earl Grey tea, but it also had the same mixture of crispness, moistness, and natural flavoring that I had been craving since my return. I let out an audible sigh of relief as I munched on my second bite and, after leaving the store, repeated this, devouring three more of the magical macarons.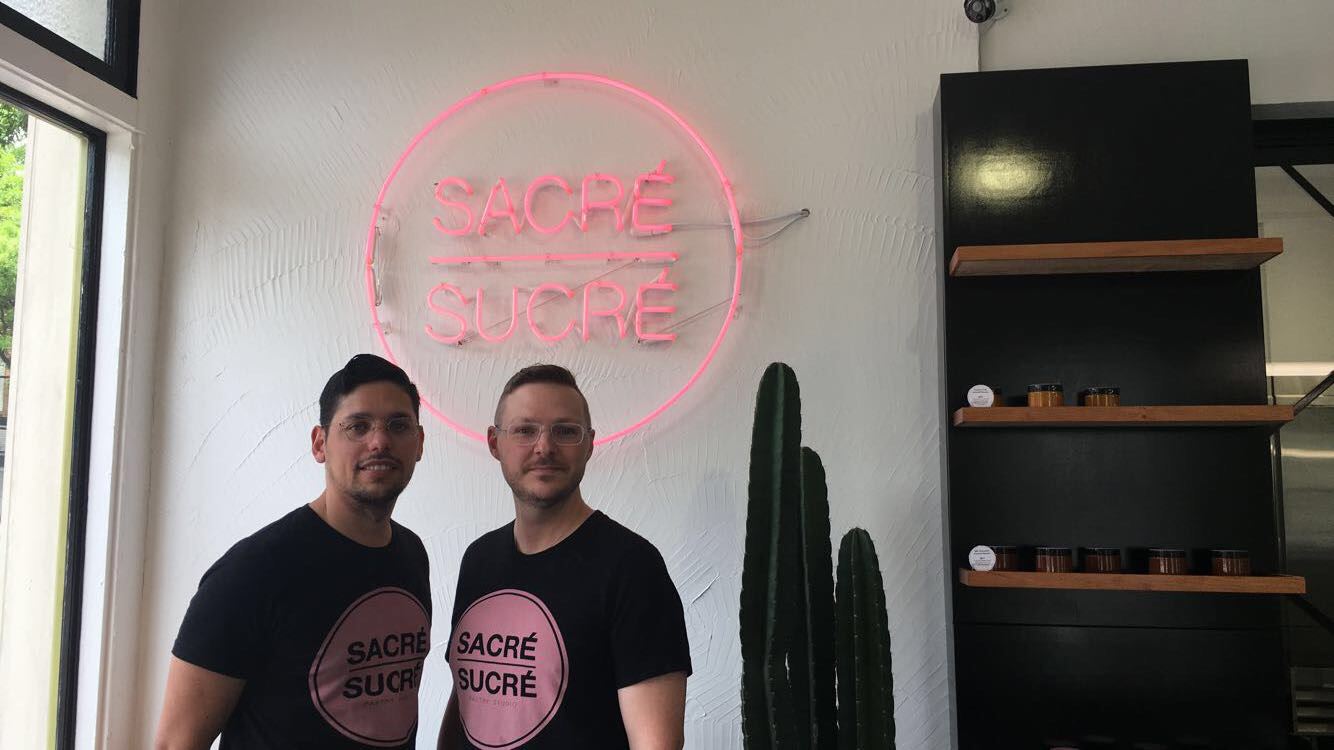 My delight did not come as a surprise though, seeing as Sacré Sucré's owners, Manuel Sanchez and Dane Thibodeaux, have a similar attitude about macarons as I do. Inspired by a vacation to Paris, Manuel and Dane decided to try to recreate the authentic macarons they had tasted there, which soon evolved into an extensive list of recipes and a new passion. Although the two have always loved food, (Dane attended culinary school and one of the couple's favorite things to do at home is to recreate their favorite dishes) macarons were never really something that excited them. This is because the only macarons the two had known were ones filled with buttercream. The type that always made Manuel wonder "what the craze was about." However, once their trip introduced them to macarons filled with fruit and other natural flavors, the couple fell in love with "the special product they are."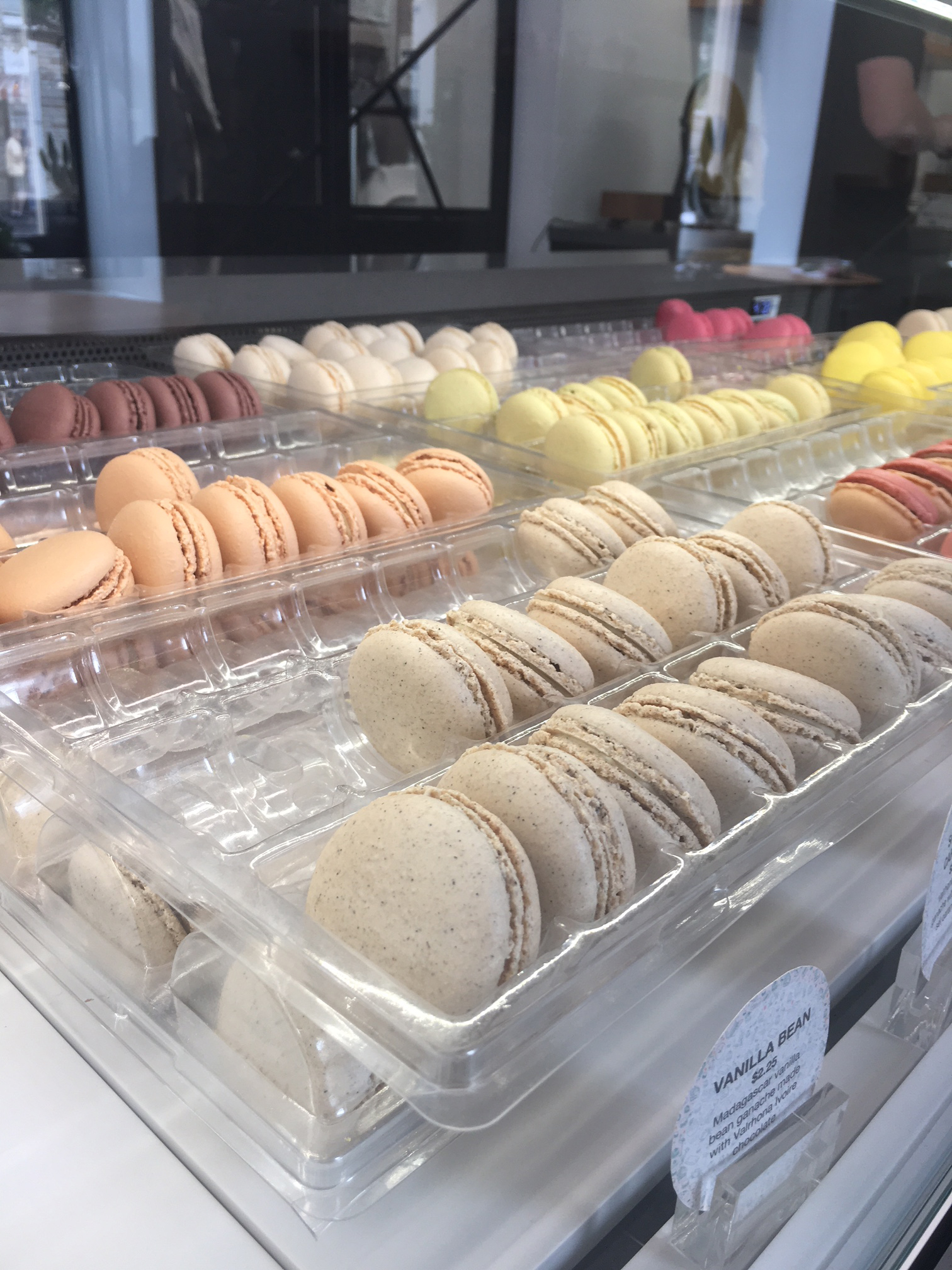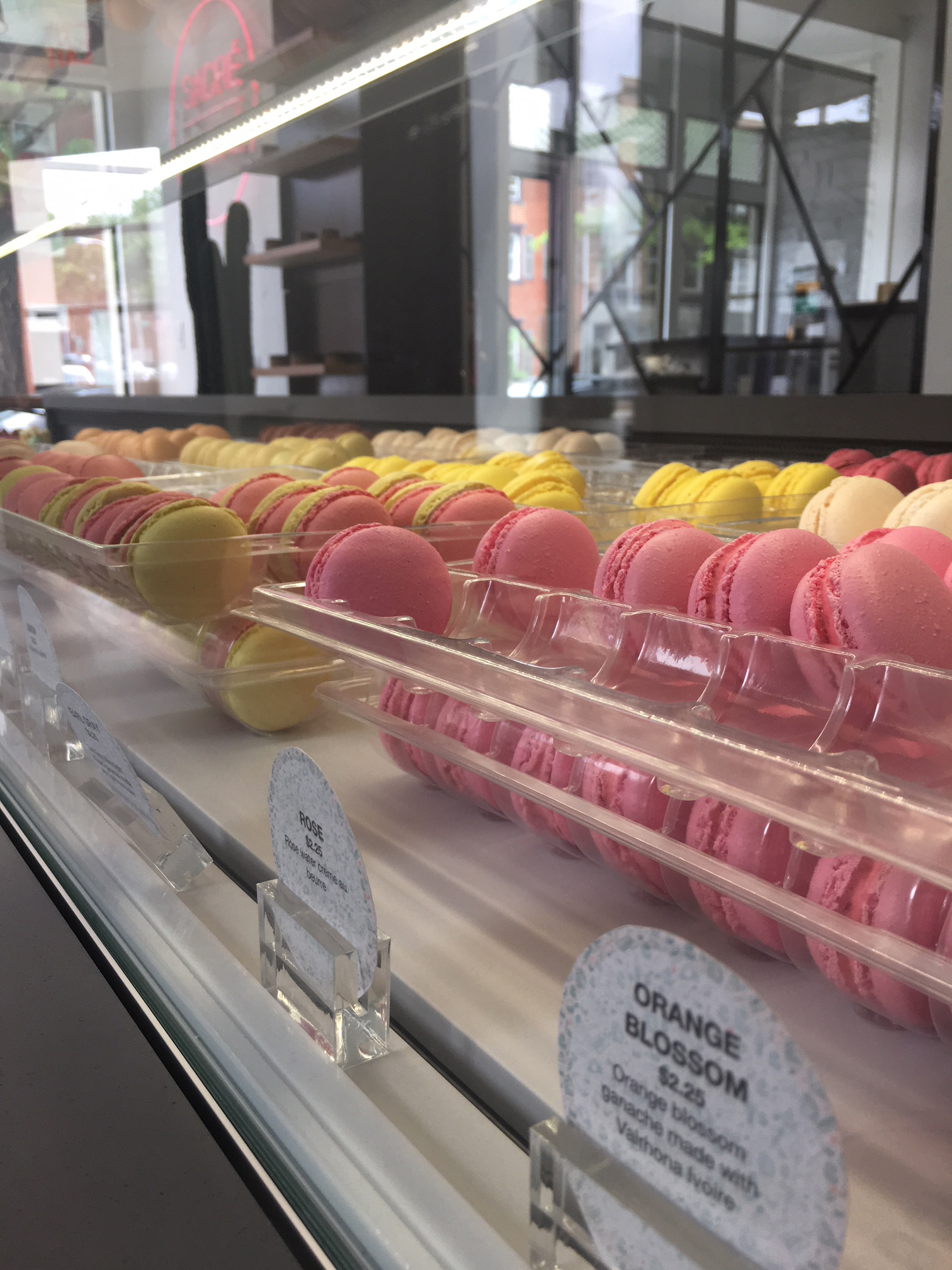 When back, the two perfected their recipes for chocolate, vanilla, and salted caramel (the basic flavors), and began to sell them at farmers markets in San Francisco, which was their home at the time. Since Manuel worked as a computer engineer and Dane worked in hotel management, making and selling macarons was both their side business and a passion for them to share as a couple. They soon began to experiment with more and more flavors, using only fresh ingredients. Dane's favorite of these adventurous flavors is the rose macaron (a standard French flavor), which offers "an essence" of the flower as opposed to "being bombarded with the whole bush" like some other macaron places do.

As their love for the French dessert expanded, Manuel and Dane began to realize they wanted to turn their stand at the farmer's market into something more. Manuel had never seen himself staying at a 9 to 5 job in the future, and opening up a macaron shop offered a way for him to spend more time with Dane, as well as find a way out of a traditional career. The couple decided to move back to Baltimore, where they had first started to date, and open a pastry studio. "We just saw a need for it in Baltimore," Dane explains. And with that, the couple jumped in and opened up Sacré Sucré where they sell macarons, eclairs, small cakes, and teas.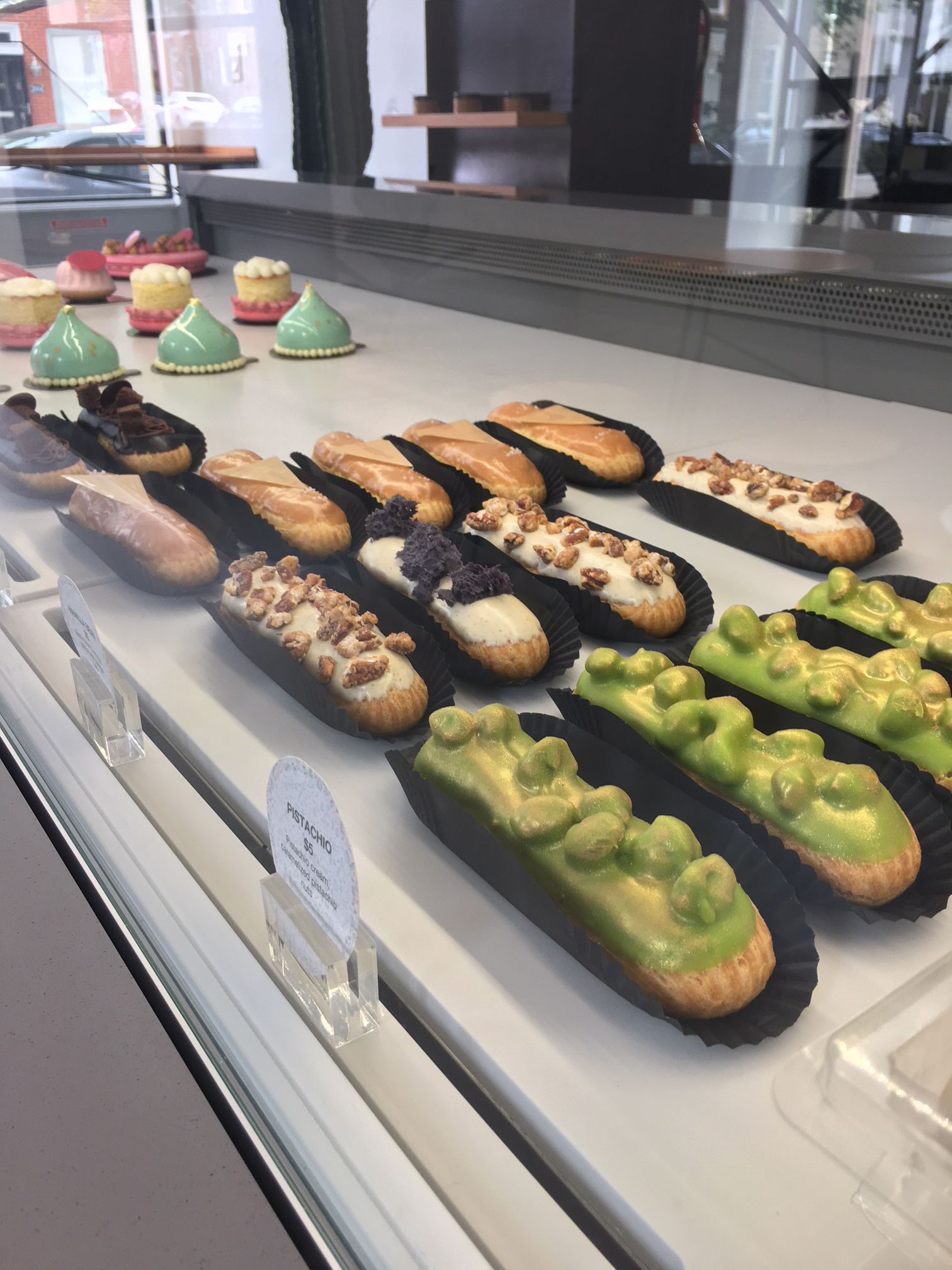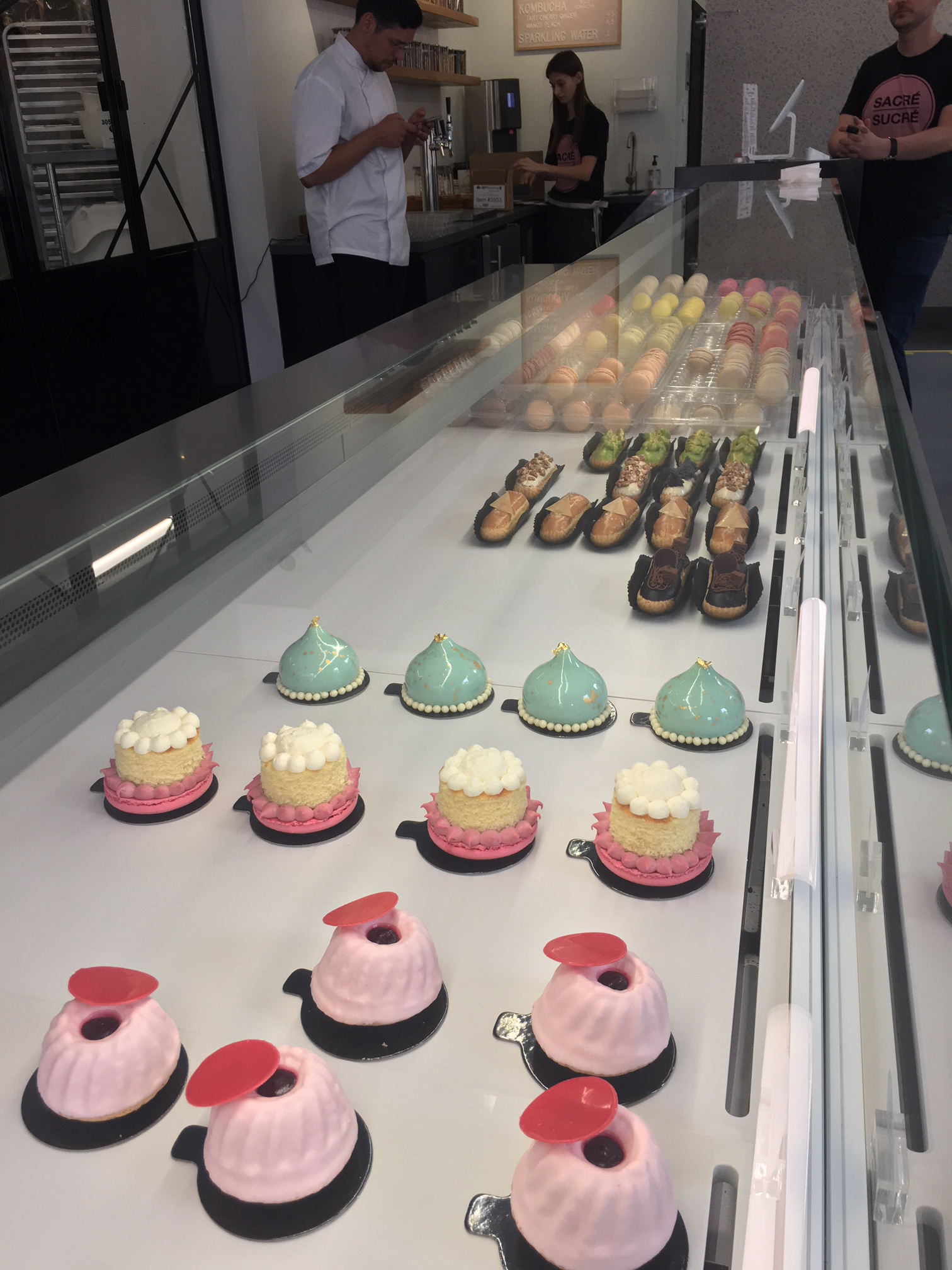 The store itself matches the philosophy behind their macaron recipes: simple, elegant, and natural. With minimalist furniture designed by Christian Donnelly of Philosophy with a Hammer, the eye is immediately drawn to the colorful array of beautifully decorated treats out on display. While the whole interior is either a clean black color or a light wood, the pastries in the center pop; eclairs shine with golden glitter and chunks of nuts while mirror glazed cakes reflect the shine of the lights and the macarons look like a rainbow all lined up. Once I stopped ogling at the tasty desserts, I began to notice the thoughtfulness behind the rest of the shop's design. Most of the store was neutral, but inviting, with fun pops of color in the details like large plants in the corners and a neon pink sign that says the restaurant's name. However, what I found the coolest of all was the back wall which featured a wallpaper designed by Manuel's brother, an artist, to represent the couple in a personal way. It features illustrations of macarons and cakes to represent the bakery, flamingos to represent Hampden (where the couple first met), crabs for Maryland, eyes to represent themes common to Manuel's brother's work, and several other fun images. The wall is a cool reminder of what is so great about going to local small businesses: the individuality.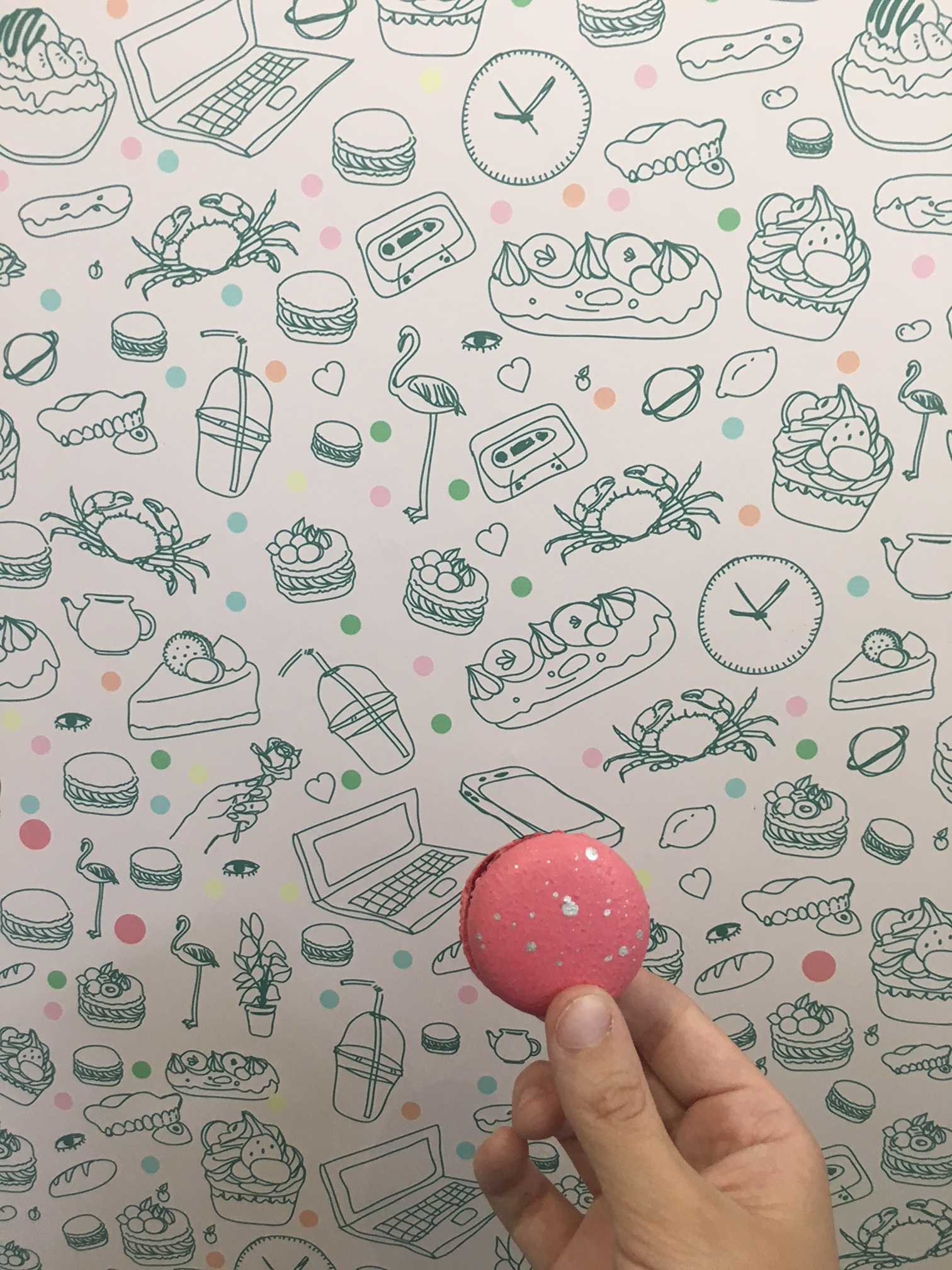 Such individuality is also reflected in Manuel and Dane's drive to add more macaron and eclair flavors. "When I go to sleep I'm still thinking about it," Manuel explains about how he brainstorms new ideas. Inspired by French and Spanish magazines, as well as their own lives, the couple is constantly trying out new flavors and figuring out what works and what doesn't. For example, they just started creating a guava macaron, which has now been added into their rotation of flavors.

While experimenting with their macaron flavors, they have also started expanding into the wedding business. So far they have only made macarons as wedding favors, but they would love for more brides to step out of the box and ask for either a macaron centerpiece instead of a cake or create an original flavor for that couple. One woman had a cake named after her since they liked her Earl Gray mousse and chocolate ganache combination so much, they added it to the Sacré Sucré rotation.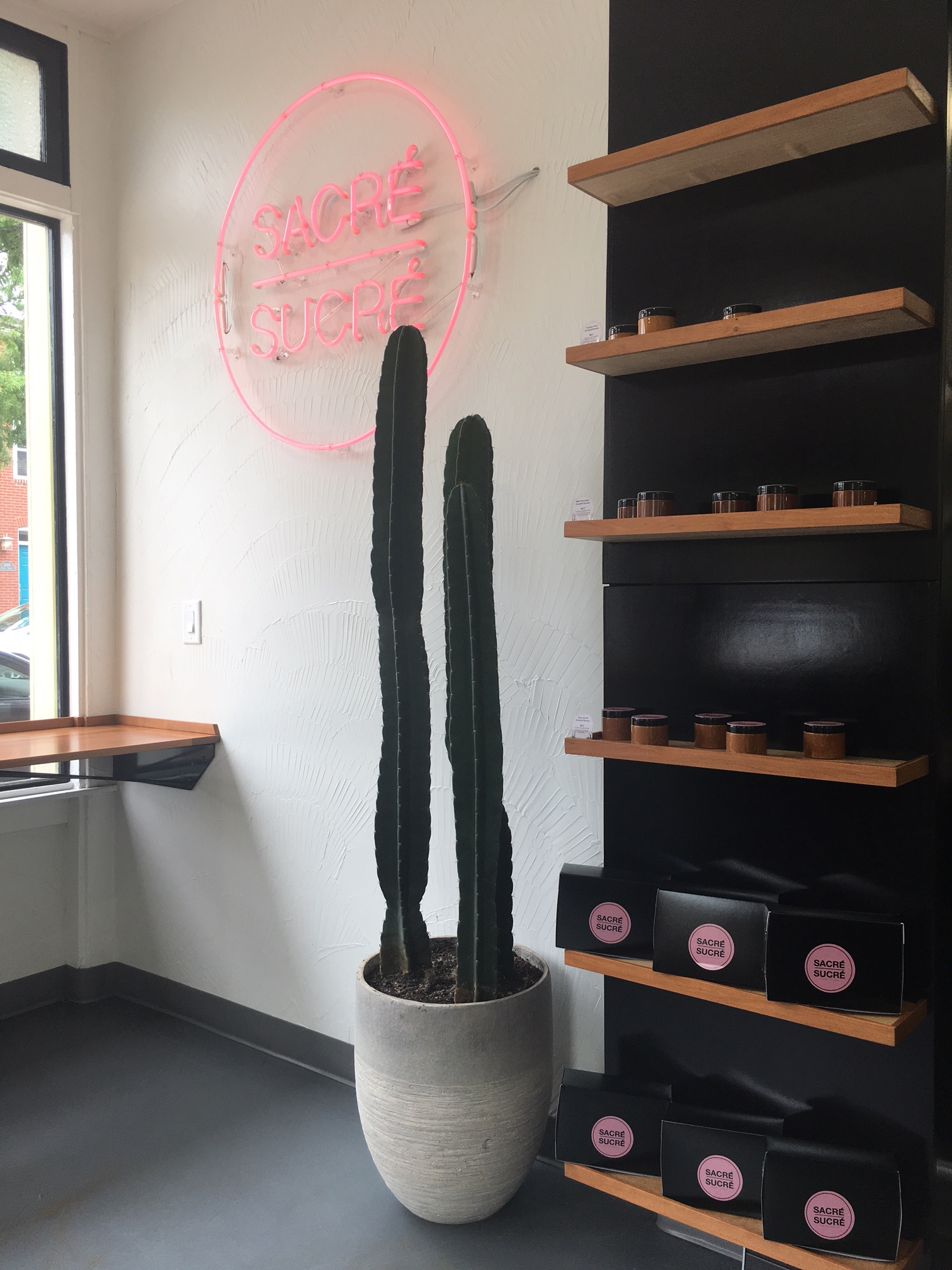 The two have also sketched out cakes many times, offered advice, and tried their best to make ideas work for couples who come in. Their current advice? For macarons at weddings, the best options are always ones that are simple and elegant, but still you. They love taking something like chocolate and giving it a personalized twist, such as a woman who added cardamom to add one of her favorite flavors. Manuel and Dane also suggest considering eclairs as an addition to your wedding desserts. "Eclair is the new macaron in other countries," Manuel volunteers, and he wants to help bring that trend into America, whether that is through selling them at the shop or bringing them to a dessert table at a wedding. "We are still learning," Dane admits but they are using that to their advantage. Adds Manuel, they "are always changing and up for anything."

---
---