The Ellicott City Flood Through the Eyes of a Wedding Planner
May 30, 2018 by Janelle Diamond | Images courtesy of The Wedding Ninja & Main Street Ballroom
For wedding coordinator Kelly Brittingham, owner of The Wedding Ninja, Sunday promised to be like most Memorial Day weekend weddings, busy but unremarkable: A lovely bride and groom, coordinating wedding vendors, and keeping guests happy. When Kelly arrived at Ellicott City's Main Street Ballroom it wasn't raining. The bride and groom Kristen Rigney and Craig Cymbor were happy to get pictures outside and went with their photographer, Justin Johnson over to the Patapsco Female Institute. "The ballroom looked stunning," says Kelly. Local Color Flowers had dropped off flowers and bouquets, Pantry Catering was working on dinner, the Bachelor Boys Band had their equipment set.
At some point Kelly noticed it had started raining. Kristen and Craig had returned from their first look photos and the rain picked up. She noticed the walls were leaking a little - but no big deal. The only thing delayed were the shuttles arriving from Turf Valley with all the guests. The ceremony was suppose to begin at 4 PM but the first shuttle didn't arrive until 3:40. They postponed the start time. Water had started to come in more from the stone walls. Kristen was still in the bridal room waiting to make her entrance. The groom seems a little worried but Kelly reassured him (as wedding planners do) that everything would be OK. But when Kelly looked outside for the second shuttle she noticed the river was extremely high.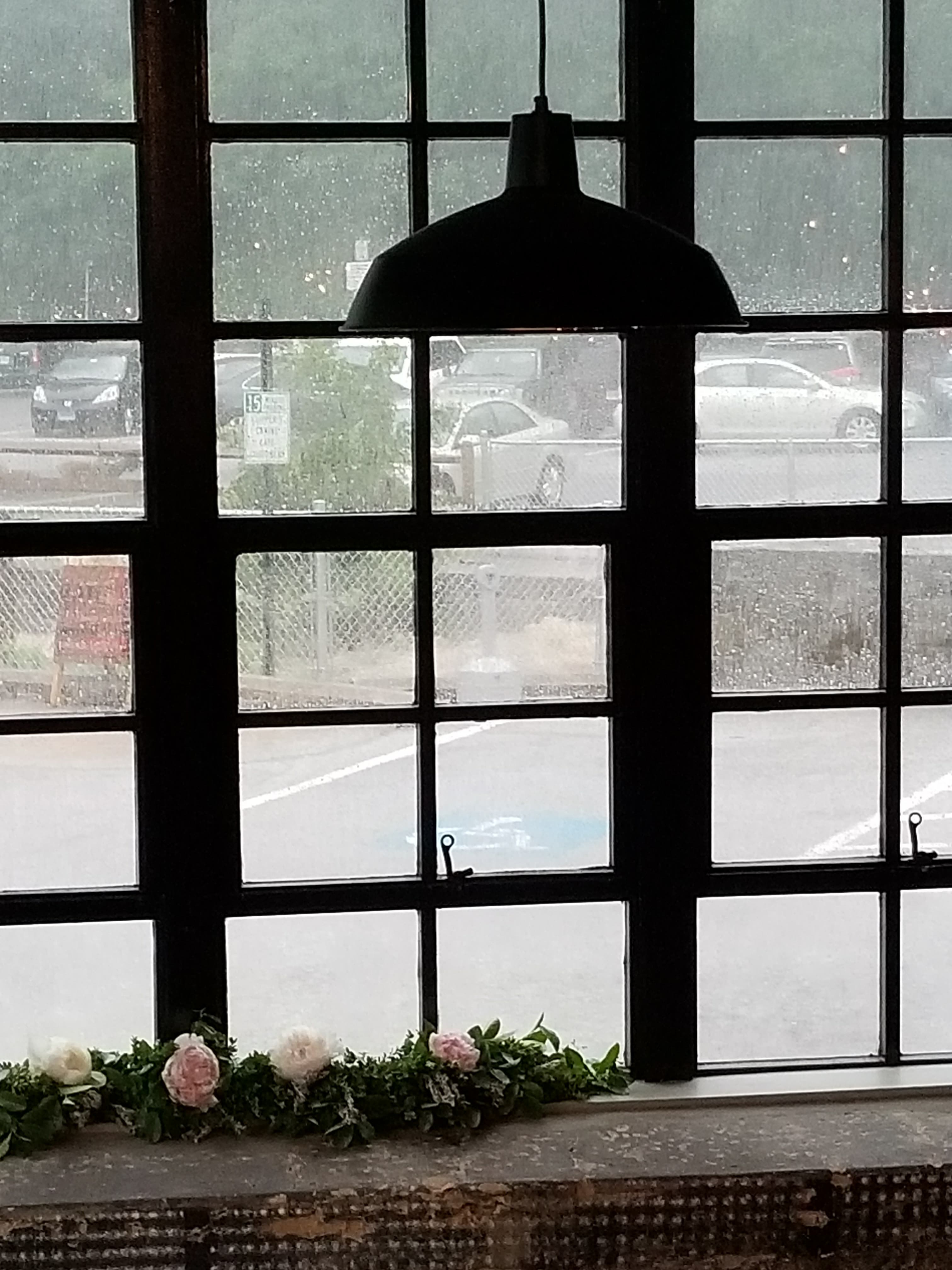 The second shuttle finally arrived around 4:15. "We were so excited," says Kelly. "We were rushing everyone in, trying to get the guests to sit down. Everyone is soaking wet." Kelly was trying to wipe up the damp floors. At that point the band members came over to tell Kelly water was coming in from the windows and they were worried about their equipment. Things get moved around.
"I felt like the little Dutch boy trying to put my fingers in holes all over the venue," says Kelly. That's when she noticed the parking lot has started filling with water. It was substantial but hadn't reached the front door yet. Kelly realized this was a serious situation. "I turned to all the guests and said, 'Everyone needs to go to the back of the building.'"
The second she turned back around, water had reached the front door. "I started screaming, 'This is not a joke!'" Guests, in disbelief, were snapping pictures. Kelly along with the Pantry Catering staff started ushering people out the back of Main Street Ballroom up a narrow staircase.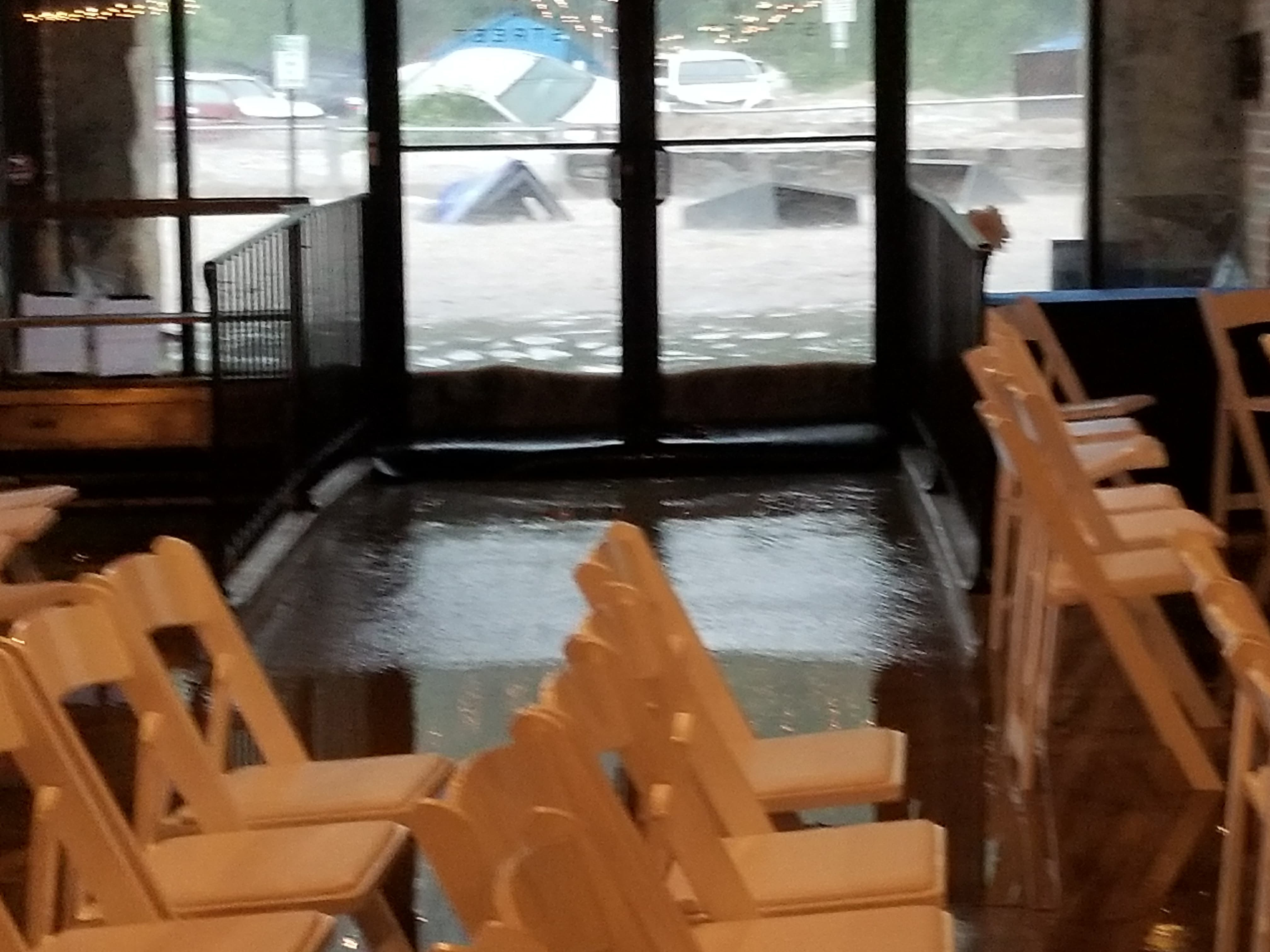 The stairs led to an alley near Palapa Grill & Cantina, a Mexican restaurant. Guests-including elderly and kids-had to carefully navigate the stairs. Kelly, one of the last people out of the venue, could see the water rising outside, waist-deep. It was coming under the door. "We could see dumpsters floating around the parking lot and we were worried if one of those dumpsters hits the door all the water will rush in." Vendors put what they could on top of tables and followed the guests.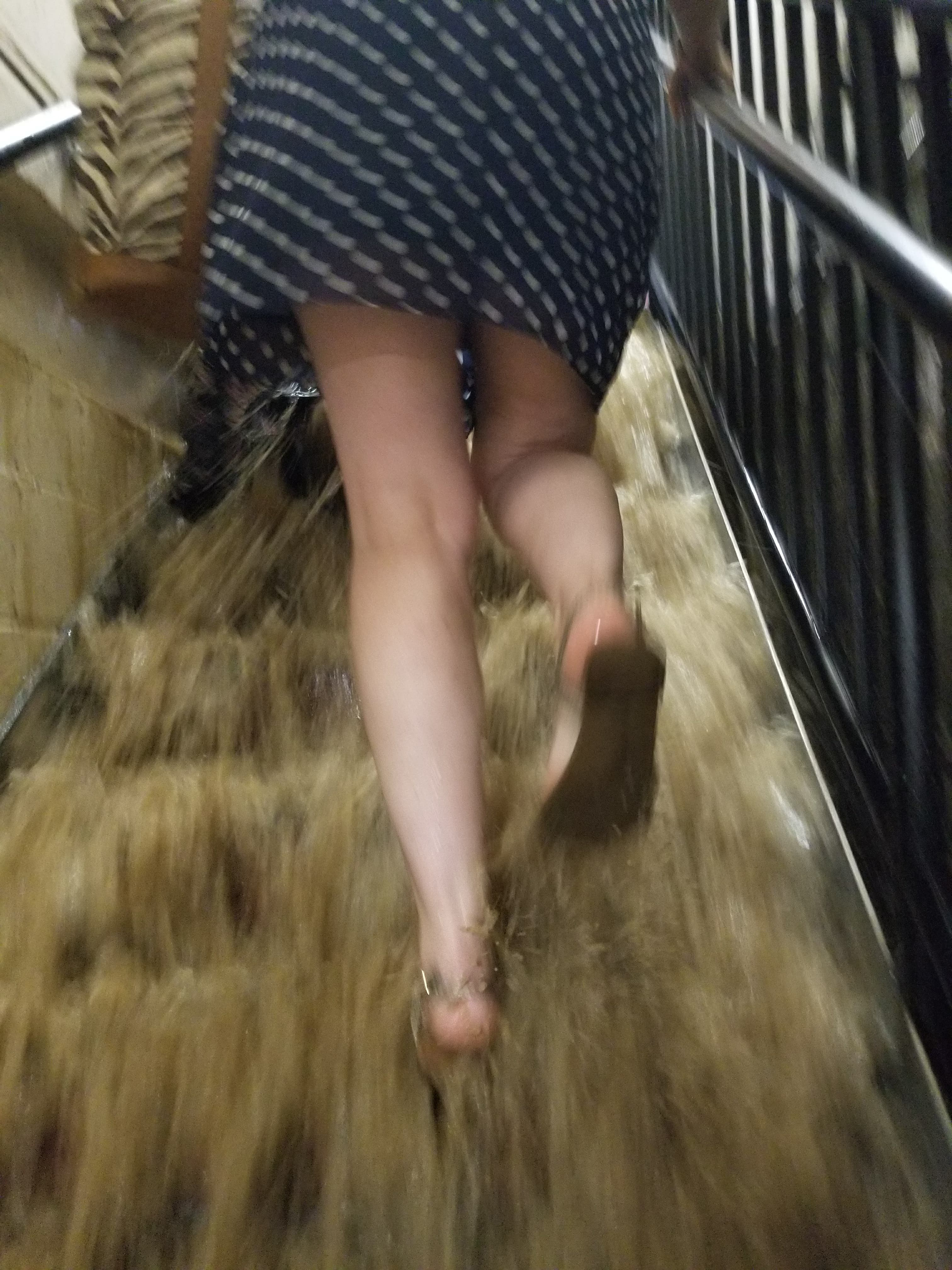 The bride, Kristen, says Kelly was "amazing. She said, 'Well I guess this is what we are doing now.'" Considering the situation ... her entire wedding floating away, "she was the coolest," says Kelly. Craig was "very concerned with making sure his bride was happy."
As guests exited out of the basement venue, Kelly wasn't sure if anyone knew the extent of how bad it was yet. "I was terrified," she said.
She kept thinking about the bride and groom and their guests. This was their entire family. All in one dangerous place. Guests included grandparents and a two-week old baby. "That was what I was mainly thinking about." Always prepared with snacks-as a wedding planner and a mom-Kelly handed out food to the littles once they were safely inside the restaurant.
The restaurant had them congregate in the back and it was there that Kristen and Craig had a "lovely intimate quick ceremony" around 4:45 in front of all their guests. One of the Bachelor Boys played his acoustic guitar. "You could tell how much they love each other. It touched me to watch." Kristen's dad ever the optimist asked Kelly if they could seat people, feed people. "I think we need to evacuate," Kelly told him. Panic had set in, and feeling a bit trapped in the restaurant, Kelly called 911. Five minutes later a rescue team arrived (Kelly isn't sure if it was because of the call or if they were evacuating anyway.) The rescuers told them: "You've gotta get out of here to higher ground."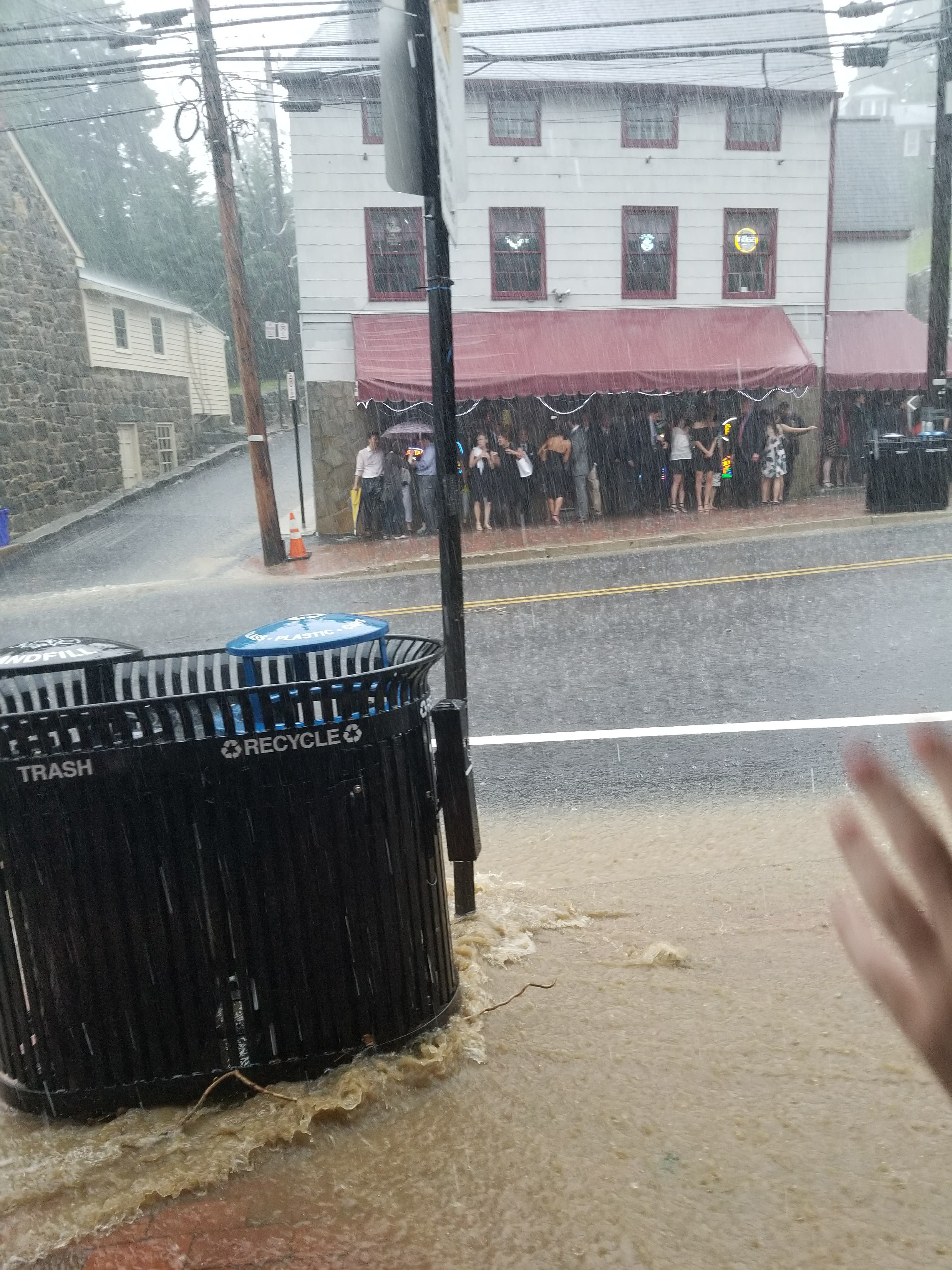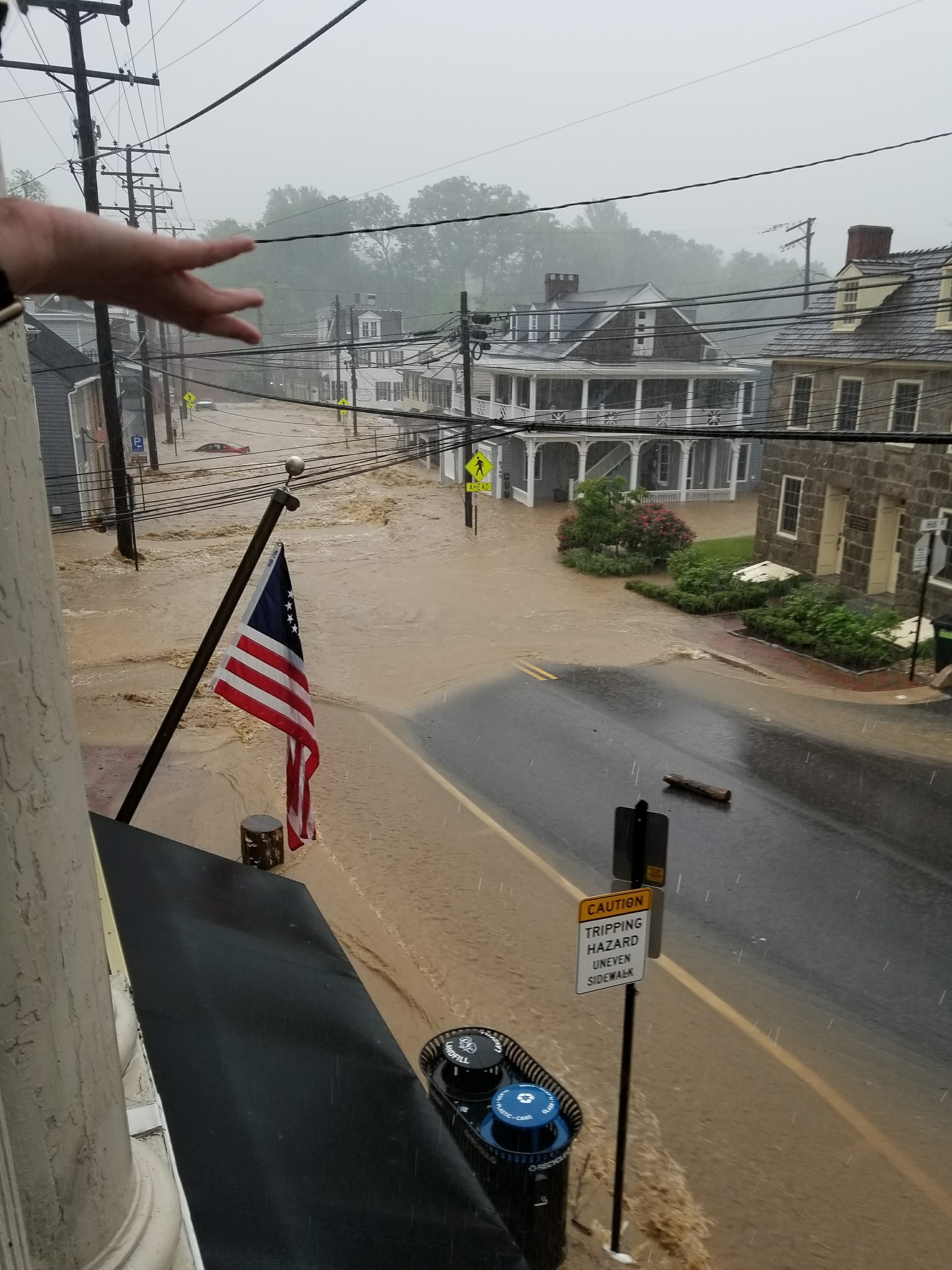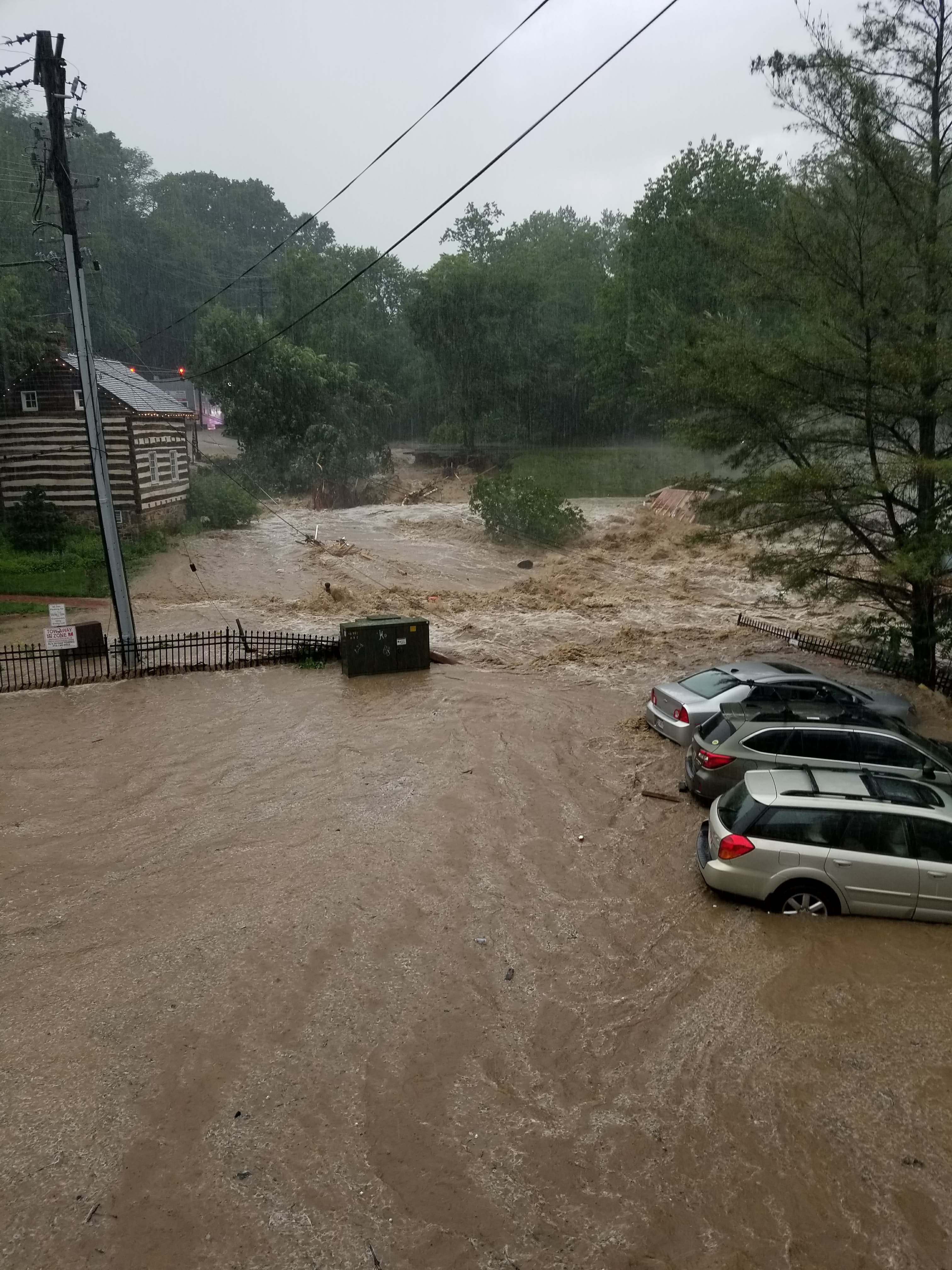 "We were moved four different times. They moved half of us. I was standing between the two buildings. All of a sudden they said no more. Half were gone up to a wine store and the other half were still in the Mexican restaurant. I went up to the wine store, the bride and groom were still in Mexican restaurant. I had the older people and the children. They got moved not much later to a house on higher ground on the other side. We were moved two other times and kept going higher and higher. At one point we were in a ballet studio. We were up high and could see what was going on. That's when, right outside, that stone building went down. We had felt safe and then to see a whole building swept away. Kids were screaming and crying. Then they took us across the street to an empty office building. We were there for an hour and then evacuated to the courthouse and could have people come pick us up." Extraordinar managed to get the shuttles in to Ellicott City to bring guests back to their hotel. (Kelly's very relieved husband came to pick her up.)
The whole time Kelly had Kristin's wedding bouquet and cards from her family. She was able to give Kristin everything when they met back up at the end of the evacuation. "She was wet and tired," says Kelly. All the guests were. "We were all soaking wet. I was in a short black dress and sneakers. Most guests were in heels for this formal wedding. Everyone was starving."
Now a few days post wedding, Kelly is mostly relieved that all the guests made it out okay, especially since there was loss of life that day.
"The thing I was most worried about was the kids and the people," says Kelly. "I just wanted my bride to not be disappointed. This one of the most important days of her lives. I just wanted to make sure it was special. I salvaged some of the stuff for her. She has a very good attitude about it." Vendors were able to return to Main Street Ballroom today to see what else could be salvaged.
Even during the uncertainty of the day there were a few laughs shared. The third time they had been moved to higher ground all the phones suddenly started loudly beeping with a flood warning. Says Kelly, "We were all like, 'Oh, ok. Thanks.'"
---
---