Black Tie Budget Bride: The Dress
May 29, 2018 by Colleen White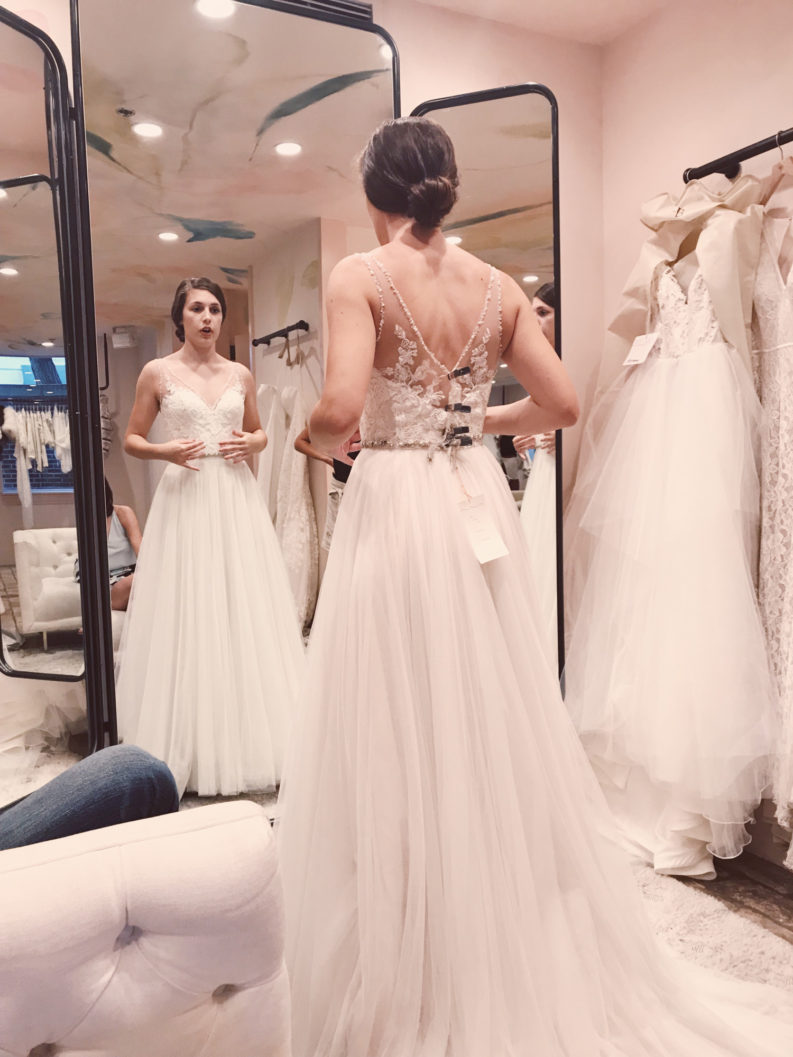 (This is not The Dress.)
When you imagine your wedding as a little girl (or even as an engaged adult), one big part of your daydream is probably The Dress. You've probably had a style in mind for years; or at least an idea! You may have watched episodes upon episodes of Say Yes to the Dress, imagining, "I wonder what it will feel like when I find The Dress."
Well that was me.
I had been pinning wedding dresses on Pinterest YEARS before Peter and I got engaged. I had a basic idea in mind: A full lace mermaid gown with a keyhole back. Sometimes I would stray from that idea, drooling over ball gowns or flirting with the idea of a fit and flare. But always coming back to that same vision.
In the weeks leading up to my bridal appointment at BHLDN, I was binge watching Say Yes to the Dress. Criticizing the different dresses they tried on, crying over their emotional stories and getting excited for my appointment. I had zero nerves going into my dress shopping experience. I was sure I would find The Dress and that it would bring me to tears. Well, it went a little different than I had planned.
Before arriving to the shop, I had pre-selected dresses to try on and my associate had already pulled them for me. We took one last loop around the store and quickly I began trying on dresses. We started with the dresses I sort of liked, aiming to try on the ones I loved towards the end.
With every dress I tried on, I didn't get any "magical" feeling. To me, it sort of felt like trying on any other dress. Yes, my friends and family were there. Yes, it was a bit more extensive than any other try-on experience. But I didn't have any big moment.
When I tried on what ultimately became my wedding dress, I loved it! It wasn't my "dream vision" I had planned out as a young girl but it was the exact feel had wanted. Romantic and timeless. But I didn't cry. I didn't have a "this is the one" moment. I just liked the dress and picked it. Simple as that. Even when she placed a veil upon my head, while emotional, I didn't have the big moment like they do on TV. I just felt happy and content.
Maybe I had hyped up the moment and made it out to be a bigger deal with higher expectations than I should have. But the moral of this whole story is that you might not have a "Big Moment" feeling. You might just like the dress and decide it's the one. You might not have tears in your eyes, crying that you "said yes to the dress." And that's okay! What matters is that you're comfortable and that it's what you see yourself marrying your best friend in.
---
---