How *Not* To Plan Your Wedding: The Best Bachelorette Ideas—in Baltimore (And Beyond!)
January 23, 2018 by Kelsey Haywood Lucas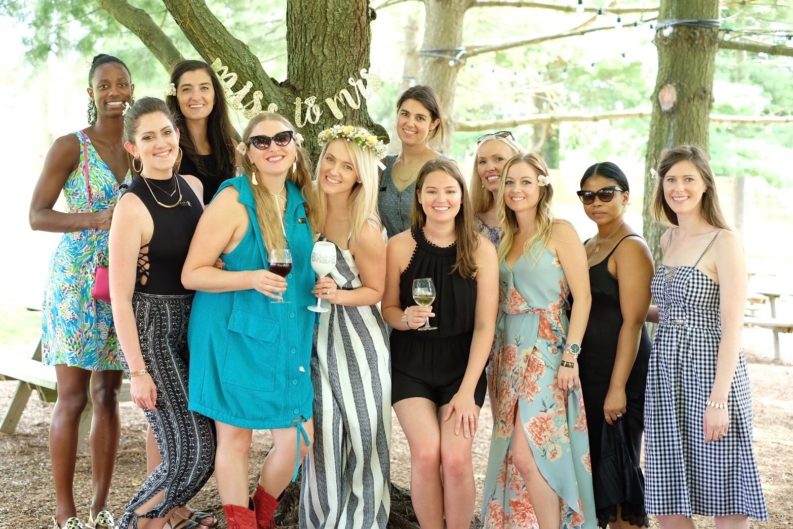 Ah, bachelorette parties—what comes to mind when you hear the phrase? For some, it's the sound of dollars being depleted from your bank account (cha-ching!). For others, it might be memories of bad karaoke in Cancun (beach, booze, all the stereotypes). 

But a bachelorette party doesn't have to be expensive or wild; they're just a great excuse to clear your calendar and spend a day (or, yes, maybe a weekend) making new friends and amazing memories. I've been on a bunch—all pretty awesome, to be honest—and I'm sharing five of my favorite ideas . . .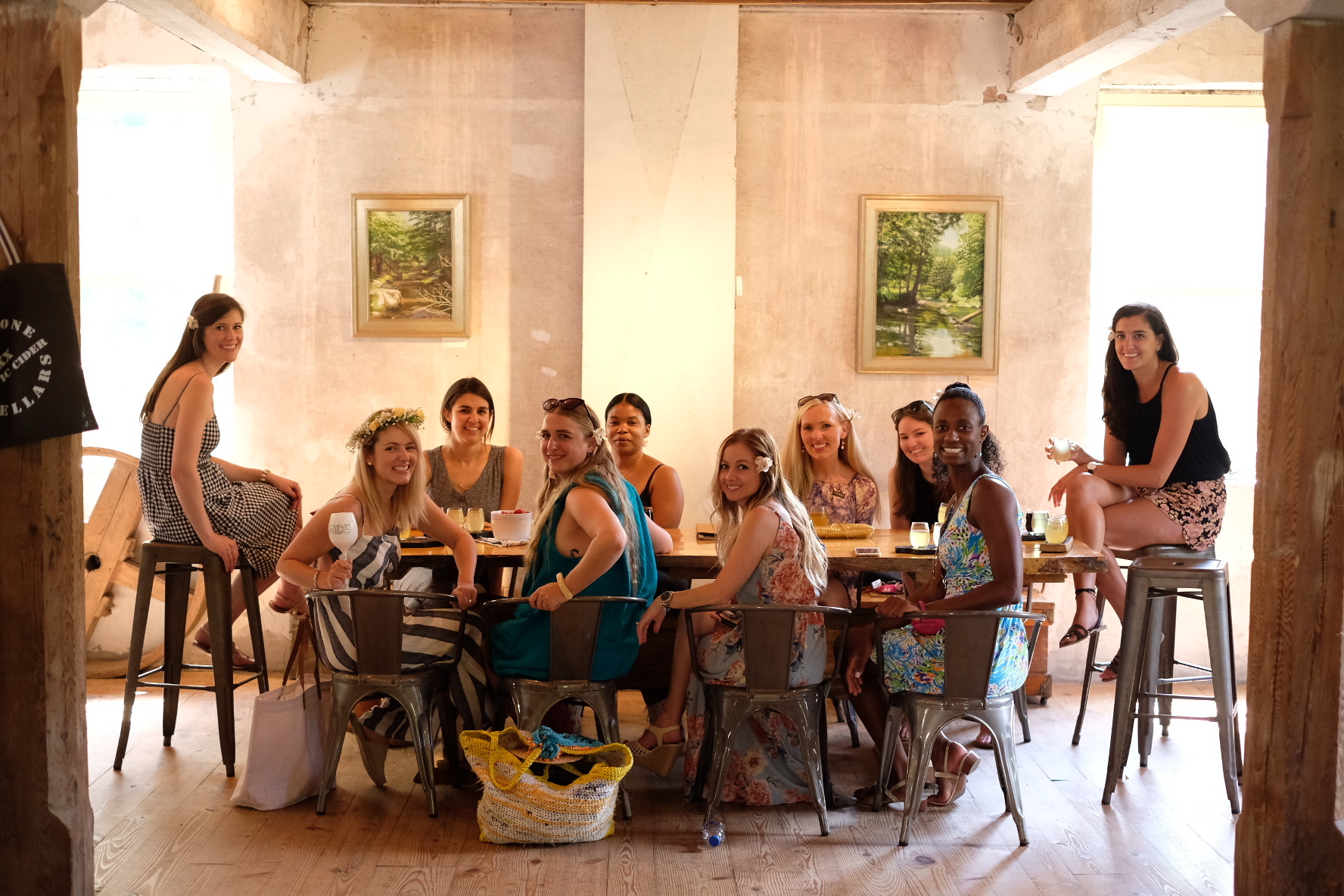 Sipping in style at Millstone Cellars.

WINE TASTING ON WHEELS
Deciding what I wanted to do for my own bachelorette party was tough: I love to travel and love a good girls' weekend away (see below!), but the majority of my bridesmaids have young kids . . . two were pregnant . . . and two live across the country, so it would have been tough to coordinate schedules for a destination trip. 
Instead, I opted for one amazing day spent right here in Baltimore. Many of my bridesmaids were able to make it, and a bunch of my other girlfriends could join in, too. The best part was bringing all my different worlds together: my high school friends, my cousins, my work wives, my new sister-in-law *and* the group of gals that I'll just call my "Baltimore babes" were all able to come together— some meeting for the very first time. I got to spend a day with all the most important ladies in my life and it was bliss.
To keep things easy, my dear friend Jess took the reins and planned a Saturday wine-tasting tour around the area. We packed up the most amazing spread of snacks I've ever seen—seriously, my girls showed up in the picnic department—and my cousin Emily surprised me with the prettiest flower crown to wear. (All the girls got mini floral hair pieces to match, naturally.) We went to Boordy Vineyards and Millstone Cellar, then came back to my house and sipped our take-home vino while watching the sunset from my deck. It was magic.
*Try this: We booked our day through Vino 301, a company that specializes in Maryland-area wine tours and events. They were absolutely amazing; our guide, Carla, was the absolute sweetest host and made the day so special and easy—she took pictures, helped orchestrate our picnicking and supplied plenty of extra snacks (so crucial!) on our very swanky bus. 
I loved *this trip* so much. Stay weird, Austin!
GIRLS' WEEKEND GETAWAY 
Yes, yes, I know: Being part of a wedding party typically gets pretty costly, and that's before you add in extras to the equation—like a destination bachelorette party that requires nightly hotel fees, plane tickets and more. An over-the-top trip is certainly not for everyone—it's about knowing what's best for your bridal party and adjusting accordingly.
So that said, if your group of gals loves to travel or if your bridal party members are already scattered across the country, picking a cool city and packing your bags for a long weekend can be an amazing opportunity to bond.
Destination bachelorette parties have taken me to Miami (where Jen and Amy accidentally left me at a gas station on the way back to the airport—we still laugh about it), New Orleans (where I went on a fan boat swamp tour and almost fell into gator-infested water) and, most recently, to Austin, TX (where I was 1/12th of "Cat's Kitty Crew" aka "Kitty's Catty Crew," which basically just means that since our friend is an actual Cat we wore cat-ear headbands to honor her . . . and yes, we know we are hilarious and extremely original). 
I can take no credit for our let's-get-weird weekend in ATX: Cat and her sister planned a perfect itinerary filled with delicious dinners, wine tours, taco tastings, bar crawls, hot yoga classes and homemade dinners at our lovely little treehouse of an AirBNB. They mapped everything out down to the dollar in advance, so everyone could choose what activities they wanted to partake in based on their budget—so appreciated!
I didn't know all the girls in the group before the weekend began—but I was so grateful to go home with a few new friends and a deeper appreciation for a really special city.
*Try this: Intrigued by the idea of a tree house? Book it here. I'd also highly recommend our tour company, Discover Texas Wine—we did the Dripping Springs Wine Trail (so gorgeous!) and our driver went above and beyond to make sure we were happy and comfortable throughout the day.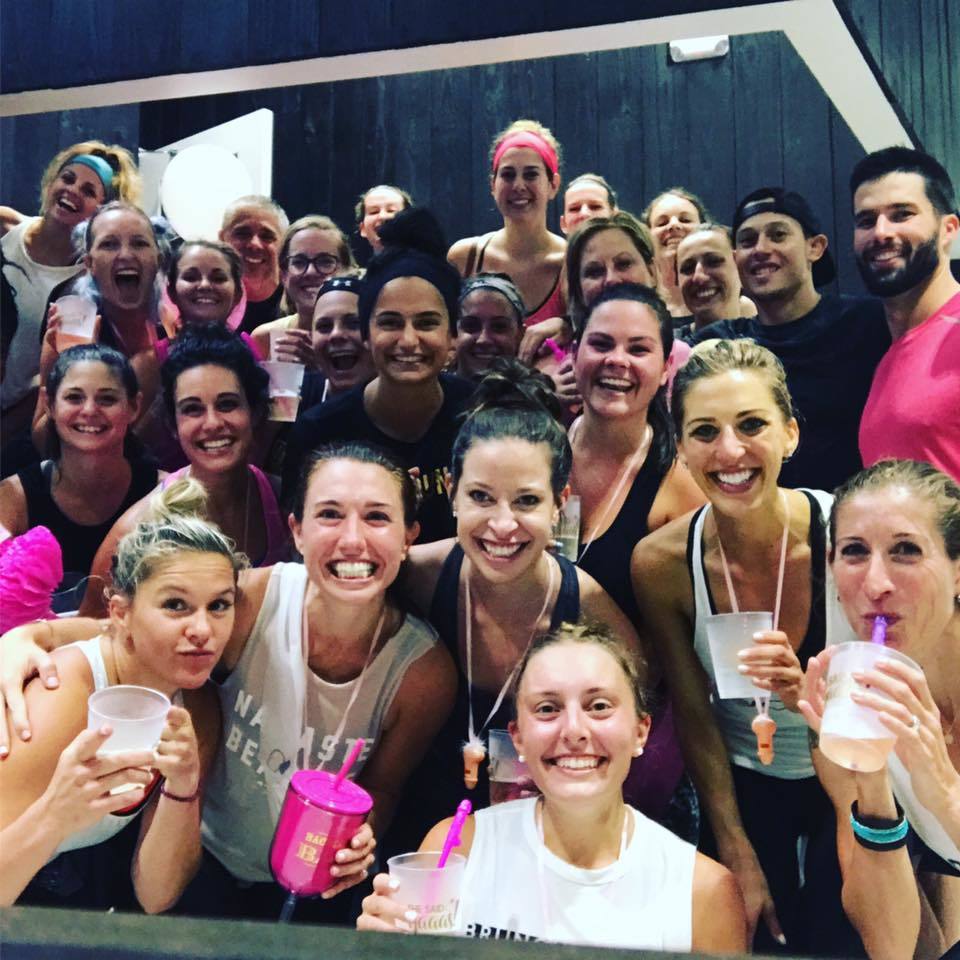 Annie's "ride for the bride" at REV.

RIDE FOR THE BRIDE
If you read my wedding wellness plan post, you know that REV Cycle Studio's bridal package had an extremely positive impact on how I prepared—both physically and mentally—for the big day. (For six months, I was doing spin and barre classes 5x a week and have literally never felt better; I was getting stronger and alleviating stress at the same time. GAME-CHANGER!) 
The added bonus? REV's bridal package includes a complimentary bridal party ride—complete with post-spin champagne for yourself and 10 friends. While I haven't had a chance to do my own ride yet—my schedule was too nuts leading up to the wedding—my friend Annie describes her bridal ride at REV as one of her favorite experiences on a bike.
"Hosting a private class at REV was the PERFECT way to kick off my bachelorette weekend—it was so fun to see the room filled with my favorite people, several of whom had never spun before but were there for the party," says Annie. "One of my bridesmaids and best friends, Jami Crist, is an instructor at REV—so she started us off with a little Whitney Houston and then instructors Nick and Sean closed out the class. Even though it was really fun and silly, it was still a great workout and we all headed into the lobby for a champagne toast dripping in sweat." 
*Try this: If you want to commit to get fit, the REV bridal package is an amazing deal (really, I did the math, it's so worth it). Or, if you want to try a few classes first, use the code "BaltimoreBride" to get a 10% discount off a 5-pack of classes (either spin or barre, valid at both locations). Also, one more crucial tip: Keep an eye out for classes with Darryll, who teaches on Saturday mornings at 8am at the Brewers Hill location and subs in randomly at other times—she's one of my absolute favorite spin instructors in Baltimore and always plays the best beats. 
Snaps from our dreamy days at Cal-a-Vie.

MOTHER/DAUGHTER WELLNESS RETREAT
It's been a running joke that when Danny married me, he was marrying my mom, too—except it's not a joke at all because we pretty much come as a package. We've always been best friends—and as soon as I got engaged, we knew we wanted to celebrate by going on a really special trip together before I got hitched.
At first, I wasn't sure if I could swing any summer travel: I had so much going on between wedding planning and work stuff that going away seemed impossible. But my boss (hi, Karen!) urged me to just make it happen and go—my mom and I needed some special bonding time before the big day, she said—and I am forever grateful for that advice.
We had one of the best weeks together—literally, ever—at Cal-a-Vie Health Spa in Vista, California. (We hopped on one of Southwest's direct flights from Baltimore to San Diego, and then it's just a 45-minute shuttle.) Each morning started with a sunrise hike, followed by four hours of fitness classes. (I did not know that I could work out for four hours straight, but it was actually really nice—you start with more intense stuff, like TRX or piloxing, and then work your way down to restorative stretching or paddleboard yoga in the pool.) Then we'd break for lunch on the patio—or, on some days, we'd go to a nutritious cooking demo in the gorgeous test kitchen—before spending the rest of the day at the spa. After a week of hikes, workouts, clean eating and detoxifying body treatments, I felt absolutely amazing. (Also, don't even get me started on all the lovely solo activities—my mom really enjoyed the meditation maze.) It was the ultimate way to get ready for my wedding and I will always treasure the time we spent together—no distractions, no TV, terrible cell reception, just us. 
*Try this: Cal-a-Vie is heaven on earth; if you book a stay, please tell them I sent you! But if you can't make a trip to the opposite coast, there are plenty of places nearby to get a similar experience. Nemacolin Woodlands Resort is just three hours away for a quick weekend getaway—I highly recommend the Woodlands Remineralizing Shirodhara massage for next-level relaxation. And right here in Baltimore, I love About Faces in Towson (request Maggie for an amazing facial, or Chuck for an athlete-quality massage). 
—
Kelsey Haywood Lucas is the content and marketing director at Girls' Life magazine. As a #Hitched blogger, she's tackling topics like anti-advice for dress shopping and producing the perfect engagement shoot—click here to view all her posts. Follow Kelsey on Instagram for snaps of her adventures as a (now newlywed!) bride in Baltimore.
---
---