Pop The Question: He Did It On Porpoise*
January 10, 2018 by Photos provided by Destrie & Zach Etier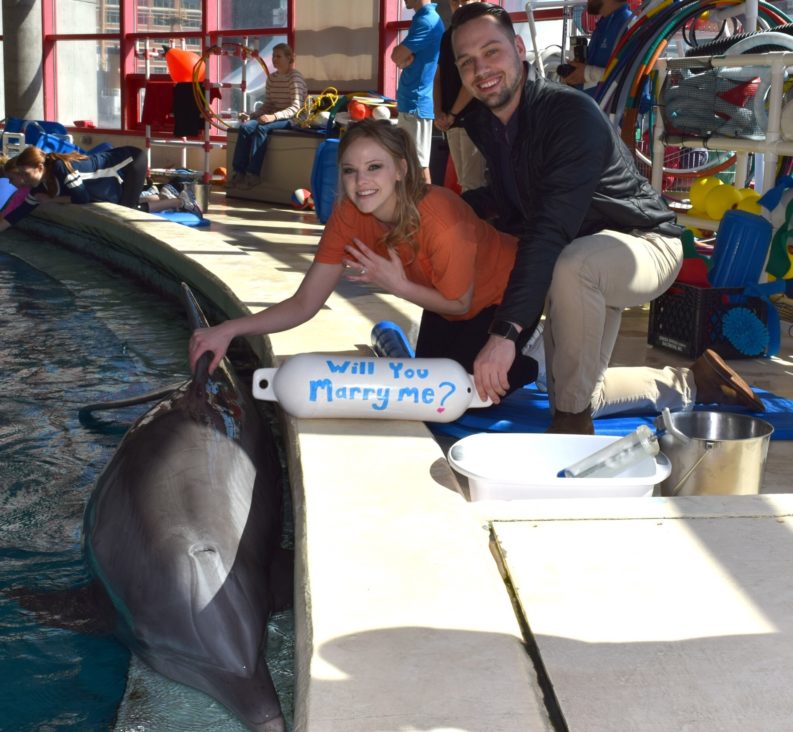 *the first in an occasional series about marriage proposals* 
"Zach proposed on April 16, 2016. The way he proposed was amazing and special. Earlier in the week, we had been discussing plans for that weekend. He suggested going to the National Aquarium in Baltimore. I thought it was a great idea because he knows how much I love it plus getting to see the dolphins was as the best part for me! We get there and instead of walking through the front, we start walking around the back and I am confused until we walk up to reception and he says, "reservation for Etier" and the woman says "Etier for the Dolphin Encounter." I started to freak out! Dolphins are my favorite animals. I was so happy.
We get into a room, the trainers are going over the rules with the animals then they take us into the pool area. I met two dolphins Jade and Nani. There were two photographers in the area, ready to take photos of the groups interacting with the dolphins. It was one of the best experiences I've ever had, I was doing commands and playing with the dolphins with Zach taking photos too. The trainer then suggested we play a game, where I would throw the toys into the pool and Jade would retrieve them and bring them back to me. I started throwing pool toys and she brought them back.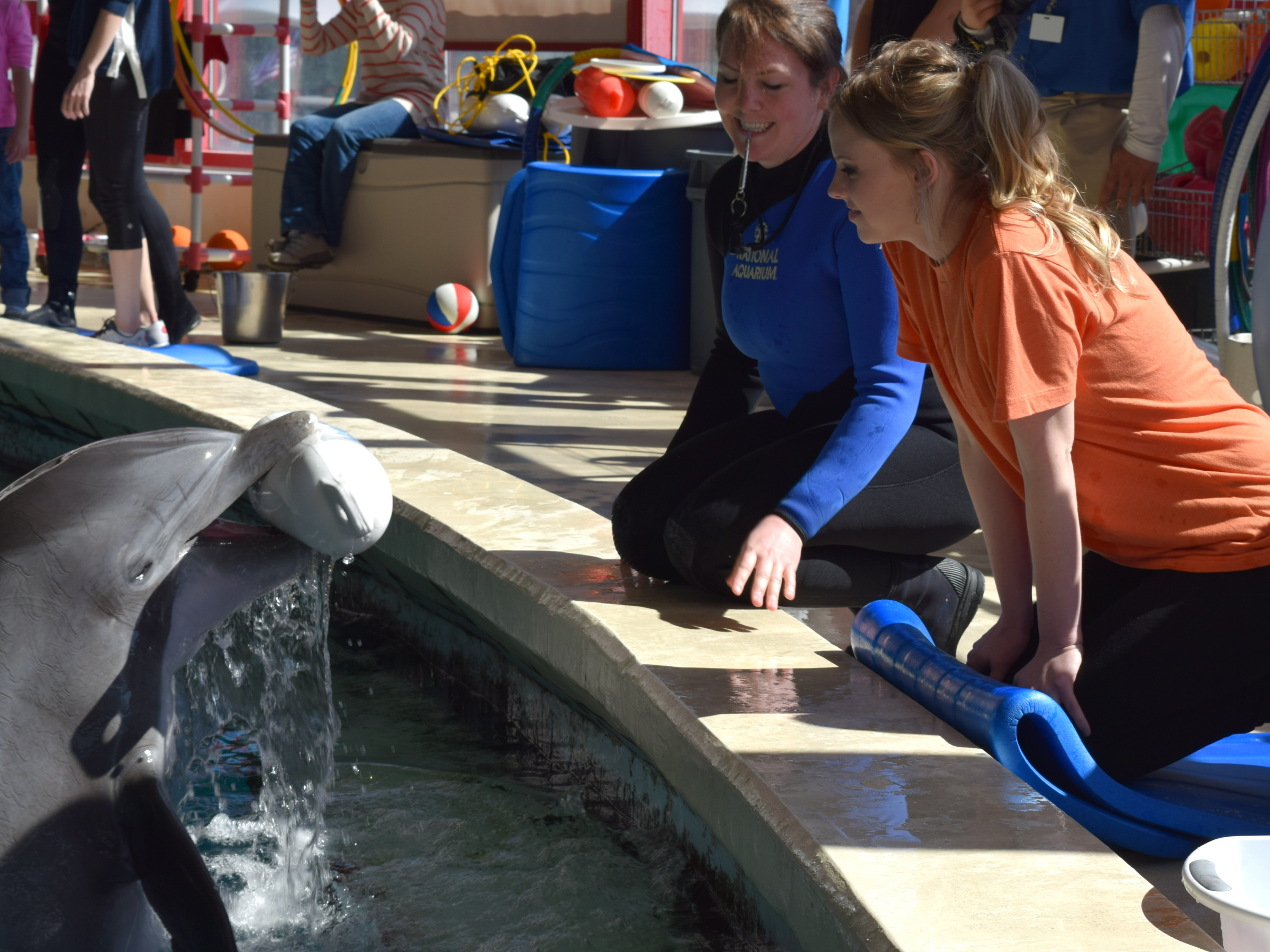 The trainer then suggests, we send Jade across the pool to the other trainer to retrieve a buoy from her. So I sent Jade to retrieve the buoy, as Jade pops out of the water, written on the buoy is, "Will you marry me?" I turn around and Zach is on one knee behind me and he asked me if I would. I instantly said, yes then I proceeded to what I call ugly cry and I also didn't know what to do with my hands. I was in complete shock, in my head I had a feeling something would happen that day but not in a million years was I thinking a dolphin with a buoy in its mouth, with the words "will you marry me" written on it was going to pop out of the water. The photographer, of course took a million great photos and several ugly crying face ones too. It is still to this day one of my favorite memories. Later he tells me, he had this planned for months and knew how in love I was with dolphins and wanted the proposal to mean more and be special just for me.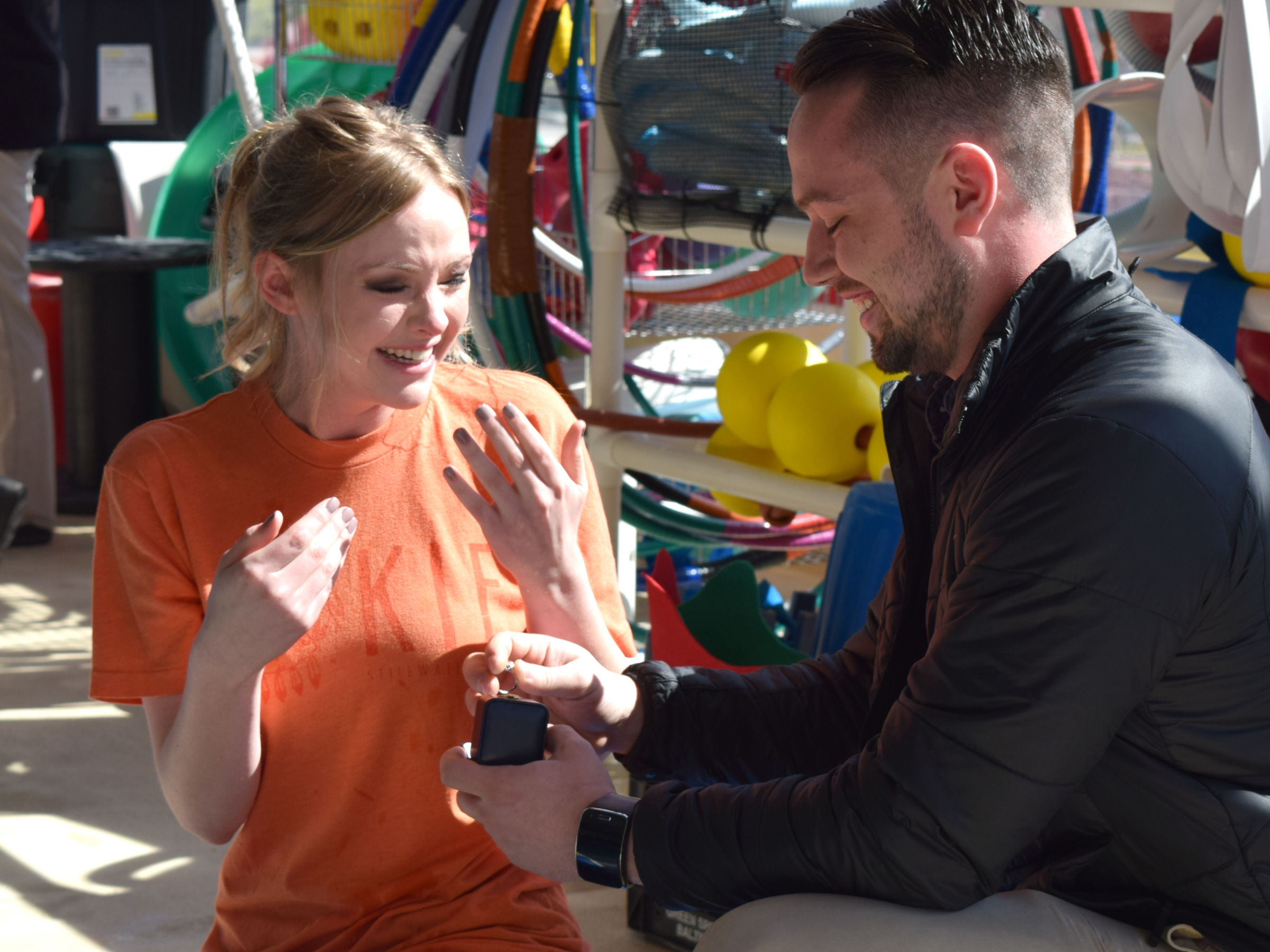 Zach then proceeds to tell me after all the excitement from the proposal at dinner that he bought us two plane tickets to visit our family in Oklahoma for that next weekend. He had already planned it with my work too. We show up in Oklahoma, we get off the plane to meet Zach's family for dinner. We grab dinner and they suggest drinks, we walk upstairs to a loft bar and he once again surprised me. All of our family and friends were there, they shouted surprise and I just started bawling. It was an elaborate well planned, heartfelt proposal and surprise engagement party, he couldn't have done better," - Destrie Allen Etier, married on August 4, 2017
You can read all about Destrie and Zach's elopement in our new issue of Baltimore Bride, now on newsstands and available here. 
If you have a great proposal story, email us at: bride@baltimoremagazine.net, subject line: POP THE QUESTION. 
*We know these magical creatures are dolphins. But we really loved the pun.
---
---