A Vendor Gets Hitched: Lighting & Draping
July 18, 2017 by Ashley Hoffmann
If you are searching for your perfect venue right now, you are probably walking in the reception space with all the lights on and no decor. The beauty and potential of a space when it is all done up is something that is hard for most of us to imagine (another reason to hire a planner . . . hint, hint). The price, location, and everything else seems perfect but the space is boring or outdated or just not the picture you had in your head. Honestly, as long as you are ok with the decor and the size of the space is right, you can transform your venue into anything that you want with a little imagination. In my opinion, one of the biggest and most impactful ways to transform a space is with draping and lighting and that is what I will talk with you about today.
I have always loved draping for many reasons. First, it softens up a big ballroom that can feel cold. Second, it makes a space feel more intimate. Third, it is an easy way to add any color of your choice for the largest impact. And the fourth and most important reason, you can completely transform any space into something magical and exactly the kind of wedding you have pictured in your head. Draping obviously isn't right for all types of weddings, but if you are getting married indoors, there is usually something that could benefit from draping. One of my pet peeves about draping is when it doesn't go all the way up to the ceiling. I have zero idea if this is a faux pas or not but it always bothers me when draping only goes halfway up the wall. Also, there are drapes that looks cheap so be weary of that and don't cut corners. Draping can get expensive especially if you have tall ceilings and you are doing all four walls. For me, I always think it's better to spend money on one or two really nice things than try to get everything under the sun. If you can't afford to drape the entire space, get a quote for one focus wall (all the way to the ceiling of course). And remember, draping has a HUGE impact on the look and feel of the room so if you are looking to transform the space, spend the money to do it correctly. Draping can be rented through a production company.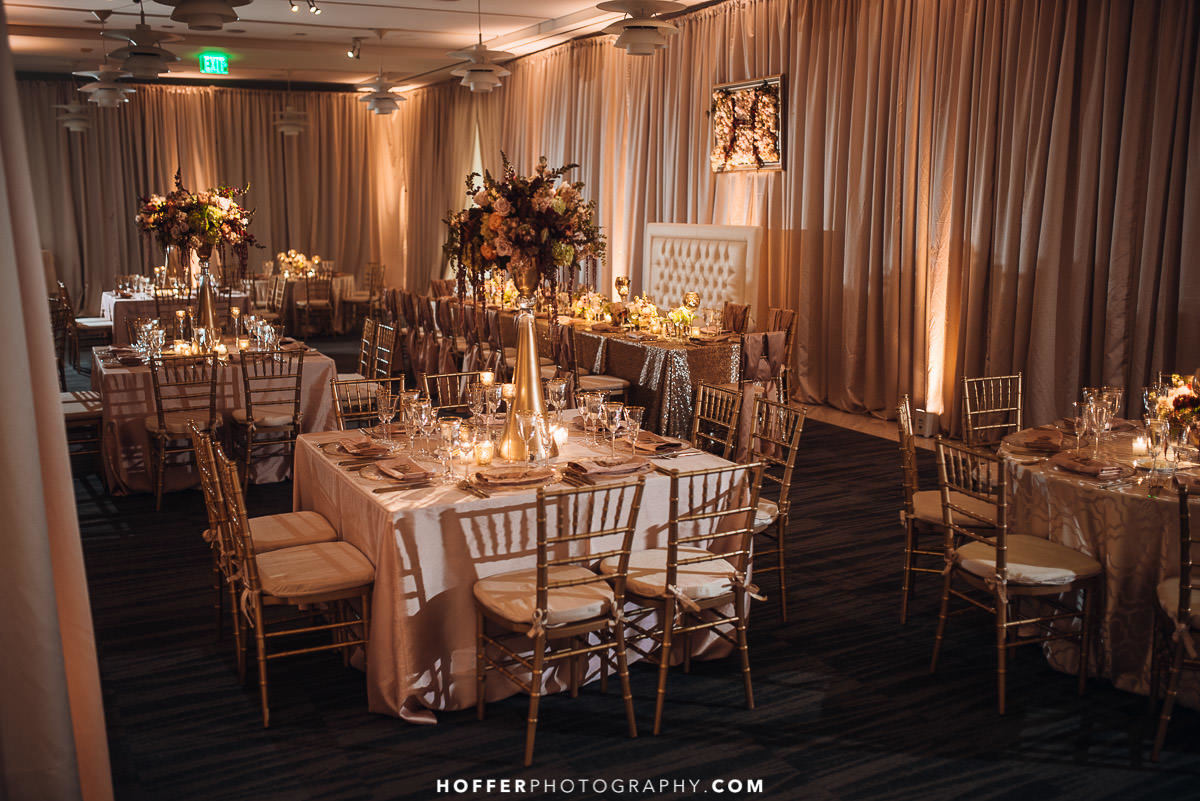 Once you have decided on some gorgeous draping or if your space doesn't need draping, the next thing you will want to think about is lighting. Lighting is another thing that can completely transform a room. Lighting can come in the way of candles, uplighting, pinspotting, or washes and will help any type of venue look more beautiful. This type of lighting is actually very affordable for what you get. Candles will add a romantic and intimate feel and can usually be rented through your florist or if you have a planner, they probably have some they will just let you use. Uplighting is another great way to add color and drama to your space. They also make photos look SO much better as opposed to a blank wall. Pinspotting will highlight those gorgeous flowers and cake you bought. Without pinspots, the flowers don't have as big of an impact as you would want them to because they are in the dark. Lastly, washes which can be on the floor or the ceiling and can add color as well as drama to any space. Pinspots, uplights, and washes are best to be rented through a production company but sometimes venues, DJs, or florists will have limited quantities available. NOTE: If you are getting married in a space that has windows AND you are doing a lot with lighting, be conscious of the start time of your reception. If your reception begins while it is still light outside, the light from the windows will over power the amazing lighting you rented. The drama you want to create with lights will not be seen until it is dark outside. I started my reception at 8:00 for this very reason since I knew it would be completely dark outside at that time. It makes me so sad when I photograph a wedding and you can't even see the uplights, pinspots, or candles until halfway through the reception.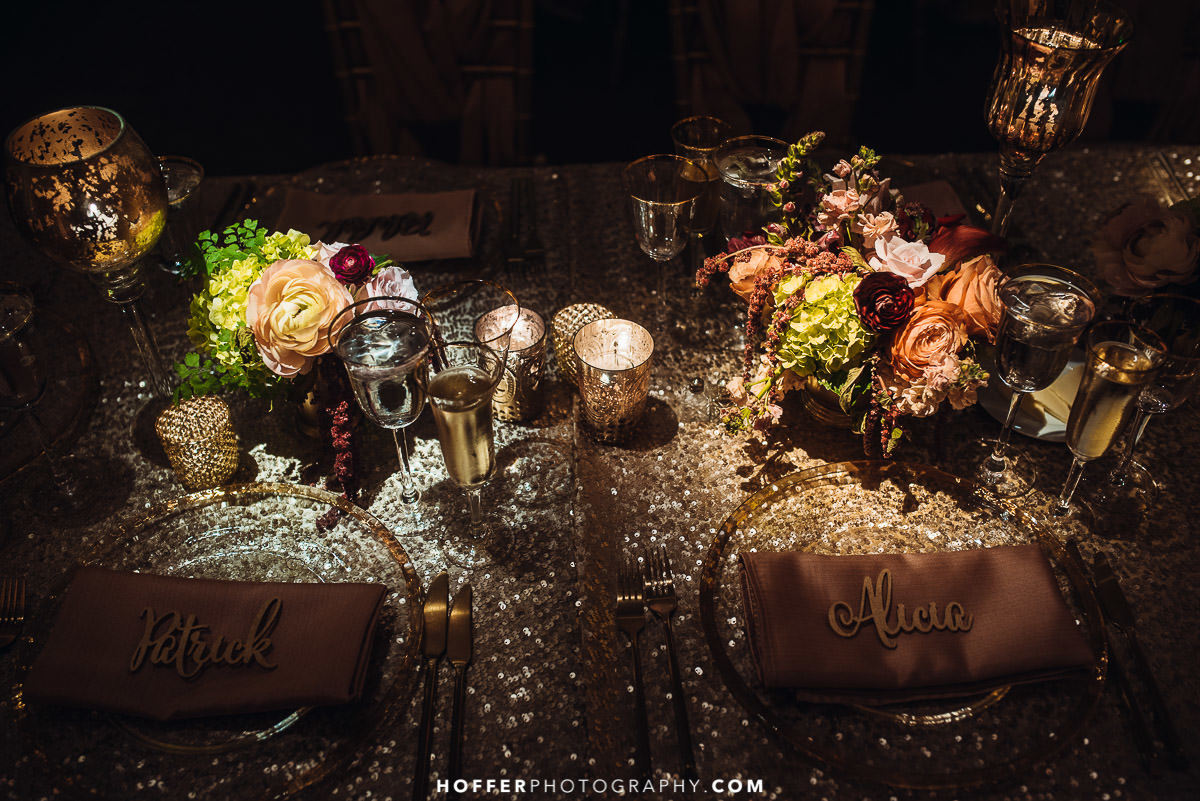 For my wedding, I used champagne satin draping on three sides. The fourth side was floor to ceiling windows so obviously I didn't want to cover that up. My draping was functional for two sides and cosmetic for one side. At my venue, Legg Mason Tower, there are two televisions that need to be covered up so almost everyone that has a wedding there gets draping for those two areas. Also, since my guest count was only 60, I needed to make the room smaller with draping. So after the functional draping and the side with windows, I only had one side that wasn't draped. So to be consistent, I draped out that area as well. There were two open entrances and the drape was swagged over the entrances to create a little more drama. I had uplighting all around the room except the side that was all windows. I think a candlelight color was used which was perfect. This color was also used as a wash on the dance floor. I had pinspots on all of the centerpieces, the cake, and the floral "H" that was a focal point hanging above the head table. I had candles on every table and I had candles all along the ledge where the windows were. I rented the uplighting, pinspots, and dance floor wash from the amazing EventPro. I met Nick, the owner of Event Pro, back in the day when he first started his business and he is awesome. In addition, he works with my planner Elizabeth Bailey Weddings on a regular basis and has worked at my venue many times before. It was a win all around. When I told him my colors, he already knew the perfect drape color for me. He gave me good advice about certain parts of the draping that I didn't even think about. I would highly recommend him if you are considering any of this. He also offers many more rentals and services so definitely check out their website. All of the lighting and draping made a HUGE difference in the look and feel of our wedding and I still can't get over how fabulous everything looked!
Until next time, have fun making your wedding pretty . . .

---
---