How *Not* To Plan Your Wedding: Popping The Q To Your Bridal Party
March 07, 2017 by Kelsey Haywood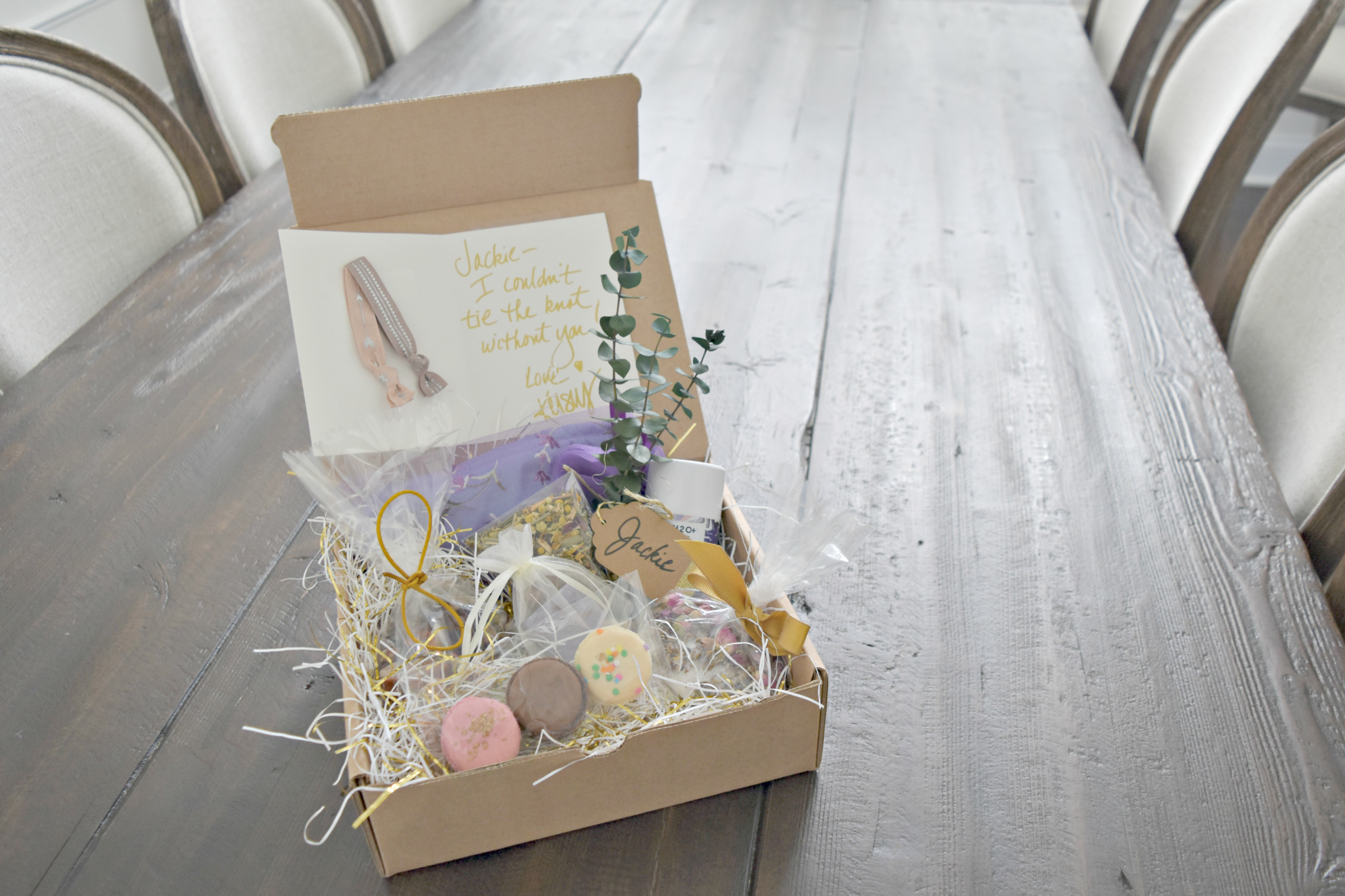 Behold: My bridesmaid boxes! Read all about 'em below…

I recently proposed to my bridesmaids and, let me tell you: I have a newfound respect for every person on this earth who has ever popped the question.
Okay, sure: "Do you want to be in my wedding?" is asking for slightly less of a commitment than, say, "Do you want to want to love me/stand by me/support me/deal with all my annoying habits FOR THE REST OF YOUR LIFE?"
But still . . . you want a bridesmaid proposal to be just as special. You want your girls (or guys) to know how much they mean to you. You want to set the tone for the months ahead: assure them that you won't be a bridezilla, that you appreciate their time and financial commitments, that you *really* couldn't do this without their love and support (but hey, no pressure to say yes or anything, I totally understand if you can't swing it…).
As I started planning the best way to pop the Q to my bridal party, I quickly found myself falling down the rabbit hole of Pinterest and Etsy ideas. (If you don't know what I'm talking about, click those links. Just be warned, it's addicting.)
But then I got a grip and sat down and thought about what I really wanted to accomplish. Did I need koozies? (I decided I wanted to make them for the wedding, so no.) Did I need #bridetribe tank tops? (With no bachelorette party in the works…probably not.) Did I need the sweetest little hand-painted personalized ring dishes I'd been eyeing on Instagram? (Those would be perfect for official bridesmaid gifts, I noted. Nixed.)
So I thought about all the girls in my wedding party.
Danielle, Julia, Jess, Amanda, Jackie and Emily H. are some of the most amazing/inspiring moms I know. Sandy and Emily S. are planning their *own* weddings right now. Devon has been living out of a van while touring with her band around the country.
And then I realized that I didn't want this gift to be about me and my wedding and its theme—I wanted it to be something special for them. So . . . what do nine very different but equally amazing women have in common?
Well, duh: They all could use a little more relaxation in their lives, I figured. And hence, my concept was born: Please enjoy some "me" time on me, gals.
From there, the idea quickly took shape in my mind: I'd curate a box—a concept that's having a major moment right now—with tiny tokens to help my bridesmaids bliss out.
Ahead, I've outlined the steps I took to put these things together—and while this specific concept won't be the right route for every bridal party, I hope it offers some inspiration for crafting something unique to your own crew.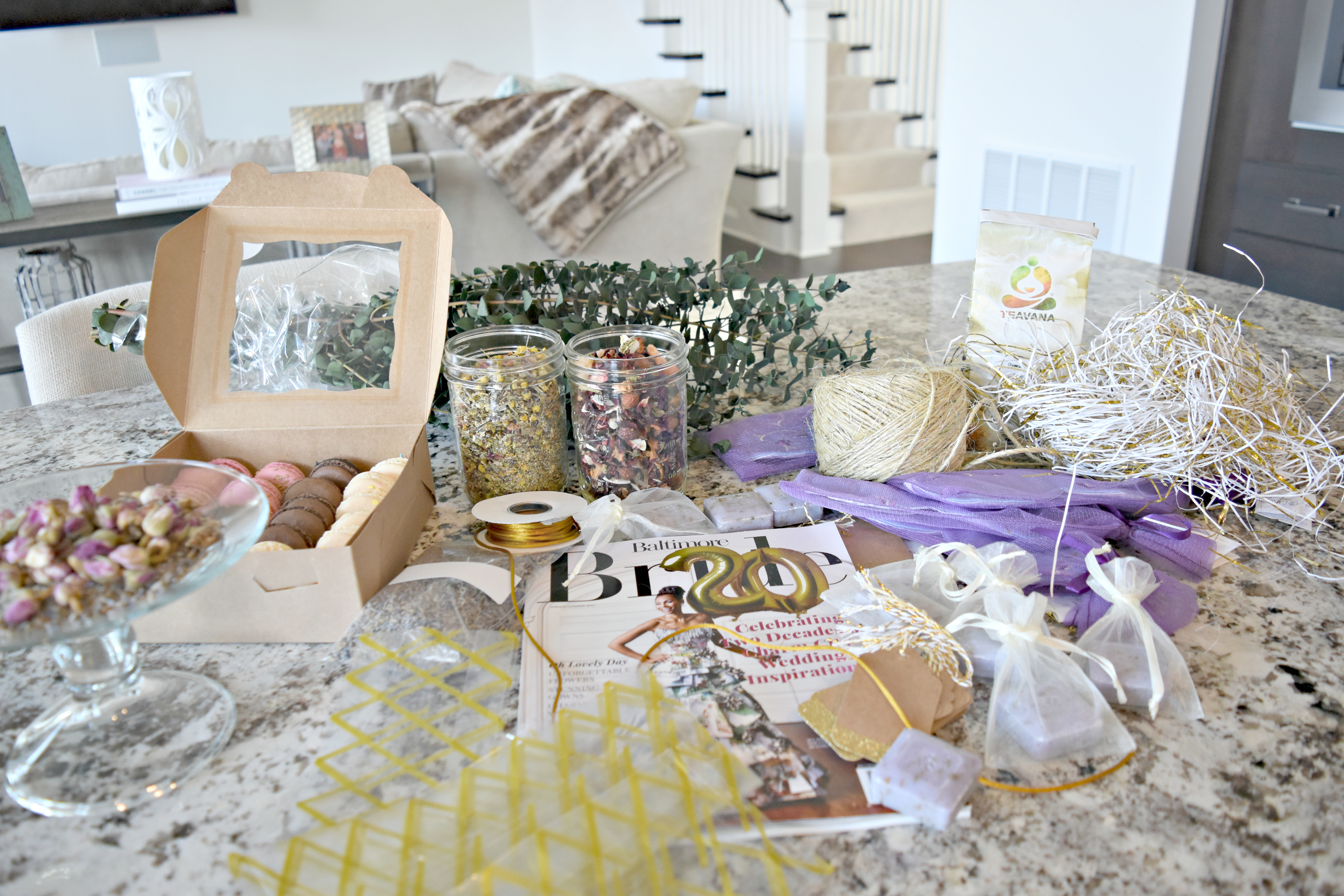 Organized chaos (and Baltimore Bride inspo!) on the kitchen counter.

Step 1: Plan the products
For a few days as I pondered and planned, I kept a running Notes list of all the ideas that popped into my head. When it was time to edit that list, I took a long look to decide what was missing, what was unnecessary and what items would work best together to create a nice experience. It basically came down to lots of lavender, a sweet snack and calming sips. Here's everything I included . . .
1. Loose tea from Teavana
There's nothing like a warm cup of indulgently delicious tea—and Teavana delivers the most fabulous flavors. I did a selection of Chamomile Bloom (with notes of rose, lavender and blackberry) and Berry Kiwi Colada (with beautiful bits of dried fruit and notes of kiwi, pineapple and other goodness).
2. DIY "Lavender Bloom" bath soak
If you read my first Hitched post, you'll know that I love a good Epsom salt soak—so I obviously wanted to share the de-stressing effects with my future 'maids. To make this custom soak, I combined Epsom salts, lavender essential oil, and dried lavender and rosebuds (found at MOM's Organic Market).
3. Lavender soaps from Two Sisters
These all-natural soaps, made in Italy, are one of the only things I'll use on my sensitive, hyper dry skin. They're gentle, moisturizing and smell amazing. Find them at Two Sisters Gallery on Main St. in Bel Air.
4. Lavender eye pillow from Two Sisters
I take beauty sleep extremely seriously—and the perfect eye pillow is an essential step for a restorative snooze. Available at Two Sisters.
5. Macarons from Flavor Cupcakery
Flavor is my go-to spot for special occasion treats (macrons, cupcakes and more). For small orders of macarons, you can choose from the day or week's specials—I went with strawberries and champagne, birthday cake and double chocolate, then slipped them into a clear pouch and tied with a ribbon. (And FYI: For larger orders, you can special order whatever flavors you want.) Check them out here for details on locations in Bel Air and Cockeysville.
6. Cute card and hair ties
One of my favorite finds on Pinterest were the nautical-themed knot items that said, "Will you help me tie the knot?" While knots and anchors didn't fit with my theme, I cribbed off the idea by writing "I couldn't tie the knot without you" (i think that's what you actually wrote?) inside a card along with two (knotted!) hair ties. (Cards and ties both found at Target.) Cheesy? Sure, maybe. But hey, why knot…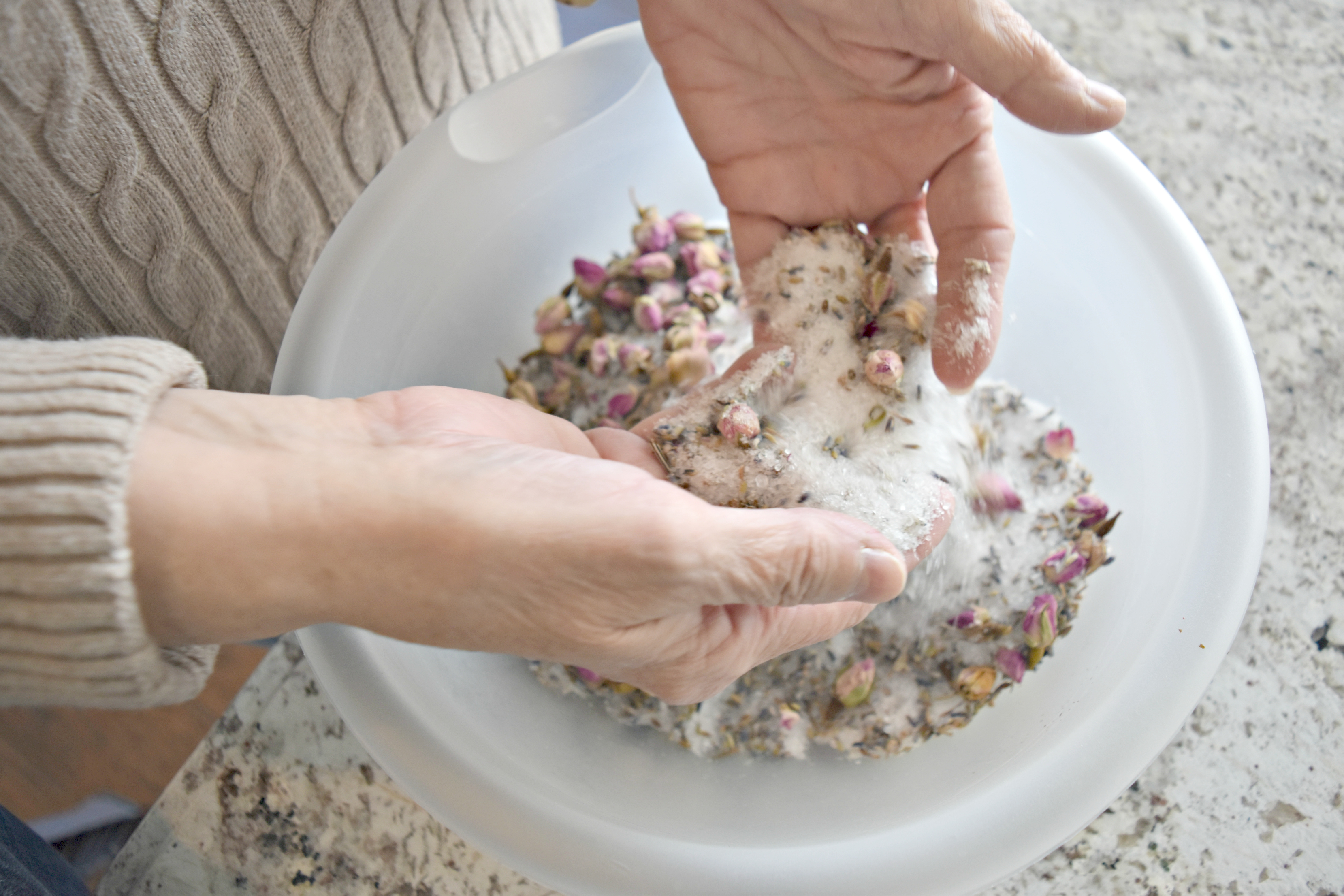 From mixing up the bath soak to addressing my save-the-dates in her pretty calligraphy, my mom's help has meant everything to me during the wedding-planning process.
Step 2: Arrange your assembly session
Don't make the mistake that I did and assume you'll throw these things together in a flash—it took hours. So dedicate a healthy chunk of time, wrangle a team of volunteers (or, if you're like me, just your mom because you know she will make magic happen—and also because you can't ask your bridesmaids to make their own boxes). Make sure you've got plenty of counter space to spare—because it might get messy. In hindsight, I would have enlisted additional help and equipped everyone with cocktails…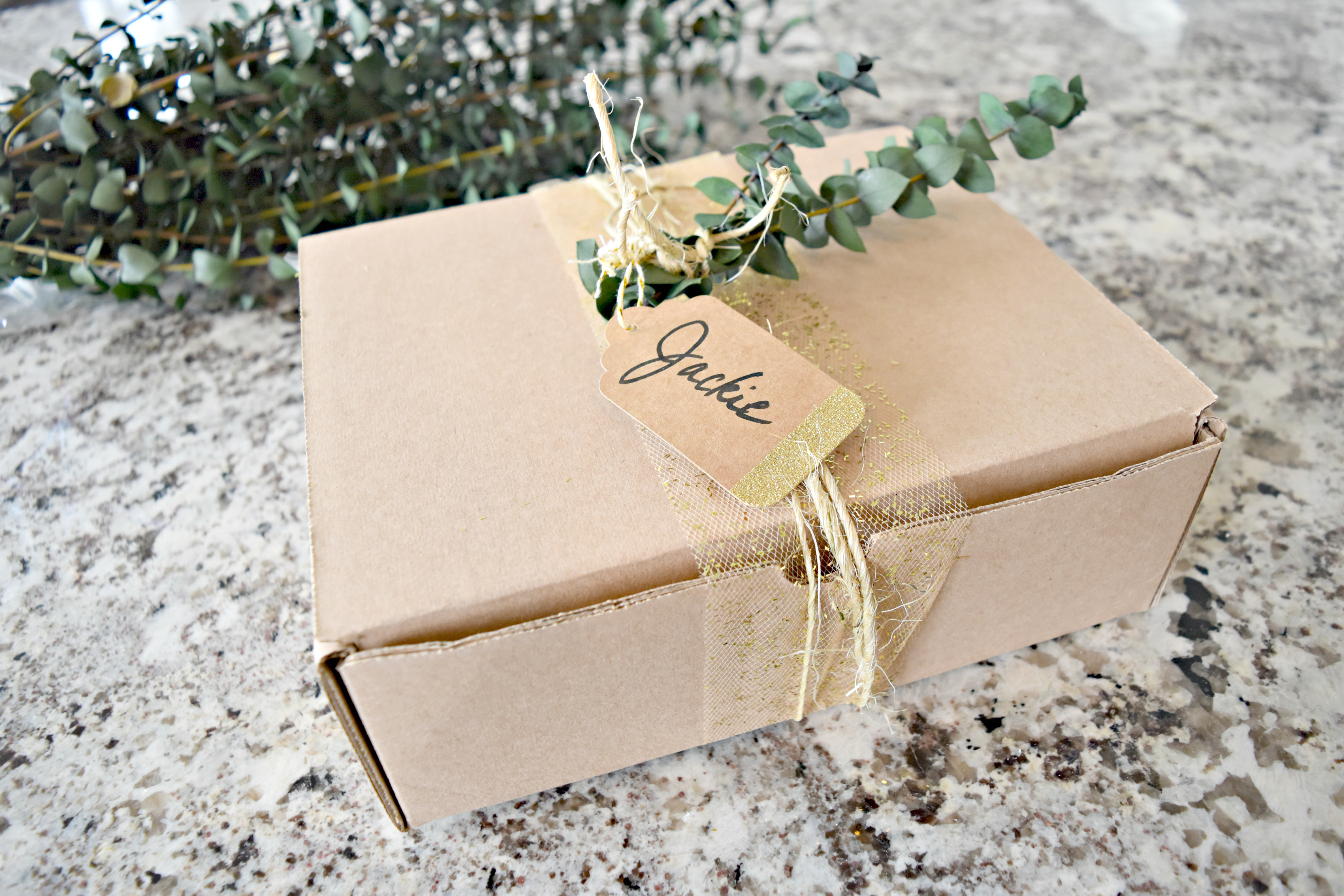 After she opened her box, my bridesmaid Julia sent a pic of the eucalyptus sprig worked into her mantle decor. Yes to upcycling!
Step 3: Go for pretty packaging
A little bit of twine and a few fresh stems will go a long way. I love the idea of keeping packaging minimal—a plain or printed box paired with a bit of string (twine, ribbons, wire) and a piece of flair (botanicals, florals, pom-poms, whatever!). Word to the wise: Make sure your ribbon doesn't leave tons of glitter behind on everything it touches. My sincerest apologies to everyone who received that box and spent the next two weeks vacuuming.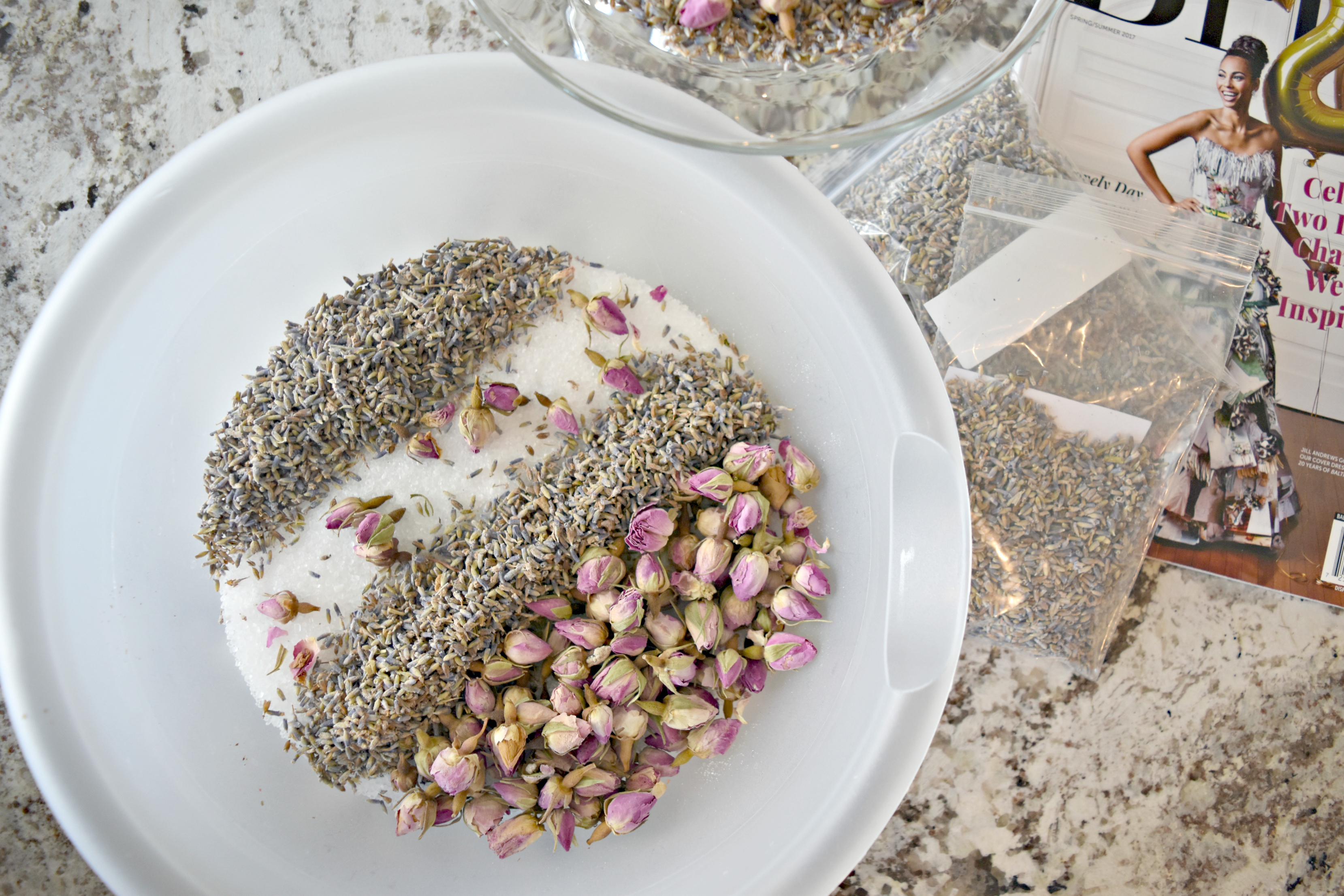 And now I want to wrap up with a bit of a disclaimer.
As you probably know by now, wedding planning can be intense at times—and it seems like every day, more and more expectations are put on brides-to-be.
I decided to create bridesmaid boxes because working on this kind of project brings me joy. Also, it wasn't a huge stress on me: It's in my skill set, I knew I'd have an assistant to help make it happen and I also thought it would make for a fun #Hitched post. Done.
But if the thought of putting another to-do on your list brings you a sense of stress or anxiety, don't let anyone or anything—this post, Pinterest or otherwise—pressure you to tackle more projects. You don't have to create a box because they're all over Instagram; you don't have to surprise your bridesmaids with a singing, confetti-blowing telegram because your friend's sister's cousin did; you barely have to do anything at all, to be honest.
I'll never forget the night I was out with my cousin's wife, Jackie—we were sipping orange crushes at Ryleigh's in Federal Hill—when she asked me to be a part of her special day; I was so incredibly touched. Or the call from my brother's wife, Danielle, when she asked me to be in their wedding. ALL the happy tears.
Those sweet, simple conversations didn't include champagne and rock candy (hi Emily S!) or the cutest "Kelsey" shot glass (which was perfect for Amanda's bachelorette party) or a set of essentials like champagne flutes and sunscreen and nail polish (that one was Sandy).
But they all included LOVE—and trust me, that's all that matters.
**********
Kelsey Haywood is the content and marketing director at Girls' Life magazine. As a #Hitched blogger, she's tackling topics like ways to enjoy your engagement and anti-advice for dress shopping. Follow Kelsey on Instagram for snaps of her adventures as a bride-to-be in Baltimore.
---
---