Absolutely Engaged: An Online Wedding Planning Course
March 31, 2017 by Raenard Weddington
Nora Lorraine knows first-hand that planning a wedding can be exhausting and time consuming, but ultimately is rewarding. She and her business partner, Lorinda Leigh, owners of Maryland-based NoLo Weddings + Events since 2009, have branched off to create Absolutely Engaged, an online wedding planning course that offers an alternative to a wedding planner, while still offering a guiding hand.

"We have always wanted to help as many couples as we can," Nora says.
The course offers webinars, opportunities to connect with other brides, and checklists to remedy the angst that comes with planning a wedding. You see, it's not about simply being engaged, but being absolutely engaged Nora says. That means: "You're absolutely engaged in the planning process and telling your love story."
One of her favorite pieces of advice is: "When in doubt, go to the experts." Couples that opt to use Absolutely Engaged are given immersive content that allows them to not only curate and plan their weddings on their own terms, but also have access to webinars lead by industry heavyweights like Charm City Cakes, Zeffert & Gold Catering, and Something Blue Beauty.
"It revolutionizes how people look at wedding planning," Nora said. "This helps you through the whole process."
Both Nora and Lorinda are well aware of the personal budgetary restrictions that may compromise the wedding planning process. Their online course will be priced at $249. "Your budget is a huge restrain on you," Nora said. "We wanted to come up with a budget conscious way to help."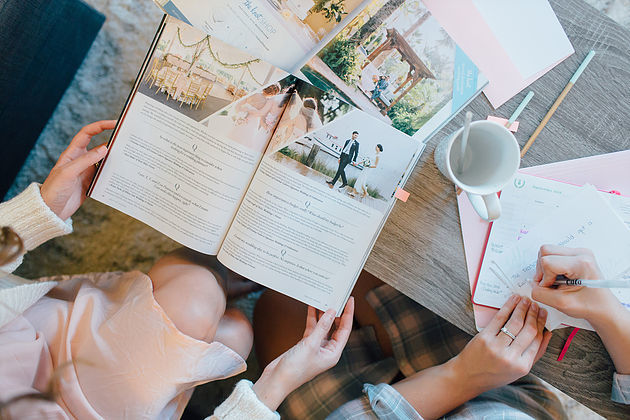 Absolutely Engaged, created in December 2016, will be offered in three stages: First, they will be hosting free webinars that allows brides to ask wedding related questions, the next one is April 27th. "We believe that this will be a vital part in launching Absolutely Engaged," Nora said. "We can showcase our expertise in the field of weddings and gain future clients' trust.
Next, Absolutely Engaged is offering all of the downloadable planning content like e-books and vendor educational videos. Once they have gained more exposure, the final tier will be launching the course online for a fee.
Nora and Lorinda hosted their first "Girl's Night In" webinar last week. "We've enjoyed helping as many people as we can," Nora said. "This allows us to reach any person in any part of the country and guide them through the wedding planning process."

---
---