All You Need Is Love
February 22, 2017 by Janelle Diamond | Photographs by Sophia Bednarik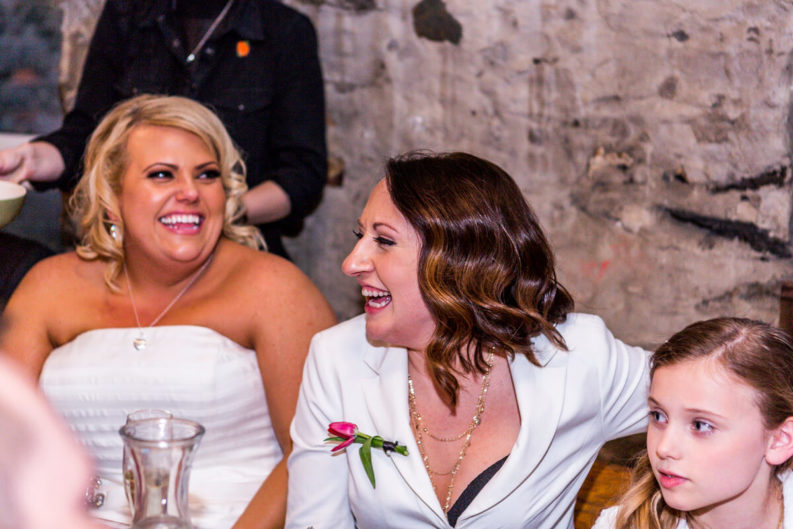 Jilleien Franquelli and Colleen Rippey met six years ago at a BBQ. There was a 10-year age gap, but Jill was intrigued enough by Colleen to ask her out.
Colleen was selling Cutco knives at the time and the two started a conversation … about tomato knives. "After the second date I had a $2,000 set," laughs Jill.
Fast forward to this past December, the two headed to Primland, a resort in the Blue Ridge Mountains. "She knew I was going to propose at some point," says Colleen. But after a romantic dinner and star gazing and still no proposal, Jill had given up on the weekend being about an engagement. But the next day, after convincing Jill that the resort was offering photos for the holidays and getting all dolled up, Colleen proposed to Jill on the balcony on of their room, with a photographer capturing the entire thing.
In January they met with Lemon & Lime Event Design about their projected April 2018 wedding, which was going to be a pretty large-scale operation.
Keeping an eye on all that has been going on the past few weeks, including the travel ban, the two were sitting at home watching the news and feeling despondent, especially as a same sex couple.
The conversation moved to their wedding. And suddenly they realized they wanted to get married immediately. We needed, says Jill, "an event where everyone is happy." It was late Monday night. They decided they wanted to get married on Sunday (which happened to be Super Bowl Sunday.)
"The record should state we did this out of love and not out of fear," says Colleen. "The travel ban was the catalyst moment."
And not to completely ruin the ending: but it all came together. A huge, happy celebration. "People feel changed by that day," says Colleen. "It shed such a positive light on everything. And the fact that it all came together."
In less than a week, Jill and Colleen threw an amazing wedding. The two reached out to Lemon & Lime to tell them about the change of plans: "We think the world needs a little more love. Can you help us?" Co-founders Ashley Amtmann and Katey Clark were happy to do what they could.
Jill and Colleen reached out to family and friends. Jill called her dad. "So there is a strong possibility that Colleen and I are getting married on Sunday. You free?" (He was.)
Colleen, not wanting her best friend in Costa Rica to feel pressure to attend, FaceTimed her on Saturday to tell her they were getting married the next day. "She was happy for us, but looked sad." The next thing they knew, she was on her way to the airport, arriving Sunday morning a few hours before their wedding. Colleen's sister flew up from Florida. Another friend drove all night from Florida, in order to sing their first dance. The two realized, when people love you, they show up. Even with a last minute wedding, the number of people who could attend swelled. All their connections pulled through to make it happen. A friend got ordained online to officiate their wedding. "People cared a lot more than I think I gave them credit for," says Colleen.
Jill realized she needed something to wear. She tried on some fancy formal dresses at Nordstrom but they didn't feel bridal enough. On a whim she went to David's Bridal the Wednesday before the wedding and pulled one off the rack. "I tried it on and feel in love," she says. But it didn't fit right. No problem they said. David's managed to have it altered and ready for pick-up two days later.
Colleen had bought a black suit, but realized she also wanted to be in white. She found, to her delight, a white suit coat from an award's banquet still fit and looked great with the black suit pants.
Through the help of social media they secured music duo Greta & Joe. Lemon & Lime reached out to Ariel Lewis, a local makeup artist, who freed up her own schedule to come and do the hair and makeup for Jill and Colleen. They found a photographer. And secured a videographer the day before the wedding.
The two had though about a flash mob-esque wedding in Federal Hill, says Jill, but the weather was looking iffy. "We wanted a very Baltimore-feel wedding." Friends helped them secure Union Craft Brewing for their ceremony. They married in the back where the brewing happens, right in front of the casks.
Afterwards, folks hung out drinking beer and taking pictures before all 32 guests headed next door to Artifact Coffee, for a Sunday supper, catered by Woodberry Kitchen. There were raw oysters, cheese and meat board, crab pot, and deviled eggs. Plus, fried chicken, short ribs, a kale Caesar salad, trout mac and cheese and roasted veggies. Guests sipped a whiskey punch. Afterwards, everyone headed to their Federal Hill home for a Super Bowl party with wedding cake and champagne.
At dinner, Jill and Colleen gave a toast thanking everyone for making the wedding happen so quickly and brilliantly. Followed by both dads, Colleen's sister, best friend, and mom.
In the middle of their first dance, both went and got their dads to finish the dance. Artifact managed to fit a huge family style table in the back room, so everyone could sit together.
Colleen looked around the table and realized, "All that matters in life … are these people. I left with such a huge appreciation for our sphere. It made me want to be more purposeful and intentional in what I do. It's about spending time with those people."
And those people happen to be pretty great. "We know some really awesome people," says Colleen. "It was such a fun occasion."
Says Jill, "It was perfect."
VENDORS
Wedding Planners: Lemon & Lime Event Design
Beauty: Ariel Lewis
Cake: Amber Markov, a friend
Photographer: Sophia Bednarik
Videographer: Nate Brubaker
Ceremony: Union Craft Brewing
Reception: Artifact Coffee
Music: Greta and Joe
Singer: Elizabeth Desmarais, a friend
Calligrapher: Poppy and Scooter
---
---