​How *Not* To Plan Your Wedding: The Do's (and Don'ts!) of Producing Your Engagement Shoot
November 24, 2017 by Kelsey Haywood Lucas | Photographs by Anna Reynal
First location of the day? Rawlings Conservatory for jungle vibes.
Hi, brides. It's been a while. Since the last time we chatted, a lot has happened: Mainly, I'm married now. And it's been an amazing few months.
There were stress tears and happy tears, tough decisions and easy ones. I was BUSY (planning a wedding! planning a honeymoon! buying a house! putting stuff in it!) . . . which is why I wasn't blogging.
But now I come back to you with a new level of wisdom and awareness—hindsight is everything!—and I'm looking forward to sharing the most important lessons I learned along the way. So to start, I'm throwing it back to the beginning of this whole journey . . .
Our engagement photo session. Yes, they're a thing. And yes, you should *strongly* consider scheduling one. Here's why:
1. They're the ultimate way to interview your wedding photographer. My dear friends Marie and Pat were so excited for their engagement session—they scheduled it at a really meaningful, fun location that should have made for amazing photos. So when they received the proofs, they were extremely surprised—and extremely disappointed—to find a very limited selection of photos that captured them at unflattering angles and were poorly edited. Eek. It was a tough decision, but Marie knew they had no choice but to break the contract—and lose their deposit—so they could find another wedding photographer. But you live and you learn: The photos from their wedding, captured by a photographer they finally fell in love with, were stunning.
2. They help you (and your future spouse) get comfortable on camera. Sometimes there's one half of the couple who just isn't into taking pictures. Maybe they drag their feet a bit. Maybe they roll their eyes at the idea of getting dressed up and heading into the woods to pose for "forced" photos early in the morning—which is exactly what happened to my pals Grant and Cara. Grant wasn't thrilled about the session—and when they got their proofs back, his unease was obvious. Grant realized that unless he embraced this new modeling gig, he wasn't being fair to his beautiful bride—so they scheduled a second session and he nailed it. YAY, GRANT!
3. You'll walk away with everything you need to brand your wedding. Custom save the dates, custom stamps, a wedding website filled with photos you actually like? Check, check and check. If creating a cohesive vision and setting the tone of your wedding with photos is a priority for you, an engagement shoot is a great way to create collateral that will allow you to do so. (More on that below.)
Many thanks to The Ivy Hotel for having us! Fun fact: This boutique property in downtown Baltimore makes a *stunning* venue for an intimate wedding weekend.

So now that you've decided to schedule an engagement shoot—because you have, right?—let's move on to best practices for actually producing one . . .
DO find a photographer that feels like family.
This could be a post unto itself, so I'll (try to) be brief: I found Anna Reynal on Instagram—which is where I do research for pretty much everything, to great success—and immediately set up a meeting after stalking her stunning feed. (She just seemed so friendly and fun and . . . talented. That's important.) When we met for the first time, it felt like we were old friends—we were finishing each other's sentences and bonding over a shared loved of Palm Springs. I basically booked her on the spot because when you know, you know—and I'm all about going with my gut. (Although, just for the record, I thoroughly read the contract first. Always read the contract!)
But if you're not instantly obsessed with the photographer—or any vendor—that you interview, keep on looking: Chemistry is crucial. I didn't know it at the time, but Anna would end up being the most positive energy on my wedding day. Finding the right professional to work with isn't just about ensuring you get some great snaps; you're picking the person who will be with you all day, smoothing the schedule, setting the tone, keeping you calm and literally walking you through your most important memories as you make them. I'm eternally grateful for the magic she made.
Our engagement photos lived on in the form of save-the-date magnets (it was so fun to be on our friends' fridges) and wedding envelopes with custom stamps.

DO define the end goal for your photos.
I've talked to so many brides who get engaged and then book their engagement shoot—but they have no clue how they're eventually going to use those photos. It's one of the very first steps, you guys! Maybe you want something so super casual that it looks like a friend snapped some cute shots while you were all hanging out at a picnic—they're going to go on your mantle or gallery wall. Or maybe (like me!), you want to use your engagement photos on wedding collateral (like your wedding website) to help set the tone for your big day. Decide the most important way you want to use your photos, then adjust accordingly.
DON'T be afraid to be a little extra.
Admit it: You love those dreamy, somewhat unrealistic engagement photos on Pinterest—even if they seem a bit crazy. (Like the couple wearing a tux and ballgown on the top of a mountain—it feels a little editorial, like something you'd see in a magazine.) This effect actually *isn't* all that hard to achieve: It's about placing something extraordinary in the ordinary, or infusing the unexpected into a well-known situation.
Example: If you and your partner are beach babes and want to plan your session on the shore, do it—but take it up a notch by juxtaposing your laid-back location with elevated attire (like a gorgeous, gauzy gown instead of that simple maxi dress). Does it feel weird? Yes, absolutely. I wore a gown in a garden on a Sunday morning (a bit embarrassing, I admit)—but our photos were never intended to feel candid or realistic; they were intended to set the tone for our wedding, which had a black-tie jungle vibe.
And if you'd *really* rather rock jeans and a tee? Go cool and casual, and play up your low-key vibe by going barefoot or staging the shoot in a minimalist, industrial space. No matter what, just remember Anna's advice: "Do whatever makes you feel like YOUR best self—because confidence, contentment and happiness are always going to photograph well."
Custom jacket with your new initials? Yep—this is the time to double down on details.
DO use the shoot as a trial run for your wedding.
From your makeup to your hair to your posture to your poses, an engagement shoot is the ultimate way to explore how you look on camera—before the big day. Since I never have my makeup done professionally, I booked a trial with makeup artist Kaytee Spanoghe for the morning of my engagement shoot so I could see how her application looked not just in real life, but in the final photos.
As Anna explains: "It's a fabulous way to try out a hair or makeup artist before your wedding—and it can help you find ease in getting ready for both occasions." I loved how Kaytee made me look—but I also realized that I didn't want to wear eyeliner for my wedding (I never wear it and was reminded why!) and learned that false lashes slide off me immediately (so I knew to book extensions instead). So helpful.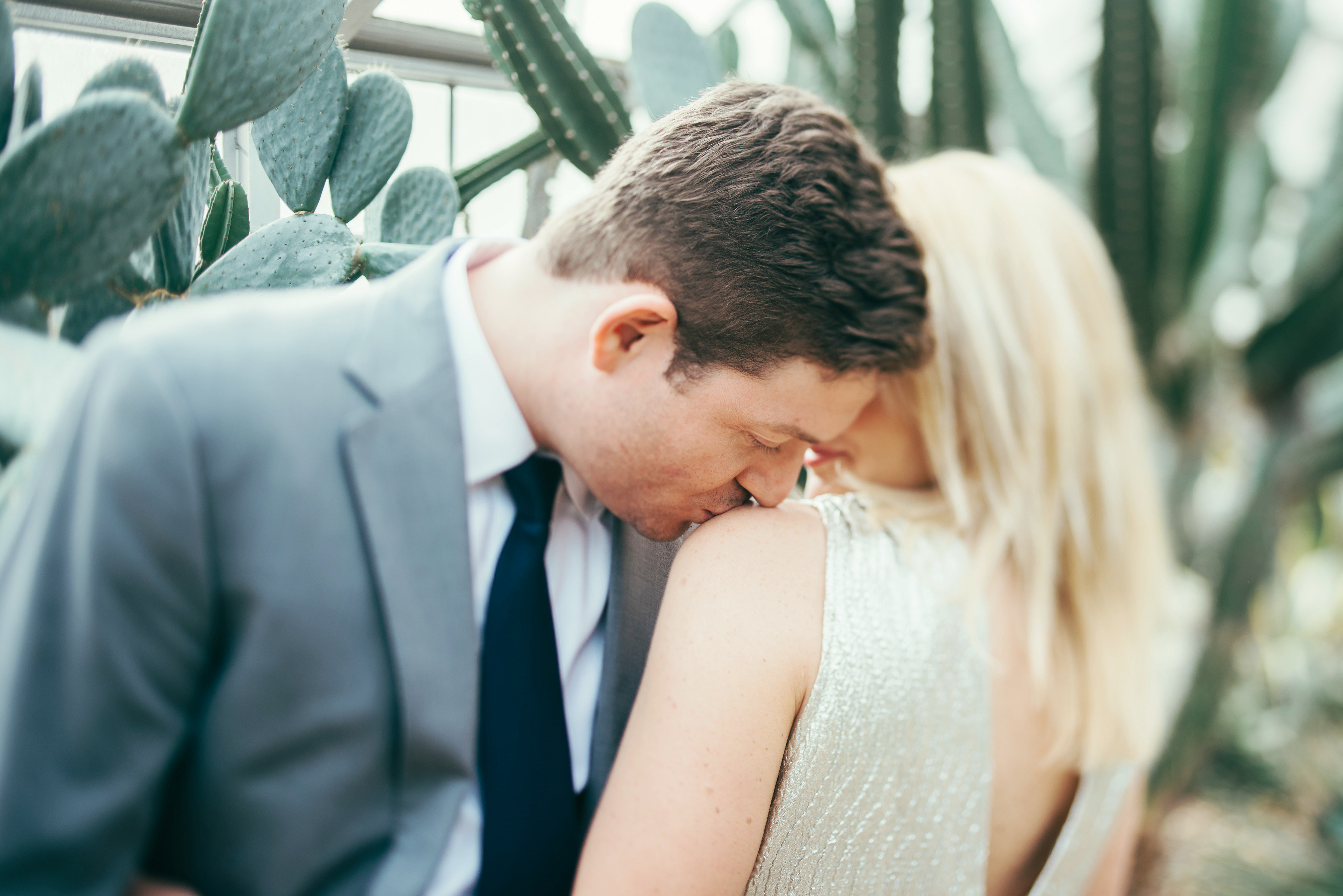 The right photographer will help you feel cozy on camera.
DO make your partner feel comfortable.
Nobody who knows Danny will be surprised to hear that he wasn't counting down the days to our engagement shoot with excitement and anticipation. But when the morning finally rolled around, it all fell into place perfectly—no awkwardness—and I credit Anna completely with making us both feel so comfortable.
So how can you get a similar effect? "Before the shoot, there are two things that can help. One is to plan something fun for the two of you to do together the day/morning/evening before. Feeling connected, appreciated and like you're in this together is way more fun and also puts you both in a good mood for your photos," says Anna. "The second is including your partner as you plan and talk about the photos for your wedding AND engagement. Ask about fears and talk openly about what makes you each feel excited. This might even reveal things that you can share with your photographer and lead to pictures that feel really personal."
DON'T forget to have fun.
After all the planning—and yes, a little bit of stressing—the shoot ended up being one of the most fun and romantic days of our engagement. After everything was over, we slipped back into comfy clothes and stopped by Radcliffe Jewelers to start shopping for wedding bands…before celebrating the session with a boozy brunch (shout out to La Food Marketa; please try the pineapple jalapeño margarita). Remember that all these unique rituals—whether it's a photo shoot or registering for gifts or buying bands or visiting venues—are activities you'll never do again. Make them unforgettable.
Engagement session photographed by Anna Reynal. Makeup by Kaytee Spanoghe. Shot on location at Rawlings Conservatory and The Ivy Hotel.
__________
Kelsey Haywood Lucas is the content and marketing director at Girls' Life magazine. As a #Hitched blogger, she's tackling topics like ways to enjoy your engagement, anti-advice for dress shopping, bridesmaid boxes and wedding wellness plans <>. Follow Kelsey on Instagram for snaps of her adventures as a (now newlywed!) bride in Baltimore.
---
---