A Vendor Gets Hitched: Beauty
January 30, 2017 by Ashley Michelle Hoffmann | Photos by Hoffer Photography
Last time I wrote about the where to get ready on your wedding day so today I thought I would follow up with hair and makeup since it is somewhat related. You know that beautiful light in your getting ready room that will help with your photography, well it will also help with hair and makeup but you already have that part covered right? There are many choices out there when it comes to your hair and makeup. In my opinion, there are three things that are no brainers when it comes to hair/makeup for your wedding day: hire a professional WEDDING hair/makeup team, get a trial, and don't be afraid to speak up.
When it comes to hair and makeup, you can obviously do it yourself. After all, I'm sure most of you fix your hair and apply your makeup every day and think you look really good. But honestly, unless you are on a super tight budget, why would you? After all the REALLY important stuff like the fact that you are getting married, I think most of you would agree that looking and feeling extra beautiful is near the top of that list. And even though you think you might look really good on a daily basis, the magic that professionals artists (yes, I said artists because that is what they are) is amazing. So with that, I think we've established that hiring a professional hair/makeup team is a must, but please don't hire just any professional. Please hire a professional hair/makeup team that specializes in WEDDINGS! These teams will come to you at your getting ready location and do hair/makeup for your entire bridal party which is part of making your wedding day a stress free day. And if you haven't been able to tell from my previous posts, I'm all about a stress free wedding day. Not only does the team come to you but they understand a wedding day timeline and adhere to it. I have photographed a lot of weddings and I would say about 95% of my weddings have run generally on time. The 5% that have run behind has typically been due to not hiring professional wedding vendors. When one vendor gets off of the timeline, it creates a snowball effect for all other vendors...and it all starts with hair and makeup. I had one hair/makeup team run 1.5 hours behind schedule! Luckily, there was a lot of time padded into the timeline because of the collection that was booked with me but it cut our portrait time before the ceremony down to five minutes. Although you might think the lady that cuts and colors your hair is the only person in the world that is going to be able to create the perfect up-do for you or that your friend who is great with make-up because she has a YouTube Channel is the only one that can make you beautiful, she's not and more than likely, these people are just going to make the day more stressful because they don't do hair/makeup for weddings every weekend.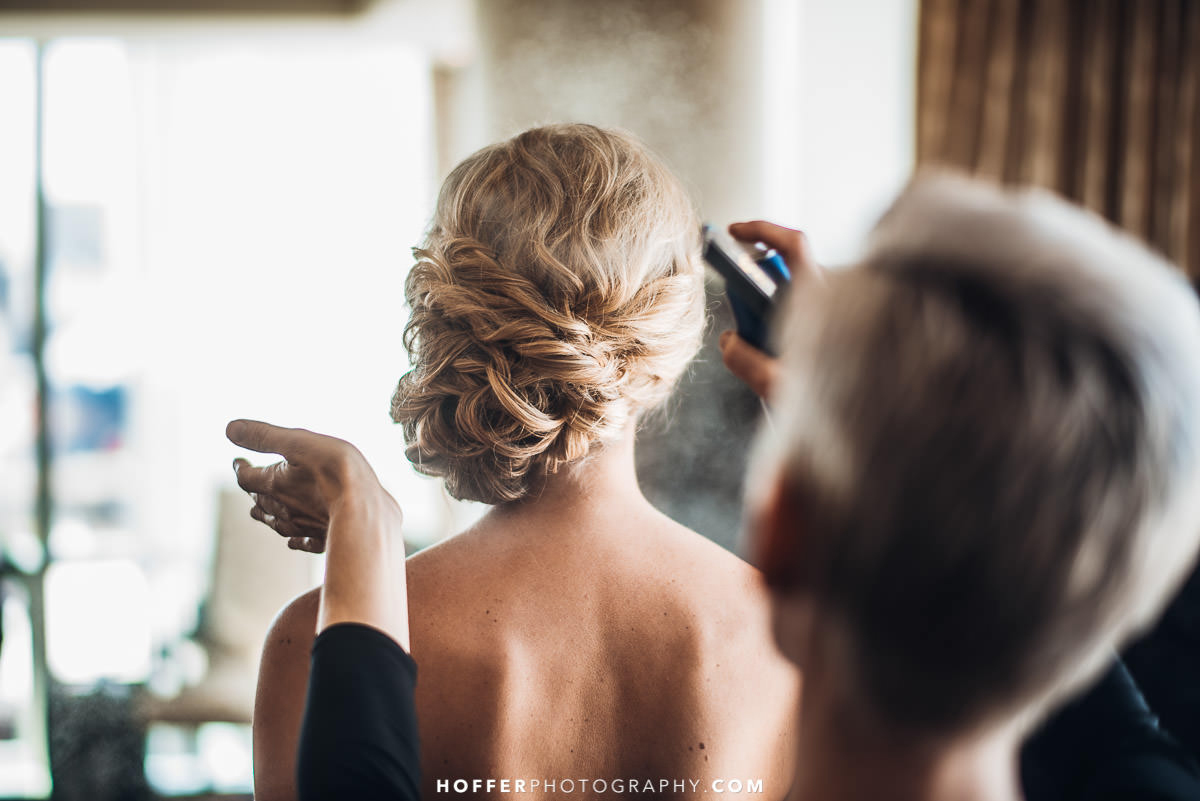 Second, make sure to schedule a trial before the wedding for both your hair and makeup. No ifs, ands, or buts on this one ladies. Some hair/makeup companies include this in all of their collections and for other companies, it is an add on. Add it on please. As brides, at this point in our planning process, all of us are addicted to Pinterest, bridal magazines, and probably our photographer's blogs looking for that perfect wedding inspiration and this includes how we want our hair/makeup to look. We think if we take these pictures to our hair/makeup artists that we will magically be transformed to what the pictures looks like. News flash ladies, this isn't how it works. All of use are different. We all have different bone structures, skin tones, oiliness, hair thickness, hair texture, hair lengths, etc. The hair/makeup that looks gorgeous on one girl might look horrible on the next girl. To me not having a hair/makeup trial before your wedding is like trying on your wedding dress for the first time right before walking down the aisle. Your trial is your time to experiment and make sure what you think you want is what you really want.
Finally, be sure to speak up as to what you like/don't like during your trial and on the day of your wedding. Believe me, your artists want nothing more than to make you feel like your most beautiful self, but if you are scared of hurting her feelings, it is a lose/lose for everyone. Every once in awhile, I photograph a bride who complains about her hair/makeup after the artists have left and ultimately tries to fix it (which puts us behind schedule) and is worried about how she looks the rest of her wedding day. At the beginning of the trial, your artist will ask you questions about what you want so definitely speak up then but also, don't be scared to speak up after or during the hair/makeup application. She can't read your mind so politely tell her if you think you would feel more beautiful if something were different. During my trial, I had an idea of what I wanted and brought a few photos but I was definitely open to what my artists thought would look best on me as well. After my trial was finished, I looked beautiful! But there were a few things that I did want to change for my wedding day to make me feel even more beautiful. For my makeup, I changed my liner to more of a cat-eye and for my hair, I had her make it smoother without as much texture (something I thought I wanted originally). After the trial, I felt really good about what I would look like on the wedding day because I had communicated and my artists understood the changes I wanted to make. It was a team effort and as expected, my hair/makeup looked fabulous and was exactly what I wanted on my wedding day.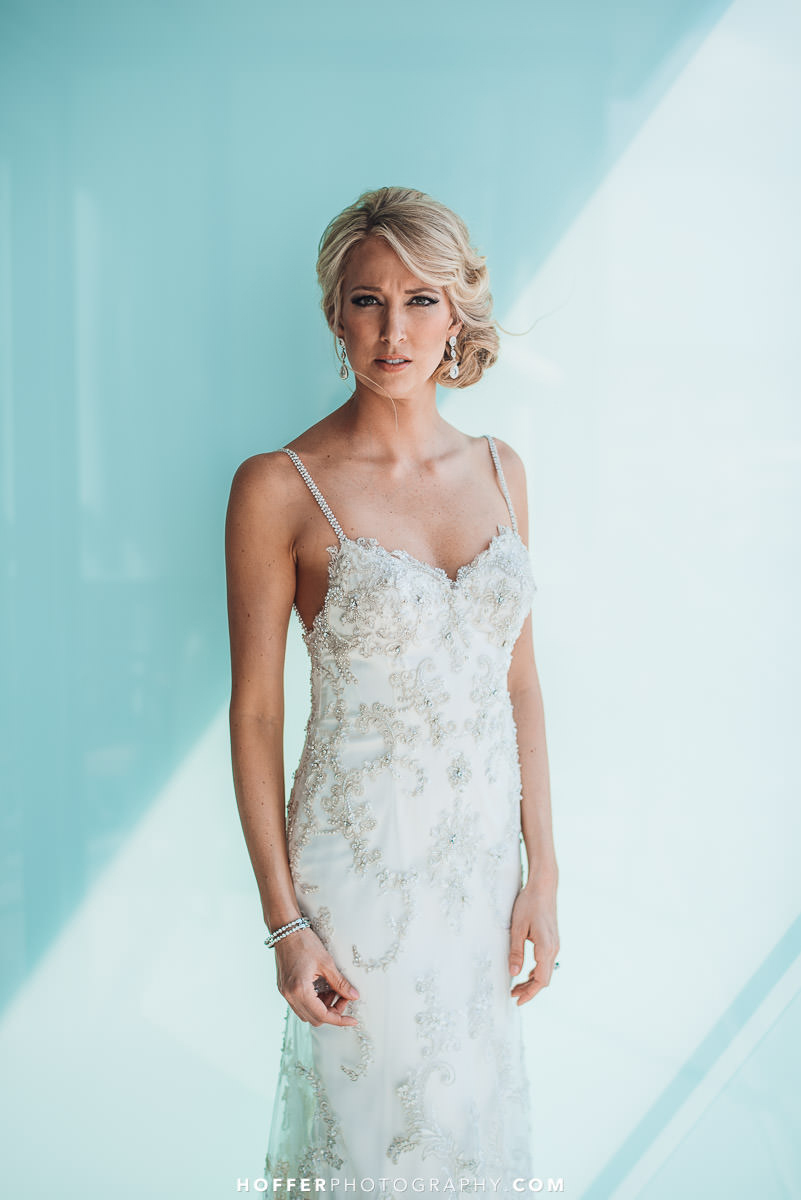 Now that you know what to look for and have heard some of my experiences with hair/makeup on my own wedding day, you are probably wondering who the fabulous duo was that made me feel extra beautiful on my wedding day. I hired Amie (makeup) and Kelley (hair) from Amie Decker Beauty. I have known Amie for a long time and throughout those years, she has done my makeup a couple of times for various events. I also have had the pleasure of working with her on many weddings so I knew the talent from her company was top notch. Her and her team have great style themselves and believe me, that translates into their work. Plus they are so nice and easy to get along with. As I've said before, it's important to hire vendors you actually like as people since you will be spending lots of time with them. I honestly felt so beautiful on my wedding day and um, I couldn't stop looking at myself in the mirror. Is that bad?
Until next time lovelies . . .
---
---