How *Not* To Plan Your Wedding: Anti-Advice For Wedding Gown Shopping
January 10, 2017 by Kelsey Haywood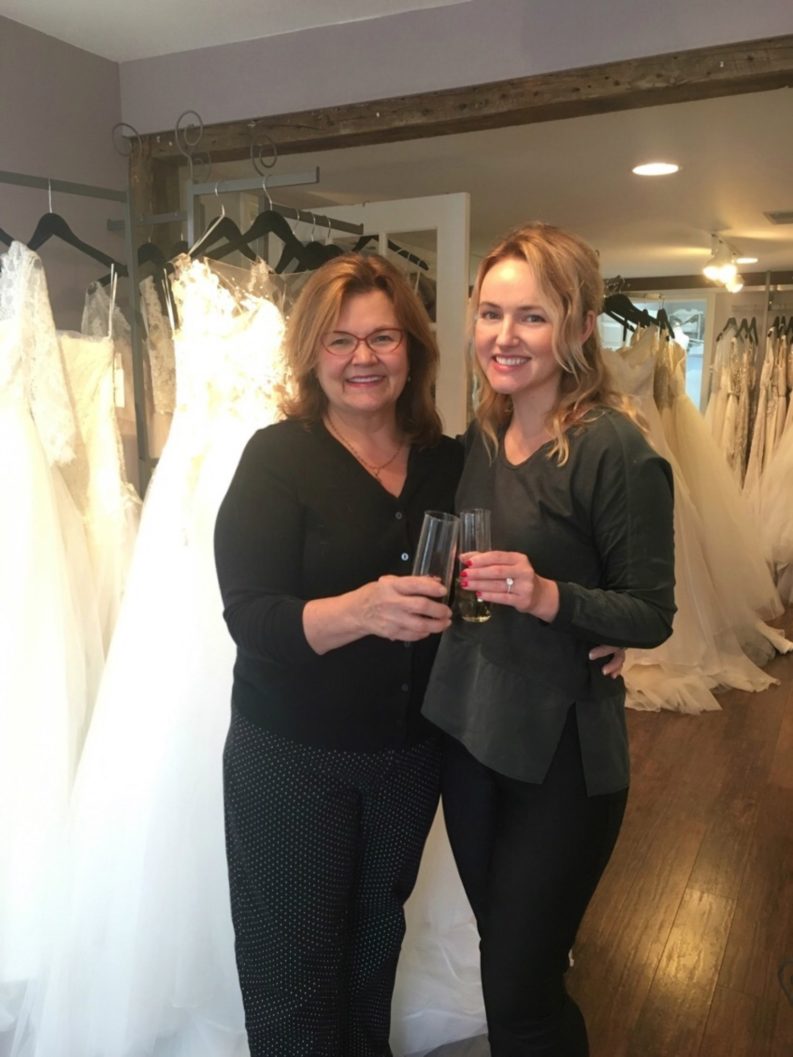 The sweetest sip: Celebratory champagne with Mom when we *finally* found my dream dress.
Dress shopping was daunting.
Don't get me wrong—it was also amazing, exciting and emotional in all the best ways. But if we're really being honest here (and we are), I must admit that the quest to find a dress struck me with a tiny bit of terror.
Here's the thing: Expectations are high. Options are vast. Prices aren't cheap. Trends change rapidly. I could go on…
And then there's the advice—so. much. advice! From your mom, from your friends, from wedding magazines, from bridal blogs. A few of my favorites…
— "When you find 'the one,' you'll know immediately."
— "Pockets. Pockets are everything."
— "Try on every style, even ones you think you hate—you might love it."
— "If you feel beautiful, that's all that matters."
— "Wear something that's comfortable—meaning you can actually eat in it."
All of the above are SO valid. And they are certainly true for SOME people—but that doesn't mean they're going to be right for you.
There's one solid truth you need to know: In the end, when it comes down to you and your dress, nobody else's advice will matter. Not even a little bit. And it shouldn't.
When I started searching for my dress, I knew that I had my work cut out for me. I wanted it to be a million different things that were often in direct conflict with each other: unique and unexpected, but also "overtly bridal." (Yes, an actual phrase I used when I realized that some of the dresses I was pinning didn't feel classic enough.) Cool, casual and understated, please—but also traditionally beautiful…and also black-tie.
Did this dress exist? I had no idea—but I'd never know unless I got out there myself and figured out what worked for me (and what didn't). What was important (pockets? no.) and what wasn't. I surprised myself in some ways . . . and in others, I stayed totally true to my earliest expectations.
One of these days, when I can actually show it to you, I'll tell you the story of my dress. (Spoiler alert: Yes, I found it, and yes, it's perfect.) But until then, here are six dress-shopping stories from a few of my wonderful friends.
They're not here to tell you how to find your dress—that's on you. But they're here to entertain you—and hopefully inspire you, too. Because just like every bride, every shopping strategy is completely unique—so if you take *any* advice at all, I hope it's that you write your own rules.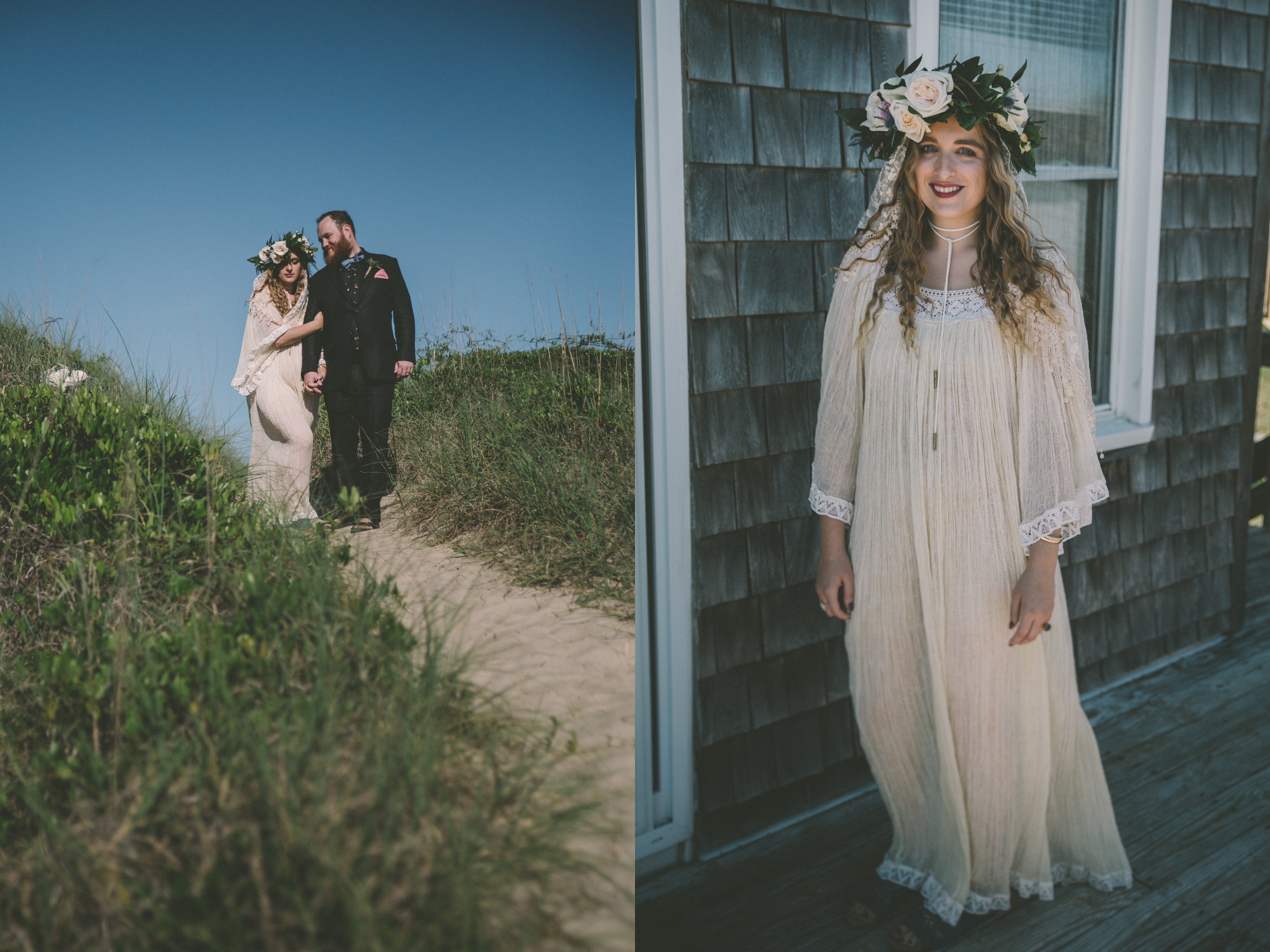 Devon McDermott-Schlegel in vintage from VeraSera Vintage. Photo by Barbara Oliveira.

"I found a $300 vintage treasure on Etsy."
Name: Devon McDermott-Schlegel
Occupation: Professional musician/vocalist; singer and songwriter in Tinnarose
Dress designer: Vintage
Dress retailer: VeraSera Vintage
Floral crown: Ann's Garden
I was looking for something so specific I never thought I'd find it in a million years: mid- to late-sixties vintage, semi-sheer lightweight cotton gauze, floor-length with angel sleeves, not bright white, under $600. I know. I'm nuts.
As I often do, I was combing through Etsy (where I score a lot of really special finds) when I found it. It was like the clouds opened up and a choir of voices began singing—because I knew this was the One and I couldn't believe that it actually existed.
The description read, "Vintage '60s/'70s wedding gown, gauze maxi dress, floor length, garden tea party, summer picnic, hippie boho, Romeo and Juliet, candlelight cream." Um, yeah.
The price tag: $300.
I immediately bought the dress and messaged the seller to thank her and let her know that this was my dream dress. We began chatting back and forth—she was thrilled to know it was going to a good home and elaborated on the story of the dress a bit more. Apparently, her Etsy store was comprised of the many treasures her mother had collected over the years after escaping Nazi Germany. She was a true collector and kept everything in mint condition, I was told, and the dress had most likely never been worn.
My heart was soaring—I felt like this dress was pure magic and the bit of history behind it just made it feel even more special. When I received my dress in the mail, it was wrapped neatly in a box with vintage wrapping paper and topped with an antique card featuring well wishes from the shop owner.
If nothing else, it made for a good story—and some gorgeous photographs.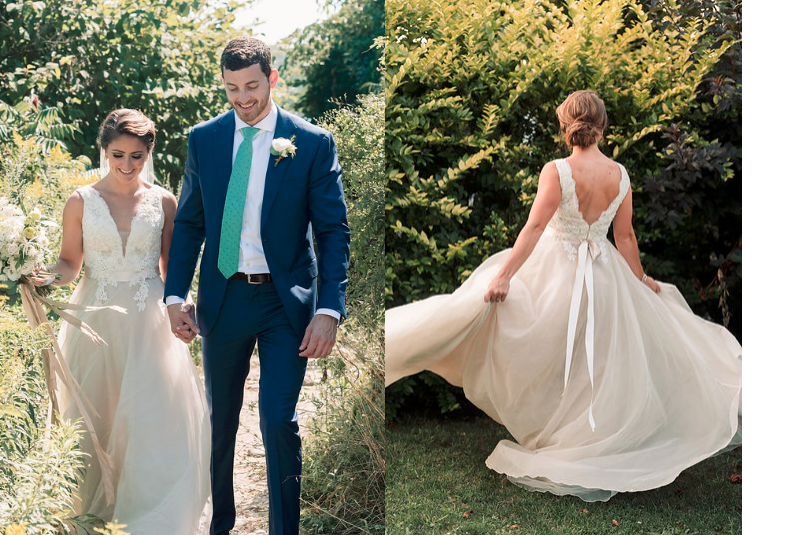 Alicia Moore in Tara Keely from Garnish Boutique. Photo by AGP Collective.

"I bought my dress right off the rack at a sample sale."
Name: Alicia Moore
Occupation: Marketing manager at La Colombe
Dress designer: Tara Keely
Dress retailer: Garnish Boutique in Baltimore
When it comes to my personal style, I have a tendency to know exactly what I want—but I never have any idea where to find it, and especially not within my budget. So when it came to my wedding gown, I could picture my dream dress clear as day: I wanted a deep V neckline (something that would show off what I refer to as the "sexy sternum" area). I wanted a natural waist with exaggerated lace details. I wanted a full skirt with tons of tulle.
It was going to be perfect—if only it was as simple as speaking it into existence.
So my wedding dress hunt became exactly that: a hunt. I went to about 10 boutiques and tried on dozens of dresses. They all looked beautiful, but they also all reinforced my original wish list—and I was determined to find that dream dress.
So I went home, googled it ("wedding dress + deep v + lace + A-line")…and my dress appeared. It was by Tara Keely and it was stunning. I had to find it—and I had to pray it was within my budget.
I guess you can say the stars aligned for me. After a bit more searching, I found that Garnish Boutique was having a Tara Keely trunk sale on Black Friday…and the dress would be there! Fate? Yes.
When I saw the gown at Garnish, it was even more beautiful in person than it was online. And then I realized that it wasn't just part of the trunk show—it was a sample sale, meaning I could take home the dress that day, as-is, for a major bargain.
As-is meant that it didn't fit (it was the entirely wrong size!)—but that didn't stop me. Thanks to some amazing alterations, I got my gown nipped and tucked into a completely custom fit.
Be patient, brides—you *will* find what you want!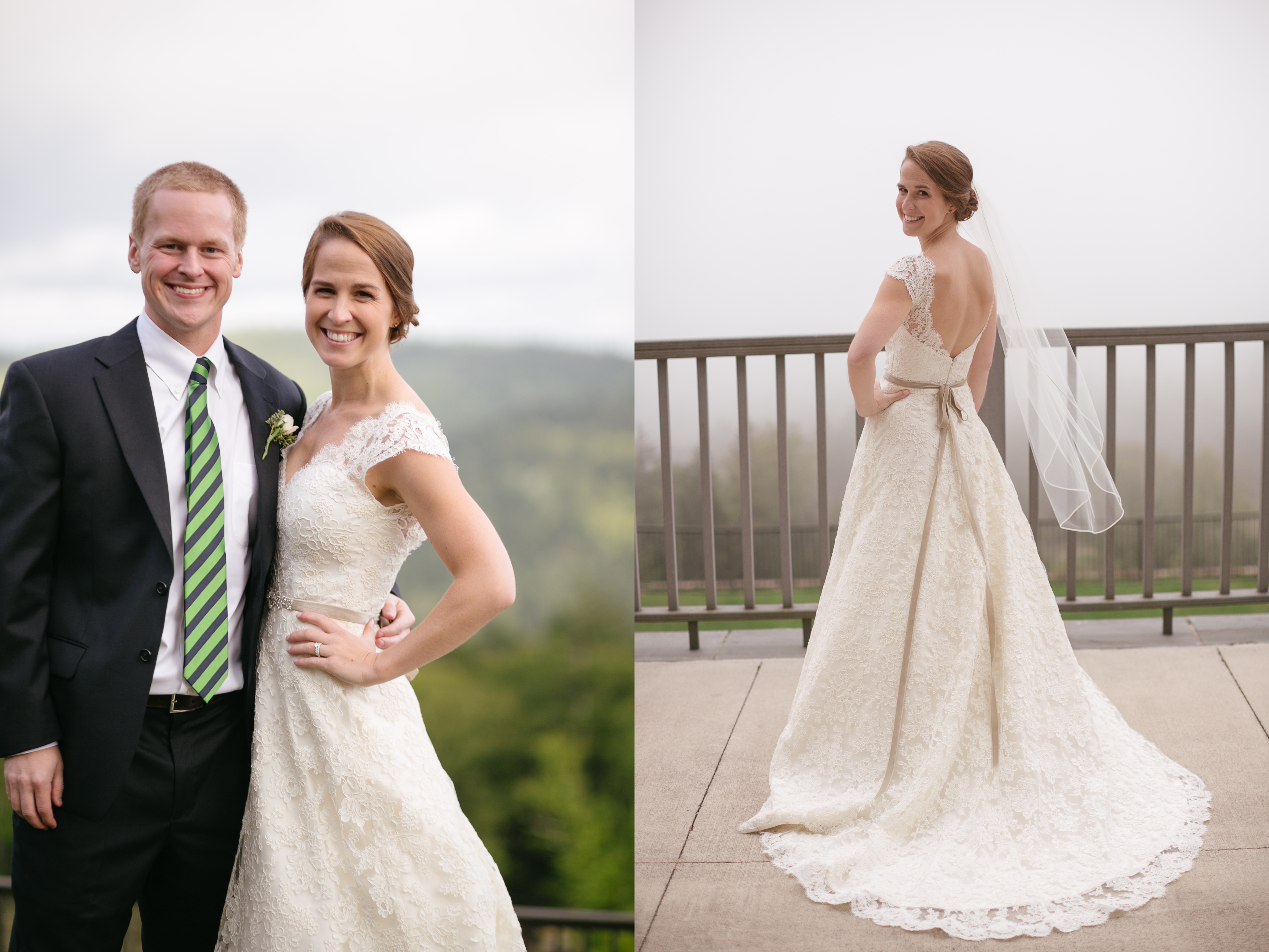 Katie Olchowsi in Modern Trousseau from Hitched. Photo by Jeff Greenough.

"We cancelled the rest of our day because when you know, you know."
Name: Katie Olchowski
Occupation: Attorney
Dress designer: Modern Trousseau
Dress retailer: Hitched Bridal Couture in DC
During law school, my daily bus route to class took me through Georgetown and all its beautiful shops. There was one that always caught my eye—Hitched—and each week, I couldn't wait to see what new gown would be displayed in its storefront window. I dreamed about shopping for my own wedding gown there one day.
Fast forward to spring of 2014, when my then-fiancé and I were planning our wedding for the following September in the mountains of my home state, West Virginia. Of all the wedding details, I knew that finding the perfect dress was a big priority for me. And because I'm extremely close with my mom, I decided it would be super special to share the experience between just the two of us.
So one weekend, she and my dad visited me in D.C. and I made appointments at four different boutiques in the area. Our Saturday schedule was packed! And the first stop, fittingly, was at Hitched—the dreamy little boutique that I had been eyeing for years.
After poring over dresses online for weeks, I went in with a general idea of what I thought I wanted: something with straps, maybe an illusion neckline, probably made of tulle? When we got to Hitched, we pulled three dresses: one similar to what I had in mind; a stunning silk ball gown; and a classic lace, cap sleeve, fit-and-flare.
When I tried on the last dress, my mom said she knew it was the dress for me. At first, I couldn't believe it—it was so different than anything I'd been imagining. Really? But when I added a lovely little velvet sash, I knew it, too. This dress was gorgeous—and it was me. (It also didn't hurt that the designer, Modern Trousseau, is an American company—and I loved that.)
After just three dresses and one appointment—with a full day of shopping still ahead of us—we decided that no matter how hard we looked or how much time we spent, we'd never find anything quite so perfect. So we signed the dotted line, canceled the rest of our appointments and met my dad and my now husband, Dave, for some Prosecco to celebrate. Cheers!
Zoey Washington in Vivienne Westwood from Kleinfeld Bridal. Photo by TPoz Photography.
"I'm an expert—but I still needed an expert."
Name: Zoey Washington
Occupation: Fashion editor and stylist
Dress designer: Vivienne Westwood
Dress retailer: Kleinfeld Bridal in New York
Since I am a fashion editor, I think that absolutely everyone in my life expected me to try on a million dresses before I found the one. But what most people don't realize is that being in a creative field forces you to constantly make detailed decisions that play into a larger vision—and for me, my wedding was no different.
I started my search online because I had this fantasy of finding a great designer dress—something that felt more black tie than bridal—on sale. I'm not sure why I thought that was ever going to happen, but I quickly realized that I would definitely need to try on a dress or two in order to get a better sense of what I liked and what worked for my body. After popping into a few local boutiques, I made an appointment at Kleinfeld Bridal in New York—it's the retailer featured in the reality show "Say Yes to the Dress"—and called it a day.
After chatting with my consultant for a bit, she turned to me and said, "Okay, let's check out Vivienne Westwood." I put the dress on, sauntered out to my mom and sister, and I immediately knew. There wasn't even a question. I felt so special and comfortable that there was no need to second-guess it.
Going to Kleinfeld was the best decision I made during the entire wedding planning process—they just know what they're doing and it shows. I had the time of my life.
Cara Martin in Essense of Australia from Betsy Robinson. Photo by Lee Considine.
"I couldn't find my dream dress—so I customized one."
Name: Cara Martin
Occupation: Special education teacher
Dress designer: Essense of Australia
Dress retailer: Betsy Robinson's Bridal Collection in Baltimore
You could certainly say I had a difficult time finding my dream dress—but I had fun looking for it! I made a total of seven stops searching for the vision of what I wanted: fit and flare with a unique lace patterns, straps, and a cut-out in the back.
Multiple people had told me to try on different styles—saying they fell in love with something totally unexpected—so I gave it a whirl and tried on a taffeta ballgown that I really did like. But in the end, I wanted to stick with what I originally envisioned and started shopping all over town . . . but couldn't find it.
But I got close enough. I eventually stumbled across a beautiful fit-and-flare that fit me better than any other dress I had tried on (it helped that the sample was my size). It had straps (check!) and a unique lace pattern (check!). But, unfortunately, it also had a plunging neckline that went down to the navel (not my look) and it was missing the cut-out I wanted in the back.
After chatting with the assistant at the boutique, she suggested that we could customize this dress a bit more. We ordered extra lace to fill in the open neckline, and we added extra lace to create the cut-out effect I desired. I was thrilled. And while the fitting process wasn't always easy—we had a lot of work to do!—I ended up with the dress I had dreamed of, customized by me.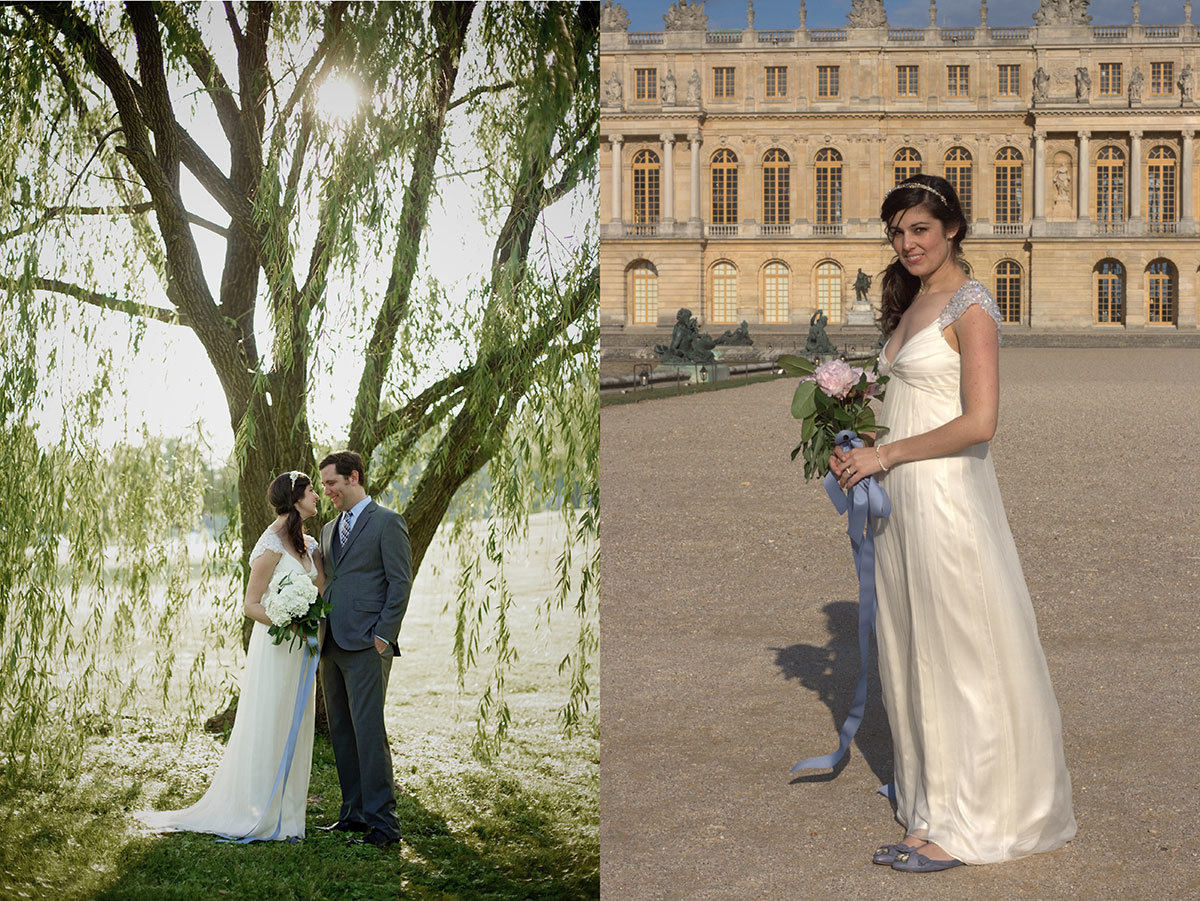 Jessica D'Argenio Waller in Jenny Packham from Rizik's. Photo by Lindsay Hite, left, and Jonathan Robson, right.
"I didn't cry—and that's totally OK."
Name: Jessica D'Argenio Waller
Occupation: Stylist, clinical nutrition grad student, mom
Dress designer: Jenny Packham
Dress retailer: Rizik's
When my mom and I started the search for my dress, my main intention was to find a gorgeous-but-not-too-fancy frock that I'd be able to pack for a flight to my destination wedding in France. We made an appointment at one of the premiere salons in the area and, just for kicks, I did the exact opposite and tried on a voluminous full-skirted dress (because why not?!). As soon as I put it on, it was a major Carrie in "Sex and the City" moment (eek!) and I quickly discovered the poofy thing was not for me. The search continued.
Before the appointment, I had done my research and I had a designer in mind that I thought would flatter my body type and my budget—but I was quickly convinced to try on another line, as the designer was present in the store that day hosting a trunk show.
I found one I liked, and maybe/almost fell in love with it. It was a singular dress that was unlike anything else in the collection, though, which should have been a dead giveaway that it wasn't a good idea. But then I went down in a spiral of pressure from the saleswoman and trunk show coordinator, and my mom and I had to extricate ourselves—but not before we put down a deposit on a custom-made, dove-gray dress.
I considered myself an alt-bride and liked the idea of not wearing white, so I told myself that I could justify the expense of a custom gown by wearing it again (ha!) and I awaited the designs from the dressmaker. When they finally arrived, they were nothing like what I had envisioned. Luckily, I was able to get my deposit refunded and we started back at square one.
I finally tracked down my dream (white) dress in DC, and Mom and I made an appointment for the next weekend. I tried it on and knew it was The One right away, but I didn't cry—and that didn't make it any less special, no matter what many reality TV moments will lead you to believe.
My final choice was pure ivory, super pretty, and—even better—packable.
**********
Kelsey Haywood is the content and marketing director at Girls' Life magazine. Click here for Kelsey's tips on how *not* to plan your wedding and follow her on Instagram for snaps of her adventures as a bride-to-be in Baltimore.

---
---