A Vendor Gets Hitched: The Officiant
August 23, 2016 by Ashley Michelle Hoffmann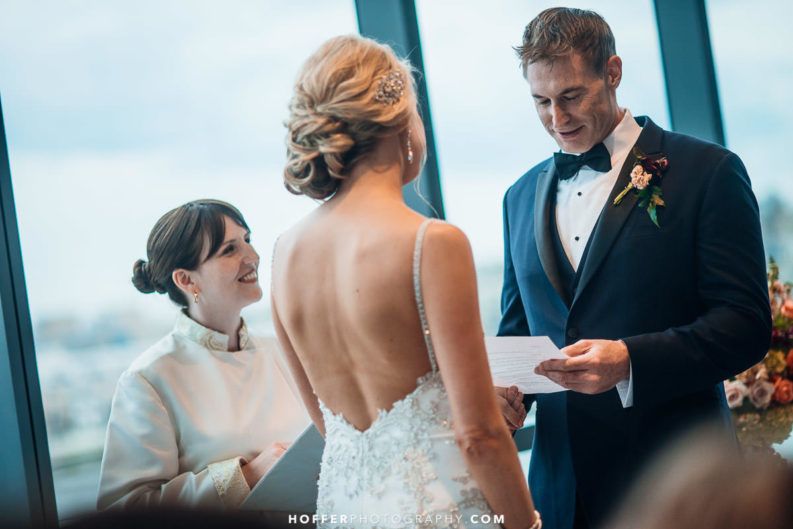 I'm back! I am talking about an often overlooked vendor this time around . . . the OFFICIANT! I feel like whenever I ask a couple what vendors they have booked so far, they always talk about the venue, the planner, the band/DJ, the caterer, the florist, etc. (Oh and, of course, the photographer, but I'm the one doing the asking in this scenario). Of course, all of the vendors mentioned above are VERY important to the overall event and take up the majority of the wedding budget which is maybe why they are deemed as more important or worthy of discussing in some people's eyes. At any rate, the ENTIRE reason for having a wedding is because two people are committing their lives to one another and the person that performs this ceremony is sort of a REALLY important person to hire and something that should be given a lot of thought. I have seen every type of officiant that exist and some are amazing . . . and some are honestly just plain boring. There is nothing worse than even the bride and groom being bored to death during their own wedding ceremony. Believe me, it happens all the time and then I (as a photographer) have to somehow find a laugh or an emotional moment to capture. It can be difficult. On the other hand, you have the overly entertaining officiant that likes to hear themselves talk (similar to the DJs that like to hear themselves talk). They tell unrelatable stories about themselves and say nothing personal about the couple that is getting married.
Before I talk about who I choose, let's talk about the different types of officiants. *And side note, the boring officiants and the over talkers can fall into any of these categories.*
1) The friend/family member: With the internet, it is pretty easy to get certified to officiate a wedding nowadays. I actually love the idea of a friend/family member officiating a wedding because it makes it that much more personal. The person can tell funny/sweet stories of the couple, etc. I have seen this done very well! BUT just because someone loves you and they are a family member/friend does not mean they are the right person for the job. You have to find someone who is very comfortable with public speaking and is actually really good at it. Being good at giving a two minute toast is one thing but leading a 20-30 minute ceremony is another ballgame all together. You also have to find someone who isn't going to be an emotional rollercoaster. Let's face it, weddings bring out the cryers....ever in those who never cry. Someone so close to you can sometimes have a hard time separating that emotion. Of course everyone loves cryers on wedding days (especially photographers), but they probably aren't someone you want to lead the ceremony. Those people are better suited as a front row guest so I can take lots of pictures of them :).
2) The minister/rabi/priest/other religious leader: If I'm going to be completely honest with you, when I talk about boring officiants, religious leaders tend to be at the top of the list. I'm honestly not sure why this is because I grew up in church and still attend every so often and I know there are a lot of entertaining religious leaders out there that get their message across. Religious ceremonies do not have to be boring . . . but for some reason they usually are. With that said, if you don't know your religious leader on a personal level, get to know them first before asking them to perform your wedding so it's not boring to you and your guests. With all of that negative out of the way, religious leaders are obviously a great choice. Religious beliefs are something that bind two people together and is something that some couple's marriages are centered around. If you are religious, I think finding a religious leader to perform your ceremony is a no brainer. Also, if it is a religious leader you grew up with, who married someone else in your family, etc, it is a very personal touch you can add to your wedding day. On the other hand, if you aren't religious, don't have a religious leader perform this sacred ceremony between the two of you. I've seen it before and you will regret it later.
3) The hired officiant: This person is very experienced . . . in marrying people. The hired officiant is performing multiple weddings every weekend and therefore always has good advice about the ceremony. If you don't already know, its good to hire vendors who know what they are doing. Like any wedding vendor, the range of expertise and the way they do their job can vary greatly so hire someone you connect with on a personal level to avoid the boring or over talkers. Some hired officiants are religious while others are not....and some perform both types of ceremonies. One thing to beware of when hiring an officiant is the ceremony can sound very impersonal since most of the time you don't know this person and they are going straight from a script they use every weekend. The good ones will find a way to make it personal. On the other hand, I think the best thing about hiring an officiant (besides the fact that they are very experienced) is that they are so flexible. If you want to do something off the wall or untraditional during your ceremony, they can help you and are more willing to execute that. Or if you want a more traditional wedding, they can do that for you and you don't have to do a thing. They have their everyday "scripts" of how they perform a wedding and you can tweak as you wish or throw the entire thing out and write your own thing. Its up to you.
Now, back to how I chose my officient. I honestly would have loved to have a family member or friend perform the ceremony. That would have been my #1 choice. BUT, the reasons not to have a family member/friend far outweighed that want. I honestly can't think of anyone on either side of our families that is comfortable and is an entertaining public speaker. We had to beg and plead for one family member just to give a toast. Not only that, but my entire family would be completely out because they are a bunch of cry babies (as am I since I completely lost it walking down the aisle...and for any other important moments during the wedding day). I grew up attending church very regularly and it was a huge part of my upbringing and my moral compass. Eric didn't grow up in a religious setting, but we both consider ourselves spiritual people. Including some sort of religious aspect was important to me, but I think neither one of us wanted it to take over. We wanted it to be about us and our vows to one another. Since we didn't have a strong tie to a minister from a local church, that was out as well. I think if we were getting married in Knoxville (where I'm from) we might have had a minister from my childhood marry us as long as they were flexible with the program. So a hired officiant seemed like the best bet for us and I knew exactly who I wanted to hire.
Rev. Laura Cannon, the owner of Ceremony Officiants, was our top choice. I have worked with Laura on countless weddings and she is amazing! I constantly hear compliments about her from wedding guests. And when a guest is randomly telling the photographer about the officiant, that is a really good thing. Laura has a way of making the ceremony personal without knowing the couple on a deep personal level. She does this thing called the top five where she has you write down your top five favorite things about your significant other and then reads them aloud during the ceremony. Since my husband doesn't like being the center of attention, this took a little of the pressure off him as well because he was able to write these things down ahead of time but didn't have to say them out loud. This always causes laughs and tears at the same time. Laura has such a great voice and even though some parts of the ceremony are things she repeats every weekend, you would never know it. She gives such emphasis to every word and looks every person in the eye as if this was the most important ceremony she's ever led. She's entertaining yet knows the attention should be on the couple and the commitment they are entering into. A couple of months before the ceremony, we met with Laura since she had only met Eric once and to talk about what we wanted out of the ceremony. I told her we wanted to incorporate God in some way and she suggested an opening and closing prayer which was perfect. Since we were writing our own vows, we talked about the rest of the ceremony, the flow, and what else we wanted to include. Laura offered suggestions based on our needs and her experience and really tailored everything to us. After our meeting, she sent us a script of everything she was going to say and we could edit accordingly if we saw anything we didn't like. Of course, we liked everything since we had talked through it all at the meeting. It felt like a total collaboration which was perfect. Laura was absolutely amazing and a perfect choice for us . . . and really the perfect choice for any couple getting married!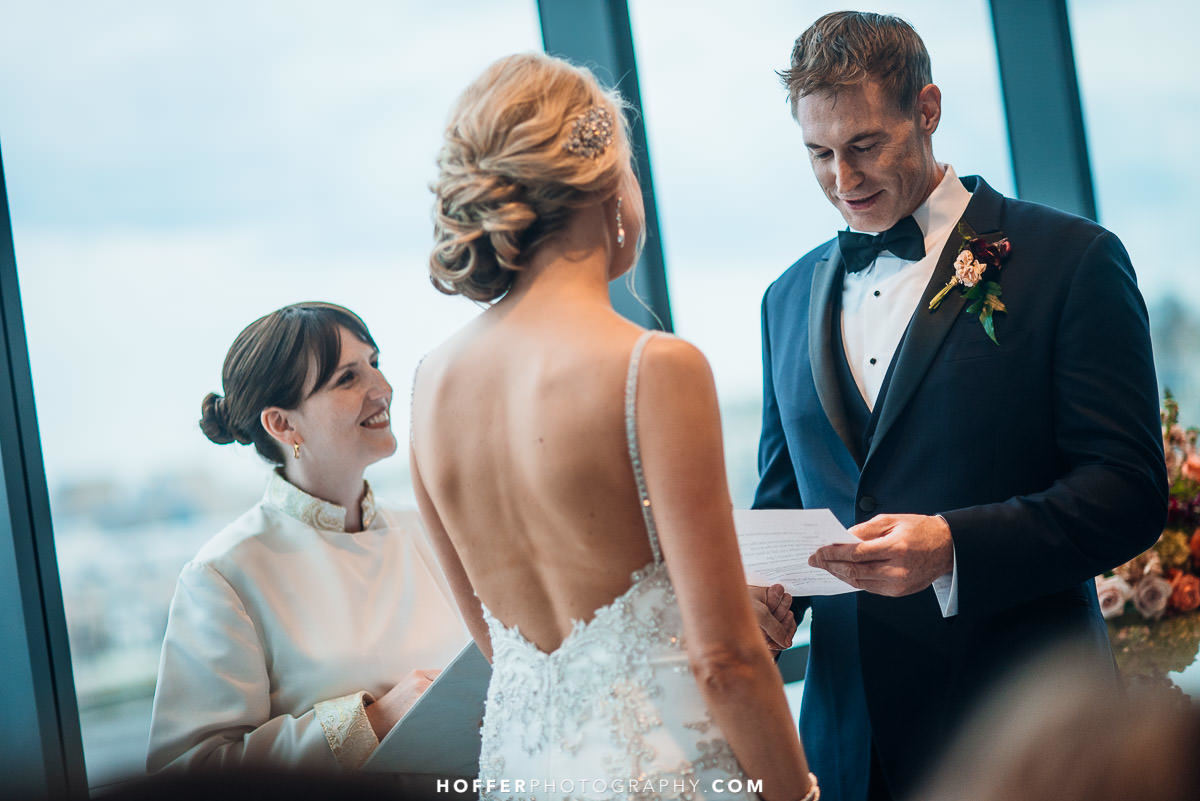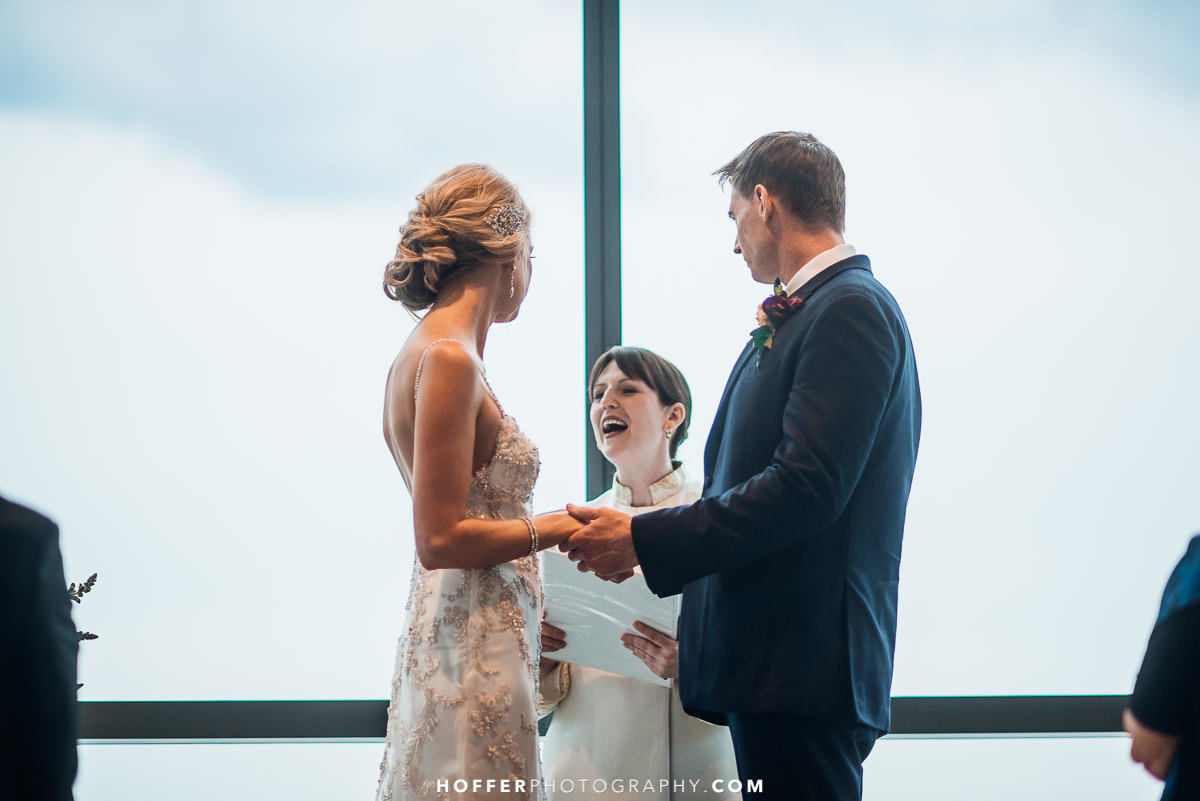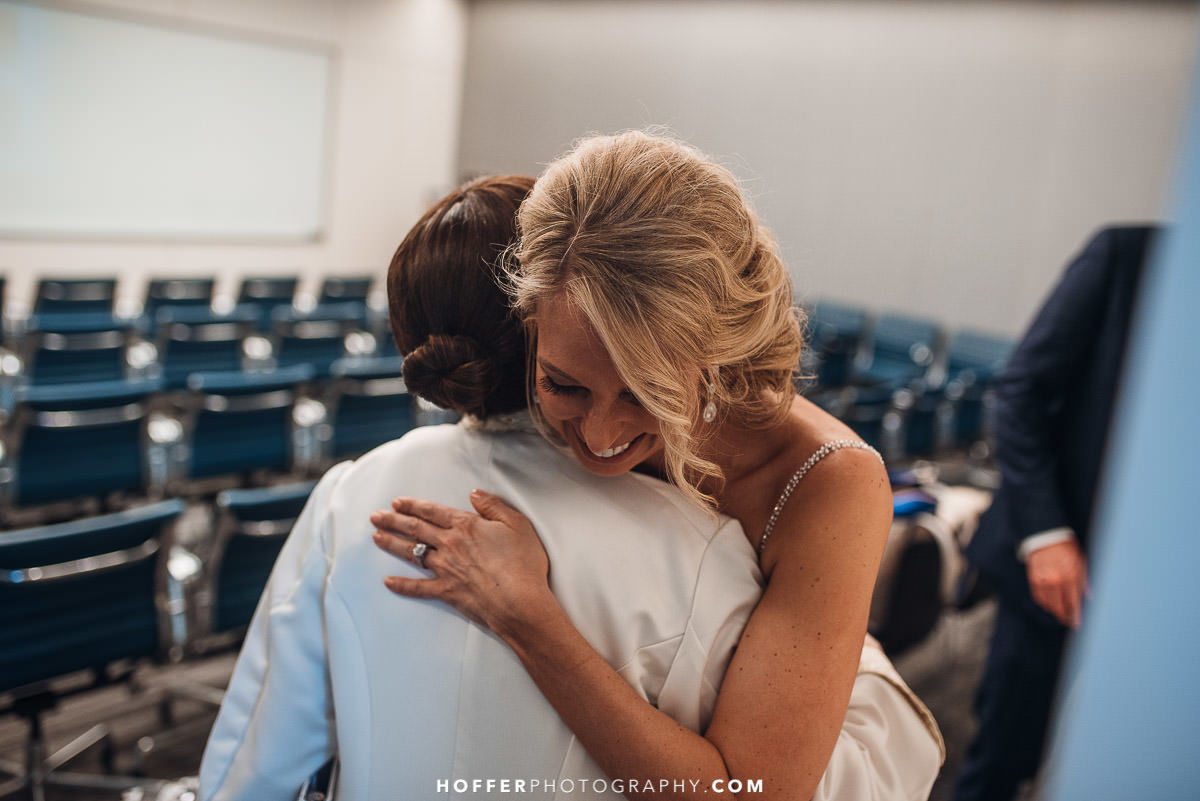 And now a shameless plug for Laura because she's so awesome . . . and she deserves a plug. And I think it's cool I know someone who wrote a book. Yes, Laura just had her book launch for The Conscious Entrepreneur. Go buy it.
Until next time Baltimore Bride readers . . .
---
---