Straight Outta College: A Sweet Proposal
May 30, 2016 by Jenn Harmon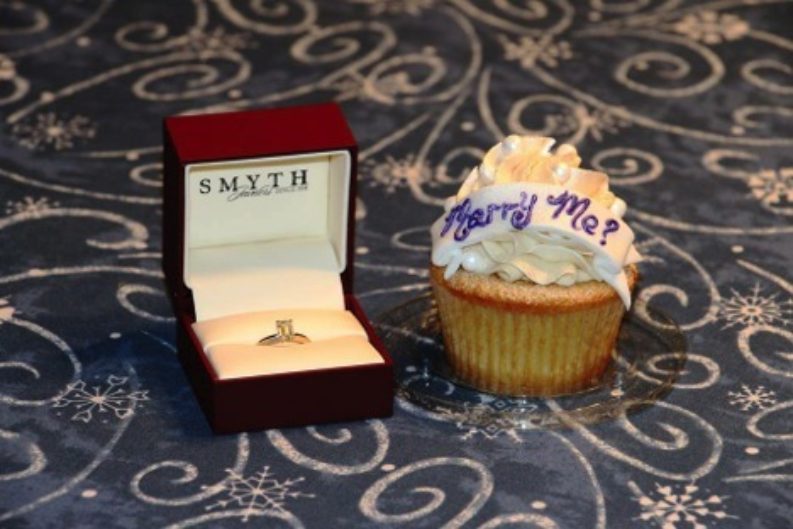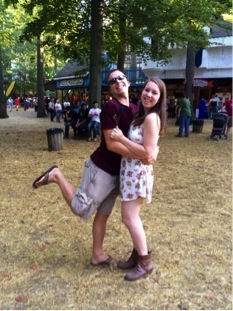 Our story is pretty typical: freshman year of college at Loyola University Kevin and I were introduced through mutual friends. Though we didn't keep in touch over the summer, we picked right back up where we left off at the beginning of sophomore year. Fueled by a mutual love of dad jokes/bad puns, 90s music, and sweets, our relationship quickly blossomed. One night while watching a Caps game I looked over and asked Kevin, "So am I your girlfriend?" to which he replied, "Do you want to be?" and such is the story of how we started dating.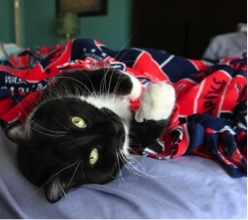 Fast-forward 2.5 years later, Kevin and I have lived together for a little over a year off-campus. We adopted our 20lb. 3ft long "little" guy, Jameson, and are about to graduate from Loyola together. We're both starting our careers—I'm a Marketing Strategist at an accounting firm and am going back to grad school for my Master's in Teaching, and he'll be an Engineer at Northrop Grumman. 2016 was proving to be the best year ever for us.
The Friday night before Valentine's Day (Feb 12, 2016) I bought my first brand new car, and a few days before I had received a job offer for post-graduation! So that night Kevin suggested we go out for sushi to celebrate my exciting week—little did I know it would keep getting better. I had a little too much to drink (whoops) and Kevin insisted that we walk around the outdoor mall even though it was snowing and all I wanted was to go get cupcakes from our favorite cupcakery—something both sober and drunk Jenn were really pushing all day.
Once he felt like I sobered up enough we headed home and decided to exchange Valentine's gifts early in front of the fire place at our home. I excitedly gave him a bucket of CVS candy, feeling pretty proud of myself for not only getting his favorite candy, but also the "expensive" beef jerky he liked. He then handed me a bag and when I opened it I looked down and saw a cupcake—my absolute favorite food—from my favorite cupcakery. Stoked that I had gotten my favorite treat, yet somewhat confused as to why there was only one, I pulled it out of the bag.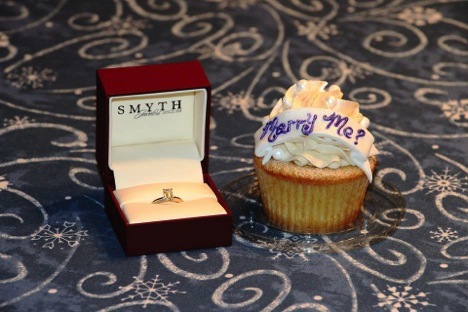 That's right, ya'll, I was proposed to with a cupcake. When I looked up he was down on one knee with the ring. A mix of tears, questions like "Are you sure? Is this a joke?" and laughter filled the living room. He then told me that the ring box had filmed everything. Oh. My. God. Though it's slightly embarrassing to watch yourself in that moment (I'm telling you, you will turn into an incoherent, blubbering idiot when it happens to you) I am SO glad that he recorded this. I swear I blacked out from excitement so I am so incredibly thankful everything was captured on film. Kevin also recorded my mom and grandmother's reaction when he asked them for permission, and had a video message from his mom as well. It was such a thoughtful proposal filled that I feel myself tearing up again just retelling this.
I was so ready to start planning my wedding from that very moment, until I remembered we still had 3 months left of school before we graduated college. I can't tell you how hard it's been not to quit school and my job altogether and spend all of my days on Pinterest and planning my wedding. My mom insisted that I couldn't start planning until after we graduate, but no surprise that didn't happen.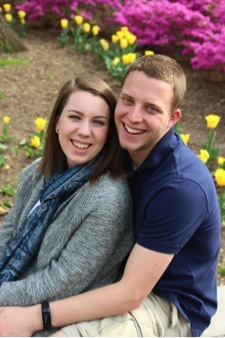 We compromised and in the last few months Kevin and I booked our venue: we'll be getting married next May 19th at The Lodges in Gettysburg! We also booked our photographer and asked our bridal party to be a part of our special day. Other than that, we have everything else to do! We graduate Loyola May 21st and leave that day for a cruise, but once we get back I FINALLY get to start the fun part of planning. I'm so excited to share my journey with everyone over the next year. Let the countdown begin: 12 months to go!
---
---