A Vendor Gets Hitched: Where To Get Ready
November 22, 2016 by Ashley Michelle Hoffmann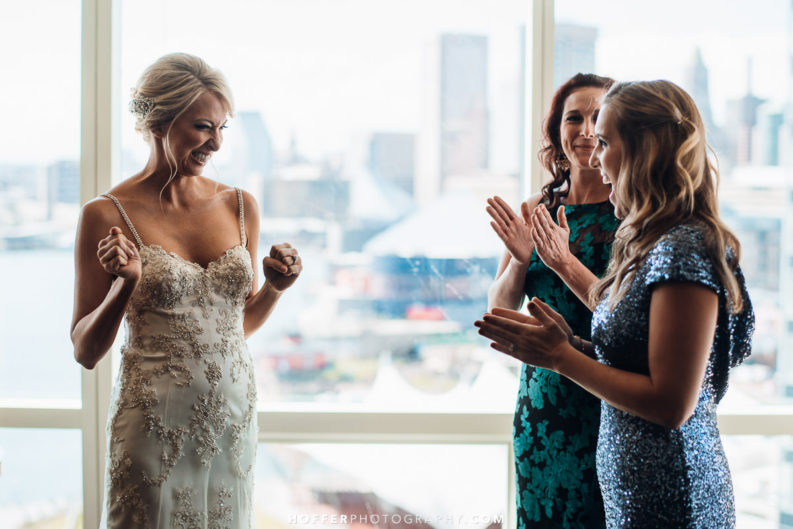 And I'm back!! Busy wedding season has gotten the best of me and I have been behind at updating you about my April wedding at Legg Mason. But I photographed by last wedding this past weekend so I should be back writing on a normal basis to finish my story up. So here goes...
Some couples could care less about the getting ready part of their wedding day, but for me, it was very important. The getting ready part of the day is one of my favorite parts of the day to photograph. It is typically slower paced, everyone is joking around, and there is so much exciting anticipation happening. It is probably one of the only points in your wedding day where you can naturally relax and take everything in. At other points in the day, you are being pulled in so many different directions, it is sometimes hard to slow down. At least that's how I reacted. Plus, I just love the photos that are produced during the getting ready. With that said, since it was very important to me, I wanted to treat my getting ready location choice as I did the ceremony/reception venue choice in regards to importance. I wanted it to be aesthetically pleasing and spacious, a good location, and have a lot of natural light. Of course all of these things benefit the photography, but who is surprised at that?
We all obviously want everything to be pretty on our wedding day. And for me this included the getting ready location. I wanted something clean and modern that matched the overall feel of our reception venue, Legg Mason Tower. I also knew I wanted a large space instead of a regular size hotel room. We ended up getting a corner suite. Even though I didn't have any official bridesmaids, my sisters and niece were getting ready with me and some of my high school friends came over and hung out for awhile as well. Having a large space is VERY important for photos. There is nothing worse than arriving at a getting ready location and having eight people trying to get ready in a regular size room (plus a hair person, a makeup person, and the photographer). In small rooms, there is no where to hide the junk (and believe me when this many people get ready in any size room, there is always a lot of junk). And then the junk shows up in the pictures because its impossible to avoid. The morning of the wedding before the photographers arrived, I was picking up everything making sure the space stayed clean and uncluttered. I told my sisters, there was one spot they could put all of their stuff so it was out of the way when the photographer arrived.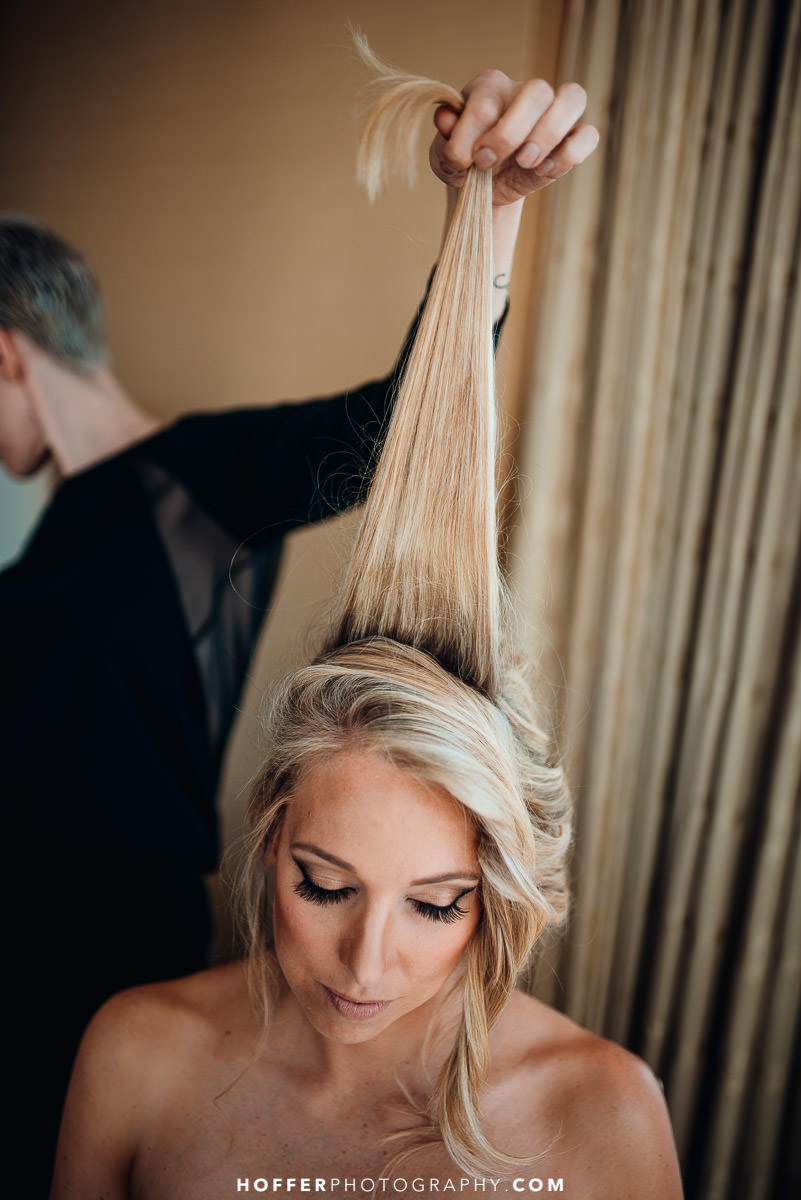 Location was another big factor in my decision. I knew I wanted to stay stress-free on my wedding day and didn't want to worry about traffic at all. I wanted to walk everywhere I went that day. Luckily, my venue was in Harbor East so there were many hotels within walking distance. Sometimes this isn't always possible but if there is a place within walking distance, I would choose it as long as it meets the other criteria.
And last, it had to have good natural light. For the photographs of course. And sunshine just makes everyone more happy anyway. When requesting a room, notice where the sun will be during the time of day you will be getting ready. Will there be light coming through the window or will the window be in shade? Don't be afraid to request a room on a certain side of the building.
If you really think about it, I'm sure most of you could guess the location I chose. If you are still at a loss, I chose the Four Seasons Baltimore. Whoo!! Not only did Four Seasons match all of my criteria and then some, but it is one of my favorite places to photograph weddings and one of my favorite places to hang out. During the week, I'm typically in my PJ's or workout clothes editing or working out. On the weekends, I'm at weddings. On the weekends when I'm not photographing weddings, I like to feel fancy . . . especially on my wedding day. And Four Seasons definitely does that. And as typical with any Four Seasons, their service is top notch which is always a huge plus (more on that later). Plus, I know most of the girls in Four Seasons's catering department and during this whole planning process, it just made me so happy to involve "friendors" that I know and love. For those of you who are reading this and wondering what a friendor is, it is term used within our industry for someone who is a wedding vendor you work with but they are also your friend. Being able to have friendors is another reason I love my job. Anyway, I digress.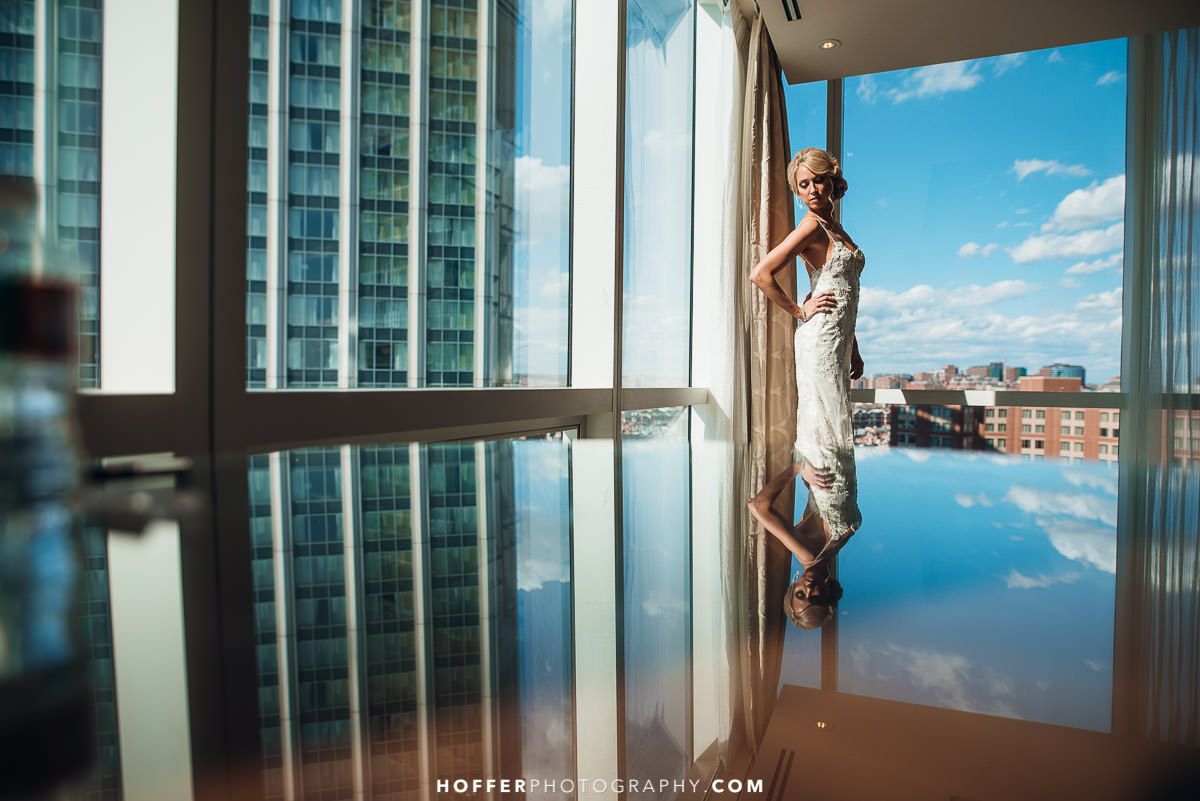 Four Seasons was AMAZING from beginning to end, as I knew they would be but even I was blown away by how great it was to be on the other side as their guest. I checked in on Thursday evening, the day before my wedding. Waiting for me inside of what was an immaculate room with floor to ceiling windows overlooking the harbor was a vase of fresh flowers and some fresh fruits. And if you know me at all, you know the way to my heart is delicious food so I was already in heaven. I slept in a super comfy bed, ordered room service in my Four Seasons robe the next morning for breakfast, and started to get ready for my wedding. I was so relaxed and already felt pampered and let's just face it, who doesn't want to feel pampered on their wedding day or really any day of the year? My photographer was able to snag some gorgeous bridal portraits after I put on my dress and then we were off to the wedding! When my HUSBAND and and I returned after the wedding, we walked in the door and there was a trail of rose petals leading first, to the coffee table in the living room and second, to the bed. On the coffee table there was a mini cake that said "Congratulations," a bottle of champagne, and a sweet note signed by all the members of the catering staff. On the bed, there were more rose petals and two pillow cases that had been embroidered with our new initials. The pillow cases were for us to take home. So, so thoughtful! It was so great to not only feel well taken care of during our actual wedding but also before and after.
To conclude, if you want your getting ready photos to look as fabulous as the rest of your wedding day photos, don't forget to give consideration to your getting ready location. After all, it is where you will be spending your first night as HUSBAND AND WIFE!
---
---