​There Will Be Cake: Something Borrowed, Old and Blue!
June 09, 2015 by Jessica Hendrick
When he heard about my upcoming bridal shower, Brian's nephew, and one of our mini ring bearers, Parker, started asking "Why does Aunt Jessie need a bath party?" His confusion continued leading up to that Sunday. He couldn't wrap his little 4-year-old mind around why it was called a shower if there was no water or bath. When I said hi to him that Sunday morning, I think I even caught him trying to smell me, perhaps assuming the reason I needed a shower was because I smelled!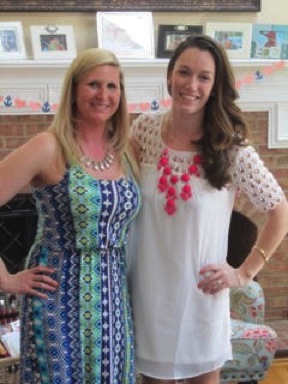 Me and my sister-in-law Jennie who hosted this beautiful shower
Fortunately, no one tried to dump water on me, and that Sunday morning was a beautiful outside. My future sister-in-law, Jennie, was so generous to open up her home and host the shower. I was blessed to be surrounded by family and friends, and to celebrate these last months before the wedding.
My Mom and my MOHs
Jennie had decorated everything in our wedding colors, navy and coral, and had a fun wedding gift bingo game planned.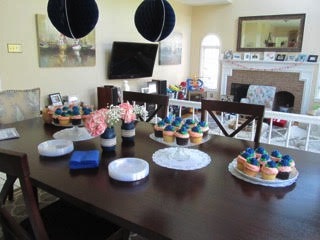 There will be (cup)cakes!
Brian and I have been so touched at friends and family's generosity as we have received wedding gifts. I wish there was a more meaningful word I could use than blessed to share how much we appreciate and value all that those around us have done to make this a special and memorable time.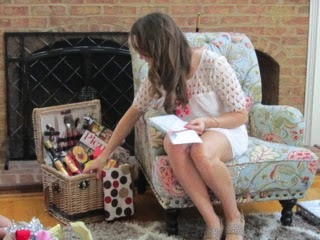 Check out this cute picnic basket from my MOHs!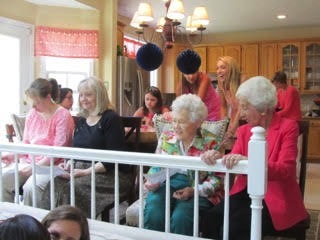 Guests playing bridal shower bingo.
While I received many beautiful china place settings, crystal glasses and serving ware there were 3 gifts I want to share with you.
The first was from my other future sister-in-law Kelly, who always thinks of the most creative and sentimental gifts. Kelly took our wedding invitations (which I am totally OBSESSED with thanks to 2hands Studio!) and had them framed with a gorgeous nautical background. It is truly a one of a kind gift, and I cannot wait to display it in our home.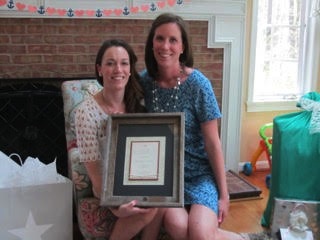 Kelly framed our invitation with a beautiful nautical matte background!
The other two gifts came from my mother and grandmother and represent my something old, something borrowed, and something blue.
My something borrowed will be my grandmother's Bible. It is a small white Bible with long ribbon streaming from the spine. If you look closely enough at the ribbon you see the remainder of dried flowers, placed there on my mother's wedding day when she walked down the aisle carrying the bible. Inside my grandmother has meticulously noted the dates, times and location of her wedding and then my mother's wedding. Although I won't be married in a church, I do want our wedding to represent a religious bond. So, we have chosen to follow the traditional marriage ceremony as written in the Episcopal prayer book, and in some way plan to incorporate my grandmother's little white Bible.
Opening the borrowed white Bible my mother and my grandmother carried down the aisle on their wedding days.
My something new will be my dress, oh and my something old, and my something blue will also be my dress, or at least a part of my dress. I LOVE the story of my grandmother and mother's weddings. One part that I cherish is that my grandmother wore a borrowed dress from her friend Norma Austerman, and my mother later wore that same borrowed dress when she married my father. While I have not chosen to wear the borrowed dress, part of it will be still be my something borrowed and my something blue.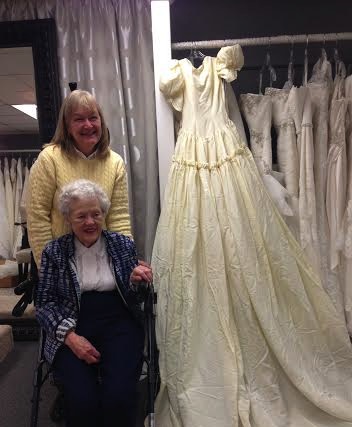 My mother and grandmother with the borrowed dress.
This dress might as well be the original Sisterhood of the traveling pants, as multiple women from the 1940s to now have worn it, and the Austerman family is hoping to continue the tradition with their grandchildren. Although only ever being a borrowed dress to my family, I was able to have a piece taken from a seam on the train to incorporate into my dress.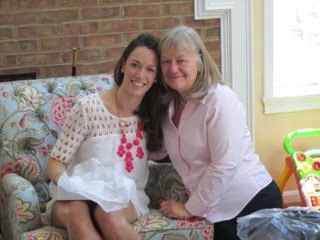 My Mom and me after we wiped our tears away from opening the embroidered dress piece.
My mother, who is a jack of many trades, delicately sewed in blue and coral thread the initials of my grandmother and her wedding date, my mom and her wedding date, and me and my wedding date. She even left room at the end, and when I asked why that was her reply was so simple, but touched me so much. She said, "it's for your daughter one day." I am so thankful and it makes me cry every time I think about going down the aisle with this connection to my mother and grandmother. I didn't tear up when I picked my dress, but I definitely did when I got a piece of this almost 70 year old dress.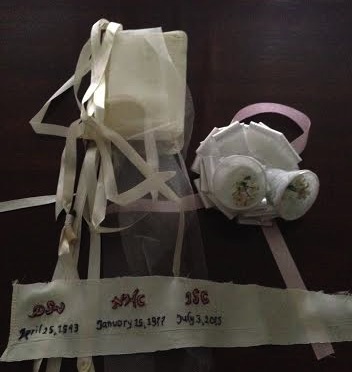 The embroidered piece of dress, and my grandmother's bible.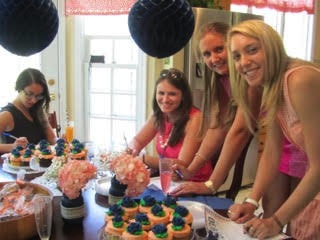 Playing bingo and snacking on some cupcakes!
Thank you to my mom who has dedicated countless hours and effort to make the celebration that will take place in just a month not only the most beautiful, but the most sentimental and meaningful it could be for me and Brian to share with our families. Thank you too to Jennie for treating me to such a beautiful shower, and to all the friends and family that came! It really meant everything to me to be surrounded by your smiling faces. I can't wait to dance with you all and raise a toast to married life in one month!
We always have to take a St. Paul's Photo, just missing my Mom and Missie!
---
---