Operation Honeymoon: Adrenaline Junkie
April 06, 2015 by Mackenzie Melfa
Photo by Chris Sisarich

Welcome to New Zealand, The Adventure Capitol of the world! Those who know me are aware that I am not a bungee jumping, sky diving kind of gal. But that's ok, New Zealand has all kinds of adventures to offer! Dave and I know that if we choose New Zealand we will need at least two weeks to scratch the surface of this amazing country. Let's break the highlights up by Island.
North Island
Auckland – The City of sails is a great place to fly into from the States and a great spot to start off any trip! It's the largest city in New Zealand nestled in a lovely harbor. There are tons of restaurants, and its low key place to get over your jet lag and acclimate to the new time zone!
Waiheke Island – Just a short ferry ride from Auckland is an adorable island. It's said to be the Martha's vineyard of the Pacific but with actual Vineyards all over! Spend your days sipping wine, trying fresh Olive oil or sunning yourself on one of the many beaches.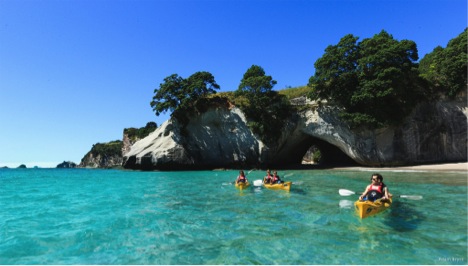 Photo by Adam Bryce

Cathedral Cove – A natural wonder that consists of a stunning natural arch where the ocean has washed away the stone. The beach around this area is beautiful and it's a top spot to kayak and snorkel.
Twin Coast Discovery Highway – A scenic drive north of Auckland to the subtropical area of "Northland". Visit 90 Mile beach, stay in the small town of Whangarei, and enjoy the stunning landscape!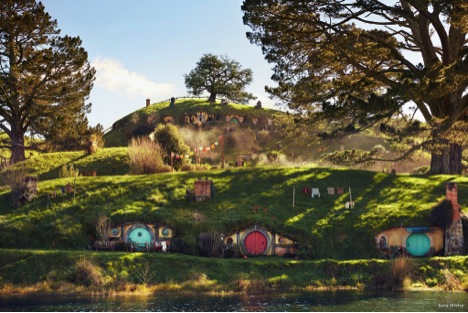 Photo by Sara Orme
Matamata –The filming location of the Shire from Lord of the Rings. Fans can take a guided tour of the movie set which visits multiple Hobbit Holes.
Raglan – A surfers Paradise! Raglan is home to one of the longest left hand breaks in the world!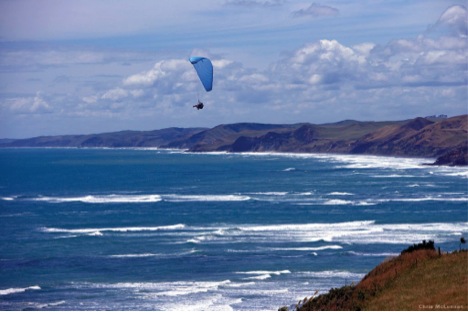 Photo by Chris McLennan
Lake Taupo – This "Lake" (I use the term lightly since it's about the size of Singapore!) is a fantastic spot for fishing, kayaking, and boating. It's also right by one of the most visited spots in New Zealand – Huka Falls!
South Island
Nelson – The sunniest part of New Zealand! Enjoy the sun while hiking the Abel Tasman Track, a 3-5 day hike that winds along the gorgeous coast.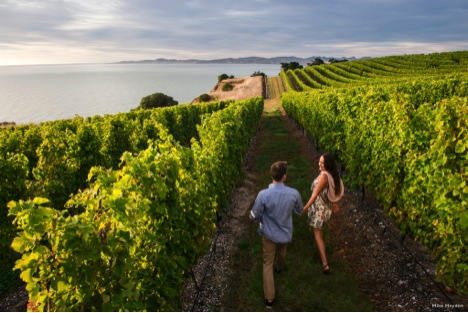 Photo by Mike Heydon
Marlborough – Wine, Wine and a little more wine! Marlborough is the perfect climate for growing the Sauvignon Blanc grape. Take a guided wine tour of the region and taste the differences found at each vineyard.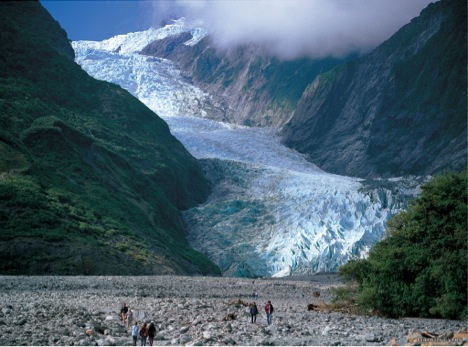 Photo by Gareth Eyres
Franz Josef + Fox Glacier – Located on the West Coast these 2 glaciers are a stunning sight! Enjoy them from afar or hop in a helicopter for a short but scenic ride to the glaciers themselves. From there you can take a guided walk on the ice.
Photo by Miles Holden
Queenstown – A hopping metropolitan surrounded by beautiful lakes, rivers and mountains. Queenstown is a great place to cross off a few things from your adventure bucket list like bungee jumping, sky diving and jet boating. Take some time to explore the surrounding area by bike. And if you are feeling really adventurous you can "Heli-Bike"! Yes, it's what you imagine … a helicopter takes you to the top of a mountain and drops you off with your bike. Enjoy the views on the way up, and the ride on the way down!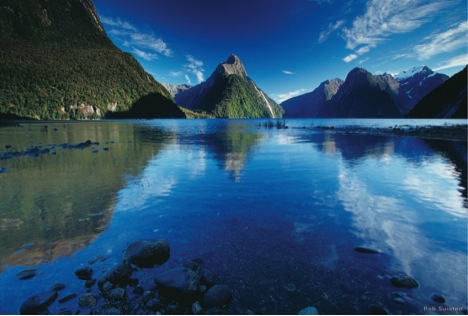 Photo by Rob Suisted
Fiordland – If you like a dramatic landscape then Fiordland is a must! Fiordland National Park is home to the stunning Milford Sound, Glaciers carved out these areas thousands of years ago and left quite a sight! You can explore by helicopter, kayak, boat or just hike around. There are 3 really wonderful tracks for avid hikers … Kepler, Routeburn and Milford.
Clearly New Zealand has a ton to offer and we couldn't be more excited that it is on our list of potential Honeymoon Spots. Check in with me next time to visit one of my top choices for a Honeymoon Destination … Croatia!
---
---