​Shotgunning for Love: You Can't Spin With Us
April 29, 2015 by Nikki Daskalakis
I'm a bit hesitant to share with all of you what is quickly becoming the opposite of Baltimore's best kept fitness secret and a cult classic within the city: Rev Cycle Studio. It's already difficult enough to get a front row bike in some of my favorite spin classes, but I have to tell you about Rev because it has changed my life for the better and maybe it will change yours too.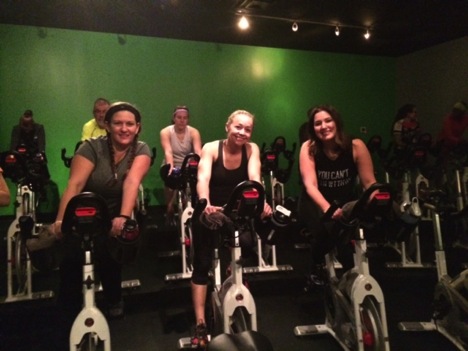 Riding with my matron and maid of honor at Rev after bridal dress shopping.
I'm not sure how much fat I've lost (and muscle gained) since I've begun spinning at Rev and the reason for that is, the battery in my scale died. My only hope is that Andy reads this blog post and changes the battery out. While I get into wedding dress shape, it hasn't been about the number on the scale anyway. I care more about how I feel, how my clothes fit and feeling good physically and mentally.
After Andy's first seizure last November, I spent every waking moment staring at him sleeping because I am creepy and I was anticipating the next seizure. Side note: I have always stared at Andy sleeping and devoted two whole pages of pictures of him sleeping in the 3-year anniversary photo book present I made him. He's usually eating or sleeping and so it just seemed natural to snap pictures of him sleeping in various compromising situations (Oreos in hand, drooling on the couch, laying on the dog bed while Titan glanced up at me with worried eyes, cuddled up with our Halloween skeleton; the list goes on—he's going to kill me for this). The reason for my obsession with his sleep pattern after the seizures however was deeply rooted in my worry and anxiety. My whole body was constantly gripped with panic. With every little twitch he made in his sleep, I braced for the worst. I don't think I left his side for a full 72 hours following the first seizure. The poor guy couldn't do anything without me. It got bad. If I didn't hear him, I'd call out his name and pretend to need something from him just so I could hear his voice and know he was OK. It wasn't healthy.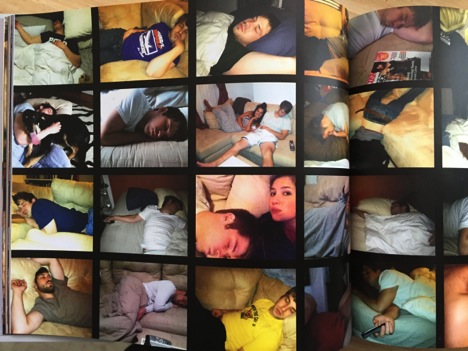 When Sunday rolled around, I knew I had to leave him for an hour and go to my regularly scheduled spin class at Rev. I had to function like a normal human to not only give Andy some reprieve, but to also have some me time. The world wasn't going to fall apart if I left Andy for an hour (this was an actual concern of mine).
I packed up and headed to Rev. I never miss "Church of EC" on Sunday mornings—it's a 60 minute spin class that is mentally and physically challenging. The first 5 minutes during that class, I thought about Andy. Then, Esther (the instructor and co-owner of Rev) said something that grabbed my attention. She said "when is the last time you did something for you? Value yourself. Be here now." I swear to whatever God we are riding for Sunday mornings in Church of EC that a single tear ran down my face. I knew in that moment that I had to keep living my life and doing normal things. I also think that is the exact moment I decided that maybe my life hadn't changed as much as I'd originally thought. Seizures happen to people every day. Life goes on.
An Estherism courtesy of @ecollinetti.
I first discovered Rev when a coworker took me after work one day. She told me about these amazing cold towels spritzed with lavender or eucalyptus (something relaxing) that they give you after the ride. That first ride was so intense but made me feel so alive. I was hooked. I've been going to Rev religiously since that first visit.
When you first get to Rev, an employee will help you set up your bike to make sure the ride will be comfortable for you (as comfortable as crotch pain can be). There is a cool lounge to grab a Gundalow Juice or complimentary coffee before class. The lobby is set up more like a place to hang out and relax rather than a place you'll be working out. There are free day lockers equipped with combos for personal use while at Rev. During the ride, the lights are turned down low and candles illuminate the instructor and podium. Brand new speakers blast music throughout the class to inspire and transport you up and down imaginary hills. Esther's spin classes are sprinkled with what I'll refer to as "Esther-isms" or #Sh*tECSays. She's uninhibited and encourages you to be the same. Don't be surprised if you find yourself repeating an Esther-ism throughout the week. She will get in your head! "Don't panic, keep going," or "you're not weak, you're just suffering." My favorite one has to be "Amen M***********" at the end of Sunday morning's spin class. If you're not into cussing, there are other instructors for you. I'm into cussing though. I encourage you to try Rev and see if you can fit it into your fitness routine. My other favorite instructor is Jami—she's high energy as well. There are many different instructors, try new ones until you find that one that fits with your personality. I hope to see some of you at Rev, not on my bike though.
Nikki is a wedding and lifestyle blogger. Follow along at www.shotgunningforloveblog.com or on Instagram @nixta24.
---
---