Shotgunning for Love: Tequila Tales
February 18, 2015 by Nikki Daskalakis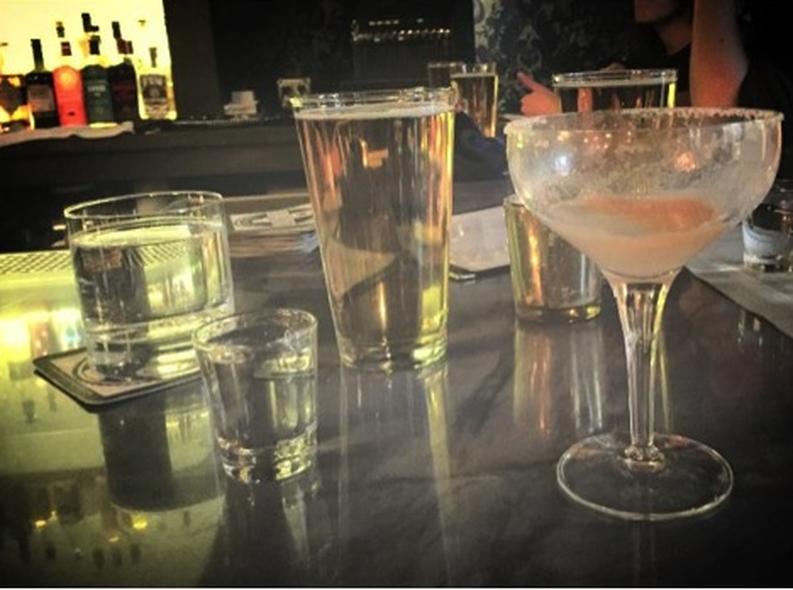 To set the scene, I'm listening to The Eagles' Tequila Sunrise as I type this. Things got messy and . . . well, it happened. I laid on my bathroom floor after five too many shots of tequila and cried to my maid of honor that I wanted to cancel the wedding. Ok, maybe it wasn't five shots. But the rest of that stuff really happened. Side note; choose your maid of honor wisely. Any best friend that knows the night will end in tears but drinks with you anyway is the one. Everyone said wedding planning would be stressful, but I thought they meant stressful in the way that "grad school is stressful. "Don't do it" they said. Then, you do it anyway because if they can do it, so can you. This is somewhat the same but complicated by the fact that you have to include other people in the planning process all while blending families and styles. It's more like a group project that your entire grade relies on . . . but still worse than that. I'm not going to go into details about how I wound up on my bathroom floor because that would offend everyone, but I will tell you what I have learned.

1. All families are different and they all come with baggage. Your relationship with your boyfriend or girlfriend has always been real, but this wedding has made it even more real for your loved ones. Understand this will cause some type of reaction. I can't tell you what kind of reaction because I'm not psychic and I don't know you like that, but things will change. Prepare yourself for this by deflecting difficult questions or topics to your fiancé. Yes, these are your soon-to-be in-laws, or in my case actual in-laws, but remain a teammate with your partner. Chances are that they know how to talk to their parents better than you will.
2. Communicate clear expectations. I'm still working on this one. It's great to include family in on some of the planning, but remember this is supposed to be a happy and exciting time. If it's not making you happy, don't do it. Again, pull your partner into this one to take some of the heat off of you.
3. Make a clear budget. To make things easier, have everyone set their budget before planning starts and find out what kind of strings are attached to that budget. Trust. I also recommend letting your partner talk to his/her parents and you talk to your own about money. Money is messy.
4. Recognize cultural differences between families. Weddings are different all over the world and also vary state-to-state in the U.S. Some families may be accustomed to extravagant weddings, while others prefer a more intimate reception. For example, I went to my cousin's wedding in Greece last summer and the entire village was there celebrating the couple while pyrotechnics flared up during the first dance. That was a major culture shock for me (and Andy). They also break glass on the floor to celebrate. Poor Andy was walking around picking up all the glass because he didn't want anyone to step on it and hurt themselves. The point being, keep an open mind and understand that your two families may have different ideas about what a wedding should look like.
5. Check in with your fiancé. Do you both have the same idea of what you want the wedding to be like? Are you on the same page? Are you in the same book? This is extremely important. Keep in mind that it's not fair to change your mind a million times after decisions have already been made. Be clear and honest with your partner.
I could go on and on if only I knew what was going to go wrong next, I just don't know yet. Here's hoping that things are smooth sailing from here on out. All the tequila is gone anyway.
xoxo,
Nik
Nikki is a lifestyle and wedding blogger. Follow along at www.shotgunningforloveblog.com and on Instagram @nixta24.
---
---