There Will Be Cake: How My Pinterest Came To Life
February 12, 2015 by Jessica Hendrick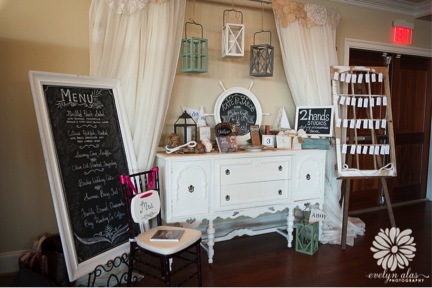 Photo by Evelyn Alas Photography.

Are your eyes glazed over from staring at flower arrangements, color splashes, cute signage, or glamorous centerpieces on your computer screen? Is your fiancé exhausted from hours spent combing listings on various wedding recycle websites, or pricing out the cost of DIY items at Michaels? Let me tell you about this magical wonderland, not to far from the city of Baltimore, where your Pinterest comes to life! Right in front of you! You can actually see, and touch those adorable lanterns you saw on your aunt's friend's sister-in-laws' "Wedding" board, and then repined hoping she wouldn't think you "stole" her idea. Oohh and those painted wooden table numbers that matched your colors are already painted, and they aren't sold out of number 8. Earlier, in Michaels, you had felt like a hamster trying to find her way through a maze as you followed the sales person up and down aisles, and across the store in search of the missing wooden number 8. In those moments you thought about just skipping from table number 7 to 9. Who would really notice, right? No, no you know someone would notice. "Where's number 8? What happened to table 8?"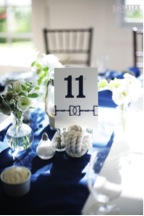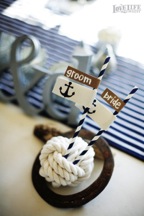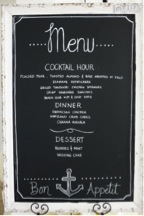 Décor by 2hands Studio. Photos by Love Life Images
Where you ask is this Pinterest addicts haven anyway? How do I get there? Is it even a real place, or just a myth made up as a tease? It's actually not far at all, I promise. Just drive south on 97 to Annapolis and you'll get to 2hands Studio.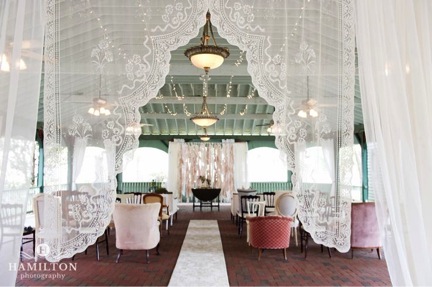 Custom backdrop and rentals by 2hands Studio. Photo by Hamilton Photography.
The first time I walked into 2hands Studio last summer, Brian literally said "Wow, this is your heaven, are you going to be able to contain yourself?" It was really tough to act like a calm bride, much less like a calm human being, and not just start jumping up and down at all the pretty things. Ally and Jill of 2hands Studio specialize in providing rentals of unique vintage and nautical décor, props, and furniture for any event. They also make custom invitations, and have a planning coordinator, Adrianna, who can provide full event coordination. From chalkboards of all sizes, to table decorations, to vintage tables and chairs 2hands Studio' showroom is like walking into a 3-D Pinterest board.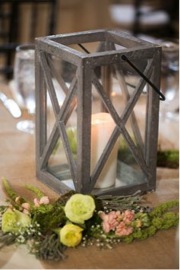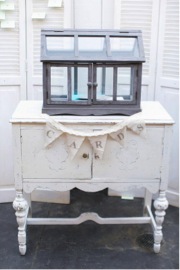 Photos by Carly Fuller Photography
I didn't want to be stuck storing or trying to resell hundreds of votive candles, or spray painting chalkboard signs, or table numbers to match my vision. Plus, I was hung up on the same nightmare that terrifies every bride having a summer outdoor ceremony. You know the nightmare I am talking about. Sometimes the scenario changes slightly, but it runs on a constant loop flashing scenes of thunderstorms, rain, heat waves or weather advisories, all chanting, "What's your plan B? What's your plan B?" These haunting chants loomed over my head like a rain cloud. Do I just risk it all, and hope that plan B doesn't happen. Or do I spend more money just as a back up for beautiful indoor decorations that will be a waste if the original plan works out?
Being a very detail oriented person, and a bit of a type A when it comes to being organized 2hands studio was my answer in more ways than one. I could rent all of the décor I wanted at a fraction of the cost of buying it or building it myself. Also, Ally assured me if we woke up to a forecast of rain, no sweat, she would show up with just what we needed to decorate our plan B room. That alone was such a relief because at a recent bridal expo I saw 2hands Studio transform that very same room from a stone meeting room, into a bride's dream.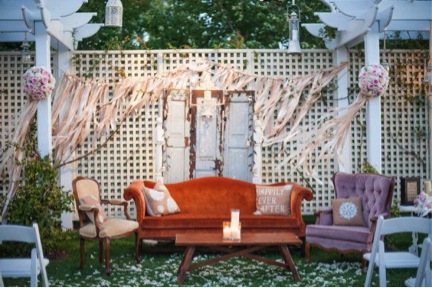 Custom backdrop and rentals by 2hands Studio. Photo by Meagan Elliot Photography
Back to last summer when I first visited 2hands studio. Since we were still 11 months out, we created a tentative contract of rental décor items. At the time I had NO photographer, NO band, NO florist, NO dress. Still I had a vision. We had a venue, and a clear plan, which I could see taking shape with 2hands Studio.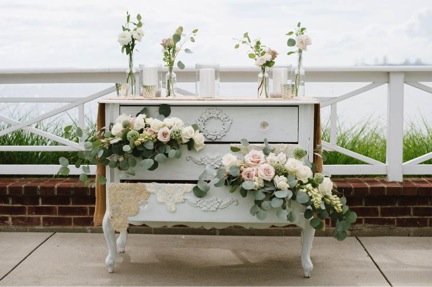 Design by 2hands Studio. Photo by Natalie Franke Photography.
Now 5 months out, we have a photographer, we have a band, we have a florist, and there is a dress on its way. So, I returned to 2hands Studio, with my mom to finalize those tentative rentals set back in August. I LOVE my mom, and she LOVES me, from here to the moon and back again. However, we do not always see eye-to-eye. We are both very visual, and we both are very detail oriented. Great qualities you want when planning a big event, like a wedding, but when both people exude those qualities you can butt heads. Ally and Jill though knew just how to bring both our visions together into something special, plus they had cookies, which put both of us in a good mood.
Sweets table designed by 2hands Studio. Photo by Meagan Elliot Photography.
The first part of our appointment was spent with Jill, looking at sample invitations and paper swatches to determine design, color, and even shimmer. With the groundwork for invitations laid we moved onto reviewing the rentals. Ally reviewed our original contract with us, and we made adjustments to the size or quantity of some things, added details about color and styling to others, and even found some new things! Best part is 2hands Studio can deliver and set up all the rentals the day of the event. They even helped us to find table runners, get a quote for café lighting, and referred us to our photographer and florist! We owe so much of our wedding planning, vendors, and to 2hands Studio.
Thank you Ally and Jill for bringing my Pinterest wedding board to life, and saving me hundreds on storage units for wedding decorations!
---
---