​There Will Be Cake: A Baltimore Bakery Tradition
January 19, 2015 by Jessica Hendrick
Why would I choose to title my blog series "There Will Be Cake?" instead of a more sentimental love-dovey option? A wedding is one of the most romantic events of all time, so why completely skip over title options such as "Sophmores to soul mates" or "High school sweethearts," in favor of cake? Well, as strong as my love for Brian is, I will tell you it was a close race. You see, I LOVE desserts! Chocolate chip cookies, lemon meringue pie, and peanut butter ice cream, all of these treats are delicious!! In fact, as an eight-years old, in complete ignorance of human anatomy, I insisted I had two stomachs. Naturally, the first stomach was for dinner, and the second was for dessert. For years I believed I was out-smarting my parents with this perfectly rational explanation for why I could be full from eating my veggies, yet still have room for a mountain high bowl of ice cream, with chocolate fudge and sprinkles.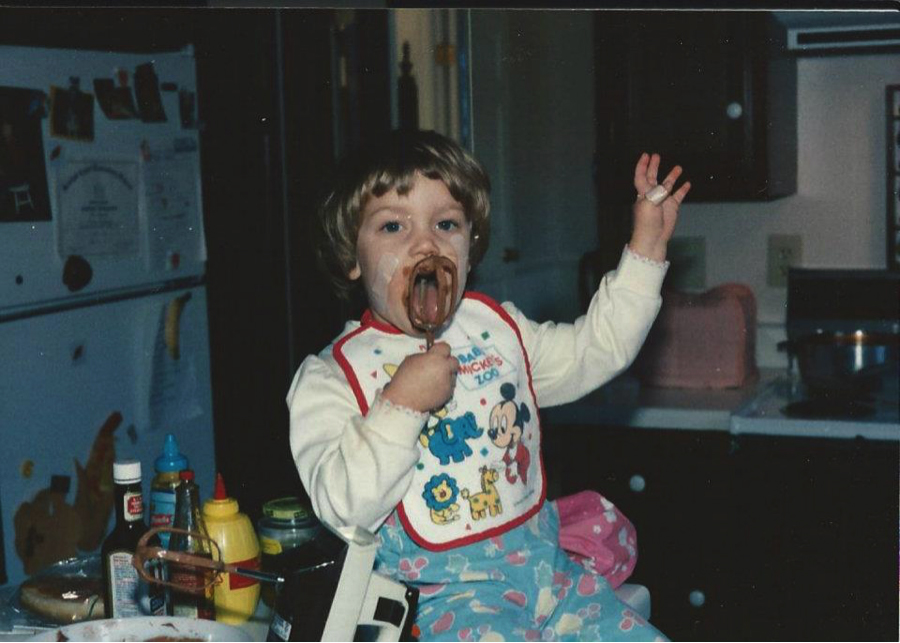 Enjoying the perks of having "two stomachs" as a little kid.
Fortunately, for my sweet tooth, my parents indulged me. After dinner I would clear the kitchen counter, just so that I had room to create my sundae masterpieces. It's a wonder with my talent for layering cookies, ice cream, whip cream, fudge and sprinkles together I never sought employment at Coldstone. My forgotten ice cream dreams were probably a good thing though as I would have eaten more ice cream than I sold. I think it is also relevant to note that when I joined the girl scouts, it was because I thought we GOT brownies at our meetings, not were called "Brownies," and one of the first badges I earned was my baking badge.
My love for desserts continued throughout college when one year the big-ticket item on my Christmas list was the as-seen-on-TV giant cupcake mold. My passion for all things sweet certainly has extended to our registry too with items like a cookie press, cake pop molds, pie pans, cookie sheets and a Kitchen Aid mixer.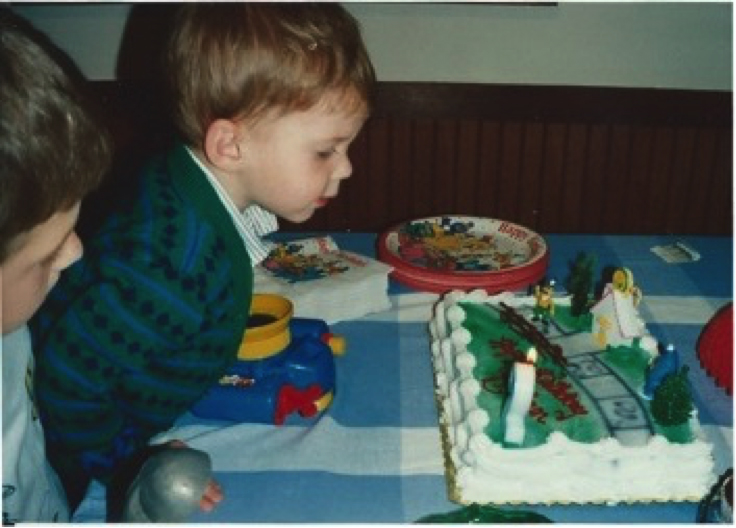 Brian and I both have always been dessert lovers!
I am fairly sure I inherited this sweet tooth from my grandmother, Doris Stockbridge. She and I share a talent for quietly and sneakily being able to make a piece of cake disappear before anyone else can catch a bite. (I'm still sorry Zaccai for the birthday incident of 2012- I owe you a piece of red velvet cake!) In fact, I think if my grandmother were to have written about her wedding she would have chosen a similar blog title. My Nana married Walter Stockbridge during World War II, just two weeks after he proposed, and days before he was deployed to serve in the Navy. She wore a wedding gown, my mother would later wear too, and that was jointly purchased with her friend, Norma Austerman. Since Nana was married during the war, sugar and other commodities were scarce. However, she and my great grandmother were determined that there would be a wedding cake! During the two weeks they had to prep for the wedding great grandma went around asking neighbors on Normandy Avenue to use their sugar rations to make the wedding cake! Thanks to the neighborhood's generosity Nana's big day was a dream come true at All Saints Lutheran Church.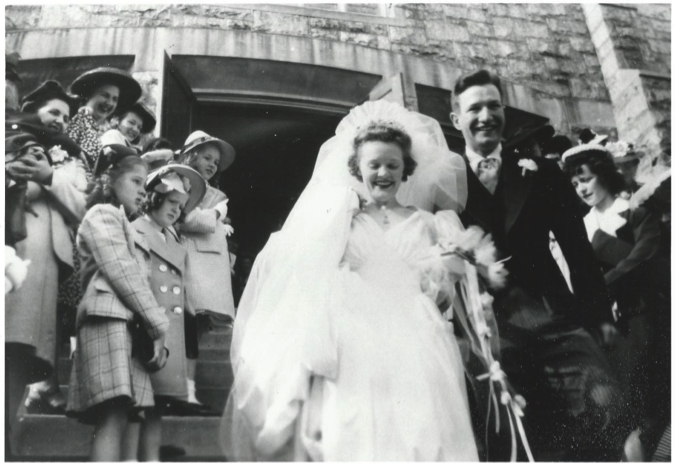 My grandmother, Doris Stockbridge, and grandfather, Walter Stockbridge, on their wedding day.
My passion for sugar is well known too with Brian's family. They still joke that I will not share my desserts, and will gladly finish anyone else's (including licking the plate). My future-mother-in-law and I are already in cahoots with a special dessert surprise for the rehearsal dinner (hehehe), but one thing you can be sure of is there will be cake at the wedding. Today there are so many creative routes to go from a dessert bar, to an ice cream bar, to root beer floats, or even cupcakes. Brian and I have decided to stick with a traditional cake. Staying true to our Baltimore roots Brian and I are will have our cake made by Graul's Bakery.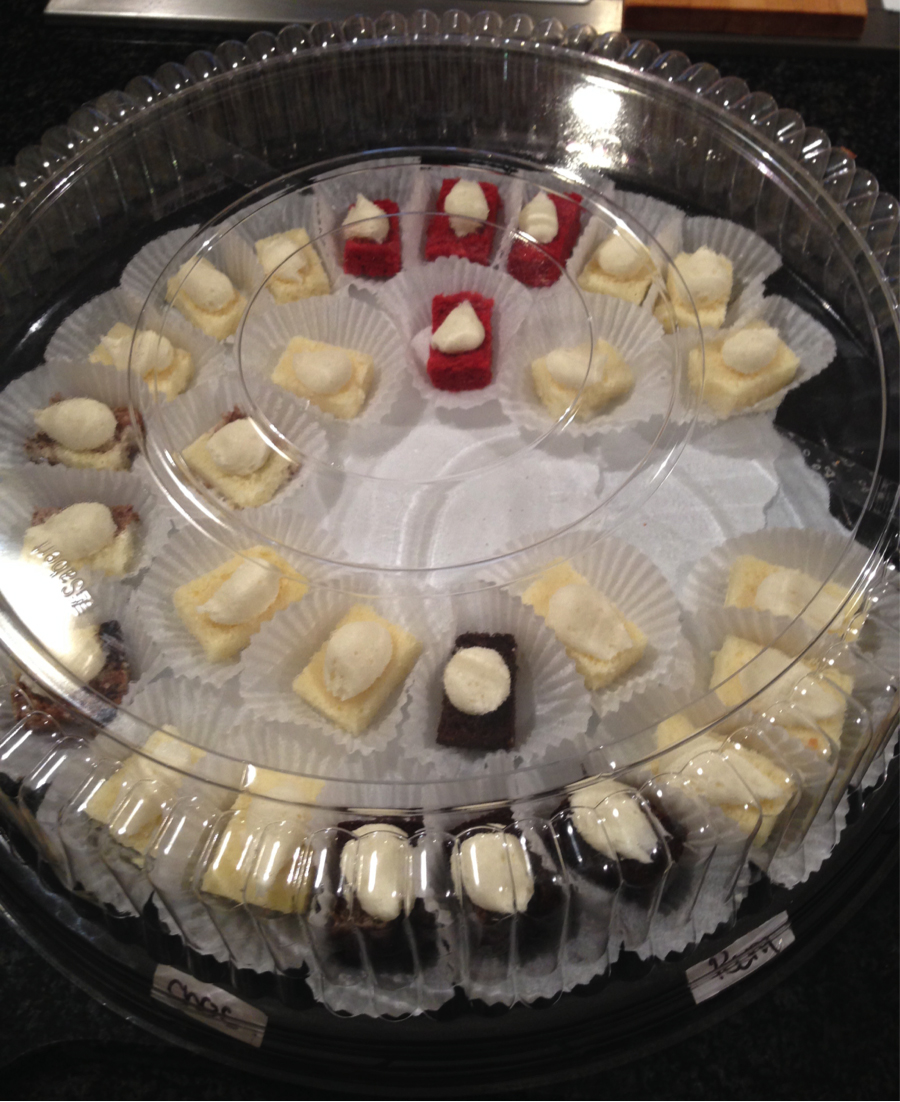 Cake tasting from Graul's.

Our elaborate cake tasting rating scale to pick our flavor(s)!
Nothing beats Graul's buttercream icing. Just the taste of it brings back memories of birthday parties and family gatherings growing up. For us the local tradition of a Graul's wedding cake just makes sense. It wouldn't be exciting though if I didn't keep some of the mystery in what flavor(s), how many tiers, or design it will be. You'll just have to show up to the reception for a taste (if there's any left!)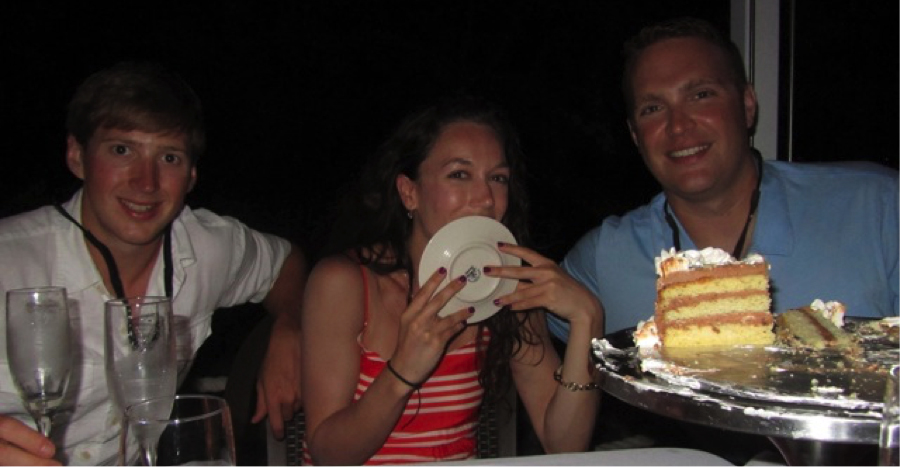 Caught licking the plate, and probably getting ready to devour that last piece!
---
---