Operation Honeymoon: Southern Charm
January 14, 2015 by Mackenzie Melfa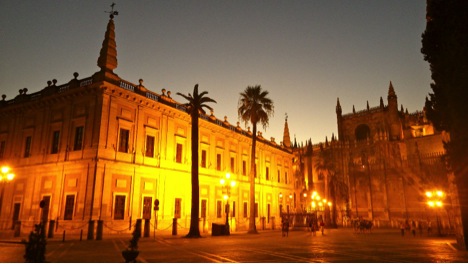 Seville. Photo by Robert Clements.
I'm not talking about Charleston, I'm talking about Spain! Let me start off by saying that Spain is HUGE! It is full of beautiful cities that are bursting with character and history. The mountains are stunning, the coastline is magnificent, and don't even get me started on all of the vineyards! This being said neither Dave or I have been to Southern Spain, specifically the Andalusian region. We've seen the beautiful pictures enough to know that we want to visit one day, so why not for our honeymoon?! If we do visit this is a glimpse of what we'd like to see and experience.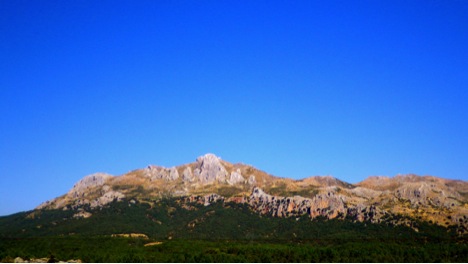 Seville The heart of Andalusian culture, the home of amazing Flamenco music, and a complex architectural history. I've been told that you can't help but feel in love in Seville. With the sound of Spanish guitar following you down a winding street while you take in the sights, how can you not love it?
When visiting Seville you must visit the Cathedral. Catedral De Sevilla is the 3rd largest in the world! The history of the building dates back to the Romans, but the most notable feature is the Giralda Minaret which is an existing tower from when it was a Moorish mosque. You can climb to the top for amazing views of the city! For history buff's this is the burial site of Christopher Columbus.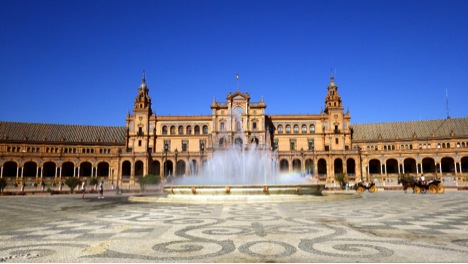 Seville. Photo by Robert Clements.
While exploring you don't want to miss the Palaza Espana. Built in 1929 for a World's Fair this landmark is now used for Government buildings. What I find really interesting is that there are multiple alcoves within the exterior of the building which each represent one of Spain's Provinces. They are intricately tiled with mosaic.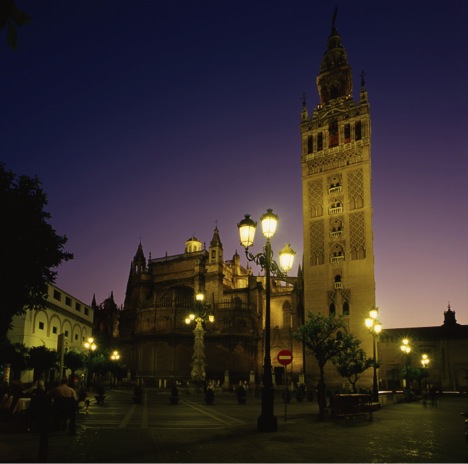 Seville. Photo from Spain Tourism Board.
You can't visit Seville and not watch an authentic Flamenco Dance! This beautiful dance which combines Spanish folklore with musical influences from India and Northern Africa became popular in the early 19th century. The best place to experience one of these wonderful shows would be at Casa de la Memoria. This cultural center sells tickets to nightly 9 PM shows that are some of the best in Spain!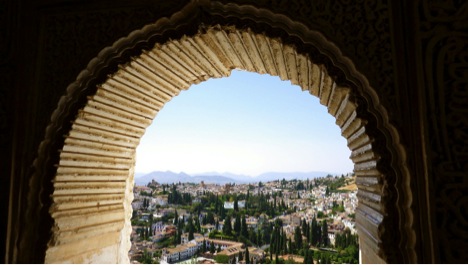 Granada. Photo by Robert Clements.
Two hours east of Seville is the small town of Granada. I love the location nestled in the foothills of the Sierra Nevada Mountains, but also just one hour drive from the Mediterranean coast! Granada's claim to fame is the Alhambra. A completely stunning palace with over 1,000 years of history in its walls!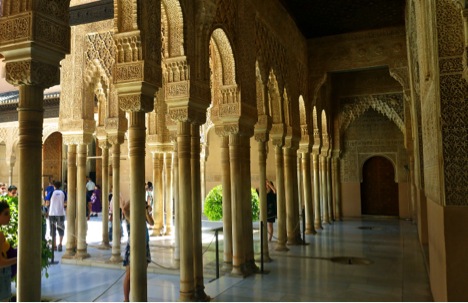 Alhambra. Photo by Robert Clements.
Originally built as a fortress in 889, it was then turned into a Moorish palace in the 11th century. Sadly it was abandoned many years later. In the 19th century scholars and travelers refurbished the Alhambra to its original glory and now it is one of the most visited tourist attractions in Spain! You have to book your tickets for this early though, plan ahead.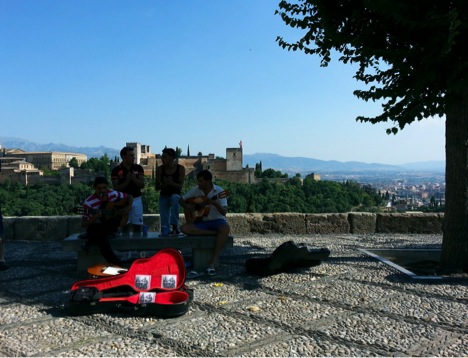 Granada. Photo by Robert Clements.
The pace in Southern Spain is noticeably slower than in the major cities which seems like the perfect speed for enjoying our honeymoon and making some amazing memories together! Will Southern Spain be our spot?! Check in with me next month when we explore another amazing destination. Your hint? It's where Lord of the Rings was filmed!
---
---