Operation Honeymoon: La Dolce Vita
September 19, 2014 by Mackenzie Melfa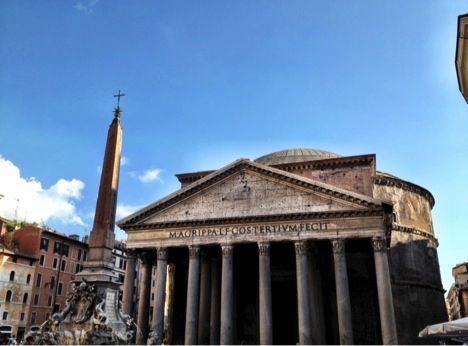 Pantheon. (All photos by Mackenzie Melfa.)
Italy is romantic, there is no doubt about it. The charming old villages with cobblestone streets, the rolling hills covered with vineyards, do I even need to mention the movie Roman Holiday? Since Dave and I got engaged in Italy it holds a special place in our hearts. This reason alone was enough to add Italy to our list of potential honeymoon spots. We got engaged in the north so we would love to explore a more southern part of the country: Rome.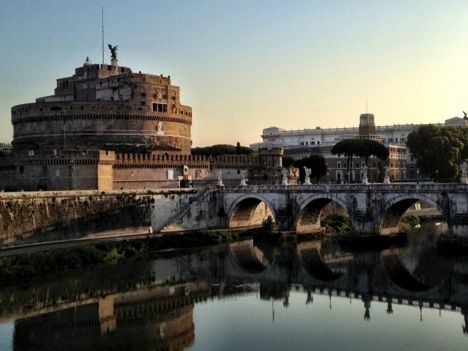 Sunrise on the Tiber.
The Eternal City . . . I've been 3 times, and would happily move there tomorrow! (If Dave would go with me!) Considering I've visited before, some people would say it's a bad choice for our Honeymoon.
"Go someplace new!" "Haven't you already seen everything?!"
My answer is always the same: Yes, I've been before but each time I discover something new, something that makes me love Rome even more than before! I want Dave to experience this city that I adore, and I want to discover that "something new" with him this time.
Rome's history is so captivating. When you climb the worn travertine steps down to the Forum you realize you are walking where millions of people have walked for thousands of years, it's pretty surreal. You could spend an entire week just exploring the Colosseum, Roman Forum, Pantheon, Vatican, Piazza Navona, and Trevi Fountain. But Rome is so much more than the "tourist highlights."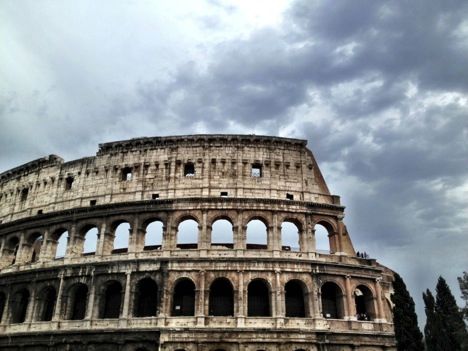 Colosseum.
My personal favorite spot would be the little neighborhood of Trastevere. It is full of narrow winding streets, medieval buildings, and charming churches. It's easy to get lost following a photo op you may see only to find yourself in a small Piazza full of little cafes just begging to be tried. It's a foodie paradise and the perfect place to have dinner. A few of my favorites restaurants are Da Lucia, Dar Poeta, and Bir & Fud. Trastevere really comes alive at night I can just picture Dave and I at an outdoor table, sipping our wine and people watching!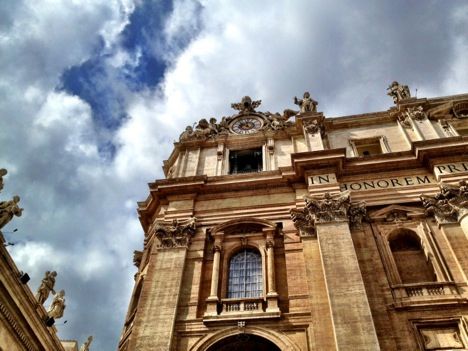 St. Peters.
For me a trip to Rome is not complete until you visit the Galleria Borghese. Nestled in the vast Borghese Gardens this Museum is home to some incredible sculptures by Gian Lorenzo Bernini. His works such as David, Apollo and the Aeneas, Anchises & Ascanius grace the halls of this beautiful villa. For fans of painting you'll find works by Caravaggio, Raphael and countless others. I found out the hard way that tickets for this Museum sell out daily, so we would absolutely book this in advance!

Basilica Ulpia.
Sometimes you just need to get out of the city for a day! Rome is conveniently located about 2 hours from all of these the picturesque hilltop towns; Assisi, Montepulciano, and Cortona. There are tons of organized tours that leave Rome in the morning and take you north into the rolling hills of Umbria, and Tuscany. You can enjoy wine tastings, Estate Tours and open air markets on most of these trips. Or if you are feeling brave (which I rarely am) you can rent a car and drive yourself!
Regardless of what we do or see in Rome I know we will leave with a smile on our faces. Italy just has a special hold on us. Rome is a top contender for our honeymoon spot! Check in with me next month to find out about another UnBELIZEable honeymoon option! - Mackenzie Melfa
---
---