There Will Be Cake: Farm to Table Florals
November 05, 2014 by Jessica Hendrick | Photos of floral arrangements by Seaberry Farm
Like most other aspects of planning our wedding the search for flowers started on the Internet. After hours spent perusing Pinterest, I accumulated a collection of pins displaying floral arrangements, bouquets, and centerpieces that spoke to me. What these pins lacked though was a detailed listing of price, type of flower or season, and contacts for local Maryland florists. These were all questions that required further research to answer. I was trying to be cautious in my research of selecting arrangements and a florist that wouldn't shake up our meticulous budget. It is also important to mention that I know diddly squat, zilch, nada, nothing about flowers. Gumphrena, Larkspur, Nigella, Phlox, Polygonum – these names might as well be nonsense words from a Dr. Seuss book.
Fortunately, thanks to a conversation with Jill and Ally of 2hands Studio we were referred to a florist that is the perfect fit for our wedding and our budget. Thanks 2hands Studio! This referral is how one Saturday my mother and I found ourselves on a mini road trip to the Eastern Shore. Our destination was Seaberry Farm. This is where we met Wenfei and Rick Uva. This husband and wife team lives on, owns and operates Seaberry Farm, a hidden treasure in Federalsburg, Maryland.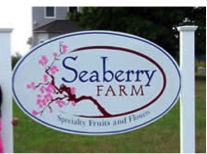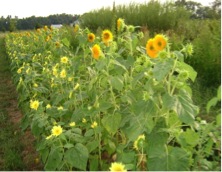 All photos taken at Seaberry Farm.
Let me say that I am so excited to be working with such talented and creative people. Both Wenfei and Rick have doctorate degrees from Cornell University in horticulture, and horticultural business management and marketing. After 16 years of working, teaching, and completing research at Cornell University, Wenfei, Rick, and their children relocated to Federalsburg. Starting from the ground up, and planting the original seeds themselves, Wenfei and Rick turned a former corn and soybean field into a specialty fruits and flowers farm.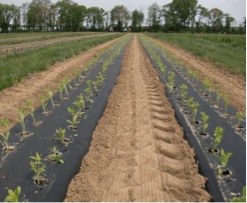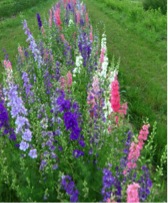 Flash back to our flower farm road trip. After the nearly three-hour drive from Baltimore, Wenfei greeted my mother and I. We hopped in one of their golf carts and were taken on a tour of the farm. Since we visited during the summer months we were able to see the seasonal flowers that will be in bloom during our wedding next July. It was so fun to ride down the rows of flowers and fruits. Occasionally, Wenfei would stop and pick fresh fruit for us to taste, or fresh blossoms for us to smell. We had talked over e-mail about colors and style, so she was able to cut several flowers and offer real examples of arrangements that could be created. As my mother might say, "We had a divine time" seeing and learning about the different types of flowers, and how they could be arranged. I could have spent hours (and probably gotten lost) exploring the acres of flowers at Seaberry farm.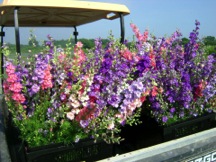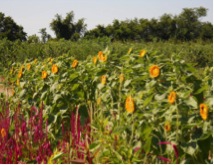 Next we sat down with Wenfei in her workshop. I was so impressed with the farm that I did not want to limit our arrangements with specific types of flowers. I simply wanted to use whatever flowers would be in season, and freshly cut from the farm, at the time of our wedding. So, our discussion about wedding flowers focused on the wedding's color scheme, and theme. Bringing pictures I found online, including some from Seaberry Farm's own Facebook page, really helped our conversation turn into a vision. It also helped to share photos of the bridesmaid dresses, my dress, and what the men might be wearing. Wenfei kept meticulous notes throughout our entire conversation, and sent me a proposal later that week. The proposal included the photos I had shared with her and additional ones of her past work to make sure we were on the same page.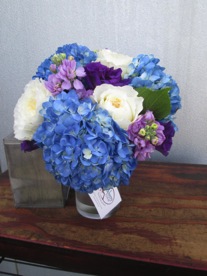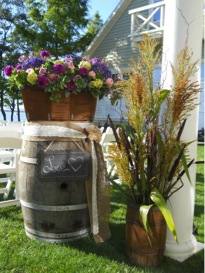 Photos of floral arrangements by Seaberry Farm.
The drive from Baltimore to Federalsburg (and back) to visit Seaberry Farm was worth the trip. I am proud to be supporting a local Eastern Shore business and to be working with Wenfei and Rick. A lot of effort, energy and conversations go into planning, creating, and setting up the flowers at a wedding. So, remember to stop and smell the Gumphrena, Larkspur, Nigella, Phlox, and Polygonum or whatever blooms are showcased. – Jessica Hendrick
---
---