There Will Be Cake: Commitment Issues
October 20, 2014 by Jessica Hendrick​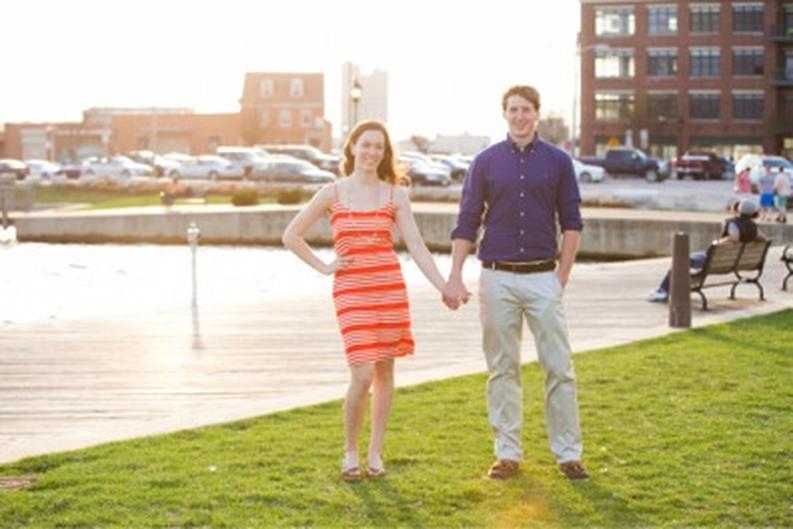 Commitment Issues
---
I began wedding planning in full force, ticking one item after another off my checklist. From selecting a venue, to finding a photographer I tackled my wedding timeline with efficiency. Bridesmaid dresses were purchased, and even hair and make-up artists were reserved. However, I still had nothing to wear other than the Ravens garter belt I purchased from Etsy. As adorable and sporty as this garter belt is I needed a gown to go with it.
Although my wedding is still nine months away, that is how long a designer may require to fill a dress order. The bridal clock was ticking and my checklist still had an empty box next to "dress." To be honest I had put off dress shopping. I had no hesitations in committing to my man, but saying yes to the dress was daunting. So with more reluctance than you would expect from a bride I started my dress shopping experience. My mother insisted we could not put it off any longer, no matter how much I protested. I was lost in images of gowns, with no focus on what style or material I wanted. So naturally, a slew of appointments where made at local salons, including Gamberdella Bridal Salon, Betsy Robinson's Bridal Collection, Garnish Boutique, Our Boutique, and Francesca's Bridal Salon.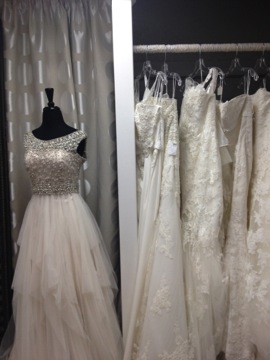 Francesca's Bridal Salon
I walked into these appointments open to the process and expertise of the consultants. While I might've considered myself open minded to these consultants I was a nightmare. I was a time eating appointment client with little to no direction of what she wanted. Bring on the beading, the ruching, and lace in an A-line, fit and flare, ball gown or mermaid style. I was open to trying on almost any and everything. The consultants at those first couple appointments had their work cut out. We combed through endless racks of gowns at the expense of my sanity and their time, all in search for a gown that would shed some clarity on my wedding day look.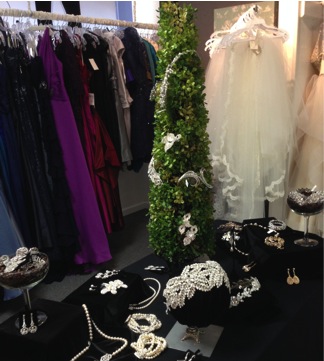 An accessory trunk show display at Francesca's Bridal Salon.
I cannot say thank you enough to the consultants at all the bridal salons I terrorized with my indecision. These consultants sincerely listened to my vision, placated both my mother and my concerns, respected our budget, and never pressured us to make a decision. When my bridal shopping was all done I had been to a total of seven appointments and spent nearly 15 hours dress shopping (not including travel time up and down the beltway and I-95, or hours spent perusing designer's websites.) I had scoured boundless racks of dresses and tried gowns with lace, with rusching, with beading, and ones with a little bit of everything. I even used the photo collage app on my smartphone to compare dresses I tried on side by side.
Although I did not experience a tear jerking moment in the salon I did get that feeling that every bride dreams of when she wears her dress. Standing in front of a wall of mirrors in Francesca's Bridal Salon I was suddenly covered in goose bumps. The reflection looking back wasn't of me in the salon, it was of me walking down the aisle. I saw Brian looking handsome in his suit, his eyes locked on me as if our guests weren't even there, and a huge smile across his face. I saw our wedding day flash before my eyes from the walk down the aisle, to the kiss, to dancing the night away, and cutting the cake.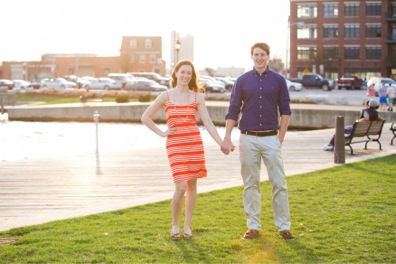 Another fantastic engagement photo from tPoz Photography
But then, my dress commitment issues bubbled up. I had an appointment at another salon, and the "what if's" crept into my mind. During that last dress appointment I kept returning to the dress at Francesca's. That dress was the dress I wanted Brian to see me wear. That dress was my dress.
So, I returned to Francesca's a week later with my mother, future mother-in-law, father, and grandmother. Once in the dress I didn't want to take it off. My mother cried, my future mother-in-law beamed, and my father practiced his dance moves with me. My grandmother regaled tales of her own wedding, which is it's own separate story involving a shared gown with a friend, and collecting sugar cube rations to make the cake. The consultant at Francesca's even brought out glasses of champagne for us to toast the occasion. I ended up returning to Francesca's once more with my maids of honor a few weeks later. We were there for an accessory trunk show. My MOHs and mom helped me pick out some blinged-out accessories for a classic ceremony look, and a fun reception look. The dress I will wear when I become Brian's wife is not at all what I imagined when I started this shopping experience. Now though, I cannot imagine spending my wedding day and becoming a Mrs. in any other gown. – Jessica Hendrick
---
---